2023 NFL Week 8 Odds, Best Bets & Predictions for Key Games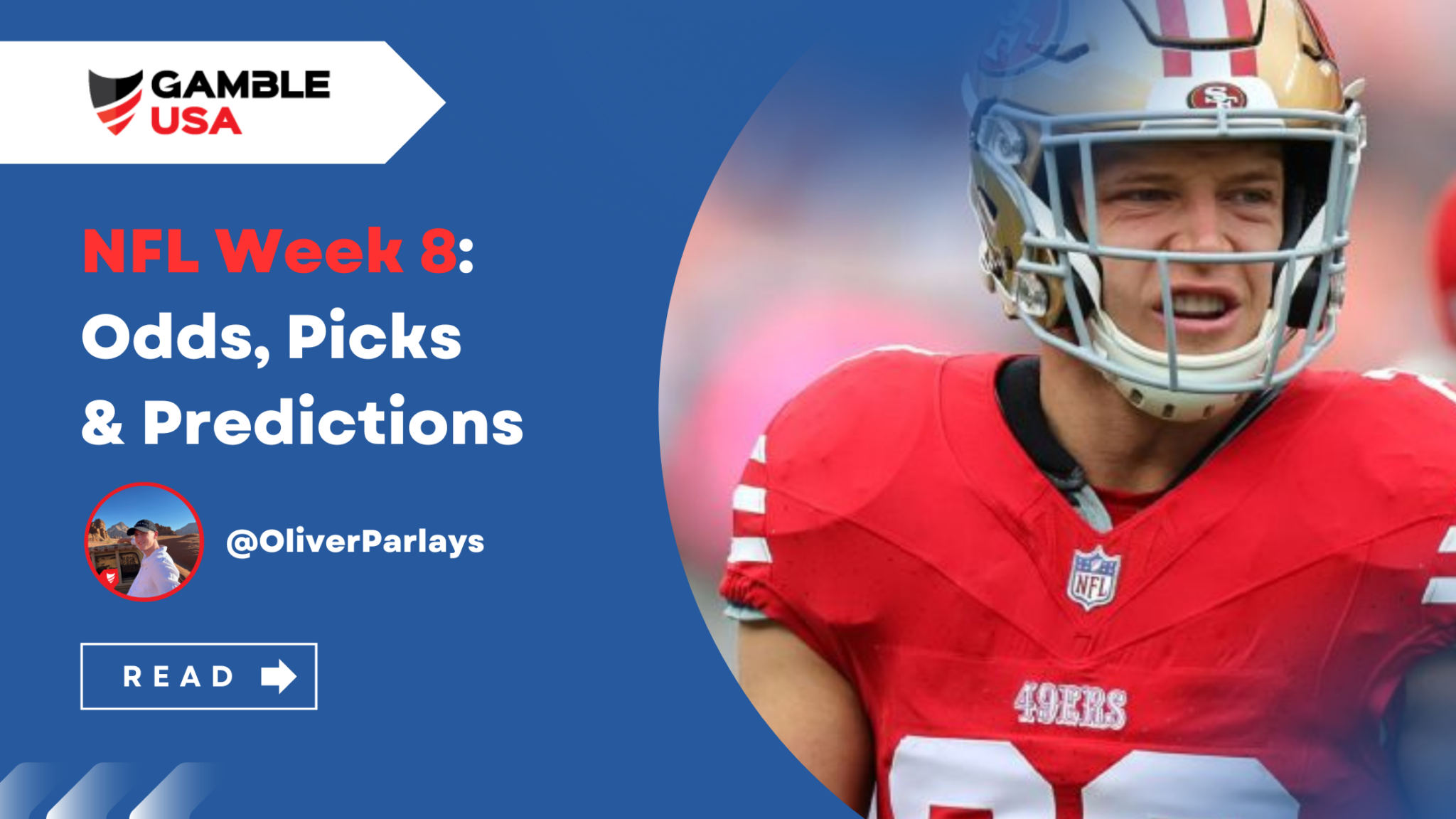 All eyes were on Philly in week 7 to see if the Eagles could bounce back from their first defeat of the season against the exciting flying Miami Dolphins offense. The answer was emphatically yes, as the Eagles, led by receive A.J Brown, won 31-17 to remind the NFL world that they remain a powerhouse and a genuine Super Bowl contender.
Elsewhere, a surprisingly high scoring game between the Colts and the Browns saw Cleveland escape with a victory, 38-39. Before this, The Browns boasted one of the best defenses in the entire league. They found it tough going in Indy, but still escaped with the W in a pulsating contest. Things kept rolling for the Chiefs as the irresistible Mahomes Kelce connection proved once again to be impossible to stop, with Taylor Swift once again in attendance.
The action never stops, so let's take a look at some big matchups on tap for week 8.

---
NFL Thursday, October 26
Buffalo Bills 🆚 Tampa Bay Buccaneers
There is something not right in Buffalo. Entering week 7 off the back of a scrappy victory over the Giants, it was hoped this team could get back on track and start rolling towards the playoffs. Most thought they would make easy work of a terrible Patriots team and wrack up another win comfortably. However, despite the Pats and Mac Jones previously doing virtually nothing all season, they were able to put up 29 points on the Buffalo defense, emerging 29-25 victors. Josh Allen was despondent afterwards, claiming the situation is 'bleak' but their season is not over. He is right, of course, nothing is lost this early, but the pressure is mounting and with key players injured the Bills are in danger of sliding. They badly need to bounce back on Thursday Night Football against a Bucs team that were a great story early in the season but are possibly regressing to what most thought they would be before the season got underway, a middling team with the odd good performance. Baker Mayfield and the offense are struggling to put up points with a non-existent ground game but while Mike White is on the field they always have a chance.
Bet Type
Wager
Odds
Moneyline
Buffalo Bills to Win
-400
Tampa Bay Buccaneers to Win
+325
Spread
Buffalo Bills (-8.5)
-110
Tampa Bay Buccaneers (+8.5)
-110
🔥 Expert Pick:
Buffalo Bills to Win
-400
---
NFL Sunday, October 29
New York Giants 🆚 New York Jets
There was a huge sigh of relief from all Giants fans last week, as they claimed a much needed win over the Washington Commanders. It wasn't perfect, far from it in fact, but have a horrific run they wan out 14-7 winners with tight end Darren Waller leading the way with 7 recs for 98 yards and a TD. Tyrod Taylor continued to fill in for injured starting QB Daniel Jones and produced a solid stat line, throwing for 279 yards. However, it was the Giants defense that excelled, swarming all over opposing QB Sam Howell and allowing only 7 points. The Giants will look to make it consecutive victories against their neighbors the Jets, who will be well rested following their bye in week 7. Before that, they secured an emotional victory over the Eagles leading many to believe maybe this team can actually reach the playoffs without Aaron Rodgers. If Zach Wilson can repeat his performance against the Eagles and their defense continues to impress, they will feel confident they can win this New York 'derby'.
Bet Type
Wager
Odds
Moneyline
New York Giants to Win
+125
New York Jets to Win
-150
Spread
New York Giants (+3)
-120
New York Jets (-3)
+100
🔥 Expert Pick:
New York Jets (-3)
+100
---
Pittsburgh Steelers 🆚 Jacksonville Jaguars
You can never write the Steelers off. Despite a roster many felt was lacking in star quality, they sit here at week 8 with a 4-2 record and went into L.A against the Rams and secured an impressive victory, 24-17. Najee Harris found some juice on the ground with 53 rushing yards and a TD while George Pickens showed good chemistry with QB Kenny Pickett, picking up 5 recs for 107 yards. If the offense can continue to hum with all star linebacker TJ Watt on the other side of the ball, the Steelers will be a tough out. Another impressive squad, the Jaguars, head to Pittsburgh riding a 3 game winning streak following a gutsy victory in New Orleans over the Saints last week. Travis Etienne scored two TDs as the Jags found success on the ground with Trevor Lawrence nursing a knee injury. This game could be a statement for either team as they look to cement their playoff credentials.
Bet Type
Wager
Odds
Moneyline
Pittsburgh Steelers to Win
+125
Jacksonville Jaguars to Win
-150
Spread
Pittsburgh Steelers (+2.5)
-120
Jacksonville Jaguars (-2.5)
+100
🔥 Expert Pick:
Pittsburgh Steelers to Win
+125
---
Seattle Seahawks 🆚 Cleveland Browns
Seattle are quietly going about their business up in the Pacific Northwest. After losing a close game against the Bengals in week 6, they bounced back last week with a 20-10 win against division rivals the Arizona Cardinals thanks mostly to their defense. There was a first touchdown for rookie wide receiver Jaxon Jaxon Smith-Njigba and fellow receiver Jake Bobo also scored a TD as the rookies led the way with DK Metcalf missing his first ever NFL game through injury. However, there is talk of Seattle re-creating the famous 'Legion of Boom' defense with them keeping the Cardinals to just 10 points following a similar excellent effort against the Bengals. This could be a tight affair as the Browns head to Seattle boasting an excellent D of their own. Myles Garrett is having an all-star season, producing sacks every week and is all over the field. He is the current frontrunner for defensive player of the year and will be looking to hunt Geno Smith this week.
Bet Type
Wager
Odds
Moneyline
Seattle Seahawks to Win
-165
Cleveland Browns to Win
+135
Spread
Seattle Seahawks (-3)
-110
Cleveland Browns (+3)
-110
🔥 Expert Pick:
Cleveland Browns (+3)
-110
---
San Francisco 49ers 🆚 Cincinnati Bengals
Time to panic in San Francisco? In the early weeks of the season, many tipped the 49ers to go all the way and win the Super Bowl this season. QB Brock Purdy looked like a machine, the defense was mean and the offense was rolling with Christian McCaffrey, Brandon Aiyuk and George Kittle all proving to be huge weapons. They lost their unbeaten record last week to the Browns and with a chance to bounce back on MNF against the Vikings, they once again came up short, as the defense allowed Kirk Cousins to throw all over the field. Losing 2 in a row was not in the script, and things are not set to get any easier as they welcome Joe Burrow and the Bengals to the Bay Area in week 8. Burrow now looks healthy again following his calf issue and with some of the best receivers in the game, they will pose a big danger to the 49ers defense. This is a big, big game for a lot of reasons.
Bet Type
Wager
Odds
Moneyline
San Francisco 49ers to Win
-215
Cincinnati Bengals to Win
+180
Spread
San Francisco 49ers (-5.5)
-105
Cincinnati Bengals (+5.5)
-115
🔥 Expert Pick:
San Francisco 49ers (-5.5)
-105
Relevant news