NFL Week 9 Odds, Best Bets & Predictions for Key Games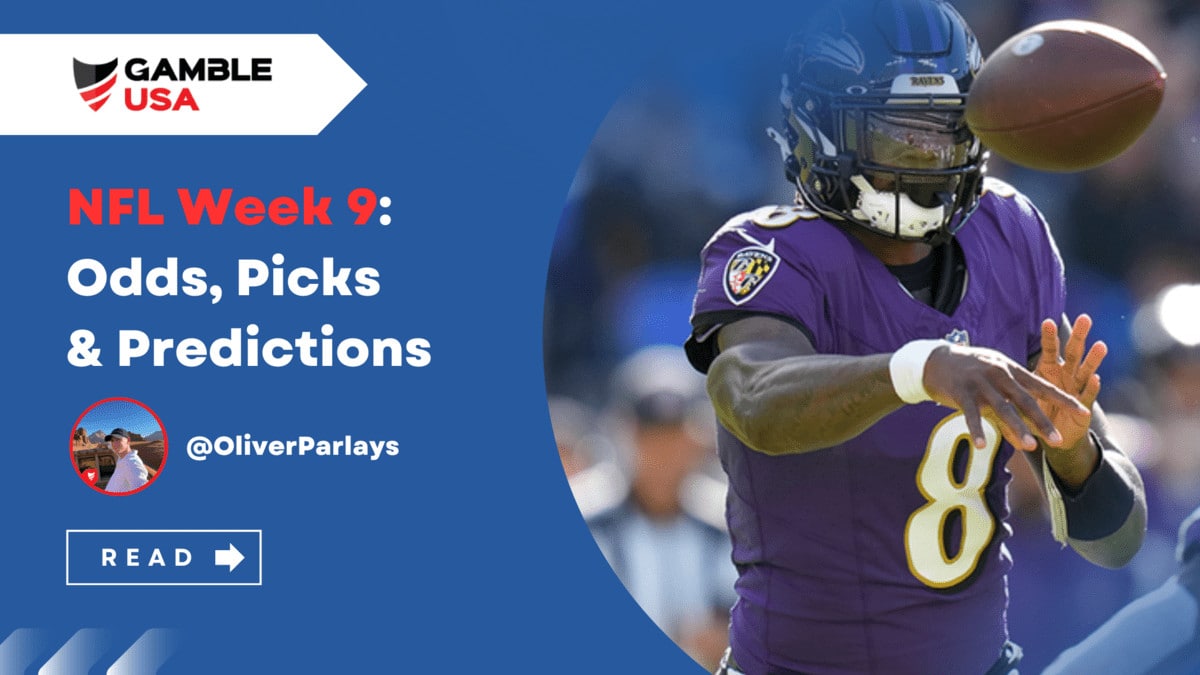 Once again, the NFL proved how unpredictable it is in week 8 as the slide continued in San Francisco while the Chiefs were stunned in Denver as the Broncos hammered Mahomes and co. There will be no panic for those big hitters as there is plenty of football still left to play. But, the cliché of "there are no easy games in the NFL" was certainly true last week. Form can be flipped in an instant in this league which is why we love it.
There are downsides, namely injuries to some of the most popular players. Vikings QB Kirk Cousins went down with what looks like an Achilles injury which will end his season, just as he and Minnesota was rounding into form. Unfortunately, that is always the case with the NFL, it is the battle of the toughest from the get go as teams all strive to reach the big game.
There was also a first win of the season for the Carolina Panthers last week and another sighting of Aaron Rodgers throwing the ball. He couldn't, could he? Let's look ahead to the week 9 action.

---
NFL Sunday, November 5
Kansas City Chiefs 🆚 Miami Dolphins
Well, that was humbling for Kansas City in Denver last week. Patrick Mahomes threw two interceptions, Travis Kelce only had 58 yards receiving and the offense could not get anything going in a 24-9 rout. To rub salt in the wounds, Denver decided to play Taylor Swift's 'Shake It Off' song after the game, which I'm sure delighted her rumored boyfriend Mr Kelce. This is far from a crisis in Kansas, they are still 6-2 and lead their division. However, it will do nothing to quieten down those who believe they don't look right so far this season. It won't be easy to bounce back either, as they welcome the Dolphins to Kansas this week. Jaylen Waddle and Tyreek Hill lit up the scoreboard, with them both posting 121 yards and 112 receiving yards, respectively, plus a TD each, in their win over the Patriots. With them both firing, and a ground game that can really motor, this could be a barnstormer.
Bet Type
Wager
Odds
Moneyline
Kansas City Chiefs to Win
-135
Miami Dolphins to Win
+144
Spread
Kansas City Chiefs (-2.5)
-110
Miami Dolphins (+2.5)
-110
🔥 Expert Pick:
Kansas City Chiefs (-2.5)
-110
Baltimore Ravens 🆚 Seattle Seahawks
Most people thought Baltimore would roll into Arizona and get a comfortable win, and although they did emerge victorious, it wasn't all plan sailing. The defense will be annoyed at giving up 24 points to a poor Cardinals team, but Lamar Jackson and the offense are humming. Gus Edwards 3 TDs and Lamar threw for 157 yards as this team continued to show they can pound you on the ground and through the air. At 6-2, and with Lamar playing at his previous MVP level, the Ravens are currently on everybody's radar as a team who could make a serious push for the Super Bowl. This week, they welcome a Seahawks team who fought out a gutsy win against the Browns in week 8. Despite throwing 2 interceptions, Geno Smith came up clutch at the end to toss the game winning TD to rookie wideout Jaxon Smith-Njigba. Although there remain question marks over Geno and this offense, the defense is proving stout and at 5-2 they now lead the AFC West.
Bet Type
Wager
Odds
Moneyline
Baltimore Ravens to Win
-230
Seattle Seahawks to Win
+190
Spread
Baltimore Ravens (-5.5)
-110
Seattle Seahawks (+5.5)
-110
🔥 Expert Pick:
Baltimore Ravens (-5.5)
-110
Philadelphia Eagles 🆚 Dallas Cowboys
These two NFC East teams do not like each other and this fixture always grabs the attention. The Eagles are proving how battle hardened they are, overcoming injury and adversity on the road in Washington last week to beat the Commanders, 38-31. Despite being in pain, QB Jalen Hurts threw for 319 yards and 4 TDs, A.J Brown, who has put himself firmly in the MVP conversation, once again had a day, with 8 recs for 130 yards and 2 TDs. Although their normally reliable defense gave up 31 points, if the offense can continue to be this good, they are a match for anyone, as their 7-1 record suggests, which is the best in the NFL. The Cowboys offense was also stellar in week 8. Dak prescott threw for 304 yards and 4 TDs while receiver CeeDee Lamb had a career day, with 12 recs for 158 yards and 2 TDs. Both of these teams have huge weapons on both side of the ball, and this encounter promises to be one hell of a contest.
Bet Type
Wager
Odds
Moneyline
Philadelphia Eagles to Win
-155
Dallas Cowboys to Win
+130
Spread
Philadelphia Eagles (-3)
-110
Dallas Cowboys (+3)
-110
🔥 Expert Pick:
Philadelphia Eagles to Win
-155
Cincinnati Bengals 🆚 Buffalo Bills
I think we can say the Bengals are back. Despite early season struggles with Joe Burrow looking injured and some losses, they are now stringing some wins together with the latest possibly their most impressive, a 31-17 shellacking of the 49ers. Burrow looked imperious, throwing for 283 yards and 3 TDs which his favorite weapon, Ja'Marr Chase, had 10 receptions for 100 yards and a TD. When they are in this mood, the Bengals are hard to stop and with this win they now move over.500 for the first time this season. Josh Allen and the Bills enter the jungle in week 9 off the back of a win against the Bucs. Allen played well in the win, throwing for 324 yards and scoring a trademark rushing TD. Although the Bills aren't sizzling, a win is a win and as they say it is about stacking wins at this time of the season. They will need to step it up this week though.
Bet Type
Wager
Odds
Moneyline
Cincinnati Bengals to Win
-125
Buffalo Bills to Win
+105
Spread
Cincinnati Bengals (-2)
-110
Buffalo Bills (+2)
-110
🔥 Expert Pick:
Cincinnati Bengals to Win
-125
---
NFL Monday, November 6
New York Jets 🆚 Los Angeles Chargers
The Jets are alive! Sure, it was a very, very ugly game against their neighbors the Giants last week. There were a ridiculous amount of punts, more (24) than total points scored in the game (23), but, the Jets ground it out in overtime thanks to a Greg Zuerlein field goal. The offense wasn't great, to say the least, but they have an elite defense and if they can continue to stay in games, they have a chance. Oh, and once again Aaron Rodgers was spotted throwing the football pre-game. This has fuelled talk A-Rod could make a comeback and lead the Jets into the postseason should they make it there. But that is beyond even him, right? The Chargers head to Gotham following their most impressive performance in a while, a 30-13 beatdown of the Bears. Justin Herbert answered some recent criticism with a great display, throwing for 289 yards with 3 TDs. Austin Ekeler posted 94 receiving yards and a TD as they dominated both sides of the ball. Head coach Brandon Staley remains on the hot seat for now, but they will be hoping that win is the start of a run to the playoffs, Staley needs it.
Bet Type
Wager
Odds
Moneyline
New York Jets to Win
+105
Los Angeles Chargers to Win
-125
Spread
New York Jets (+1.5)
-110
Los Angeles Chargers (-1.5)
-110
🔥 Expert Pick:
Los Angeles Chargers (-1.5)
-110
Parlay Picks for NFL Week 9
Paul's Prized Picks
🔥Odds
Full Moneyline
+1331
Full Spreads
+2535
Expert Picks
[-2.5 Spread][-5.5 Spread][ Moneyline][ Moneyline][-1.5 Spread]
+2060
Relevant news