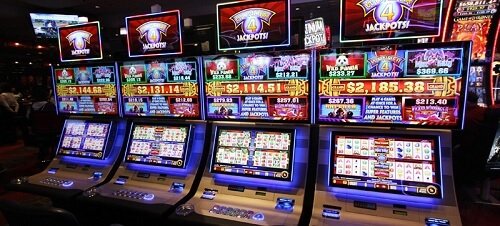 Mobile Blackjack games
There are four main types of online Blackjack available in the state of New Jersey, these being micro-limit Blackjack, side-bet online Blackjack, multiplayer Blackjack, and live dealer blackjack. NJ online casino apps like Betfair only let registered members play the demo. Others like Caesars, for example, allow one to play without registering as long as they've downloaded the app.
Mobile Slot apps
The NJ online slot games market has massively grown since it was introduced in 2013. It has since grown to include a wide variety of games from elite suppliers like Bally, IGT, NetEnt, NextGen, and Williams Interactive (WMS). Golden Nugget utilizes a few of these providers, along with others, to feature New Jersey's best online casino mobile slots selection. Its app offers nearly 450 slots at the moment. It is easy to use slots on mobile apps; clean, user-friendly menus ensure players can navigate their way around easily.
Using apps instead of web browsers
Casino gambling on a mobile device is intended to replicate the experience of playing the same games on desktop. However, if you are a first-time user, you need to realize there will be noticeable differences between them both. Firstly, not all of the games that you can play on a desktop are available for mobile play on the apps.
One of the reasons for this is that some online casino games do not perform well on a small smartphone screen. Also, players who are accustomed to the big, full display on a computer may have difficulty adjusting to the compact touch interface that the same games would give them on their mobile devices.
Even so, an online casino will still offer more than enough games to meet the needs of any player with access to NJ casino games on the go, looking for both variety and quality.
What devices are compatible with NJ online casinos?
All NJ online casino apps are compatible with Android-powered devices, and all but two with iPhone's and iPad's. There are only subtle differences between iOS and Android-powered NJ online casino apps:
Downloading: Both Android and iOS apps can be downloaded from an NJ online casino's main site on mobile. However, iOS apps can also be downloaded from iTunes. By contrast, Google does not allow real-money gambling apps on its Play Store.
Settings: To download an Android app, users must first allow downloads from unknown sources. This usually means navigating to settings and enabling a button. In most cases, NJ online casinos will lead players to the page during the installation process.
What to look out for on NJ Casino mobile apps
Most NJ online casino apps will have a substantial selection of casino games to choose from, as they want to keep the user on their app. But there are other factors to consider when deciding on the overall quality of a casino app, such as:
Download size: Most NJ online casino apps run pretty smoothly, but there are a few that can sometimes cut you off, which isn't ideal in the middle of a game. Make sure you don't take it out on your mobile!
Pre-loaded games: There are occasions where players may have to download individual mobile games before playing. It's not too common, but can be slightly frustrating when it happens.
Download size: More often than not, an app's download size is a reflection of its game library. Sometimes it isn't. The good news is that there isn't a single case where an app will eat up too much storage space. However, you may want to check that your mobile can take all of those casino games before you start downloading.
The general rule of thumb is that if players enjoy the quality of an NJ online casino's main site, they'll also enjoy its mobile casino app.
New Jersey online no deposit bonus
New Jersey online casinos offer new players sign up bonuses with no-deposit and first-deposit promotions. Of course, any bonus you can get in the gambling world is more than welcome, and there are plenty available with online casino apps.
No deposit bonus codes are great for new players. It gives them a chance to play for real money without any risk. Not only that, but it allows you to either learn a game or see if you like it. These bonuses, along with first-deposit bonuses, are targeted at new players. It can be the case; however, that online casinos do offer free bets or deposit bonuses to players as a special promotion. This is happening more and more with NJ online casinos as the competition hots up.
NJ Online Casinos First Deposit Bonus
A New Jersey online casino first deposit bonus is an excellent way of attracting new players to online gambling by offering an additional amount of bonus money for signing up and making the first deposit. Some online mobile apps offer great first deposit bonuses such as Betfair Casino, offering a $2,500 First Deposit Casino Bonus and Resorts Casino Online offering a $1,000 First Deposit Bonus. Have a look around and see which casino mobile app is offering the best one!
What types of games are available at NJ online casinos?
There are hundreds of games available across the NJ online casino apps, including some who offer over 500! Some of these game types include:
Video Poker: Over a dozen unique variations, including casino standards like Deuces Wild and Jacks or Better.
Online Slots NJ: A combination of proprietary titles from suppliers like NextGen, and NYX and branded titles from providers like High 5 and IGT. Availability of progressives and standard games.
Table games: Roulette, Blackjack, baccarat, and craps are some of the games offered by classic casinos via the Live Dealer format and in digital form (more on this below).
Live Dealer: Most online casinos in New Jersey allow players to play certain games with a live dealer. That's right, an actual live dealer. You get to see the action, interact, and things play out just as they would at an Atlantic City Casino. Baccarat, Blackjack, Roulette, Texas Hold'em and Three Card Poker have been made available by Golden Nugget, Betfair Casino, SugarHouse Online Casino, and many others.
Bingo: Only a few casinos in NJ have launched online bingo products, and while popular in the UK, playing online bingo doesn't quite strike a chord with Amerdon't, so don't expect bingo to be available on most NJ casino apps or casino sites.
Stakes at Online Casinos
Stakes are very different in the New Jersey online gambling experience. Many games can be played for amounts as little as pennies to quarters, including Blackjack, where you would be hard-pressed to find even a $5 minimum table at a land-based casino. Casinos such as BetMGM and Betfair Casino offer all of these wagering options. Of course, you can also play for much bigger money if you wish. Many online casinos will allow you to wager up to $1,000 on a single bet or spin, a lot of the online gambling sites will cater for everyone's taste.
What are live dealer games?
Live dealer games are relatively new to the NJ online casino world. In an attempt to bridge the gap between online and live gambling, the format of the live dealer was introduced. Except that all wagering is handled digitally, the dealers and the playing devices used to determine game outcomes are real. It is all done online, but with the feel of it being live, another impressive addition to the ever-growing list of online casino games.
Slots suit mobile casinos perfectly
Slot games are particularly attractive to mobile gamers because they require little strategy and are simple to operate. Other online casino games such as Blackjack and roulette can involve displaying more information but are still reasonably manageable on a mobile device. In contrast, games like video poker continue to appeal to those looking for a game of skill.
NJ Online casino apps
Of course, a big bonus of an online casino is you don't have to move from your own home to get the thrill of a spinning roulette wheel from the comfort of your own home. You can use your mobile app to access your $20 free bonus offer, play a variety of casino games and also place those winning bets!
Verdict
With the rise of online mobile gaming, it is no surprise to see a variety of excellent NJ casino apps available. In particular, Golden Nugget, Caesars, Borgata, and Party Casino provide a superb range of casino games. There is no doubt that the NJ online casino gaming world is thriving, with promises of more to come.