How New Jersey Became The New Home Of Sports Betting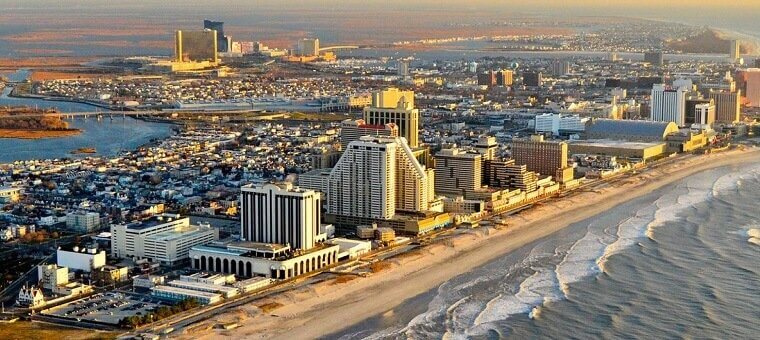 Gambling has a lengthy history in New Jersey as this State is historically more permissive of gambling. Lotteries were common in New Jersey and were used to help pay for the military during the French and Indian War as well as the American Revolution. These lotteries also helped to finance the construction of world-renowned institutes in the Rutgers University and Princeton.
Gambling was theoretically banned in previous generations between 1894-1939 until Racetrack gambling was re-legalized in 1939. Native voters continued trying to get gambling legalized in the state and eventually in 1974 casinos were legalized but restricted to Atlantic City, which for a time became the hot spot for gambling affairs in the United States and was the inspiration for the hugely popular HBO produced crime-drama television series, Boardwalk Empire. However, that ended as the New Jersey law stated gambling could not legally operate without heavy state oversight.
Much to the joy of fans and punters within the State, this all changed in 2018 when sports betting was officially legalized and New Jersey fast became the Sports betting Capital in the US surpassing Nevada and its large Las Vegas Sportsbooks, who were once synonymous with gambling.
Sports Betting in New Jersey
Back in June of 2018 former Governor Phil Murphy signed Assembly Bill 4111 legalizing Sports Betting at both racetracks and casinos in New Jersey.
Now that NJ sportsbetting at 888sport and other sportsbooks are in full swing, New Jersey's Sports Betting is hitting new highs with operators eager to get up to speed with the rise of mobile gaming. In September 2020 the State took in a staggering national record of $748 million in bets surpassing Nevada's record intake of $614 million in 2019 which just further illustrates the demand in the marketplace, which will have certainly caught the attention of neighboring states like New York who will be keen to get in on the action.
What are the benefits of Legal Online Sports Betting in New Jersey?
There are numerous reasons to bet at legal online sportsbooks in New Jersey, for starters, the operators are investing heavily in security to keep players safe which is always paramount when transacting online. All the legal sportsbooks in the Garden State are licensed and regulated by the New Jersey Division of Gaming Enforcement who ensure that these operators follow rigorous and fair guidelines to ensure the credibility of play to the punters.
Further to this, each operator licensee can have as many as three "SKINS" or online casino partners, which we will discuss in more detail.
Receiving a license by this regulatory body entails a rigorous application process, and should any of the online sportsbooks violate any policies and safeguards outlined in the New Jersey Division of Gaming Enforcement (NJDGE), they receive hefty fines.
Bonuses and promotion offerings vary widely from one sportsbook to another, and they continuously get monitored to ensure that these sites are legal, safe, and secure. The New Jersey Sportsbooks also undergo stringent audits making sure players' personal information, and funds is secure at all times, which is of paramount importance in the current digital age.
Another benefit of sports betting in New Jersey is they are convenient, and wagers can be made from anywhere in the State, even if you are not a resident which is evident by their neighboring New Yorkers who regularly cross the state link to place bets. Ease of access for players is as effortless as ever as New Jersey Sportsbook Apps are available in both Android and iOS formats, from their respective stores.
The Importance of Skins
Skins or online partners are of vital importance to sports gambling, primarily as 80 percent of sports wagers in the State are transactions online. They allow licensees to partner with a sports betting website and mobile application that will enable the New Jersey casinos and racetracks to offer a competitive betting site, and many have teamed up with the popular operators as an additional income source and to also grow their brand engagement.
Sports betting on the Go
The most popular form of Sports Betting in New Jersey is not at the casinos or racetracks but on smartphones with roughly 80 percent of bets being made on mobile devices. Bettors, however, have to be in the State to make a sports wager and 21 years of age. This is convenient for New Yorkers who have easy access to the State as it's nearby.
NJ is not the only state to offer mobile betting. Of course, we have IN mobile sportsbooks, as we as operators available in Colorado, Pennsylvania, Tennessee, and a handful of other states.
Since the legalization of Sports Betting, New Jersey has become the hub of the sports betting universe and that's primarily due to the Garden State embracing mobile technology with over 20 million bets via mobile devices in one year. When registering at a Sports Betting site in New Jersey players can either download the native app or go to Google Play or App Store.
Choice of Sports Leagues available to bet on in New Jersey
New Jersey caters for every imaginable type of Sports Leagues, and they were the First State to accept wagers on the Academy Awards. Sports Leagues that players can place bets on include:
Football (

CFL

, NHL, NCAA)
Tennis (ATP, WTA)
Boxing
Mixed Martial Arts
Golf (PGA Tour, LPGA Tour)
Baseball
Basketball(NBA, WNBA, Euroleague, NCAA0
Hockey
Tennis
Auto Racing
Conclusion
It's no wonder New Jersey has become the home to sports betting in the US. This State provides the safest and best online sportsbook betting in the US; moreover, it's legal and convenient for many of the residents of neighboring States to get to, and due to this they have surpassed Nevada in terms of revenue and action. More and more sportsbooks have seen this Garden State's potential and the potential to make money, hence more opening weekly. Online Sports Betting in New Jersey is here to stay and remains the leader in this industry.
Follow us on Twitter @Gamble_usa to stay up to date on the latest legal casino and sports betting news across the US.


21+. T&C Apply
21+. T&C Apply
Relevant news