Ohio State Buckeyes at Penn State Nittany Lions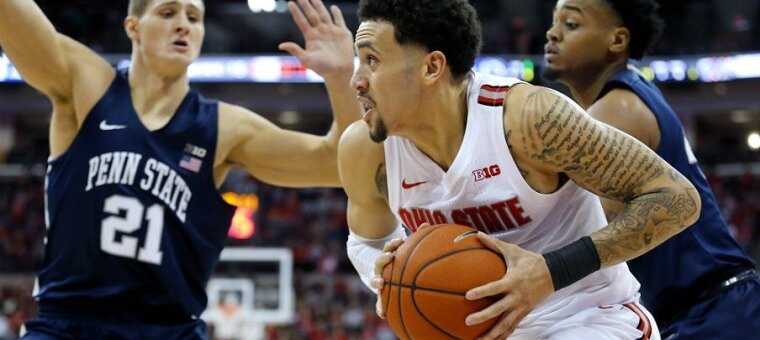 For all of the hype that has surrounded the Big Ten basketball conference this season, some of its top teams have been struggling of late.
There is way too much turmoil this college basketball season, but it can make for a wild ride. To be totally honest, it's fun to see some new programs taking the spotlight.
With that being said, today's article will cover a matchup between two teams that are currently on the fritz and have been for a few games.
The Ohio State Buckeyes will be on the road to take on the Penn State Nittany Lions on Saturday.
These two teams were in the Top 25 rankings but have fallen out thanks to their recent losing streaks.
There's a lot to uncover, so let's break down the matchup and help you determine where to bet your money.
From Bad To Worse For Ohio State Fans
It is bad enough that Ohio State got knocked out of the College Football Playoff after being up double digits.
Fans thought they could turn towards basketball, but the Buckeyes have dropped four straight games following a tough home win against Kentucky.
This team is searching for leaders, and there needs to be an emphasis on comradery if they have any chance at surviving conference play.
Junior forward Kaleb Wesson is one of those leaders, and it is his turn to step up and take control of this Buckeyes team that has been falling apart.
Wesson is a 6-9, 270-pound bruiser down low. He is averaging nearly 15 points and 9.5 rebounds per game this season.
He does not really have the offensive repertoire to take over games, but he is a mega-glue guy that can really spark momentum plays.
Wesson and the Buckeyes need to step up and put together a winning stretch here in conference play. If they don't, their season could go under faster than they expected.
Lions Feeling Even Worse
The Nittany Lions have never found themselves to be a powerhouse basketball program. They are a football-first school, and it has been a while since they have made any noise.
After a 12-2 start to this season, it really was looking promising for Penn State, and it seemed like it could really make a push towards the top.
But after three recent losses on the road against Rutgers and Minnesota and at home against Wisconsin, the Nittany Lions are looking to find themselves like the Buckeyes.
Though he has regressed slightly this season, senior forward Lamar Stevens needs to find a way to rally the troops.
He is a fantastic player and really can find creative ways to score with ease. His play has been electric, as he's averaging 16 points and seven rebounds, but he needs to find a way to step it up to the next level.
If Stevens can get going to a new level, I think Penn State will be just fine for the rest of this season.
Betting Preview
Both of these teams are in a similar spot in their 2019-20 seasons, and I think they are pretty even across the board.
This should be a fun game all the way around, but I believe Penn State is just a hair better than the Buckeyes.
Having a go-to scorer for the Nittany Lions is the difference-maker for me, and that's why I am going with Penn State at home to win this game.
This should be a close one, so make sure to tune in this Saturday and lock in all of your bets before noon ET tip-off!
Relevant news