Oklahoma Sooners at Texas Longhorns Betting Preview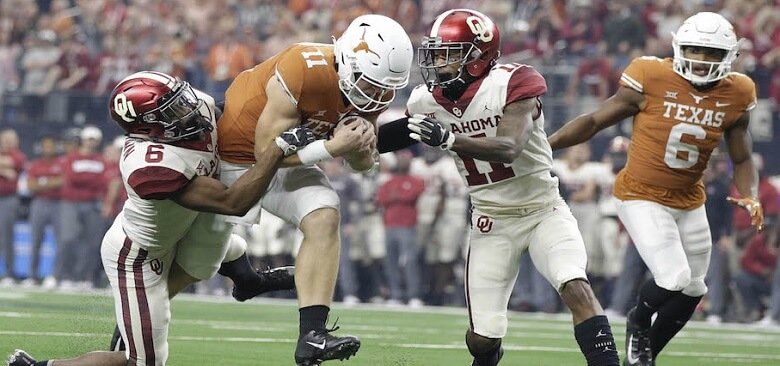 This college football season has been full of surprises every week. As we pass the midway point, we are finally starting to see who the contenders and pretenders are for the College Football Playoff.
Game time: Saturday October 12th @ 11am
The Big Ten and the SEC have stormed out ahead of the pack as the two most dominant conferences in the country, but the Big 12 has two teams that are prepared to make some noise.
Those two teams will be going head to head this Saturday in the classic Red River Rivalry. No. 6 Oklahoma will be traveling down south to take on the No. 11 Texas Longhorns in Dallas.
Both of these teams are contenders for big things at the end of the season, and the winner of this game on Saturday could still have a legitimate shot at the national championship. We will breakdown the matchup between these two teams and help you determine your best bets.
Is Oklahoma Poised For Three Straight Heismans?
The Sooners have had themselves quite a successful run the past couple of seasons at quarterback between Baker Mayfield and Kyler Murray. Their new quarterback, Jalen Hurts, may not be as NFL ready as the other two, but he has led Oklahoma to a dominant offensive showing this season.
Oklahoma is averaging 643.8 yards of offense and over 50 points per game. The good news for the Longhorns is that Oklahoma has yet to play a ranked opponent this season. The bad news is that Hurts already has loads of experience from his tenure at Alabama.
The bright lights do not scare Hurts, and why would they? Hurts has accounted for 1,523 yards passing, 499 yards rushing and 21 total touchdowns through the first half of the season.
Not only has Hurts been sensational all year, but the Sooners defense has only given up over 20 points one time all season, in the first weekend of the year. Texas will have its hands full trying to stop this offense from exploding already and may have a tougher time against their defense.
Can Texas Ever Return To Its Former Glory?
We have seen Texas come a long way in its three seasons under head coach Tom Herman. Herman's team has progressively gotten better each season, capped off by last year's victory in the Cotton Bowl against the Georgia Bulldogs.
But last year was last year, and the question is, can the Longhorns contend right now? They had a tough non-conference matchup when LSU came to town and looked the part for the entirety of that game, losing it late in the fourth quarter.
Sam Ehlinger has looked amazing for Texas this season and shares similar numbers to Jalen Hurts with 1,448 passing yards, 236 rushing yards and 20 total touchdowns. His play has vaulted Texas into the national conversation this season.
This is a must-win game for the Longhorns if they want any chance at the College Football Playoff. Without a solid win on their resume against a top opponent, the Longhorns may have a hard time justifying being put ahead of any of the other major conference teams.
Betting Prediction
Oklahoma comes into this game as a heavy favorite at -10.5. The Sooners have the resume behind them from the past couple of seasons, and this definitely plays into the line they are receiving in their first ranked matchup in 2019.
With that being said, I like Texas in this game. I think they can win in a shootout in this game against Oklahoma and have a little bit of the "nobody believes in us" behind them.
Take Texas in this game at +10.5. Make sure to lock in your bets before kickoff.
Check back for more Free Football picks and follow us on Twitter @Gamble_usa
Relevant news