Gamble USA strives to improve your online gambling experience. We aim to help you play safely, make informed decisions when gambling, and increase your betting knowledge through our guides.
We adhere to strict editorial integrity; our content may contain links to products from our licensed & legal US partners.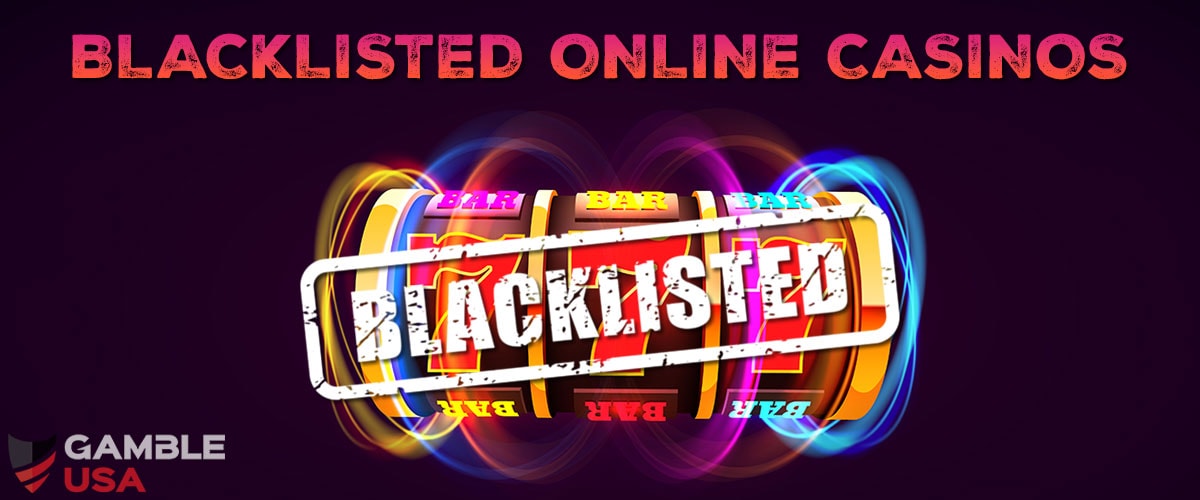 Online gambling is taking the world by storm, with casinos sprouting left and right. At first glance, this seems like a dream scenario. The internet has never offered as many gambling sites, and players have never been as spoilt for choice. However, it's not all roses in the modern iGaming realm.
Like in the real world, not everyone has the best intentions at heart. There are more than a handful of casino sites whose questionable practices have put players at risk. To help you steer clear of these dodgy operators, we've created a blacklisted online casino guide.
Find out about blacklisted online casinos and their pitfalls, discover how to recognize operators you should avoid, and learn what to do if you're playing on a scammy site on this page.
About the Gamble-USA Blacklist
The following is a table with our blacklisted casino sites. It comprises a number of operators the industry knows as "rogue casinos" because they've continuously failed to provide fair services to customers. For your convenience, it also includes these operators' main issues.
Unfortunately, dodgy sites keep coming out of the woodwork, so this list isn't final. However, it's a good point of reference for players looking for safer new online casinos to join at this moment. You can always check back to make sure you're in the know about the latest blacklisted casinos.
Blacklisted Casinos
| 🎰Casino | ❌Main Issues |
| --- | --- |
| 1x2 Gaming | Misleading bonuses |
| Golden Dragon Sweepstakes Casino | Questionable practices |
| MoneyStorm Casino | Poor customer support |
| 1bet2bet Casino | Rigged games |
| Enchanted Sweepstakes Casino | Illegitimate operations |
| 50 Stars Casino | Payment problems |
| Ace Reveal Sweepstakes Casino | Questionable practices |
| Mighty Slots | Spammed players |
| 21Dukes | Payment problems |
| Aztec Casino | Rigged games |
| Casino Del Rio | Questionable practices |
| Blue Dragon Sweepstakes Casino | False advertising |
| SweepStakes.Mobi | Questionable Practises |
| BetDNA | No license |
| Orion Stars Sweepstakes Casino | Shady operating model |
| Vegas-X Casino | Questionable practices |
| Riversweeps Online Casino | Shady operating model |
| Websweeps.net | Illegitimate operations |
| Shamrock Sweepstakes Games | Questionable practices |
| Milky Way Casino | Questionable practices |
| TigerIsHome Casino | Illegitimate operations |
| Skillz Casino | Rigged games |
| Casino Mania | Payment problems |
| Play777Games | Questionable practices |
| Sunshine Sweeps Casino | Questionable practices |
What Online Casinos We Blacklist
As you can see, there are many reasons behind our blacklisted casino choices. To help you understand their significance, we'll unpack the most common traits of rogue casinos. Read the sections below and learn to spot a red flag and recognize casino sites you should avoid.
Unreliability
Online casinos collect, store, and handle users' personal data, financial information, and funds, requiring round-the-clock security. Dodgy gambling sites usually falter in this aspect.
Many blacklisted casinos operate in jurisdictions where their services aren't legal. They hold licenses from unknown and untrustworthy regulators or have no gambling permits at all. They also implement few to no security measures, leaving their users vulnerable to common cybercrimes like identity theft or fraud.
Questionable Practices
The majority of casino sites end up on our blacklisted casino list because of questionable practices. These operators have long histories of poor player treatment, shady business operations, false advertising, legal issues, and more. They commonly:
Make fake promises
Fail to pay winnings
Spam players
Block player rewards with illegal conditions
Sell user information to online marketing companies
Frequently change their Terms and Conditions without proper notice
Have a record of unlawful activities
Poor Customer Support
Lack of support, poor communication, and indifference to customer concerns characterize many of our blacklisted online casinos. These gambling platforms are known to skirt around serious issues, providing excuses or making empty promises. They can be completely unresponsive, ignoring complaints for months at a time. Some even lack customer support altogether.
Payment Problems
Another issue recurring throughout our blacklisted casino site table relates to payments. Scammy Casinos' online payment problems come in many shapes and forms.
In mild cases, dodgy gaming sites have complicated terms and conditions, including extensive withdrawal procedures. They may also offer very few banking and withdrawal solutions, most of which aren't particularly well-known or reputable. These problems cause misunderstandings, delayed payments, unsuccessful transactions, and more.
On the other side of the spectrum, you'll find operators who refuse to pay out their patrons' winnings. These online casinos tend to ignore their users' messages, cancel withdrawal requests, block accounts, confiscate rewards, and so on.

Rigged Games and Software
All casinos provide their services for money. Nevertheless, rogue gambling sites bend over backward to earn as much as possible. Most use two methods to accomplish this goal:
🎲Rigged Games and Software
Unfair games
These online casinos tamper with their Random Number Generator programs, altering their games' payout rates in their favor. They create highly volatile games with a slim profit margin.
Rigged software
Scammy platforms use clunky gaming software on both desktop and mobile devices. As a result, their games often freeze, lag, and glitch, causing players to lose their winnings.
Aspects We Consider When Reviewing an Online Casino
Reading about our blacklisted casinos and their questionable practices can be scary. However, you shouldn't let it discourage you from gaming online. The industry is packed with reputable online casinos offering a safe and enjoyable gambling experience. Here are several factors we use to distinguish them from the bunch.
License and security
You cannot trust online casinos unless they fulfill two important criteria: they're licensed and well-secured. The former shows the operator has passed rigorous tests to prove their operations are legal and honest. The latter indicates the website uses cutting-edge security protocols like SSL encryption and firewalls to keep players' sensitive data safe 24/7.



Reputation
Casinos' track record and other players' feedback are great indicators of whether an online casino is worth your time. They'll help you understand what you can expect from a gambling platform regarding the services they provide and how they handle complaints.


Entertainment value
Games are the primary reason we join online casinos, so they must be at the top of your priority list when choosing a site to play. Besides fair gameplay, the best brands offer:
Large selection of games: Though real-money and sweepstakes casinos typically differ in the number of games they host, the more, the merrier should be your rule of thumb. Extensive and regularly updated game libraries offer better potential for hours-long entertainment.
Excellent game variety: High-profile gaming platforms cater to a wide variety of players, offering slots, table, and live dealer games from world-class developers. Their titles feature diverse themes, mechanics, and rewards for the ultimate gambling experience.
Top software quality: Regardless of its business model, an online casino must use gaming software that adapts to and works smoothly across different devices and operating systems.
Promotions
False advertising is not a thing on respectable casino sites. These platforms feature attainable welcome bonuses, as well as no-deposit, match deposit, cashback, reload, and many other casino offers. The best ones also run loyalty programs, rewarding active players with extra perks like exclusive bonuses, lower wagering requirements, increased withdrawal limits, and more.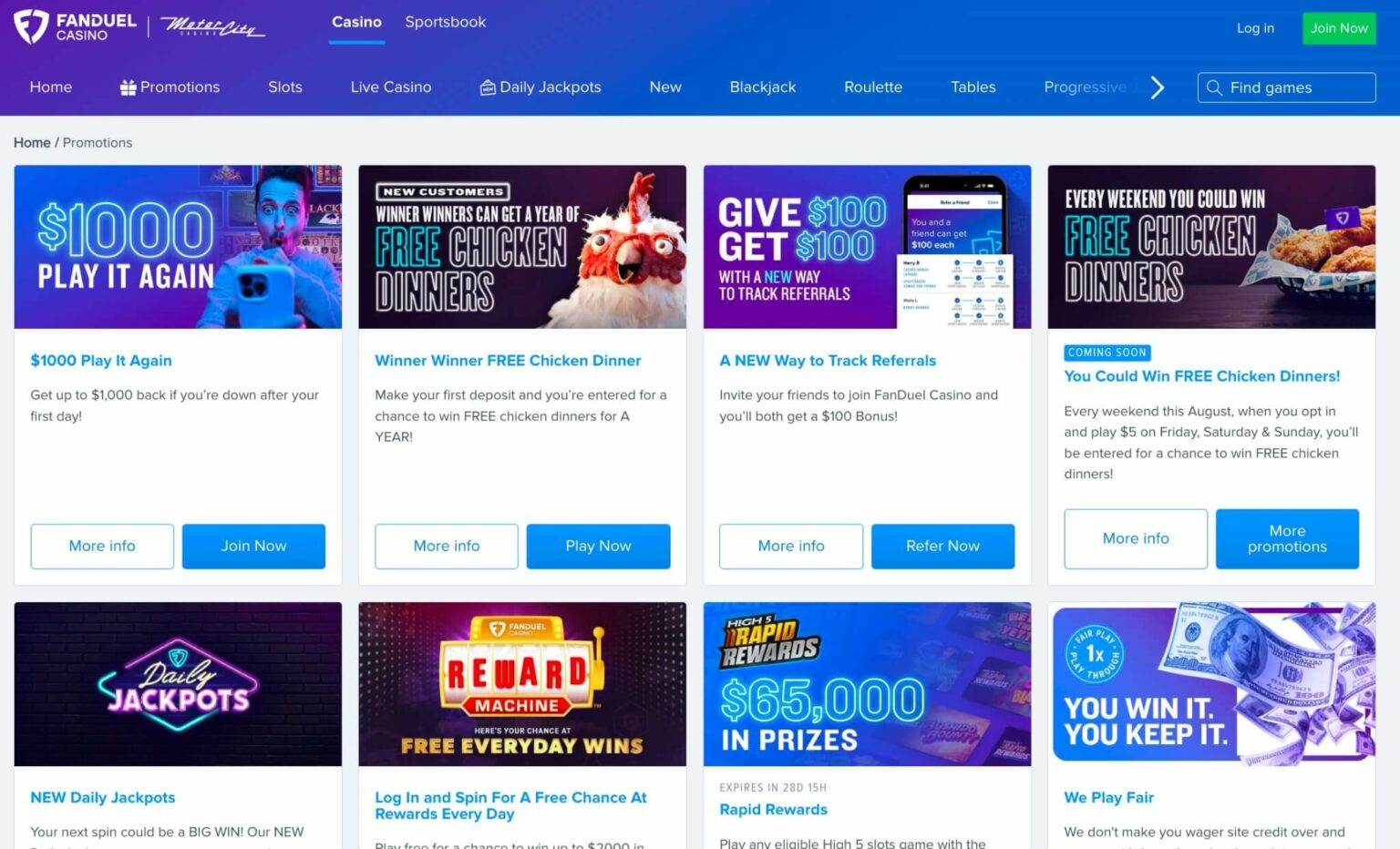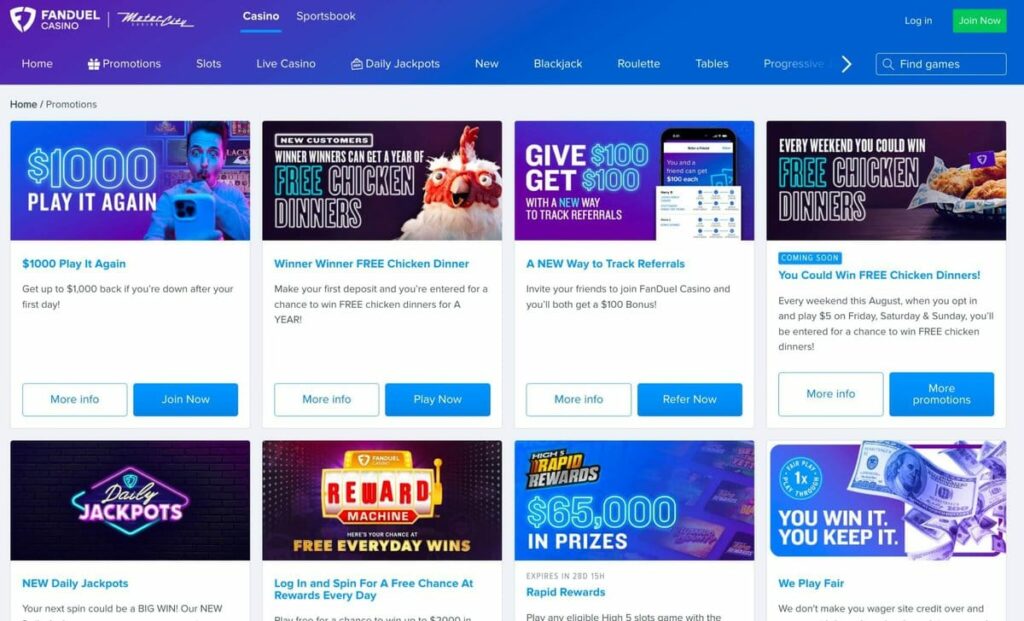 Payment system
A well-developed, secure, and smooth payment system is the foundation of every successful iGaming provider. To check if your casino site is equipped with one, you can inspect its:
Banking methods offer and variety
Payment processing times
Transactional and conversion fees
Types of US Online Casinos and Which to Avoid
The online casino realm comprises several types of gaming platforms, some of which appear more frequently on our casino blacklist. Let's shed light on them to help you keep out of trouble.
State-Licensed Casinos
As you may know, the US has never been the most gaming-friendly country worldwide. While many of its historical prohibitions have been lifted, many states still lack regulated online gambling markets.
The few that have legalized this popular activity have stringent regulatory bodies governing their iGaming landscapes. They take their time examining license requests and issue permits to a small number of applicants.
This climate makes state-licensed casinos some of the most trustworthy and legitimate platforms in the gaming sphere. You'll find none of them in our casino blacklist.
Offshore-Based Casinos
Unlike their above counterparts, offshore-based casinos are registered and licensed outside the US. They abide by a different set of rules and regulations, which has its pros and cons.
Playing on international online casino sites may give you access to bigger and more diverse selections of games, more competitive tournaments, and heftier bonuses. However, these sites' regulations leave more room for illegal practices, payment problems, player mistreatment, and similar issues. Plenty of our blacklisted online casino websites fall into this category.


Sweepstakes Casinos
Sweepstakes casinos operate on a no-purchase-necessary business model, which gives them a different status in the US law books. Most states' statutes don't include their services in the scope of gambling, making them legal across the country, save exceptions like Washington. Still, that doesn't mean scammy sites don't appear in the sweepstakes casino realm.
One glance at our blacklisted online casino list reveals that several sweepstakes operators are not in our good books. These brands use the free-play model to circumvent US gambling rules and regulations. They lure players with misleading marketing campaigns and violate their rights through:
Unfair purchase requirements
Blatant prize manipulation
Fake promotions
Murky terms and conditions
Social Casinos
Social casinos take a similar approach to iGaming as their sweepstakes peers, except they don't allow real-money prize redemption. The only rewards you can win on these platforms are credits for playing their games.
As you can guess, this business model is not particularly conducive to questionable practices, so there are fewer dodgy casinos in this niche. Still, we advise players to check every provider's history, reputation, banking systems, and other relevant aspects before registering.
What to Do if Your Casino Is on Our Blacklist
We've covered all the warning signs to help you avoid fraudulent casinos, but what if you're already a member of one? The step-by-step guide below will help get you back on solid ground.
1. Cash Out Your Winnings
Once you learn you've been playing at a scammy site, you won't be able to do much about the safety of your personal data. However, you might still have time to save your money. Log into your account, review the casino's payout procedure, find the fastest payment method, and initiate a withdrawal. Don't panic and try to transfer as much money as you can at once, as that may alarm the management team. Follow the rules and stay calm.
2. Close Your Account
After your money is safe and sound in your bank account, you can cut ties with this scammy website. Visit the Terms and Conditions page, study their account termination guidelines, and follow the instructions to close your account.
3. Find a Good Replacement
Having rid yourself of a nuisance, you'll be free to start a gaming journey at a new casino. Our website features tons of honest reviews and guides on the best US online casino sites. Read through as many as you like, visit their corresponding websites, and find your new favorite safe place to gamble at.
Report a Casino at Gamble-USA
Don't hesitate to contact us if you're not sure whether the platform where you play is legitimate. Our team of experts holds years of experience in the industry and is happy to do the investigation for you. Send us a message about your suspicions and concerns, and let us do our magic. We'll provide accurate information in time for you to make an educated decision.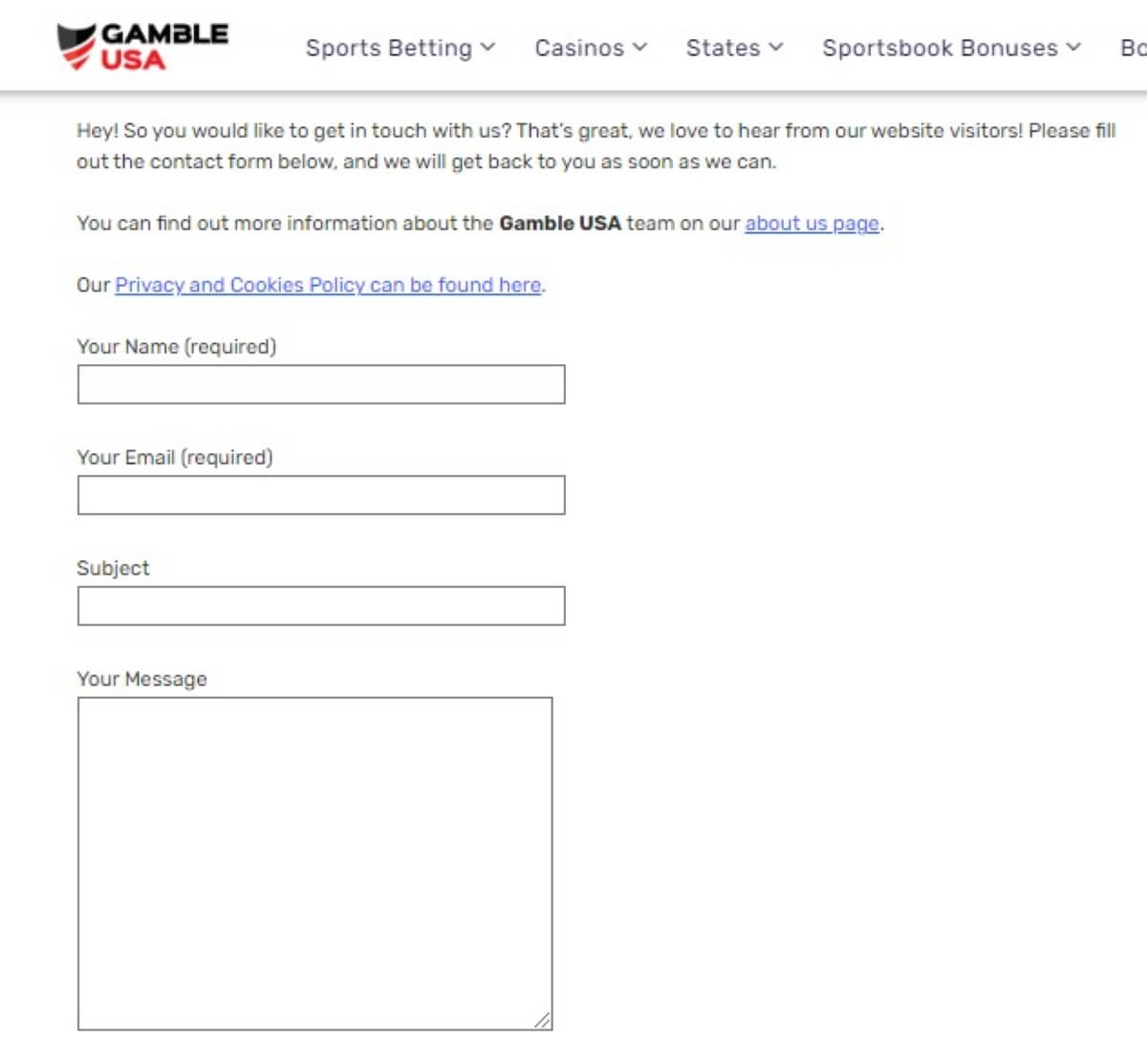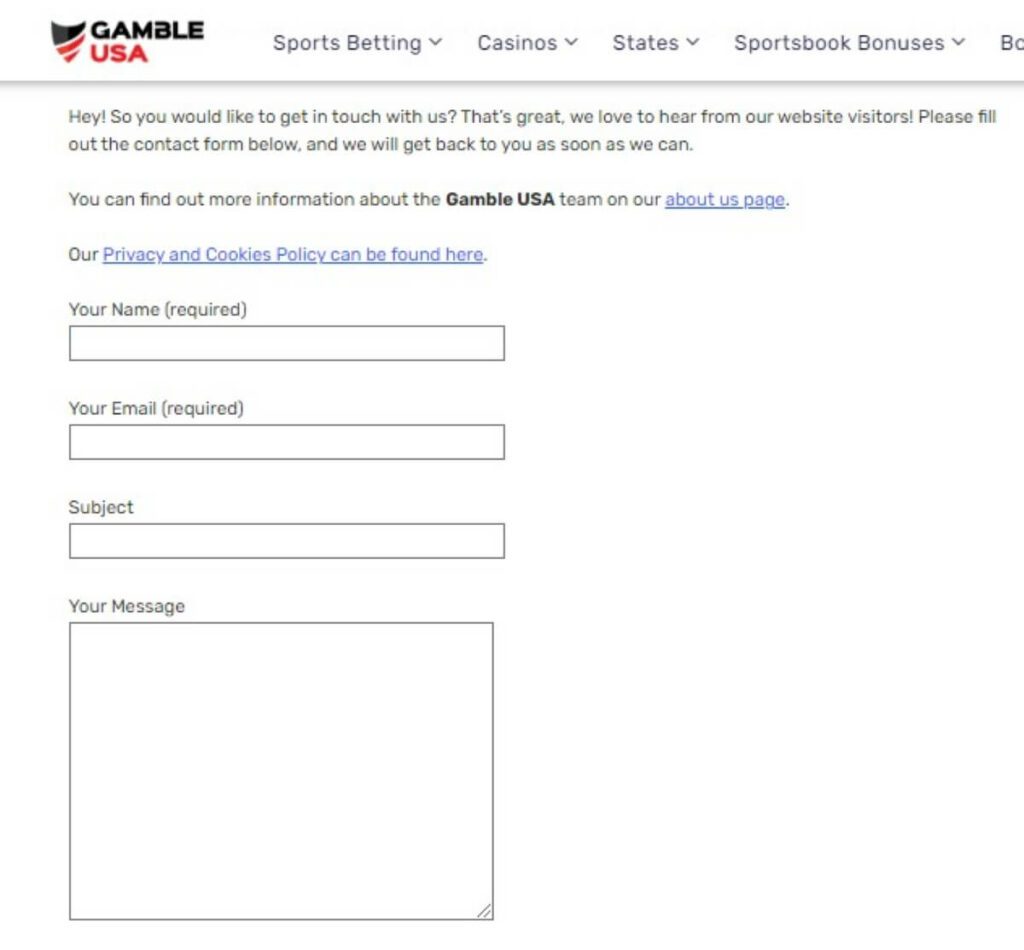 Why Follow Our Recommendations?
Navigating the world of online casinos can be challenging, but our guide should make things easier for you.
Our team comprises experienced reviewers whose expertise and understanding of the industry guarantee accurate analyses and helpful recommendations.
We're transparent about the criteria we use to evaluate, rate, and add casinos to our blacklist.
Our guides get updated regularly to reflect the latest developments in the online casino arena, ensuring they stay current and relevant.
We don't own a casino company, so we have no interest in advertising or bashing arbitrary gambling sites.
A wide community of online casino players has put their trust in our recommendations over the years.
Don't take our word for it; put our recommendations to the test. Use the parameters listed above to compare popular casino brands and make unbiased conclusions. We are confident they won't differ from ours.