Gamble USA strives to improve your online gambling experience. We aim to help you play safely, make informed decisions when gambling, and increase your betting knowledge through our guides.
We adhere to strict editorial integrity; our content may contain links to products from our licensed & legal US partners.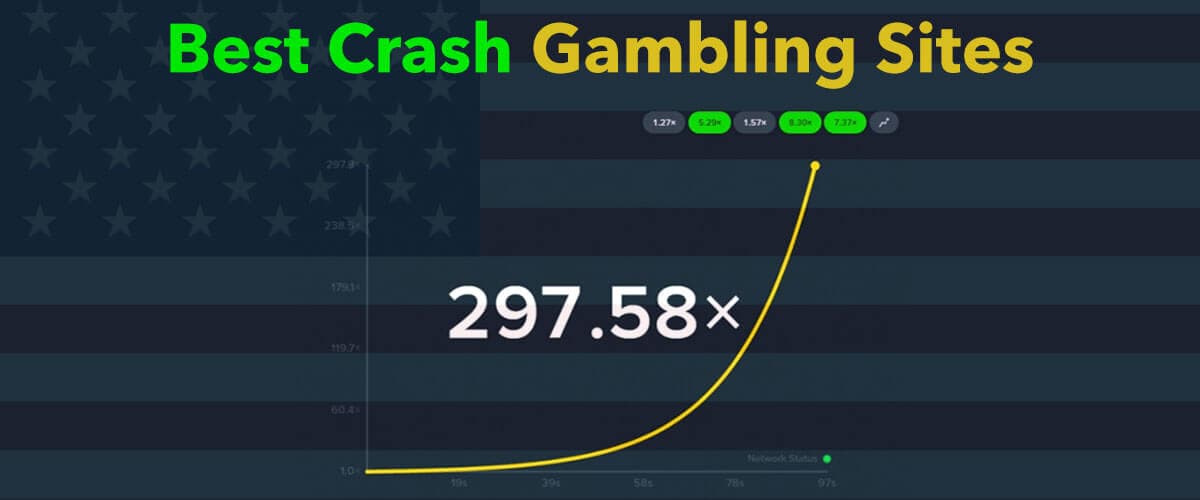 Crash games are one of the newest casino games around, having only been introduced to the online gambling industry in 2014.
They're fun, exciting, and allow you to choose your own volatility. However, despite its growing popularity among players, very few online casinos offer this innovative game — leaving some players to wonder if there's even a way to play crash games legally in the US. Industry giant DraftKing was the first to offer a crash game with Rocket. Unfortunately, restrictive legislation means that for the time being, Rocket is only available in New Jersey.
So what does that mean for the rest of the US? Well, that's the issue that we're looking to tackle today — as with this guide, we'll be doing a deep dive into all things crash — including how it works, as well as showing you a new site that offers their crash game to players across the US.
Things You Should Know About Crash Gambling
Crash games are some of the simplest gambling games around. To explain it — I'll borrow from DraftKings' Rocket. After placing your bet, the rocket launches, and as it gets higher and higher, so does the multiplier that's attached to your bet.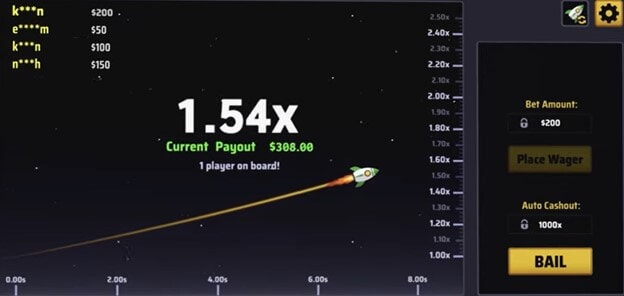 At any point you can bail out — and if you do, whatever the multiplier was, is how much your initial bet will get multiplied by. Of course, you can leave it in as long as you want, but if you wait too long, the rocket will explode and you'll lose your bet. For crash games other than Rocket, the above is still true. The only difference is that instead of using a rocket interface, it'll just use a basic line-graph interface — so instead of a rocket rising, it's a line. Watching a line rise might sound less exciting, though believe me — when you've got your mouse hovering above the "Bail" button, and you're just waiting for that optimal moment — it's a rush unlike any other.
The original crash game Bustabit (then MoneyPot) is a Bitcoin exclusive game. Since it's an international cryptocurrency game — this meant that Bustabit didn't have any sort of gambling license and therefore was and still is illegal in the US. Of course, since it operated off of the anonymous Bitcoin, it was very easy to ignore these laws without any repercussions; however, while this benefited players and Bustabit itself, it also benefited scammers.
While Bustabit itself has never scammed anyone, the concept of an anonymous crypto-based game that couldn't be held accountable by any international laws meant that a lot of other sites soon popped up — many of which were scams. Unfortunately, this reputation has stuck. And for this reason, we recommend you never play at these illegal offshore sites.
The good news is there are now legal alternatives for US players to play crash games.
Best Legal Crash Gambling Sites USA
For US players, there are two to choose from as the best crash gambling sites.
DraftKings Crash Casino — Rocket Game
Undoubtedly the most popular and best crash gambling site is DraftKings.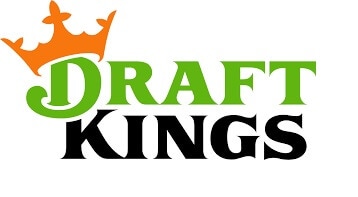 DraftKings is the only traditional US online casino that offers a crash game with their in-house developed game Rocket. The visual interface and in-game help makes Rocket the perfect introduction to crash for newcomers — and with an RTP of 97%, it's a game that gives great value, thereby making it a favorite amongst all players, especially those looking to grind out some bonuses.
Speaking of which, the DraftKings bonus is unmatched. The first part of this amazing bonus is a free $50 no deposit bonus, and the second part is a 100% first deposit match with a max value of $2,000. But keep in mind this bonus is not available to everyone. And the only way to get these bonuses is to sign up at DraftKing by following our exclusive links and clicking the "Sign Me Up" button in the center of the screen.
$50 Casino Credits + $2,000 Bonus
Excellent mobile app
User-friendly design & games
$50 Casino Credits + $2,000 Bonus
DraftKings can be played on both your computer and mobile device. Just download the DraftKings casino app at your relevant app/play store and sign in to get the DraftKings experience on the go. While the online casino and the DraftKings Casino bonus are available to players in Connecticut, Michigan, New Jersey, Pennsylvania, and West Virginia — only players in New Jersey can play Rocket.
Pros of DraftKings Crash Casino — Rocket
Rocket can be played with the DraftKings welcome bonus of a $50 no deposit + 100% first deposit match of $2,000
Excellent mobile app
Only US traditional online casino to offer a crash game
Large variety of

banking options

Auto bet feature available
Cons of DraftKings Crash Casino — Rocket
Stake.us Sweepstakes Casino — Crash
The aptly named Crash is Stake's variant of a crash game. As a Stake Original game, Crash is an in-house developed game — and going through the stats, it's clear that they've stayed as true as possible to the original crash game Bustabit, with an RTP of 99% and a very simple user interface.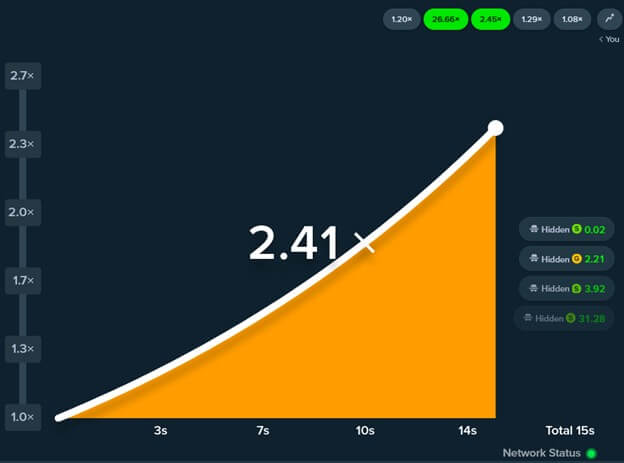 The biggest difference between Crash and Rocket though is in Crash's availability. Because since Stake.us is a sweepstakes casino, they are able to offer their services to almost all states across the US, with only Washington, Nevada, Idaho, New York, and Kentucky being the unlucky states to miss out.
Stake.us is a crypto casino. This means that the only way to deposit funds is via cryptocurrencies like Bitcoin, Ethereum, Litecoin, and a few others. If you've never used crypto before, now is the time. Because for new users who sign up via our links, you'll get a no deposit bonus of 10,000 gold coins + 1 stake cash for free, plus an additional 10,000 gold coins and 1 stake cash every day that you log in.
10,000 GC + 1 Stake Cash No Deposit Bonus
Only legal crypto gambling site in the US
Stellar range of slots, including Stake Originals
RNG and Provably Fair Games
10,000 GC + 1 Stake Cash No Deposit Bonus
Stake.us sweepstakes casino does not currently offer a mobile app. But don't let that stop you, because the site is fully mobile compatible for both iOS and Android devices.
Pros of Stake.Us Sweepstakes Casino — Crash
Available in 45 states across the US
Crash has an RTP of 99%
Accepts crypto as a deposit and withdrawal method
10,000 gold coins + 1 stake cash for free for every day you log in
Can play for free using gold coins
Cons of Stake.us Sweepstakes Casino — Crash
Must use crypto to deposit
Mobile app not currently available
Rocket Vs Crash Head to Head
To see how these two crash variants stack up, check the table below for a head-to-head comparison.
Rocket 🆚 Crash Head to Head Comparison
Rocket (DraftKings)
Crash (Stake.us)
💯RTP
97%
99%
🎁Welcome Bonus
$50 No Deposit +
100% First Deposit Match Up To $2,000
10,000 Gold Coins +
1 Stake Cash Daily
🇺🇸 Availability
NJ
All states (excl. WA, NV, ID, NY, KY)
📱Available on Mobile App?
Yes
No Mobile App.
Available on Mobile Site
💳Banking Methods
Traditional Banking Methods (PayPal, Bank Transfer, Credit/Debit Cards etc.)
Crypto Only
How to Play at USA Crash Gambling Sites
Playing at the best crash betting sites is easy. Just follow the below five steps to register, claim your welcome bonuses, play your desired crash, and finally, withdraw your winnings.
Step 1: Registration and State-Availability
If you're wondering what crash gambling site you should play at, the decision is very simple. If you live in New Jersey — play at DraftKings. Otherwise, Stake.us will be for you. Either way, the process is pretty much the same.
Follow our exclusive links to your chosen crash gambling site and click "Register".
Fill in the requested details and click through the prompts.
Confirm your registration via your mobile or email.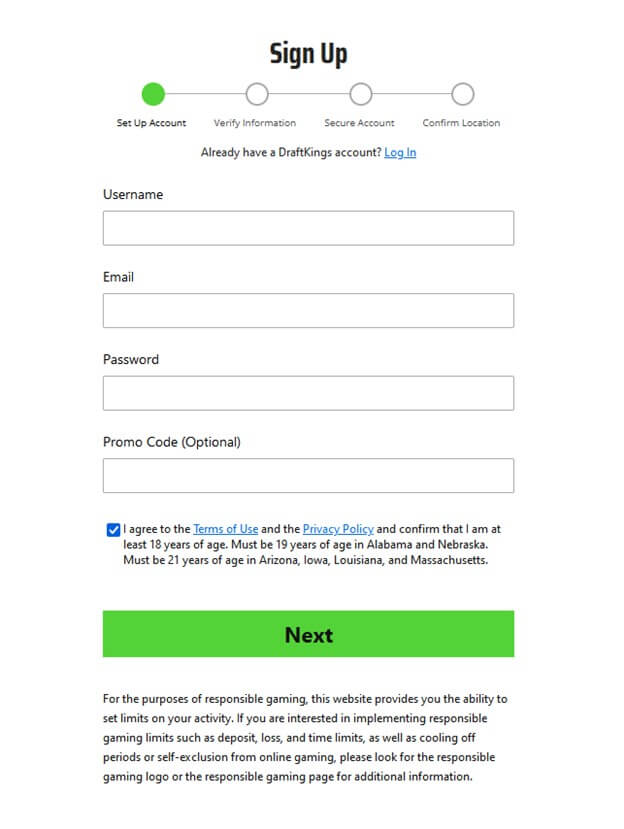 Regardless of where you sign up, this process won't take longer than a few minutes.
One thing to keep in mind though is that if you're located in Washington, Nevada, Idaho, New York, or Kentucky — there are currently no legal ways for you to play at crash gambling sites. If this is you and you're still looking for a way to play an exciting multiplayer game for real money — we recommend you check out our guide on Fortune Coins.
Step 2 (Optional): Crypto and USD Payments
Whether you sign up at DraftKings or Stake.us — you'll be given a free welcome bonus. As such, this next step is technically optional.
DraftKings is a traditional online casino. What that means is that when depositing with them, you can expect to see some familiar depositing methods like PayPal, bank transfer, and credit/debit cards. If you follow our exclusive links, this first deposit will be matched 100% up to $2,000. So just pick your preferred method, follow the prompts — and once you've completed it, the bonus will automatically be applied, and both sets of funds will appear in your account.
Stake.us is a crypto gambling sweepstakes casino. As such, for depositing — it's crypto only. If you've used crypto before, it's what you'd expect — though if not, it's very easy to understand. Click the "Deposit" button, and choose your preferred currency. Next, you'll be given an address that you can copy and paste into your wallet's "Send" section. Then, choose how much you want to deposit and send the funds through. After a couple of confirmations, your balance will be updated.
Step 3: Claim Crash Gambling Bonuses
This step is easy. Because if you sign up via our links, these bonuses will be credited to your account. So just make sure to follow Step 1, and you'll receive either a $50 free no deposit bonus or 10,000 gold coins and 1 stake cash. For the second part of the DraftKings welcome bonus, you'll have to make a deposit. So follow step 2 to get your first deposit matched 100% up to $2,000.
Step 4: Placing a Crash Wager
So you've signed up, deposited, and claimed your bonus. Now you're ready to play. Since there's no crash game category, the easy way to find the game is to go to the search bar and type in either "Crash" or 'Rocket", depending on which site you signed up with. Next, open it up. Since crash games run every 30 seconds, I'd recommend that you just watch the first couple of rounds before placing a bet to get how the game works and familiarize yourself with the interface.
This step shouldn't take too long. When you're ready, you can enter in the amount you want to bet, and when you want to auto cash out — once you've entered in all the relevant information and have confirmed your bet, you'll need to wait out the countdown and wait for the game to begin. Once the game has started, you can either rely on your auto cash out to do the work for you, or you can take matters into your own hands and try to predict the best moment for a manual cash out.
Step 5: Withdrawing in USD or Bitcoin
If everything goes according to plan, you'll want to withdraw your winnings. Whether you signed up for Stake.us or DraftKings — the next step will be the same as you have to complete the KYC process to confirm your identity before you can withdraw. This step is pretty easy. Just follow their instructions, and you should be done within a few minutes — maybe a little longer if they need to confirm your ID manually.
Once that's done, you can collect your winnings. Go to the withdraw tab, select your preferred withdrawal method and click through the prompts. Withdrawal can take up to two business days — especially if it's your first withdrawal, though to speed things up, it can help if you withdraw via the same method you used to deposit.
5 Most Popular Crash Gambling Games
The current options might be limited for Crash gamblers in the USA, but with so many popular games this seems likely to change.
#1 Rocket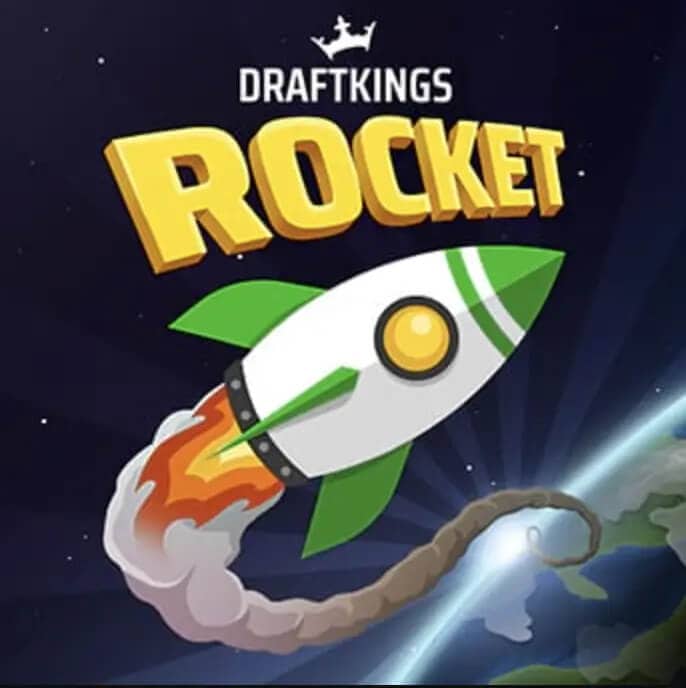 While its availability may be strictly limited to New Jersey, for players in the Garden State, it is the king of crash gambling games. It has a very easy-to-understand interface and allows for both manual and automatic bailing. Though perhaps the best thing about Rocket isn't so much the game itself — rather the casino where you can play it. DraftKings is an industry leader. However, that doesn't mean that they've started to rest on their laurels — because for new users who sign up via our links, you'll get not only a $50 no deposit bonus, but also your first deposit matched dollar-for-dollar up to $2,000. And with a 97% RTP game, you can make some serious bank with these bonuses.
#2 Crash (Stake.us)
Available across almost the entire US, Crash finally offers the chance for players to try an authentic bitcoin crash game legally. A 99% RTP is the highest that you'll find — and while the graphics might not be groundbreaking, I don't think it really matters when it comes to a game like this.
What I especially love about Crash at Stake.us is the option of free play. For many players (myself included), you might not want to jump in with both feet straight away with a game like crash. And with the gold coins at Crash, you don't have to. First, you can play it with gold coins. Then you can play it with the daily free stakes cash, and finally, when you're ready, you can make a deposit and play Crash for as much money as you want.
#3 Aviator
Developed by Spribe, Aviator plays very similar to Rocket with the same 97% RTP, but with one difference. You can make two bets at a time. While I personally would rather just focus on one bet at a time, it does give the option to players to try out two different strategies head to head.
Unfortunately though, Aviator is not legally available in the US.
#4 Bustabit
Bustabit was revolutionary when it came out. The original crash game was instantly one of the most popular bitcoin gambling games when it first came out in 2014.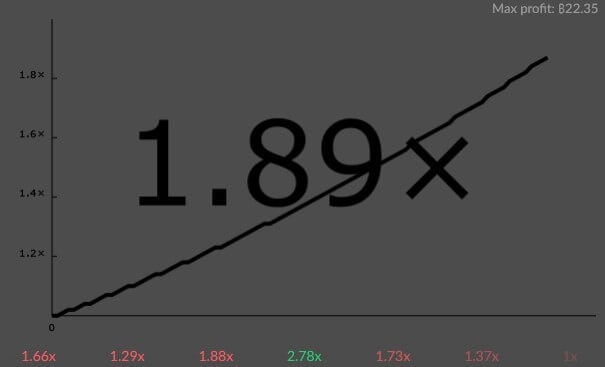 Now, nine years later — it's fallen in popularity. While there's definitely some nostalgia to it, a lack of bonuses makes it unappealing in 2023. Further, when you look at the benefits of DraftKings and Stake.us — there's really no reason to play there anymore, and if you want to play bitcoin crash games, we recommend you stick with Crash at Stake.us.
#5 Crash (BC Originals)
This variation of crash plays identically to the variation at Stake.us. There are a couple of superficial differences — but with both offering a 99% RTP and both casinos being crypto casinos — they're pretty much the same game. Unfortunately though, this crash game suffers the same fate as Aviator — as neither is available in the US.
How Crash Gambling Games Work
Regardless of which crash gambling site you play, the game will work the same. The game starts with the player making a bet and either setting up the auto cash out command or going full manual. Generally, I recommend you always set up auto cash out. The main reason for doing this is that it saves you in the case of an internet dropout or any other reason you might be unavailable to make a manual cash out.
Next up, once you've made your bet and the countdown reaches zero, the game starts. From here, it's up to you what you do. If you've set an auto cash out and want to stick to it — then it's just a matter of hoping. Otherwise, keep your hand on your mouse and the pointer over the "Cash Out" button. When you're ready, click the "Cash Out" button to lock up your winnings, and wait for the game to finish. At the end of the round, you'll get a cool-down period of about 10 seconds to set up your next bet before the game begins again.
One thing to keep in mind about crash games is they're multiplayer games. It's not a co-op game or any sort of game where another player's decision will affect you, but it is a game that runs on a schedule. This means that there's no option to skip to the end of a game or to place your bets once the countdown has already finished. Don't sweat it though. With games running 24/7 and each game lasting on average 30 seconds, you'll never have to wait too long for the next round to start.
Crash Gambling Sites RTP and Winning Odds
One of the reasons why crash is as popular as it is, is because of its RTP. Of course, it varies from site to site, but usually, you can bet on it being 97-99%. This beats out the RTP of most slot machines — though where it really stands apart from slots and all other casino games is with its volatility.
If you want to shoot for the stars going for an x10 or x100 return — you can. Likewise, you can also play it safe — giving yourself a greater than 90% chance of winning by setting the auto cash out to 1.09 or less. It's all up to you. You choose how much you want to risk. You choose how much you want to make.
Tips for Crash Gambling Online
Use Auto Cash Out — Even if you prefer manual cash outs, auto cash outs do provide a safety net. Even if you place it at something high like x25 — it still provides a sort of insurance if you get disconnected or otherwise distracted.
Alter Your Bet Size Accordingly — Typically, when betting on any game at an online casino, you should stick to the same bet size. For table games, this will typically be at 5% of your bankroll. While for

slots games

, you shouldn't go higher than 1% due to the increase of variance that these games bring. But with crash games, you need to alter your bet size depending on what sort of win you're going for. For example, if you're looking to cash out at x2 — treat it like a table game and don't bet more than 5%; meanwhile, if you're going for x5 or higher, you'll want to treat it like a slot and keep your bets to x1 or lower.
Take Advantage of Bonuses — The more money you have, the more money you can win. It's simple, and by taking advantage of bonuses — it's pretty much like having a cheat code for free money. In this guide, we've only covered welcome bonuses. But if you're serious about grinding a profit, then there are

reload bonuses

,

referral bonuses

,

loyalty bonuses

, and many other types of bonuses that can boost your bankroll, thereby boosting your winnings.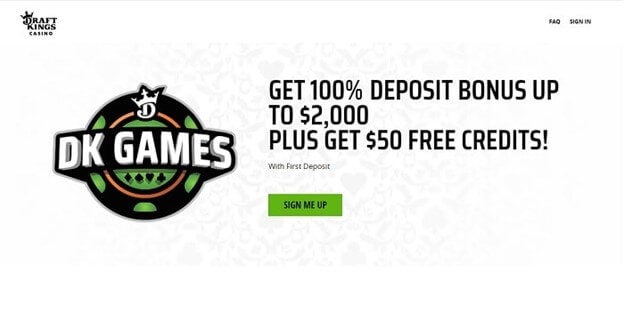 Ignore Past Results — At the end of the day, crash is a game of luck. There's nothing you can do to try and influence future results. There are some players who think that you can analyze past results to try and predict future results via a crash gambling strategy — however, this is not the case, and the hash values that influence the game are randomly generated without any respect to prior results.
Crash Gambling Sites to Avoid
Games based on crypto are inherently targeted by scammers. The anonymity crypto provides makes it next to impossible to tell a legit offshore site from a scam — as such, you should always tread with caution and treat any unlicensed offshore crash gambling site as a potential scam. Bustabit may be an exception to the rule. Though even so, comparing it to Stake.us is a no-contest. Both offer crypto, both offer a near identical 99% RTP crash game — but with Stake.us, you get daily free money bonuses just for logging in.
If you live in New Jersey, DraftKings Rocket is for you. For everyone else, don't bother with any of the shady offshore sites — and instead, stick to the trusted Stake.us.
FAQ's
Where Can I Play Crash USA?
Crash is a rare game to find at US online casinos. The only traditional online casino that offers it is DraftKings with their crash game Rocket. Unfortunately, Rocket is only available for residents of New Jersey. The good news is, there is one other site — and for players outside of New Jersey, the best crash gambling site is Stake.us sweepstakes casino.
What Online Casinos Have Crash?
The best crash gambling sites are DraftKings and Stake.us. While the two games play very similarly — I'd recommend DraftKings Rocket as the superior of the two games simply due to the DraftKings amazing welcome bonus of a $50 no deposit bonus + $2,000 first deposit match. Though the aptly named Crash at Stake.us is also very good.
Can I Play Crash Games with USD?
Yes. While Crash does have its roots firmly tied into bitcoin and other cryptocurrencies, for residents of New Jersey, you can now play crash with USD. Just sign up to DraftKings via our links to get access to Rocket.
Is Crash Gambling USA Legal?
Yes. Crash is legal in the US. Restrictive legislature does limit playing crash with USD to New Jersey and DraftKings. However, for those outside New Jersey, you can play legal crash at Stake.us sweepstakes casino.
Can I Play Crash Gambling Game with Fake Money?
No. Crash is exclusively an online game, and there's no way to deposit "fake" money. At Stake.us, you can play free crash with their gold coins currency. Though keep in mind that the gold coins currency can't be exchanged with cash, crypto, or their premium currency stake cash.