Gamble USA strives to improve your online gambling experience. We aim to help you play safely, make informed decisions when gambling, and increase your betting knowledge through our guides.
We adhere to strict editorial integrity; our content may contain links to products from our licensed & legal US partners.
Playing French Roulette Online is now one of the most popular ways to play this iconic casino game.
If you are looking to play roulette online, there are numerous options available to you. As more states look to legalize online casino gambling, players can access several online casinos that offer roulette as one of many casino games in gaming their libraries. Roulette is undoubtedly one of the most popular games at land-based casinos and is also extremely popular online.
Best NJ French Roulette Online Casinos
Several NJ online casinos have French Roulette available, including:
Best PA French Roulette Online Casinos
Most PA online casinos have French Roulette available; the two best to play at are:
Players in New Jersey and Pennsylvania can play many different roulette variants at NJ online casinos and PA online casinos. Additionally, players can visit an online casino to play French roulette online free or for real money.

French roulette is one of the most played versions of the classic casino game. However, while the French roulette game looks and plays in the same way and has similar roulette payouts as the other variants, there are some key differences, especially regarding the casino house edge.
In this guide, you will discover how French roulette differs from other versions of the game, looking at factors including the La Partage rule, the types of bets available, and the house edge. Moreover, we will look at the most popular bet types, next to the type of odds you can expect to see for each bet.
How French Roulette Works – French Roulette Rules
The basic principles of roulette are well-known and are the same in the best online casinos. There is a roulette wheel and a ball, and the player makes a bet on where they think the ball will land: red or black. This is the same across all versions of the game, whether you are playing at a brick-and-mortar casino or a roulette online casino. However, there are some subtle differences in the French version compared to European roulette and American roulette.
Some versions of the game will feature a double zero, which is the case with American roulette. Players should know that the more zeros there are on a wheel, the higher the house edge is. When it comes to American roulette, the house edge is  5.26%. You could even come across a version of the game at some NJ online roulette platforms with three zeros where the house edge is 7.89%. There is only a single zero in French roulette, which presents a favorable house edge of 2.7%.
Additionally, French roulette has the La Partage rule, which reduces the Roulette house edge even further down to 1.35%. This rule applies specifically to 50/50 bets such as odd/even and red/black bets. If you happen to be unfortunate and the ball lands on a zero, you will get half of your stake back.
If you are someone who enjoys 50/50 bets, French roulette could be the perfect game for you. Most casinos offer the La Partage rule; however, some operators don't and also don't include the En Prison rule. If you are looking to play some low limit French roulette online, make sure you find an online casino that is most suitable for you.
Popular Bets in French Roulette
As French roulette comes with the La Partage rule, most players will stick with the 50/50 bets. These include betting on red or black, which is perhaps the most famous bet in a casino, high/low wagers (1-18 or 19-36), and odd/even bets. Many will stick with these wagers because the house edge is low at 1.35%, and you can potentially double your money if you win.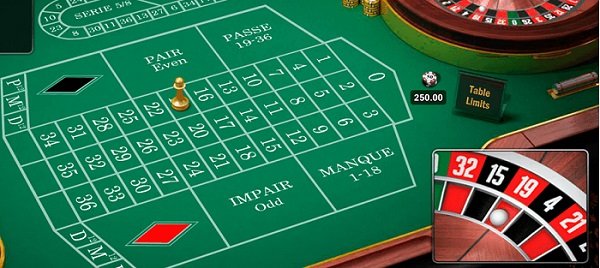 Split bets are also prominent in French roulette, where players place the chips between two numbers, and if either land, the payout is 17:1. Furthermore, corner bets, where you put the chips in the corner between 4 numbers, pays out 8:1. Another type of famous wager with French roulette is straight bets, where you bet on a single number. The payout odds for these are 35:1.
Other popular bets at French roulette online NJ casinos include dozens, where you bet on numbers in the 1-12, 13-24, or 25-36 ranges. The payout for each of these is  2:1. Finally, there is the columns wager, where you bet on 1, 4, 7, 10, 13, etc.
Other Bets for French Roulette
Unlike playing NJ blackjack online or using a straightforward spin the wheel app, French roulette has specific unique bets. Some of these bets include:
Le Tiers du Cylindre: This translates as 'thirds of the wheel' and covers the numbers across from the 'voisins du zero,' from 27 to 33.
Voisins du Zero: The literal translation is 'neighbors of zero' covering the numbers between 22 and 25 on the wheel, including zero.
Orphelins: This means 'orphans,' and it covers all of the numbers that are not included in the groups above.
These are some of the unique bets associated with playing French roulette. Although the classic game may seem straightforward, it can be a little more complicated than playing or reading through a slots guide, for example.
Is There a French Roulette Strategy?
Roulette is not thought about as a game of strategy; however, there are ways to minimize the house edge if the La Partage or En Prison rules are enforced. This makes French roulette the best online option out of all of the different versions. The best way to increase your chances of winning is to make even money bets, as you can take advantage of the protection French roulette offers. If both the La Partage or En Prison rules are in action, the house edge is only 1.35%.
Although a low edge doesn't guarantee you will be a winner, the chances of getting some payout will be enhanced. Playing a single zero version of the game is the most beneficial for all players. Playing these versions give you a bigger chance of winning some real money, and you can then withdraw those winnings at PayPal NJ casinos.
You may also want to read our guide on real money baccarat apps and debunking of is Lightning Roulette rigged claims.
Other Important Strategies
Use Even Money Wagers
Suppose you don't know what to wager on when playing French Roulette; your best bet is to use even money bets. These include bets on black or red, low or high, and odd or even. These are the safest and easiest wagers you can place on French Roulette. While the payouts are not high, they can still provide significant rewards if you win.
Avoid Hot Numbers
There are French roulette games that track hot numbers. While these numbers may seem incredible, you mustn't allow these numbers to influence how you wager. Predicting the spins on a roulette wheel is impossible, and past winning numbers are different from future winning numbers.
Have a Bankroll
This is a necessary step for every casino game, including French Roulette. Before you start playing, ensure you have a bankroll set up. Determine the amount of cash you can afford to lose and ensure you stop playing when you exceed that figure. This can save you a lot of headaches while playing and ensure you don't bet using funds allocated for other purposes.
Take Frequent Breaks
Take breaks when you are exhausted. Like other online casino games, playing on the French Roulette table when you are exhausted or not in the right frame of mind can have a negative impact on the outcome you get. Instead, take frequent breaks and resume when you are refreshed and in the right frame of mind.
French Roulette FAQs
What does roulette mean in French?
Roulette is named after the French word meaning little wheel. This is apt as; obviously, the game revolves around the spin of a wheel as players hope the ball lands on their chosen color or number. All versions include including French American and European roulette, involve the classic wheel.
What is the probability of getting red in French roulette?
The exact probability of landing on red in French roulette is 18/37 as there are 18 red numbers in total. The same applies if you bet on evens, as there are 18 even numbers in a standard wheel.
What is a full bet in French roulette?
A full bet is also known as a 'complete' bet when you play French roulette. A player may be put off by making this type of wager as they will need to risk a considerable amount, which could reach the maximum table limit. When placing a full bet, players are, in essence, placing a variety of inside bets on just one number. These types of wagers suit those who like to take some high-risks when betting.