Gamble USA strives to improve your online gambling experience. We aim to help you play safely, make informed decisions when gambling, and increase your betting knowledge through our guides.
We adhere to strict editorial integrity; our content may contain links to products from our licensed & legal US partners.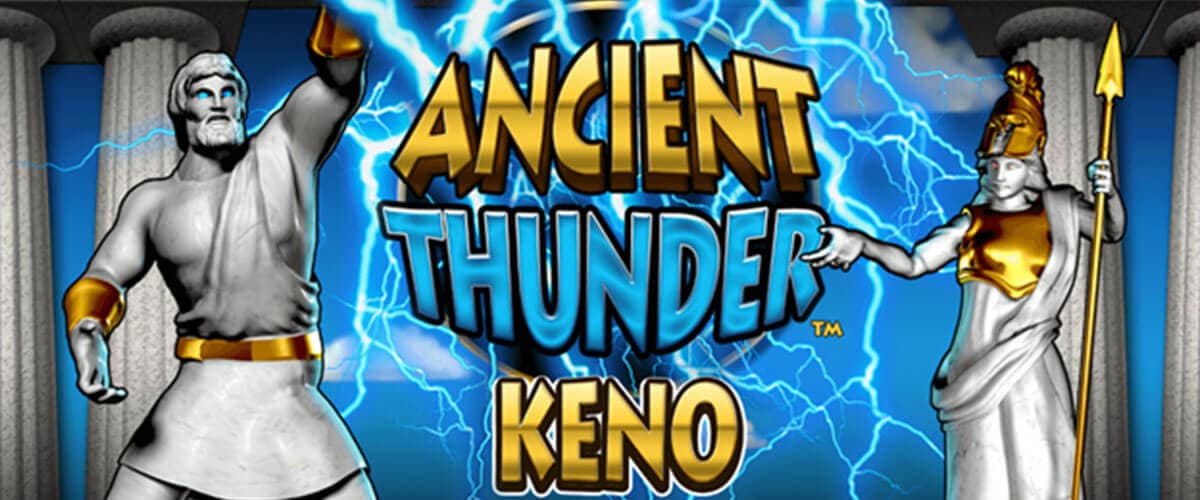 Get ready to be amazed by the Greek Gods' majesty in Ancient Thunder Keno by Grand Vision Gaming. The game is themed around Ancient Greece, where mighty Gods provide unique bonus features to the Keno experience that are perfectly designed around slot bonuses.
It's a game of chance where you place bets and select numbers from a grid that win if they match the numbers drawn. It contains an 80-number standard Keno grid with 20 draw spots and 15 bonus spots. Greek gods here spice things up a little and provide features like extra hits, free games, multipliers and a wheel bonus.
The game is playable on any device and allows bets ranging from $0.01 to $20 each round. It comes with an RTP of 93.89% and a potential win of up to 20,000x. If that looks interesting, read on to find out about the features, rules, and best online casinos to play Ancient Thunder Keno for real money.
🎰Ancient Thunder Keno
💯RTP
93.89%
📈Volatility
High
💲Bets Range
$0.01 - $20
⭐Special Features
Free Games, Multipliers, Extra Draws, Wheel Bonus
🧑‍💻Developer
Grand Vision Gaming
💰Maximum Win
20,000x
🎰Available At

DraftKings Casino

,

BetMGM Casino

,

Caesars Casino
Best US Online Casinos & Apps to Play Ancient Thunder Keno
Ancient Thunder Keno is one of the best real money keno games in the US. Powered by GVG, you know it is fair and legit, which is why it is available to play in licensed US online casinos.
In fact, this game is among the few online keno titles you will find in the US. It is available in any of the listed casino sites, but we recommend playing it from the DraftKings Keno lobby. That's because this online casino features the random $1,000 DraftKings Jackpots across several games, including on Ancient Thunder.
Aside from this, any of the following operators awards new players a welcome bonus, a sign-up bonus, and regular reload bonuses that apply on keno games.
What is Ancient Thunder Keno?
Keno is a luck-based game that has been around for decades, but it is now available at many online casinos. It's a fun numbers game comparable to the lottery, and playing it online is as easy as picking your lucky numbers, making a bet, and hoping to strike those numbers when drawing. Ancient Thunder Keno delivers the same experience with a standard grid and numbers ranging from 1 to 80.
The Greek theme has been retained throughout the gameplay, with each numeric square carved out of stones. You must choose certain lucky numbers you believe will be drawn and then press the draw button to see whether you match and win. The more numbers you match during the relevant drawing, the higher rewards you will receive.
The main attraction of this Keno experience is the randomly picked 15 bonus spots. These provide Greek Gods bonus features which you can activate by filling their character cards with hits.
How to Play Ancient Thunder Keno Slot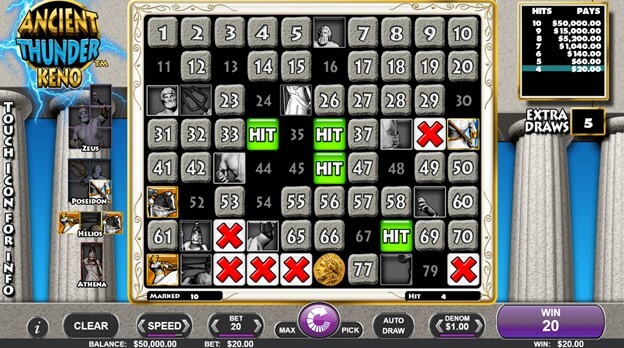 The rules of this game are simple to grasp if you've ever tried the lottery. But if this is your first time playing Keno, don't worry; our detailed guide will give you all the info you need to play Ancient Thunder Keno.
Ancient Thunder presents a grid with 80 numbers; you have to mark them as you see suitable. You must select at least three to ten numbers to bet on which you believe will be hit.
Mark the numbers and then use the Bet & Denom buttons below the grid to make your total bet, ranging from $0.01 to $20. You can also click the Max Bet option to select the maximum bet allowed, while the Pick button will randomly mark 10 numbers on the grid for you.
After that, the Draw button activates, and 20 numbers are drawn randomly as soon as the game starts. A green hit mark will appear when a drawn number matches the selected number. If you achieve the required number of hits, you will be paid according to your bet size and the pay table displayed in the upper right corner.
There is also an Auto Draw button to pick between 10 and 200 uninterrupted autoplay. You can also use the Clear button to remove all marked numbers, and the Speed button lets you manage the game's pace.
In addition to the base game, you can strike the bonus spot, revealing a matching tile of the bonus legend shown on the left. The bonus for each character is activated if you complete any of these bonus legends.
Ancient Thunder Keno Paytable and Casino Game Payouts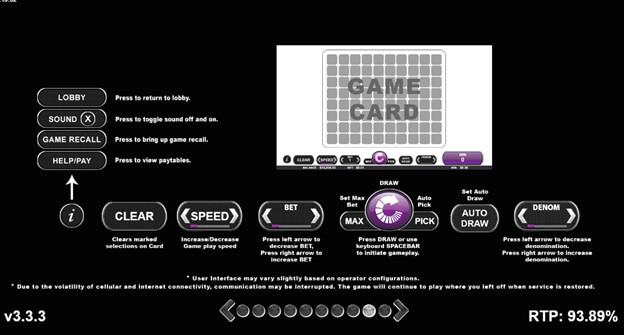 The paytable for Ancient Thunder Keno varies according to the number of spots you choose and your bet levels. On the game screen, a paytable displays your expected payout based on the number of hits and the numbers you selected. The odds of winning are extremely low if you select less than four, but if you select more than eight, you will always need to match at least four numbers to get a prize.
Picking more numbers and placing higher bets will result in better payouts, so try to hit enough of your picks to win a prize. If you match all ten numbers drawn while paying the maximum bet, you can win as much as $50,000.
Ancient Thunder Keno Special Features
Zeus, Poseidon, Helios, and Athena join you in Ancient Thunder to provide an epic Keno experience. Each group uses a different amount of tiles to create a picture of one of these ancient Greek deities and offers a unique bonus feature.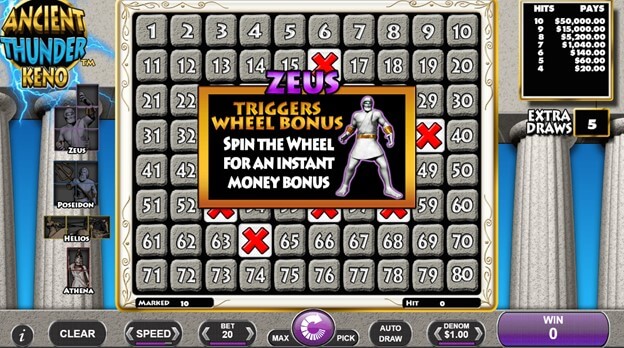 Wheel Bonus
You can activate the Wheel Spin bonus by collecting all five Zeus bonus symbols, which lets you spin the wheel to win instant money. You can claim your prize where the wheel stops, but there's more. If you are unhappy with the first spin's result, you can spin again and get the prize from the second wheel spin. The wheel has twelve prizes; if you play with the maximum bet, you can win 20,000 times your stake in this bonus.
Free Games
There is also a great God, Poseidon, who throws free games into the action, similar to free spins in slot machines. You must hit all four Poseidon God symbols to activate this bonus. How many free games you can get depends on how many spots you selected in the base game.
🎰Free Games Ancient Thunder Keno
3, 4, & 6 spots
14 Free Games
5 spots
13 Free Games
7 spots
12 Free Games
8 & 9 spots
11 Free Games
10 spots
10 Free Games
In the free games, you can also activate other bonuses. The bonus multiplier will rise by 1x up to a maximum of 5x for each time the multiplier coin stikes.
Extra Draws
You must strike three Helios tiles to receive extra draws, which begin at 5 and can reach a maximum of 20 for all bet levels. All draws you get are used, and the number of extra draws is restored to the default number for the bet level being played.
Extra Draw Increase
An extra draw increase will be activated when you have hit the 2 Athena tiles and completed the character. It will add one additional draw to the Extra Draw Pool, giving you more opportunities to win big. Also, remember that this bonus will be removed once you reach the maximum of 20 draws.
Bonus Multiplier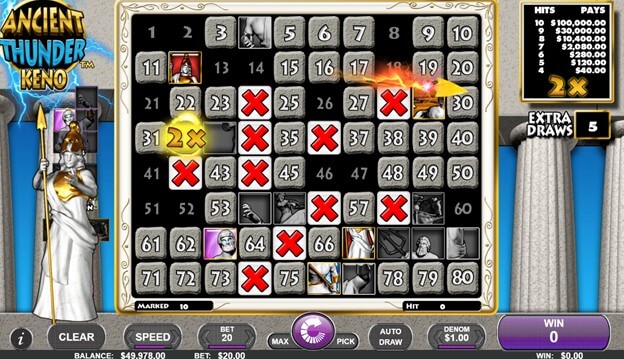 While playing the game, keep an eye out for Gold Coin multipliers, which will double your win amount in the base game. The bonus multipliers also apply to the Wheel Spin bonus and the Free Games. However, landing the Gold coin multipliers does not fill any legend spots.
Ancient Thunder Keno House Edge & RTP
The RTP of the Ancient Thunder Keno slot machine is 93.89%, which is the amount paid out to the player over an extended period. Even though the game has a low RTP compared to online slots, it is still popular because it's much more fun to play and less boring than traditional Keno. Compared to the standard 85% RTP in online Keno games, the Ancient Thunder Keno RTP is way superior.
The house edge in this keno game is 6.11% on average, according to the RTP of 93.89%. The house edge is the mathematical advantage casinos rely on to profit from player bets over time. The house has a 4% to 15% advantage over players' bets in online keno games, which appears similar to many slot games.
Ancient Thunder Keno Strategy & Tips to Play
There is no proven strategy to win in Ancient Thunder Keno, but this might keep players looking for whatever benefit they can uncover. We've included some popular keno tips, but none of these comes with a 100% guarantee to win.
Picking hot or cold numbers and sticking to betting on them is the most common keno strategy. But remember that it's a game of chance, so focusing your approach on the expectation that a number will shortly hit could not provide the desired outcome.
Also, increasing the number of spots you bet on might increase your winning odds. However, this technique will cost extra, so be sure your budget can afford it. Play responsibly and set up a budget and your spending limit.
Even when you have mastered the finest keno strategies, we advise practicing in free mode first to improve your understanding of the game further.
Is Ancient Thunder Keno Rigged?
As previously stated, Ancient Thunder Keno is a luck-based game, which means you cannot control or guess the results. All numbers in online Keno are drawn using an RNG (Random Number Generator), which ensures that keno outcomes are genuine and random. The RNG software employs a complex numerical formula to achieve random outcomes distinct from prior draws.
You can play this game at any of our reputable casino sites, which are continually reviewed and inspected by expert organizations to make sure their RNGs are operating legitimately. So, the game is not rigged and operates regardless of the player's decision about their number selection; at least when you play it on legit and trustworthy online casinos we recommend. The same is true for other US-licensed keno games like Mad Yeti and Prairie Thunder Keno.
Play Ancient Thunder Keno Online Today!
If you've never played Keno before or don't believe it's something you'd be interested in, don't worry. It's very exciting to see the ancient vibe here with the pillars and lightning bolts. Grand Vision Gaming did an excellent job of integrating Keno with legendary gods, delivering unique bonuses triggered by completing their character squares.
With the support of such Gods, you can enjoy Wheel Bonuses, Free Games with a multiplier, and extra draw possibilities. This Keno version is an RNG game based on chance, with no patterns you can use to predict the numbers. If you want to break out from the realm of slots, this game might be a good option to try.
FAQ's
Can I play Ancient Thunder Keno on a mobile app?
Yes, you can play Ancient Thunder Keno on a mobile app, as most of our recommended casinos provide apps. Select one of the casinos listed above and register in a few minutes. Then download the casino app, sign in, and enjoy playing keno games on your mobile.
Is Ancient Thunder Keno available at any licensed US online casino?
The Ancient Thunder Keno is available to play at licensed operators in five US states with authorized casino gambling. All the online casinos included in this review are US-licensed and offer attractive welcome bonuses to new players looking to play Ancient Thunder Keno.
Can I play Ancient Thunder Keno for free?
Before playing this Keno game for real money, you can try it out in demo mode, which is available online. It allows you to practice without risking and understanding the game's rules, payouts, and speed.
What is the Ancient Thunder Keno house edge?
The game has a house advantage of 6.11%, which means that, on average, the casino keeps $6.11 as profit while paying you the rest $93.89 in wins. It implies that the casino will always have a higher chance of winning than you would.
How to win at Ancient Thunder Keno?
You will win if you reach the required number of hits, which differ based on the spots you picked before the draw. The payouts vary according to the number of picks and bets you make, and the pay table that applies to you is displayed on the screen.
Who is the developer of Ancient Thunder Keno?
Ancient Thunder Keno was created by Grand Vision Gaming, a company known for its excellent Class III video game ideas. GVG has an experienced staff in charge of creating new gaming products that use cutting-edge technology and highly engaging themes. They establish standards in offline and online markets and collaborate with other manufacturers to turn outdated offline machines into online versions.
What games are similar to Ancient Thunder Keno?
It's hard to find a game as unique and original as Ancient Thunder Keno. A few exciting Keno variants you can play at legal US casinos include Wolf Run Keno and Prairie Thunder Keno. Both of those follow similar gameplay, but with their own unique theme and special features.
How to cheat Ancient Thunder Keno?
Ancient Thunder Keno operates like online slots, using a random number generator software. The company behind this game has made it so every round is random and impossible to rig. The RNG software of Ancient Thunder Keno is regularly checked and verified by iGaming bodies in the states where each legal casino is licensed, as well as by independent 3rd party companies - ensuring cheating is out of the question.