The first experience most people have with gambling is the lottery. It's easy to learn. Doesn't require any sort of complicated strategy. And even if you've never played it, it's impossible not to see the advertisements for the eight and nine-figure paydays, all if you can guess the numbers that are going to be drawn. The only complaint people have about lotteries is how infrequently they run. Of course, online casinos are all too happy to cater to this demand with a lottery-like game in Keno.

While hundred million dollar paydays aren't offered, what players can achieve are small, more realistic payouts — and while some players detest Keno due to perceived inferior RTP when compared to other online casino games, others love the relaxed gameplay that doesn't require you to rack your brain as you try to decipher the optimal Keno strategies. Of course, that isn't to say that winnings aren't important. And while lovers of Keno may not be up for the slow grind of thousand-hand sessions of blackjack or low-volatility slot machines, they still want to walk away with something.
Though with no strategy, profitability comes down to the casino site. So in this article, I'll be covering DraftKings' Keno games and whether or not they're worth playing.
$50 Casino Credits + $2,000 Bonus
Excellent mobile app
User-friendly design & games
Online Keno Games Overview
Regardless of what Keno game you're playing, you can expect the same sort of gameplay. The first step of every Keno game is to select your numbers. Selecting more numbers will lead to higher payouts, but will also decrease your win rate. So decide how much volatility you want, and then choose up to as many as ten numbers. Once you've done that, click the play button and see if your numbers get drawn.
The RTP of Keno is about 93.5%. However, it isn't as simple as slots — as with Keno, your RTP will change based on how many numbers you pick. The popular strategy for high RTP Keno is to go for six or seven number games, as doing this tends to raise the RTP to about 94.5%, with the RTP getting lower the further you go from these numbers.
With that being said, though, I think if ever there was a game to put less importance on RTP, it's Keno.
DraftKings Keno Games

| Keno Game | RTP | Jackpot | Min-Max Bet | Score |
| --- | --- | --- | --- | --- |
| Mad Yeti Keno | 92.46% | ✅Yes | $1-50 | 4/5 |
| Ancient Thunder Keno | 93.89% | ❌No | $0.01-100 | 4.5/5 |
| Prairie Thunder Keno | 93.45% | ❌No | $0.01-20 | 2.5/5 |
While Keno is a very simple game, most online Kenos like to add a small twist — and with DraftKings Casino, there are three different Keno games offering three different experiences. Some good, some bad. In this section, we'll go through them one by one.
Mad Yeti Keno
The simplest of the Keno games available at DraftKings is Mad Yeti Keno. While there is a $1,000 DraftKings jackpot attached to this game, it's awarded entirely at random and, as such, is something that you can't really plan for. The only thing that you can plan for with Mad Yeti Keno is the final frost snowball. This feature is attached to the final number of each draw, and if it's attached to a number that you selected, you'll get your payout multiplied by eight. This means that with Mad Yeti Keno, it can be a decent strategy to select more numbers than usual.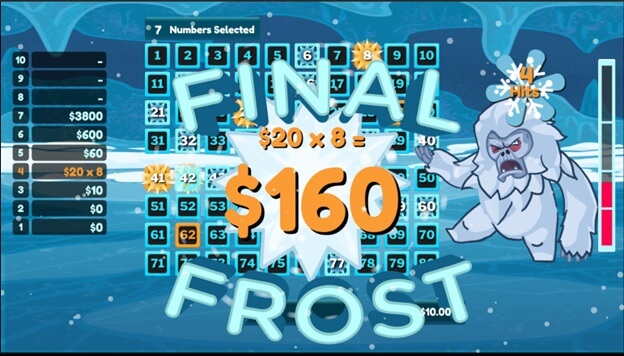 Other features of this game include the Yeti himself, who will get madder as you collect numbers and snowballs are thrown at him, thereby raising the bar on the right-hand side of your screen. However, the Yeti's anger is purely aesthetic and bears no strategic relevance.
Outside of this, the game is simple. A cool theme accentuates a chilled game making it perfect for a player who's just looking to unwind. The one drawback of Mad Yeti Keno is its RTP of 92.46%, which is the lowest of all Keno games at DraftKings.
Ancient Thunder Keno
With an RTP of 93.89%, Ancient Thunder Keno takes the crown of the highest RTP Keno game at DraftKings. With an Ancient-Greek theme, Ancient Thunder Keno takes the perfect amount of inspiration from slot game bonuses without destroying the harmony of the Keno. The bonuses are simple to understand and are based on collecting symbols to form one of four Greek gods: Athena, Helios, Poseidon, and Zeus. When you collect them, you'll be awarded one of four bonuses. These include free games, extra draws, and a one-time multiplier. Getting these — particularly the Helios extra draws can be the difference between decent and great pay.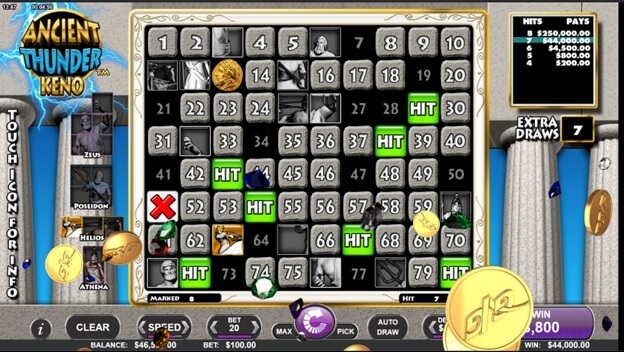 If you're coming from DraftKings slots and are looking for a relaxing game that has some familiar similarities, this will be the Keno for you.
Prairie Thunder Keno
When you first open up Prairie Thunder Keno, you'll be met by an eruption of thunder, horses loudly neighing, and some guy yelling "Thunder". If you're not expecting it, it'll definitely take you by surprise. Likewise, triggering bonus rounds or getting any sort of big wins will lead to wolves howling, sirens blazing, and another loud cry of "Thunder". It's rare for sound design to ruin a casino game, but if there was ever a game that achieved this, it was Prairie Thunder Keno.
The game itself is played like any other Keno, though it contains two bonuses of an x4 multiplier and free games for collecting relevant symbols. These bonuses combine to bring the game to a 93.45% RTP.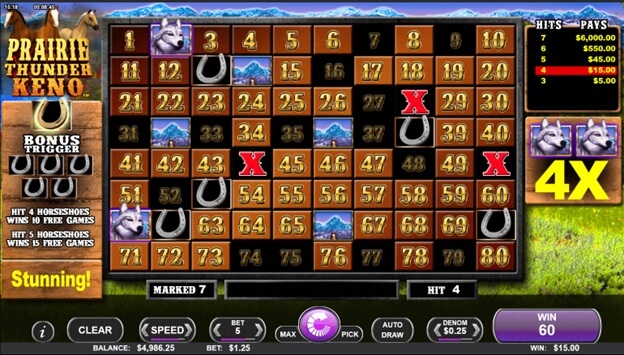 Mediocre is how I'd describe it. And unless you want to hear some guy yell "Thunder" every few seconds, there's really no reason to pick it over Ancient Thunder Keno.
How do you Play Keno Online at DraftKings Casino?
If you've never played at an online casino, don't worry; we'll take you step by step on how to sign up and get playing online Keno.
Using our links, navigate to the DraftKings keno homepage.
Click the green "Sign Up" button in the top right corner of the screen.
Enter your password, desired username, and email. Then click "Next".
For the next page, you'll be requested to enter in information including your real name, mobile number, and current address. While you can play DraftKings from your mobile phone wherever you are, for this step, we recommend you

sign up from home as DraftKings

will verify your current address using their geo-location tools. It's also important to enter your personal information exactly as it appears on your photo ID, as DraftKings will run it by state and federal records to confirm that all information matches and that you are who you say you are.
A confirmation message will now be sent to your registered email. Inside will be a link. Click it to confirm that you're the owner of the email and that you want to register.
You're done. The no-deposit bonus funds will be credited instantly to your account.
You can now select "Keno" from the sidebar or type it into the search bar to be presented with the three current Keno variants. Choose your favorite and have fun.
$50 Casino Credits + $2,000 Bonus
Excellent mobile app
User-friendly design & games
DraftKings Keno Bonus
DraftKings Keno Games
🇺🇸 States
NJ, PA, MI, WV, CT
21+

🎲Game Availability
https://casino.draftkings.com
🎁 Keno Welcome Bonus
First Deposit 100% Match Up To $2,000
💵 DraftKings Keno No Deposit Bonus
$50 No-Deposit Bonus On Sign-Up
The DraftKings Keno bonus is one of the top bonuses in the US. For new users who sign up via our links, you'll get your first deposit matched 100% up to $2,000. That alone would make the DraftKings Casino welcome bonus one of the best, but there's a second part to it — $50 free on sign-up as part of their no-deposit bonus.

It's easily one of the best bonuses you'll find. Allowing you to play online Keno at DraftKings for free before doubling your first deposit.
This offer is available to anyone who is located in one of the states that DraftKings casino operates in. These states are New Jersey, Connecticut, Pennsylvania, West Virginia, and Michigan. The only other requirement of this offer is that like all online gambling in the US — you must be 21 or older and located in a legal state.
Should You Play Keno Games on DraftKings?
When it comes to where you should play Keno, you've got two main options. DraftKings and Caesars Casino. These aren't the only online casinos that offer Keno, but they are the only two that offer more than one variant of Keno, along with excellent welcome bonuses. As to which one you should select out of the two — I prefer DraftKings.
While both DraftKings and Caesar have a first deposit match of $2,000, only DraftKings has a no-deposit bonus of $50. This, for me, makes DraftKings the best option, as by signing up via our links, you can play your first games of online Keno without risking a dollar.
$50 Casino Credits + $2,000 Bonus
Excellent mobile app
User-friendly design & games