Gamble USA strives to improve your online gambling experience. We aim to help you play safely, make informed decisions when gambling, and increase your betting knowledge through our guides.
We adhere to strict editorial integrity; our content may contain links to products from our licensed & legal US partners.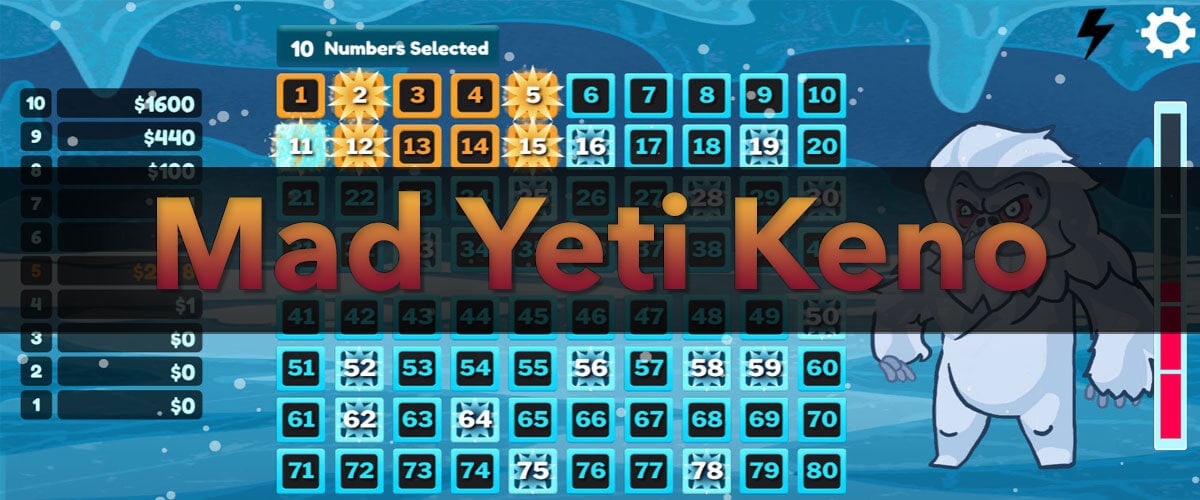 If you like the famous beast Yeti, then be ready to go on an epic quest for Yeti treasures and take advantage of generous prizes in the Mad Yeti Keno game. It's a lottery-style luck-based game, featured on DraftKings keno tab and other casinos, that blends the classic thrill of Keno with a cold, ice-covered mountain region where Yeti lives.
It works similarly to a standard Keno game, where you select numbers between 2 and 10 and hope they match the randomly drawn numbers. There is an 80-number Keno grid included in the game, and you'll win a prize if enough of the numbers you choose on the grid match the numbers drawn. Not only that, but the presence of Yeti distinguishes this version from others by also adding the Final Frost feature, which boosts action by multiplying your wins by 8x.
The company behind this game has made it possible to play one of the easiest Keno games from the comfort of your home, as it is playable on desktop and mobile devices. The game has a 92.46% RTP, and you can start this frozen wasteland adventure with as little as $1 per round.
If it sounds interesting, put on your winter boots and read on to learn everything there is to know about this Keno variation.
Best Mad Yeti Keno Online Casinos and Apps in the US
Keno is not as popular as online slots, but certain variants are sure picking up. You can access Mad Yet Keno at all legal casino states (NJ, MI, CT, WV, PA) and try your luck against these frosty animals. All the above brands feature this real money keno game, along with other spin-offs like Prairie Keno and Ancient Thunder Keno. Use our links to begin playing from any desktop or mobile device.
What is Mad Yeti Keno?
If you love playing bingo or the lottery, or if you're looking for anything that combines both, Mad Yeti Keno is for you. You can play this game of luck by placing bets on different numbers. Although the Keno game was initially played in China, it is now available in different versions at most online casinos. Playing Keno games is the easiest of all the casino games, and this version is the same, but with some Yeti action added.
Overall, this Yeti Keno has the same goal of selecting the numbers you believe will be picked from an 80-number Keno grid. You can win more prizes if you match more of them during the drawing. Yes, it is that easy, but hold on—this is where the main difference comes in. If the last drawn number matches your picked number, you will receive an 8x multiplier on your winnings.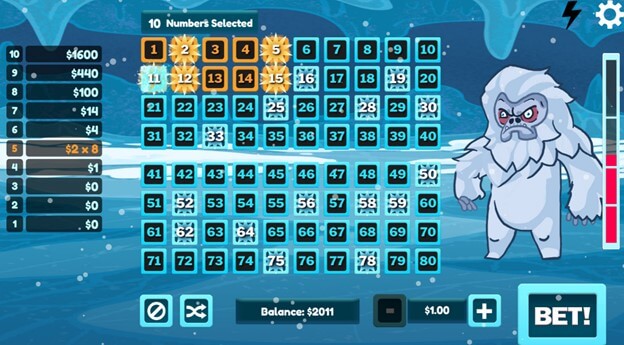 How to Play Mad Yeti Keno online
Playing Mad Yeti Keno online is straightforward, and the rules are easy to learn even if you have never played Keno before. But first, select one of the US keno apps from this page, enter your information to register, make a deposit, and begin to play as follows:
This version of Keno will transport you to a frozen zone with a grid of 80 numbers arranged in 8 rows and 10 columns when you first open it.
It lets you choose between two and ten numbers on the grid and sticks to the same rules as traditional Keno. Use the +/- button at the bottom right of the grid to select a wager between $1 and $50 for each round.
Then, select the numbers you believe will be drawn, depending on how many you want to gamble on.
The game will begin when you click the big BET button, and 20 numbers are drawn randomly to determine the winners.
How much you can win depends on your bet size, and the more numbers you match while playing the max bet, the higher prize you'll get.
Other handy options to speed up your Keno experience are the Flash icon in the top right corner and the Clear button to eliminate all chosen numbers from the grid.
Last but not least, the multiplier that applied to the final drawn number is what really makes this game outstanding. We'll go into more detail about this multiplier below.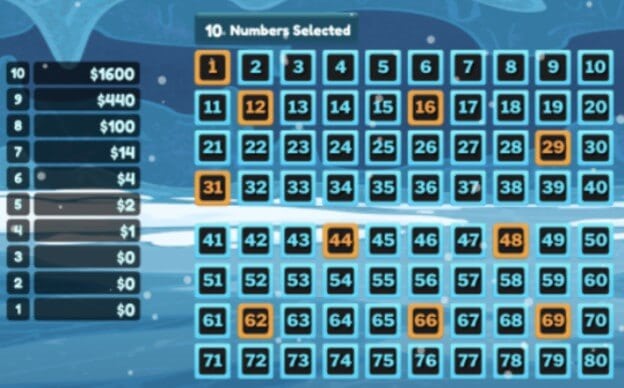 Mad Yeti Keno Paytable and Casino Game Payouts
In Keno games, the rewards can vary significantly based on the number of hits (which usually begin at three or four catches) and the individual game rules. But generally, the more numbers a player matches in these games, the higher the reward they will get. The same rules apply to Mad Yeti Keno, where you can see the paytable on the screen controlled by your selections and matches.
How many numbers you've picked, how many of them matched, and your bet amount all affect how big you win in Mad Yeti Keno. When playing with a $1 stake, rewards are delivered if four or more picks successfully match, and when playing with all ten numbers selected, you can win between $1 and $1600.
Mad Yeti Keno Special Features
Some Keno games provide players with a wide range of bonuses to increase their winnings, like in Ancient Thunder Keno. Sadly, this game lacks such capabilities, but the angry Yeti still adds a humorous bonus aspect to your Keno gaming experience by multiplying your winnings.
You'll be delighted every time you hit a number by how an animated snowball smashes into a cartoonish Yeti's face. The multiplier kicks in if the final number generated by the random number generator matches one of yours. It can boost your odds of winning big, so keep hoping that the 20th number drawn by the RNG will be the one you picked. If you're lucky enough to get it correctly, your winnings are multiplied by 8x, resulting in significant rewards if you've successfully caught multiple numbers with higher prizes.
We found this feature to be similar to Power Keno, with the only difference being that if the last number is a catch, the rewards are multiplied by 8x rather than 4x.
Mad Yeti Keno House Edge & RTP
In land-based games, the house edge for Keno can range between 30% and 35%, while playing Keno online has the advantage of having a lower house edge. It is because you can play many game rounds every hour, and the game plays at a faster pace. If you're unsure what the house edge is, it's a statistic calculated from each wager representing the percentage the casino generally expects to keep.
So, the RTP rate for Mad Yeti Keno is 92.46%, indicating that the house will profit 7.54% from player bets. However, this RTP reflects an average return over a long period once the game has been played extensively. Additionally, the average RTP for online Keno is from 85% to 95%, meaning Mad Yeti has a decent RTP compared to these statistics. Still, it falls short of the RTP of casino games, such as online slots or table games.
Mad Yeti Keno Strategy & Tips to Play
Playing Keno doesn't need any special skills, which is one of the main reasons it has stayed so popular. Keno is solely based on luck and does not include any betting systems. It is clear that if you pick your preferred numbers, you will have the same chance of winning as everyone else.
Although we provide some tips to play Keno online, nothing 100% guarantees that you'll win.
We found it beneficial to wager between four and eight numbers in this game because of the final number multiplier. It allows you to benefit from high rewards while keeping favorable odds. Thus, picking more numbers than usual in Mad Yeti Keno might be a good strategy.
Don't constantly pick your lucky numbers because if you do, random number generators will beat you due to their efficiency. You have no choice in altering the game's result; your only option is to aim to pick the right digits.
We do not advise betting on hot or cold numbers since doing so will probably cause you to become distracted from the game. Bankroll management is also crucial, especially when playing a fast-paced Keno game with a high house advantage. So, setting a loss limit may be a highly successful Keno approach for avoiding loss-chasing.
Is Mad Yeti Keno Rigged?
If you think Yeti Keno is rigged, keep your mind off it; Keno continues to be a game of pure luck, with no proven patterns that you can use to predict the results. Unlike traditional Keno, online Mad Yeti Keno uses a random number generator (RNG) to ensure fair results. It is automated software that uses a unique, incomprehensible mechanism to generate unrelated outcomes.
RNG first combines millions of numbers, which keeps creating new numbers in a very random manner to generate as many distinct results as possible. RNG ensures that nothing you do will affect the outcomes, just like it does with all online casino games at reputable casinos like DraftKings online casino. Professional bodies also thoroughly monitor them to ensure that the RNGs are fully functional and unrigged in any manner.
Play Mad Yeti Keno Online Today!
It's time to encounter a frozen land in Mad Yeti Keno, one of the easiest casino games where you can select up to ten numbers to collect cash rewards. Given its high house edge, you may imagine it among the least well-liked games in casinos, but the opposite has turned out to be the case. These games are popular primarily due to how easy they are to play and need no special skills.
The game is chilled with an icy backdrop, making it ideal for bringing new Keno experiences. Although it has a low RTP of 92.46%, playing it is still an enjoyable experience, and the last number bonus makes the math much better. So grab your warm clothes and begin on a journey into the frozen Arctic of the Yeti's homeland in this thrilling new Keno game.
FAQ's
What is the house edge of Mad Yeti Keno?
With an average RTP of 92.46%, Mad Yeti Keno offers a potential payout of $92.46 on every $100 wagered over the long term. It states that the house edge is 7.54%, and the casino takes away 7.54% of your wagers as profit.
Is Mad Yeti Keno available at any licensed US online casino?
Some of the best online casinos in the US let you play the Mad Yeti online keno game. Each game you can find at one of our recommended casinos has a unique design and fun gameplay, and the casinos are legitimate to play for real money.
Can I play Mad Yeti Keno on a mobile app?
We provide the best solutions if you're a mobile player and don't want to visit the casino website. The online casinos mentioned on this page also have mobile apps, allowing you to access your preferred Keno game through the casino app on mobile or tablet. Simply create an account, download the casino app, log in, and start having a great time.
Can I play Mad Yeti Keno for free?
Yes, you can begin by playing Mad Yeti Keno for free. Before starting to place wagers with real money, find an online casino that offers a demo version of the game. It will help you to get a feel for how the game operates.
How to Win at Mad Yeti Keno?
You don't need to understand much to win in this game. The player's objective is to strike as many right spots as possible; the more correct spots he hits, the greater the reward. The last frost snowball's multiplier can also help you receive a big prize.
What games are similar to Mad Yeti Keno?
There are various alternatives available if you want to play more online keno games like this. Prairie Thunder Keno by Grand Vision Gaming is one of the better options. In this game, you will journey through grassland and come across multipliers and free spins with even higher multipliers.
How to cheat Mad Yeti Keno?
Mad Yeti Keno uses RNG technology, so cheating is not an option here. Also, it is impossible to cheat when playing at a reputable online casino like DraftKings Casino because iGaming authorities in the states where each online casino is licensed constantly review and verify the game.