Gamble USA strives to improve your online gambling experience. We aim to help you play safely, make informed decisions when gambling, and increase your betting knowledge through our guides.
We adhere to strict editorial integrity; our content may contain links to products from our licensed & legal US partners.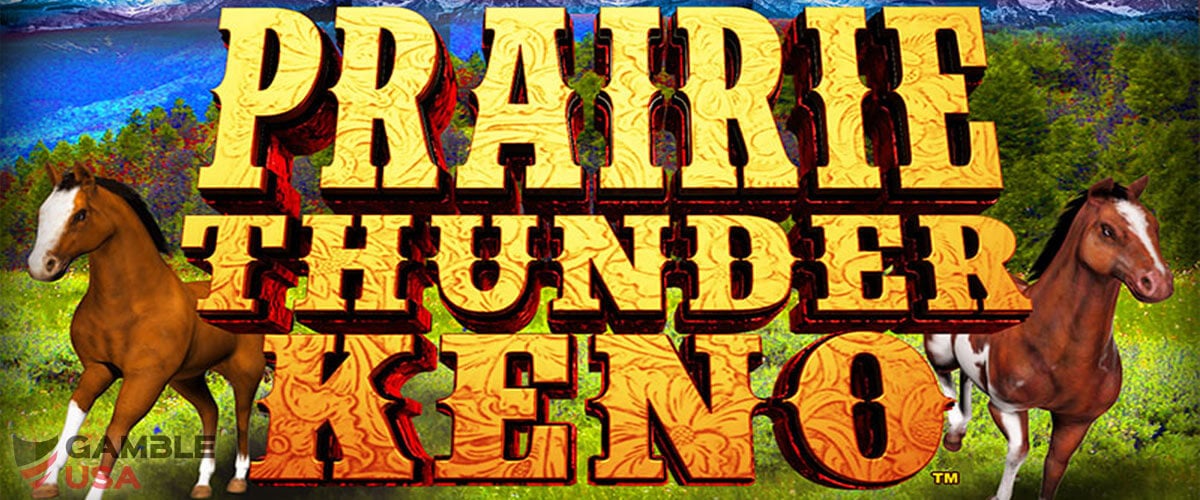 Get ready to ride into the heartland of the Wild West in Prairie Thunder Keno, developed by Grand Vision Gaming. You'll experience a daring adventure across the untamed hills and mountains of the Wild West where you'll encounter wolves and horses to win big.
The developer kept the traditional 80-spot Keno grid for picking numbers and hoping to draw them. Also, they added some slot bonuses to keep players entertained. The presence of Wolves and Horseshoes offers incentives beyond simply a Keno experience, and you can get up to 4x Multipliers and 15 Free Games.
With potential bets ranging from $0.01 to $20 and an RTP of 93.45%, this wild adventure is available to play on a desktop and mobile device. Along with these features, the game has a whopping max win potential of 20,000x.
Let's dig deeper into our detailed review below to learn more about the perks of rushing into wolves and horses.
🎱Prairie Thunder Keno
🧑‍💻Provider
Grand Vision Gaming
💯RTP
93.45%
💵Bets Range
$0.25 to $20
⭐Special Features
Wolf Multipliers, Prairie Thunder Free Games & Multipliers
💰Max Win
20,000x
📱Compatibility
Desktop, Tablet, Mobile, Android, iOS, Windows
🎰Available at

DraftKings Casino

,

BetMGM Casino

,

Caesars Casino
Best US Online Casinos & Apps for Prairie Thunder Keno
Prairie Thunder Keno is not a stranger to Americans. The game is really popular today, and is featured side by side with other top titles; Ancient Thunder Keno and Mad Yeti Keno, to name a few. These are available to play via casino apps or online casinos in select states via the following operators:
What is Prairie Thunder Keno?
Keno is a classic game with Chinese roots that has become popular over time and is now playable at many online casinos. It is a luck-based game in which players choose numbers from a grid (usually between one and twenty numbers) and attempt to match them. Prairie Thunder Keno works similarly to American Keno, with an 80-number grid where players mark numbers and hope their picked numbers will be drawn randomly during the 20-ball draw to win prizes.
This game differs from others in that you start by hunting for wolves and horses on the expansive grasslands. The atmosphere is enhanced by realistic sound effects and animated visuals showing a stampeding group of wild horses rushing through the stunning Montana region. However, the way wolves and horseshoes award you multipliers and free games in this Keno version increases your probability of winning.
How to Play Prairie Thunder Keno Online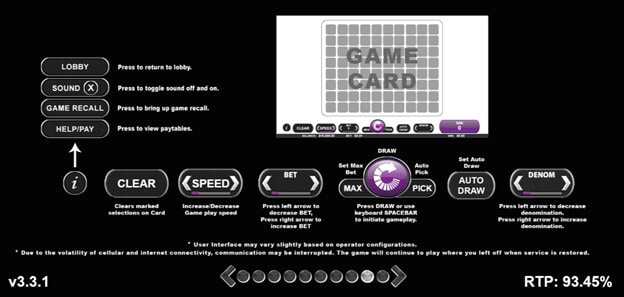 Prairie Thunder Keno is a fast-paced game that even new players can easily understand. But first, select one of our top-rated online casinos and sign up in a minute by providing your info.
Follow these simple steps to get started after making your initial deposit and launching the game from the Keno collection:
Everything you need is given below the 80-numbered grid, making the controllers simple to use. Firstly, pick three to ten of the grid's numbered spots that you think will get hit.
Then, select your bet using the arrows next to the "BET" and "DENOM" You can alter them to set a minimum bet of $0.25 and a maximum bet of $20 per round. You can also use the Max Bet button to select the highest possible stake.
The Draw button turns on once you've placed your wager and selected at least three numbered spots. The game also includes an Auto-Draw option for players who don't want to keep pressing Draw.
The real fun begins when the game starts, as the game randomly marks two unchosen numbers with wolves and five with horseshoes for the bonus features explained below.
Then, an RNG will choose 20 numbers randomly to identify the winning numbers. If you hit any matches, the numbers are highlighted with running horses.
Your goal is to pick and match as many numbers from the Keno draw as you can because the more you do, the higher rewards you can earn. Any prizes you have successfully won are added right away to your account.
Other helpful keys include Speed to accelerate the game's pace, Pick which lets you randomly pick numbered spots, and Clear to remove all marked numbers from the grid. Additionally, the "i" symbol in the lower-left corner contains all details on gameplay, features, and other critical game details.
Prairie Thunder Keno Paytable and Casino Game Payouts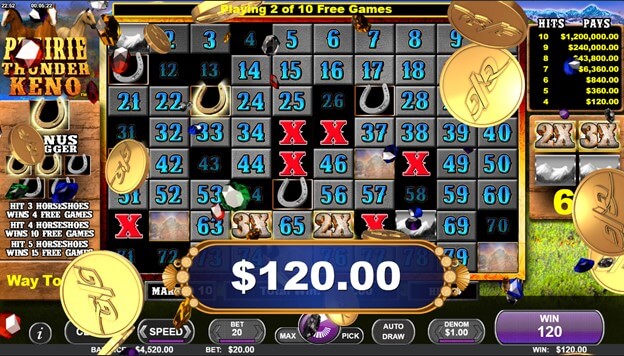 A paytable is provided on the screen in online Keno games, indicating how much money players will win based on the number of catches they get. You get paid according to your bet size if enough numbers get hit. However, the payouts fluctuate according to how many numbers you decide to pick.
You must match at least four numbers in this Keno game to win, just like in most Keno games with ten spots selected. Higher payouts will result from more matching numbers, and there is also a possibility to win more with Wolf Multipliers and Prairie Thunder Free Games spots. Prairie Thunder Keno payouts range from $20 to $200,000 when you play with the maximum bet and all ten numbers marked.
So, try to match as many numbers as possible to win some significant rewards.
Prairie Thunder Keno Special Features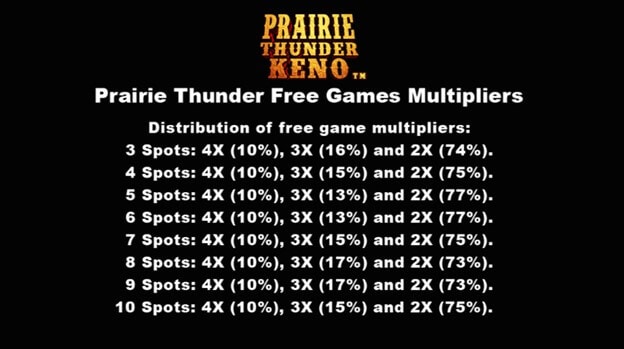 Now let's talk about the unique features that set playing Prairie Thunder Keno aside from its competitors. You'll encounter bonuses like multipliers and free games when playing this Keno variant that you may have experienced in real money slot games.
Let's explore their functioning and the advantages they provide.
Wolf Multiplier Bonus
When you click the draw button, the game randomly selects two non-player-marked spots for each round in the base game, which then turns into the Wolf pictures. If both Wolf multiplier spots get hit and you've matched enough numbers to win, you will receive a 4x multiplier on your winnings. It can help boost your winnings even when playing with smaller bets.
Prairie Thunder Free Games Bonus
Similar to the above feature, Prairie Thunder Free Games are triggered by hitting the five non-player-marked spots that the game will choose randomly. The horseshoes represent these spots instead of wolves. You must hit at least four horseshoes in the base game to win ten free games while hitting five will result in 15 free games.
You can also re-trigger the free games, with no limit to how many you can get. You will get extra 4, 10, or 15 free games if you are fortunate enough to hit 3, 4, or 5 horseshoes during this bonus. It's also worth noting that all free games play at the same wager and spots that activated the bonus feature.
Prairie Thunder Free Games Multipliers
Prairie Thunder Keno's free games also come with an additional twist. The RNG of the game randomly selects four mountain symbols with multipliers when free games start. The multiplier value for each hitting mountain symbol during the free games depends on a random weighted drawing and is either 2x, 3x, or 4x. The maximum multiplier potential here is 256x, which is enormous, and the weightings are based on how many spots the player picks.
Prairie Thunder Keno House Edge & RTP
Like other casino games, Keno also has a house advantage, meaning the player will eventually lose money. Although online casinos provide higher payouts than conventional brick-and-mortar casinos, the RTP is always in favor of the house.
These online lottery-style games also have a high house advantage (often runs from 25% to 30%), making them one of the casino games with the highest house edge.
The long-term return to player (RTP) of Prairie Thunder Keno is 93.45% which refers to how much the casino typically payout over the long term. The simplest way to translate this into actual money is to think of it as $100; so, in a game with an average payout rate of 93.45%, $93.45 would be given out for every $100 gambled.
In reality, it translates to a $6.55 loss, the house advantage from which the casino benefits. For an online keno game, the returns are ok but much lower when compared to video slots, roulette, blackjack, bingo, and video poker.
Prairie Thunder Keno Strategy & Tips to Play
Prairie Thunder Keno is a game of pure luck – so no Keno strategy can promise a win every time. Online Keno is impossible to strategize because players have no control over the outcome due to unpredictability. Yet, there are a few tips that can boost your chances of winning:
Firstly, make sure to play Keno at a reputable, secure, and legal online casino. Begin with the smaller bets, then increase them whenever you win a game. Although it is not a guaranteed way to win, this might provide some stunning outcomes.
The only aspect you can control here is how you handle your bankroll, which may ultimately lead to better outcomes. Thus, always set a spending limit, play responsibly, and avoid going after losses. Pray to hit the bonus spots as they can bring in some significant prizes even when playing with the smaller bets.
The strategy of placing bets on hot or cold numbers and expecting wins is another well-known Keno strategy. We don't think it works with this version because each draw is generated randomly by RNG and is irrelevant to the last one.
Is Prairie Thunder Keno Rigged?
The results of Prairie Thunder Keno are entirely unpredictable, which makes playing the game so much fun. The Keno game is genuinely fair, despite some people's claims to the contrary. That's because the game relies totally on random decisions and outcomes. So, everything that can make you successful in this game is your luck.
This version is different from traditional Keno, as online Keno uses a Random Number Generator (RNG), which might raise some doubts in the minds of some players. But don't worry – It is a cutting-edge software system that ensures that each round's random selection of numbers has an equal probability of occurring.
Players can relax knowing that the RNGs employed at the online casinos we recommend are trustworthy. They are devoted to ensur+ing that RNG passes tests for statistical randomness by committing to routine external audits carried out on RNG by professionals in the field and US state gambling bodies.
Play Prairie Thunder Keno Online Today!
Prairie Thunder Keno is a fun Wild West-themed adventure where you can begin your quest by exploring the grassy prairie for lucky horseshoes and wolves. You'll feel the thrills of the American West with rocky mountain images and rough, wooden-style decor.
It is a typical 80-spot Keno game in which you can choose from 3 to 10 numbered spots to receive winnings from the grid. The game has some unique bonus features in addition to following the conventional Keno rules and comes with a maximum win potential of 20,000x. So, if you believe this is your lucky day, be ready to explore the wilds in the hunt for exciting prizes through multipliers and free spins.
FAQ's
What is the house edge of Prairie Thunder Keno?
The house edge in this casino game is 6.55%, which is pretty high. It indicates the long-term advantage the casino has over the player's bets. Always remember that you can never defeat the house edge in any game, but the closer the RTP to 100% the better.
Is Prairie Thunder Keno available at any licensed US online casino?
Stop searching if you want to play Prairie Thunder Keno online in the US as keno games ultimately found their way over there. In addition to this wild west version of Keno, our trusted casino websites, see DraftKings and BetMGM, also offer additional Keno variations with fantastic bonus features.
Can I play Prairie Thunder Keno on a mobile app?
Do you want to play a mobile app? No worries, the listed online casinos have an iOS and Android app with a polished interface that offers a pleasant user experience. Similar to how you do for any other app, you can download the Prairie Thunder keno apps from the Google Play or iOS App Store.
Can I play Prairie Thunder Keno for free?
Prairie Thunder Keno is not a challenging game, but many players immediately begin playing for real money. However, to grasp how it works, it's still a smart move to play the free demo online first. You won't need to deposit anything because you'll have playable virtual money to practice with at online casinos, but you will be asked to register an account first.
How to win at Prairie Thunder Keno?
All online Keno games have the same rules for winning, requiring you to guess the numbers that will get hit when drawing. Similarly, in Prairie Thunder Keno, getting higher numbers brings greater payout. If you bet the maximum amount and correctly catch all ten numbers, you can win $200,000.
What games are similar to Prairie Thunder Keno?
The best alternative for this game is Ancient Thunder Keno, which features a Greek theme and many bonuses tied to the gods Zeus, Helios, Poseidon, and Athena. If you want to explore other stories, you can also try out Lucky 8 Keno, Egyptian Magic Keno, and Deep Seas Adventure Keno.
How to cheat Prairie Thunder Keno?
With Prairie Thunder Keno, there is no way to cheat. RNG generates thousands of outcomes per second, making it impossible to forecast the drawn Keno numbers. Keno is cheat-proof due to its independent game rounds, which prevent future outcomes from being controlled.