Gamble USA strives to improve your online gambling experience. We aim to help you play safely, make informed decisions when gambling, and increase your betting knowledge through our guides.
We adhere to strict editorial integrity; our content may contain links to products from our licensed & legal US partners.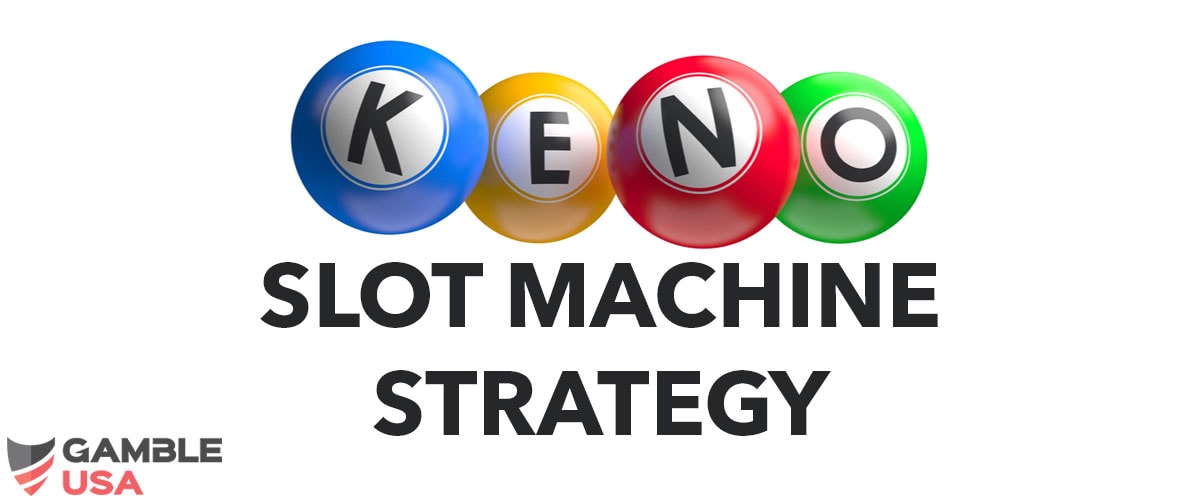 Thanks to online casino sites, keno has moved out of dingy bars, land-based casino floors, and convenience stores and can now be played from the comfort of your own home. This simple yet thrilling lottery-style game offers max wins up to 10,000x.
In this keno strategy guide, we are going to explain how to play the game, show you the best keno number combinations, and share the latest keno tricks and secrets that you can use right now to win big!
What Are Keno Slot Machines?
Keno machines are the online casino version of the lottery-style game keno. Keno dates all the way back to ancient China and was allegedly used to fund public works, including the Great Wall of China. The game was popular in cities and villages, with results being delivered by carrier pigeons.
Keno made its way to America thanks to Chinese immigrants who came to build the transcontinental railway in the 1800s. Bingo was already a popular game in the US, so it didn't take long for Americans to embrace this new lottery-style game. Keno is now played at brick-and-mortar casinos, in bars, convenience stores, and online.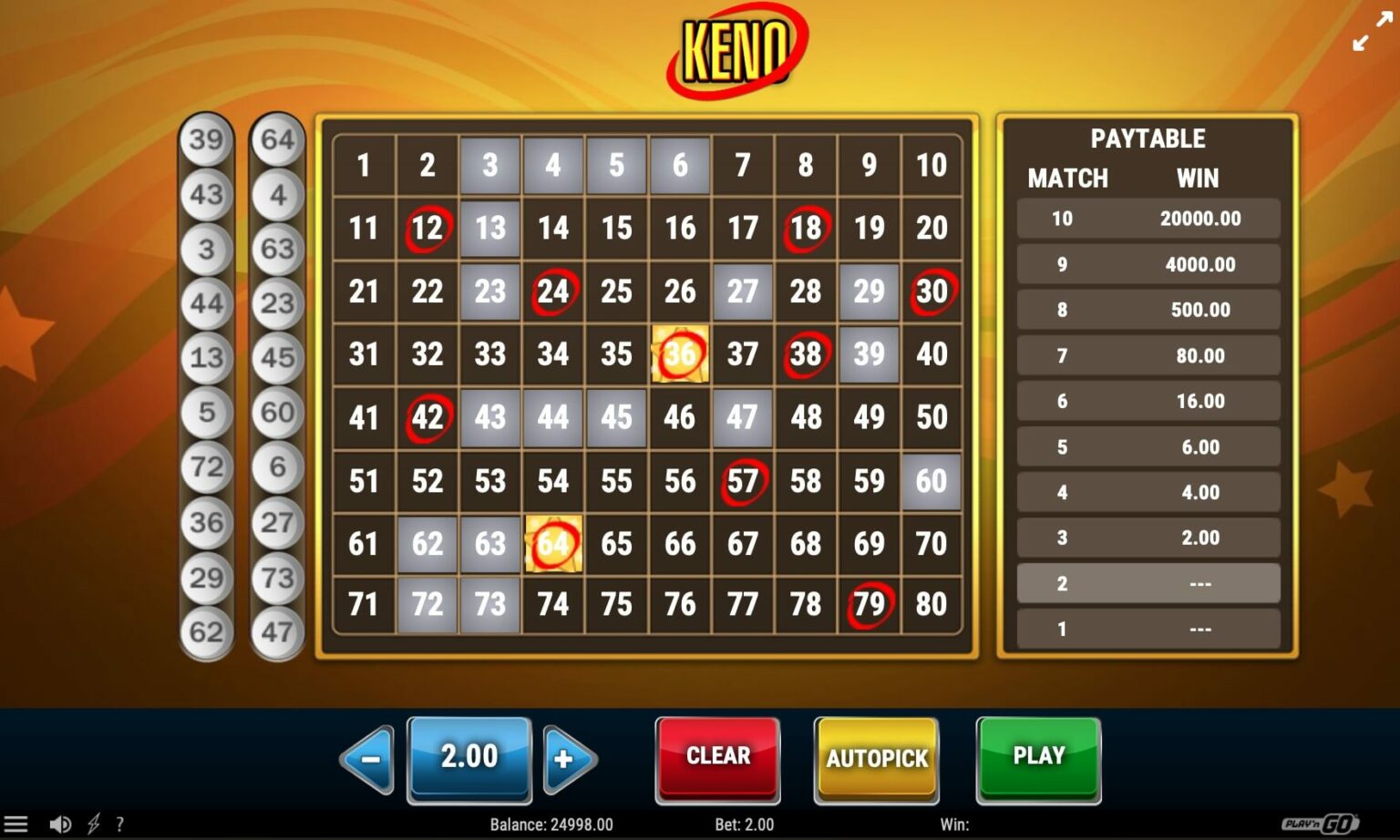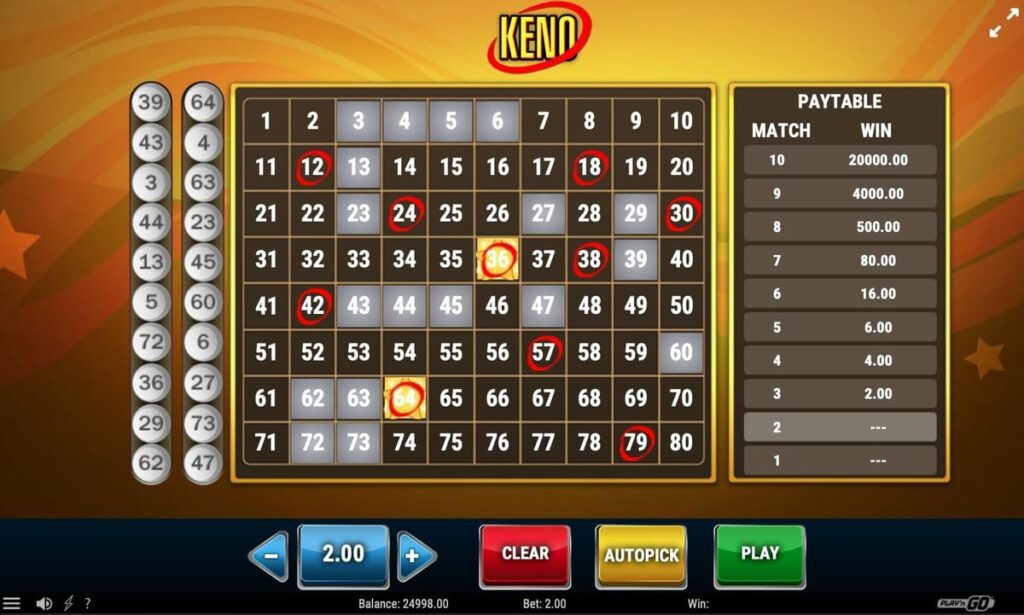 In keno, you select numbers ranging from 1 to 80. You then choose between 1 to 20 spots. For example, in a 5-spot game, you might select 5, 9, 25, 78, and 60. Then between 10 and 20 numbers are drawn. The more numbers you hit, the more you win. The goal is to hit all of the numbers on your spot.
Keno has transformed over the years just like other casino games, and there are now all kinds of variants. Similar to slots, you can find keno games at online casinos with different themes ranging from ancient Greece to Western. Keno games also vary based on RTP and the number of spots, and some games have jackpots and random multipliers.
Best 8 Online Keno Strategies
While keno may be a game of chance, there are still some strategies that, when used appropriately, can give you an edge. The next time you are playing online, give these keno tips a go:
🥇1. Play High RTP Keno Games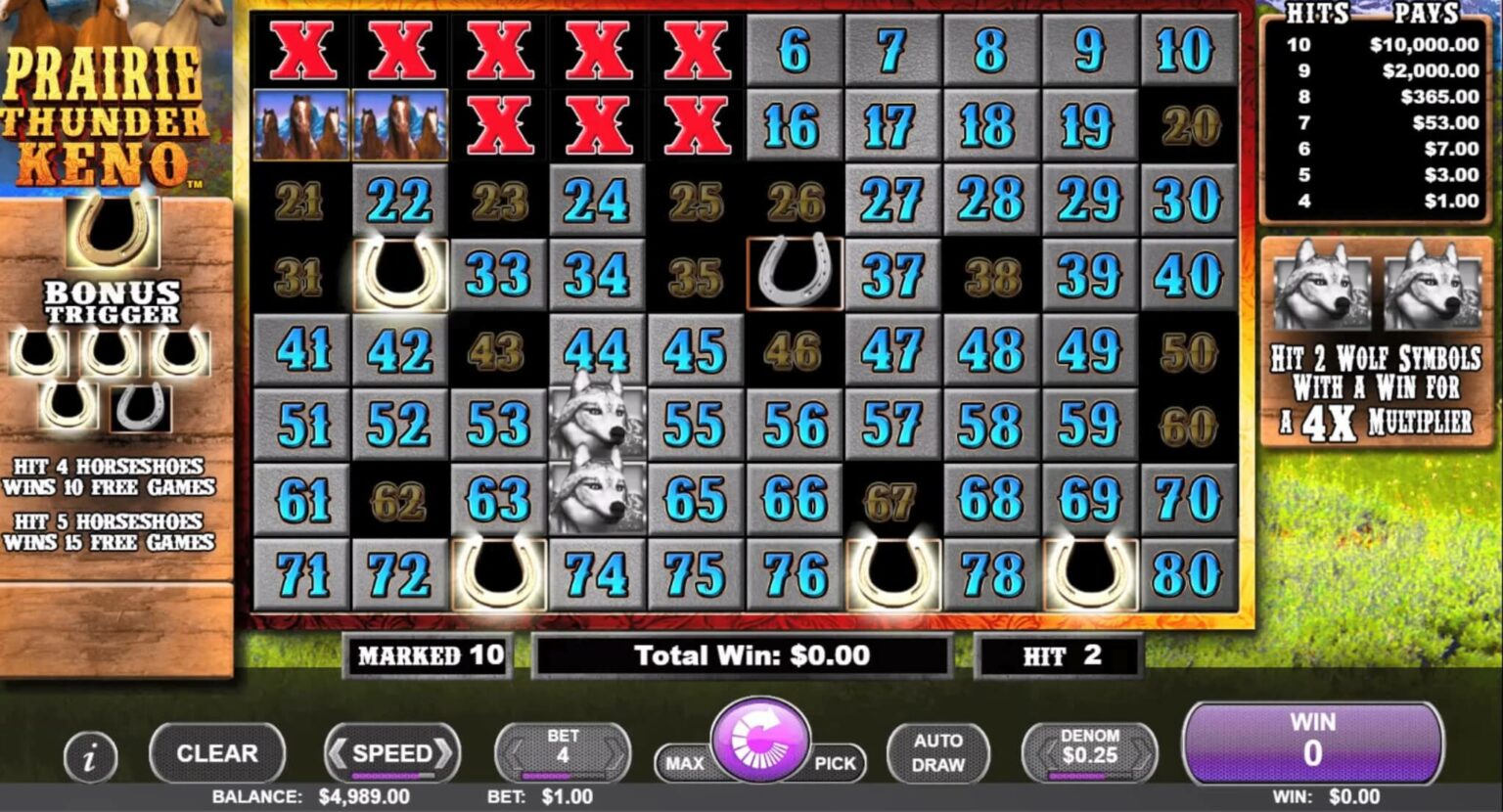 The RTP between different keno games can vary significantly. There are keno games with RTPs as low as 80%! Fortunately, there is a solid selection of keno titles with 90% + RTPs. Some high RTP keno games include:
All online keno comes with a house edge, but you can significantly boost your chances of winning by playing a game like Ancient Thunder Keno. For example, if you made bets totaling $10,000 playing Ancient Thunder Keno, then you can expect to receive $9,389 back, but if you played a keno game with an 80% RTP then you would only likely get $8,000, which is a massive $1,389 difference!
🥈2. Pick Between 4 to 8 Numbers
The RTP of keno and your odds of winning are directly impacted by the number of spots you select. We have crunched the numbers, and if you want the best chance of winning while still being able to chase some big wins, then you need to pick between 4 and 8 numbers. If you select fewer numbers, then you reduce the chance of big wins, and if you select more than 8 numbers, your odds of hitting all of your numbers nose dive.
🥉3. Only Play Keno Online at Licensed Casinos
You should only play keno at online casinos that hold a valid state gaming license. Any online casino without a license that accepts US players is operating illegally and could be shut down by US law enforcement. It can be worth considering sweepstake casinos which also allow legal real money prizes in the US.
The rogue casinos may look legit and have exciting keno games, but it is just too risky to play there. There is no gaming authority checking that these casinos have fair games or legit bonuses. Also, if something goes wrong, then you have as much chance of going 20 for 20 in keno as you do to recoup your money.
🎖️4. Play Keno Using a Bonus
The only way to flip the house's edge when playing keno online is to play via a casino bonus. If you are new to online casinos, these sites give away bonus cash when you deposit. You then can use this bonus cash to play real money keno games without risking your own cash.
Now, of course, there is a catch. You can't immediately withdraw the bonus cash, you first need to bet the bonus a number of times. For example, if you claim a $500 bonus and it comes with a 20x wagering requirement, you need to make bets totaling $10,000 before you can withdraw it. However, if you play keno with a bonus and use our other strategies, you have a solid chance of ending up in profit!
$50 Casino Credits + $2,000 Bonus
Excellent mobile app
User-friendly design & games
$50 Casino Credits + $2,000 Bonus
Use this link to get a 100% deposit bonus at DraftKings up to $2,000 and play three high RTP keno games, including Mad Yeti Keno (92.46% RTP), Ancient Thunder Keno (93.89% RTP) and Prairie Thunder Keno (93.45% RTP)!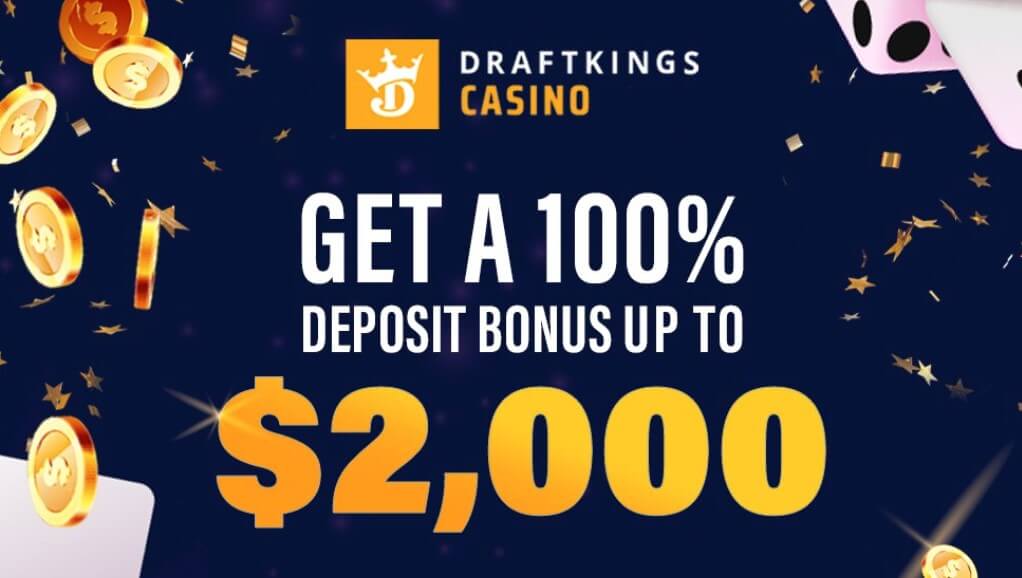 🏅5. Practice Bankroll Management
When playing keno, you really need to follow the old adage Rome wasn't built in a day. Walking away with huge wins from keno is extremely rare, but you can enjoy some nice wins, especially if you stick between 4 and 8 numbers. The secret to keno success is compiling slow and steady wins over time rather than chasing massive 10 out of 10 or 20 out of 20 spots.
However, as the game is pretty volatile, there are going to be some wild swings. To endure the ups and downs of keno play, you need to risk a small percentage of your bankroll on each round. We recommend betting a maximum of 0.5% of your bankroll on each round.  Also, if your bankroll takes a hit, decrease your bet size to ensure you are always under the 0.5% threshold.
6. Play Progressive Jackpot Keno
In standard keno, there is no jackpot, and your payout is solely based on the amount of numbers you successfully match. However, there is a new keno variant that features a jackpot. This jackpot is active every single round and, at random, is awarded to a player. As soon as the jackpot is awarded, it is reloaded and active for the next round.
Before you select a keno game, make sure it features a jackpot. While obviously, the chances of winning a keno jackpot are low, its presence gives you an additional way to score a big prize and does increase the game's RTP. Our favorite progressive jackpot game is Mad Yeti Keno which is available at DraftKings.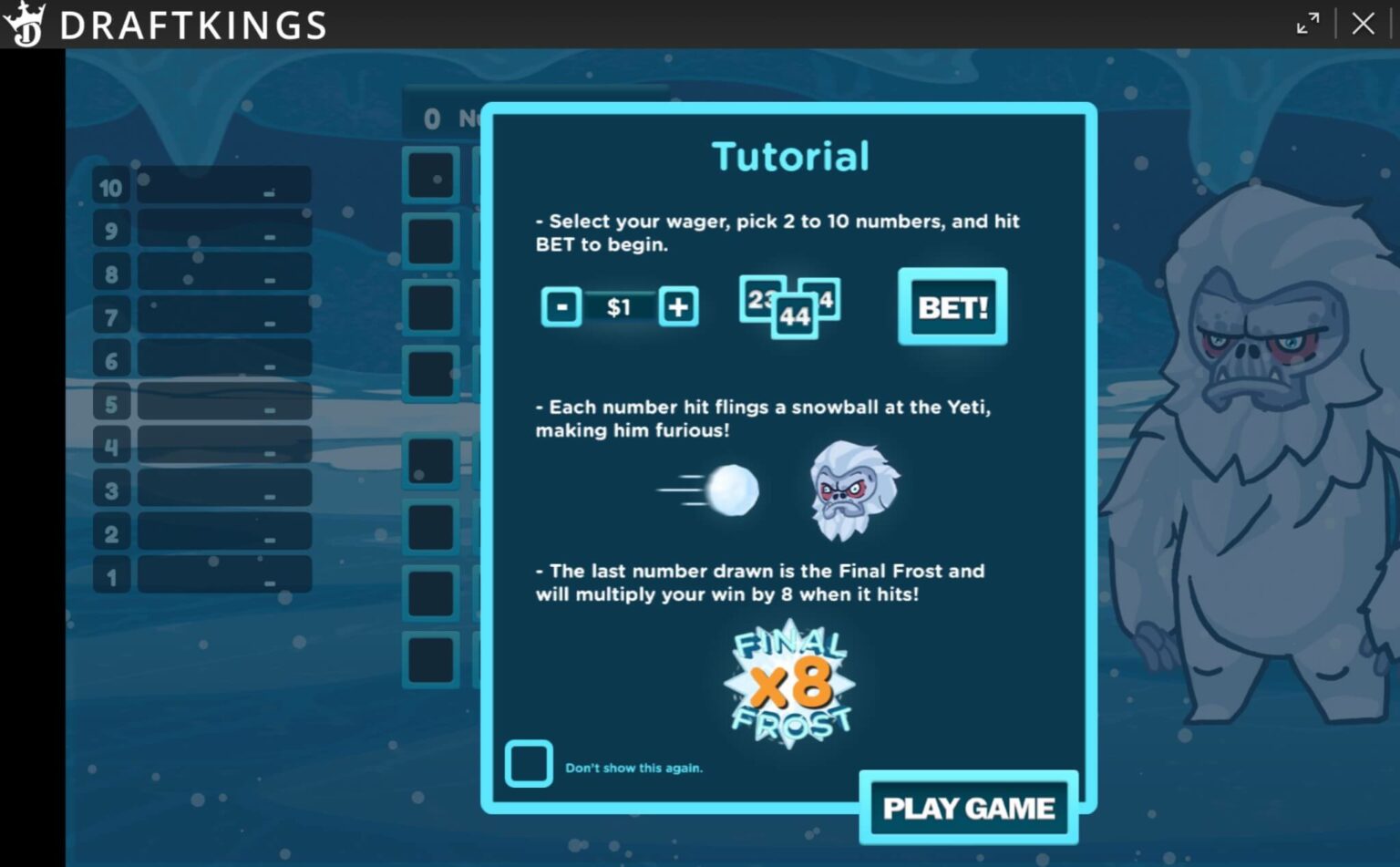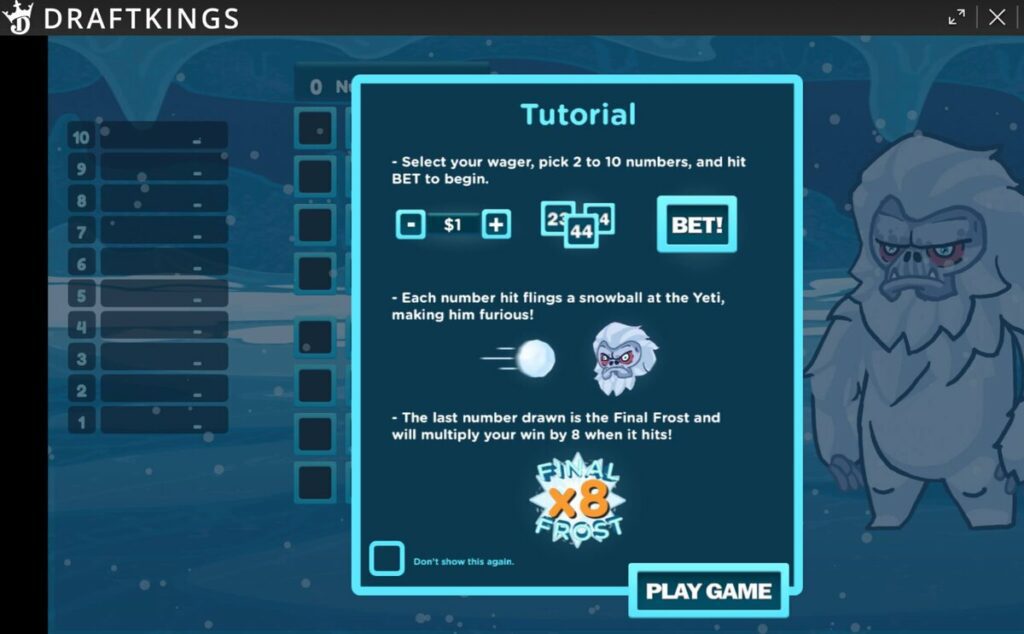 7. Select Lucky Numbers Based On Chinese Symbolism
The Chinese culture has the concept of lucky numbers. Lucky numbers include  2, 3, 6, 8, and 9, while the unlucky numbers are 4 and 7. This symbolism goes back thousands of years, and billions of Chinese people across the world swear by these lucky and unlucky numbers. For example, you will never catch a Chinese person buying house or apartment number 4, while Sichuan Airlines in Chengdu, China, bought a telephone number consisting of only 8s for over $300,000!
8 is considered the luckiest number in Chinese culture because it sounds similar to prosperity or wealth, while 4 is considered the unluckiest because it sounds like the word for death. When creating a keno pattern based on Chinese numerology, try something like 2, 3, 6, 8, and 9, and whatever you do, don't choose 4!
8. Know When To Quit Your Keno Session
When playing keno, you need a loss-limiting and profit-taking strategy. By setting a gambling budget, you prevent a single bad session from doing irreversible damage to your bankroll. On the other hand, a profit-taking limit ensures that no matter what happens after you get in the green, you book a profit.
Setting a loss and profit limit is as simple as picking a number. When creating a loss limit, it should be a number that you don't mind losing. For example, if losing $100 would cause you to be upset, but you wouldn't think twice about losing $20, then $20 should be your loss limit.
Your profit-taking number should be a percentage of a healthy win. For example, if you consider $100 a great win, then set your profit limit at $70 and use the "extra" $30 to try and win big!
How to Play Keno Online?
The great thing about keno is that you can start playing right away. You don't need to spend hours trying to figure out what a full house is and what to do if the dealer has a 16. To play keno online, simply:
Go to any of our recommended online casinos through our link to claim an exclusive welcome bonus
Create an account by entering your full name, address, email, mobile number, and last 4 digits of your SSN
Upload your ID, selfie, and proof of residence
Tap the deposit button, type in the amount you wish to deposit, and enter your payment details
Go to the online casino home page and type keno into the search bar
Click on a keno game
Select 1 to 20 numbers ranging from 1 to 80
Hit the Play button
The numbers will be automatically drawn, and if you match sufficient numbers, your winnings will be added to your account
As you see, playing online keno is as simple as selecting numbers and hoping they are drawn, just like lottery games. To give you the best shot at winning, pick between 4 and 8 numbers.
Is There a Pattern for Keno?
Keno does not follow patterns and is considered a game of pure chance. The numbers are drawn randomly using a Random Number Generator (RNG), so it is useless trying to analyze patterns just like it is in roulette.
It doesn't matter if 72 has been drawn 10 times in a row it still has the same chance of being drawn an 11th time as it did the first time. However, there are a number of strategies that can increase your odds of winning, including:
Find keno games with the highest RTP – Not all keno games are equal, and their RTPs can range from 80% to 95%. We recommend sticking to keno games with 90% + RTPs like Ancient Thunder Keno (93.89% RTP) or Prairie Thunder Keno (93.45% RTP).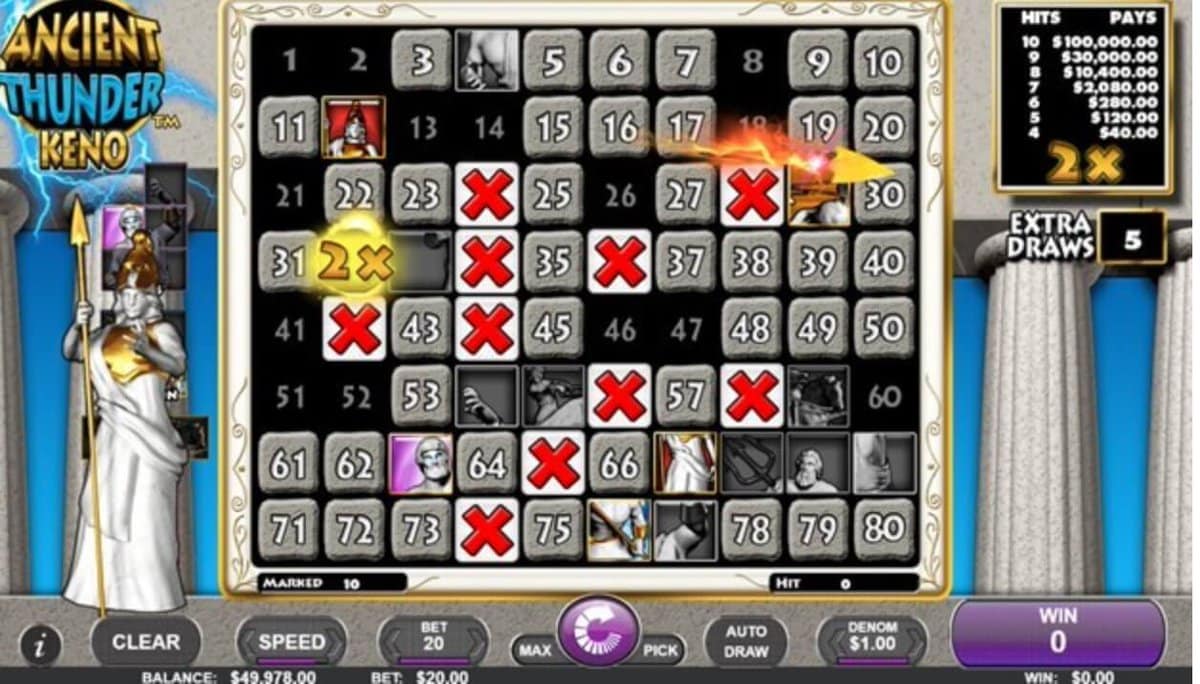 Pick between 4 and 8 numbers – Once you get above 8 spots, the chances of hitting are so slow that you would need a minor miracle to win. By playing 4 to 8 spots, you limit your downside while still giving yourself a shot at hitting a sizable prize.
Play jackpot keno – Some online keno games offer a jackpot that randomly drops irrespective of your numbers. While the chance of winning the jackpot is low, it adds another potential way to win and boosts the game's RTP. Mad Yeti Keno has a jackpot worth chasing.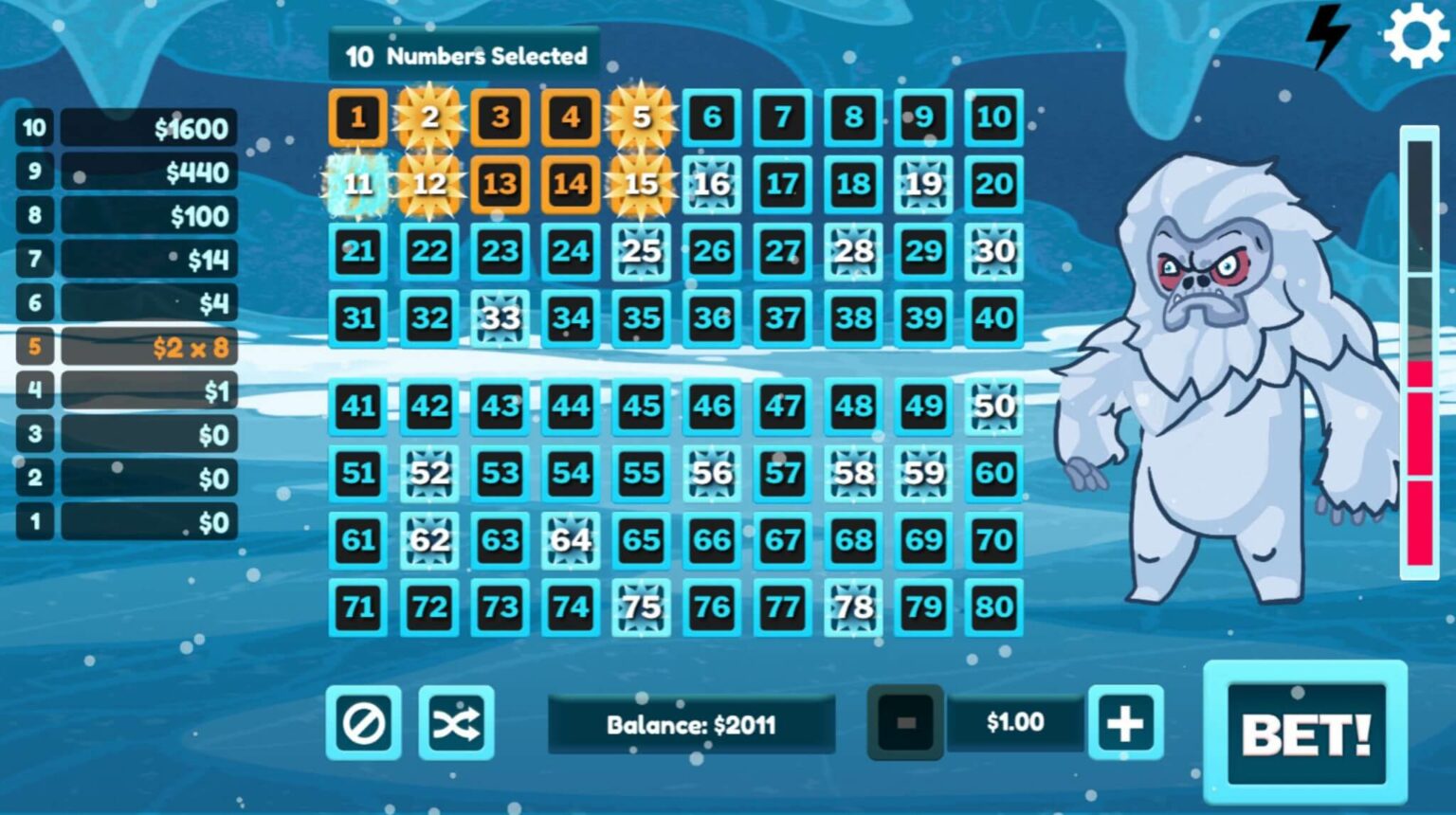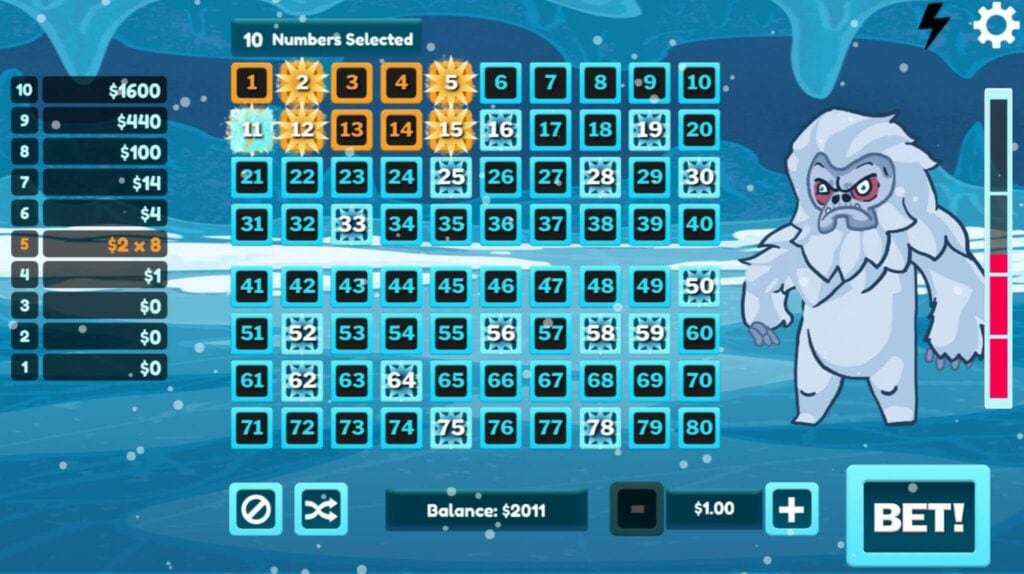 Don't waste your time tracking patterns – It doesn't matter if lucky number 7 hasn't been drawn in the last 10 rounds, it isn't due. Each number has an equal chance of being drawn each round as the game is run by a Random Number Generator (RNG).
Use bonus cash to play – Nearly every legit online casino has a welcome bonus. You can take this free cash and use it to play keno. This allows you to potentially win real money using the online casino's own bankroll!
Play keno at a licensed online casino – It doesn't matter if you hit a 10 out of 10 spot or win a massive keno jackpot if you are playing at a scam online casino that refuses to payout your winnings.
Don't waste time changing numbers – Keno numbers are drawn at random, so it doesn't matter if your numbers have been drawn or not drawn recently they still have the same odds of winning.
Set a loss limit – When playing keno, your first goal should be to have fun. To ensure a bad session doesn't ruin your day, set a limit low enough that the money has zero impact on your life, for example, $20.
Keno Odds Payouts
Keno is an attractive casino game thanks to the potential for massive wins. Here are different keno payouts:
| 🔢Numbers Chosen | 💵Payout |
| --- | --- |
| 1 | 1 to 1 |
| 2 | 5 to 1 |
| 3 | 11 to 1 |
| 4 | 40 to 1 |
| 5 | 400 to 1 |
| 6 | 1000 to 1 |
| 7 | 2500 to 1 |
| 8 | 5000 to 1 |
| 9 | 5000 to 1 |
| 10 | 10000 to 1 |
As you can see, if you manage to pick 10 out of 10 numbers, you can walk away with a colossus 10,000x payday. However, keno also gives you the opportunity to make more risk-averse wagers, for example, if you pick 9 numbers and you successfully match 4 of them, you will earn 1x. Due to the range of payouts and betting options, keno is great for all players, no matter their bankroll or risk tolerance.
Keno Slot Machines Odds Vs. Other Casino Games
While video keno is a fun and not complicated game with some potential sky-high max wins, it does not have the best RTP. Keno's RTP typically ranges between 80% and 95% depending on the specific game rules and the number of balls you have selected. In contrast, blackjack has an RTP of 99.5%, European roulette's RTP is 97.30%, and baccarat's RTP is 98.94%. Even the average slot has a 96% RTP.
Another issue with keno is just how unlikely you are to win the big prizes. The odds of getting eight out of eight keno numbers correct is a depressing 1 in 230,115. And if you have illusions of going 20 for 20, think again because the odds are 1 in 3,535,316,142,212,173,800,000, yep, you read that right, 1 in 3.5 quintillion!
What Is the Best Keno Pattern?
Unfortunately, there is no specific keno pattern that will turn you into a winner. Cold and hot numbers don't exist, and just because a number hasn't been drawn in a while does mean it's due. However, if you believe in numerology, then try these keno number combinations:
1, 3, 7, 9, 13, 15, 21, 25
33, 37, 43, 49, 51, 63, 67
31, 73, 75, 79
Seeing as the game did originate in China, then create a keno pattern using the luckiest numbers in Chinese culture, for example:
Also, make sure you avoid 4, 7, and any numbers containing them, as they are considered extremely unlucky in Chinese culture. Remember when creating a keno pattern to stick between 4 and 8 numbers, as this gives you the best shot at winning!
FAQs
Is there a keno strategy?
There is no keno strategy that will guarantee you a win. However, to give yourself the best chance of winning, pick between 4 and 8 numbers. It doesn't matter what numbers you choose, so feel free to pick your birth year or any other lucky numbers you have.
What numbers hit the most in keno?
There are no numbers that hit the most in keno because the results are random and are generated using special software known as a Random Number Generator (RNG), and following patterns is not a winning keno strategy. You will see different state lotteries releasing statistics on the most drawn numbers, but they always differ from state to state and year to year.
How do you play keno slot machines?
To play keno slot machines, you select numbers ranging from 1 to 80. Typically you select anywhere from 1 to 20 different numbers, and then up to 20 numbers are randomly drawn. Your payout is calculated based on the amount of numbers you successfully picked. If you select 10 out of 10 or 20 out of 20, you win the game's top prize.
Are keno machines random?
Keno machines are completely random, just like slots and other online casino games, so there is no real keno strategy. Keno numbers drawn are randomly generated using an independently verified RNG. So you can't predict what number is going to be drawn based on previous results.
Can you bet on keno online?
You can bet on video keno online at licensed US casinos and enjoy all kinds of keno variations. The online version of keno works very similarly to the offline version, you simply select numbers ranging from 1 to 80, and the more numbers you match, the more you win.