Gamble USA strives to improve your online gambling experience. We aim to help you play safely, make informed decisions when gambling, and increase your betting knowledge through our guides.
We adhere to strict editorial integrity; our content may contain links to products from our licensed & legal US partners.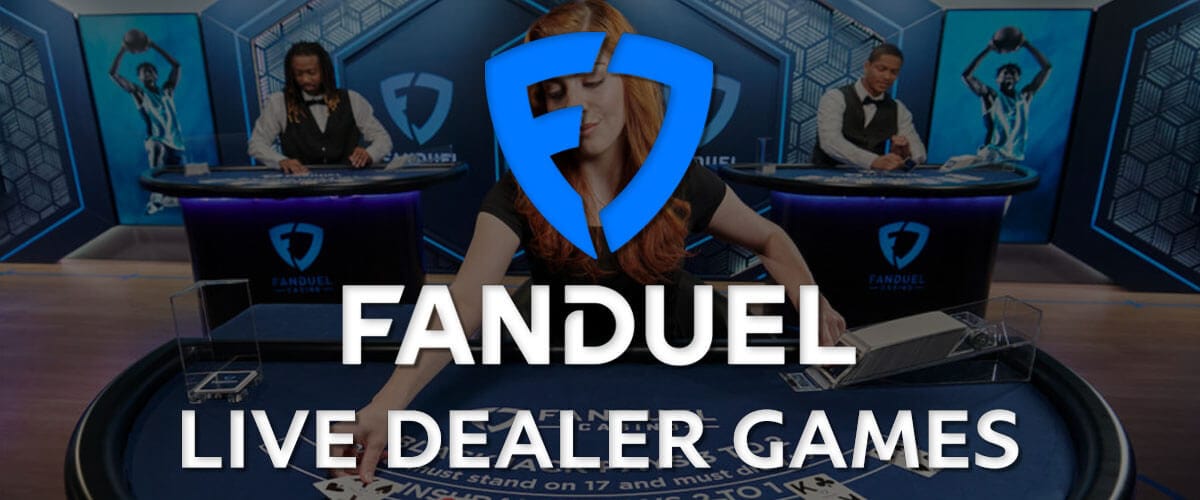 FanDuel is one of the world's largest sports betting operators, but they also have some fantastic online casinos for US residents. Their online casinos offer brilliant promotions, fantastic accessibility, and most importantly, an awesome gaming experience.
A major contributor to that gaming experience is the addition of live dealer games. FanDuel live dealer games add an entirely new level of immersion and fun to your online gambling. Forget about playing those tame single-player titles, interacting with a real human dealer is where the action is at!
Live casino games represent the next evolution in iGaming. They essentially recreate the physical casino experience from the convenience of your desktop computer or smartphone! FanDuel understands this and has partnered with the reputable Evolution to give you a great choice of live games.
Below, I take you into the world of live casino games and show you just what FanDuel has to offer.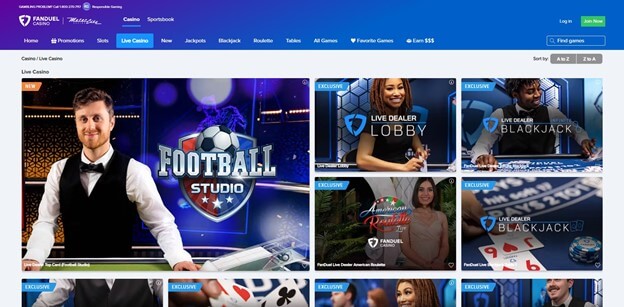 Does FanDuel Have Live Casino Games?
Of course! FanDuel excels at live casino games and has a fantastic variety. There is something for everyone including Roulette, Blackjack, Poker, Baccarat, and even some cool spinoff games like Football Studio.
Exclusive $1,000 Play it Again Bonus
21+. T&C Apply
21+. T&C Apply
Amazing choice of slots & games
Exclusive Play it Again Bonus Up to $2,000
To make things easy, I have created a simple table showcasing the currently available FanDuel live dealer games. This will be updated as they add more titles to their collection.
Complete List of FanDuel Live Games
| 🎲Live Dealer Game | 💯RTP | 💵Bet Limits | 🤠Type | ℹ Description |
| --- | --- | --- | --- | --- |
| Football Studio | 96.27% | N/A | Game Show | A fun guessing game of higher or lower that has a brilliant soccer theme. |
| Live Dealer Blackjack | 99.00% | N/A | Blackjack | Traditional Blackjack with standardized rules and 10 separate tables available to play at. |
| Live Dealer American Roulette | 94.74% | N/A | Roulette | Traditional Roulette game using the standardized American rules. |
| Live Dealer Infinite Blackjack | 99.47% | N/A | Blackjack | Standard Blackjack rules but there is a range of fun side bets you can make too. |
| Live Dealer Auto Roulette | 94.74% | N/A | Roulette | A more streamlined Roulette game with an automatic dealer but it still has a live video feed of the Roulette wheel. |
| Live Dealer Baccarat | N/A | N/A | Baccarat | Traditional Baccarat rules with fun dealer interactions. |
| Live Dealer Lightning Roulette | 97.30% | $1000 | Roulette | Players can win random lucky numbers with big payouts on each spin, up to 500x. |
| Live Dealer Three Card Poker | 96.63% | $1300 | Poker | Simple three card poker gameplay with live dealer interactions. |
| Live Dealer Ultimate Texas Hold'Em | 99.47% | $1000 | Poker | Traditional UTH played with one 52-card deck and no Jokers. |
| Live Dealer Free Bet Blackjack | 98.45% | $1000 | Blackjack | Certain bets can be placed without any additional costs like splits and doubles. |
| Live Dealer Speed Blackjack | 99.00% | $1000 | Blackjack | No waiting for other players to make their choices – the fastest players get their cards revealed first. |
In Which States is FanDuel Live Casino Legal?
As you are probably aware, online gambling in the US at casinos is currently limited to a handful of states. This includes Connecticut, Delaware, Michigan, New Jersey, Pennsylvania, and West Virginia.
If you live outside of these states, you might still have access to other forms of gambling like online sports betting, horse races, and sweepstakes casinos.
FanDuel has one of the better online casino offerings and is currently legal to play in:
Michigan
Pennsylvania
New Jersey
West Virginia
Connecticut
The Pennsylvania FanDuel Casino offers players exclusive promotions including a fantastic welcome offer where you get up to $2,000 in risk-free bets for your first 24 hours of gaming and a further $100 free bonus over the next four weeks.
This promotion is also available for the other four states. All of the legal FanDuel casinos have a brilliant selection of games including video slots, jackpots, traditional table games, and live dealer games.
Connecticut residents can also enjoy FanDuel's live dealer studios but this is through their partner casino – Mohegan Sun. This is simply a FanDuel online casino with the same games and promotions, but operating with a different style and branding.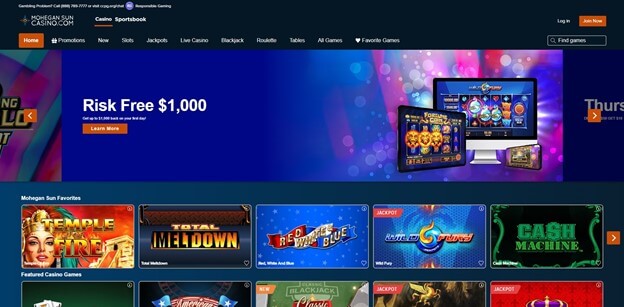 Are FanDuel Live Dealer Games Fair?
I completely understand that people have reservations about playing live casino games. Surely these games are rigged, right? The dealers are just using sleight of hand or rigged card decks? Lightning Roulette must be rigged!
This is definitely not the case with FanDuel. Firstly, FanDuel is a fully licensed and legal online casino in Connecticut, Michigan, New Jersey, Pennsylvania, and West Virginia. This means that they are regulated and must comply with state gambling laws and stipulations stated by the gambling control boards.
Secondly, they partner with Evolution. Evolution (formerly Evolution Gaming) is one of the best-known and most reputable iGaming software developers in the industry. Their games are rigorously tested, have published RTP figures, and are audited for fairness by third-party organizations. As a result, you can be rest assured that FanDuel Casino is legit and not rigged by any chance.
5 Best FanDuel Live Casino Games
While FanDuel has an awesome selection of live games, I think that some are better than others and offer a more interesting gaming experience.
To give you the most immersive, enjoyable, and memorable gaming session, I have hand-picked five of my favorite FanDuel live titles below – enjoy!
Live Dealer Lightning Roulette
Type: Roulette
RTP: 97.30%
My first pick is Live Dealer Lightning Roulette which is a title from Evolution. Everyone loves a fun game of Roulette, but what if you can randomly win amazing payouts with lucky numbers? This is exactly what Lightning Roulette gives and I think it is an upgrade compared to the classic game.
This title looks fantastic and the table setup, studio environment, and graphics are superb. There is a live dealer chat, and you can make bets anywhere from $0.50 up to $1000. For the basic gameplay, it uses standard European Roulette rules without the 00.
However, there is a fun addition. During each spin, the dealer pulls a lever that randomly selects 1-5 lucky numbers. If you have placed a straight-up bet on one of these lucky numbers, you can get an epic multiplier of between 50x to 500x! This puts a fun twist on classic Roulette and is definitely one to try at FanDuel.
FanDuel Live Dealer American Roulette
Type: Roulette
RTP: 94.74%
Perhaps you aren't interested in the razzle and dazzle of Lightning Roulette? That's fine! Instead, you can play the classic version of American Roulette at FanDuel online casino.
This remains a popular casino game and this version is exclusive to FanDuel. The studio setup looks amazing and everything is on-brand with a wash of blue colors to match the FanDuel website.
The croupiers are friendly and knowledgeable, and it's easy to have banter with them, or ask them for clarification on your bets, the roulette house edge, etc. There is nothing flashy here – just a good old game of American Roulette!
FanDuel Live Dealer Blackjack
Type: Blackjack
RTP: 99.00%
Next, I selected the exclusive FanDuel Live Dealer Blackjack. This is another classic game and one of the best options for first-time live dealer gamblers to try. It's incredibly easy to follow and the dealer will talk you through everything if you are unsure.
The table looks like something out of a real casino and the blue cloth combined with the FanDuel logo is a nice touch. A great aspect of this game is that you can play with up to 7 other people at the table at once. You can chat with them and the dealer using the chat system, and it makes for an immersive and fun experience.
Don't worry about the tables being full either. Each FanDuel state online casino has 10 separate Live Dealer Blackjack tables. As a result, you should always find an open spot and be able to play. Alternatively, you can turn to the FanDuel Infinite Blackjack that supports an unlimited number of hands at once.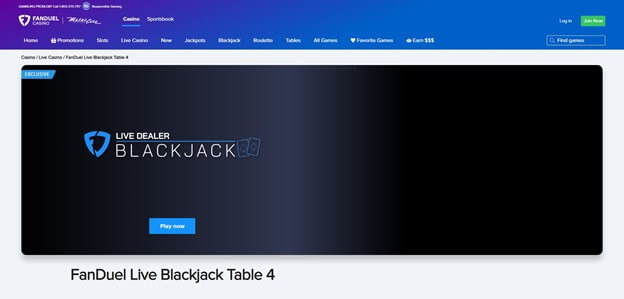 Live Dealer Speed Blackjack
Type: Blackjack
RTP: 99.00%
Sometimes, it can be incredibly annoying waiting for other players to make their bets and choose their actions. This can stretch out Blackjack games, especially if you are playing at a live table with six other contestants.
If you want a more streamlined and quicker Blackjack experience, give Live Dealer Speed Blackjack a try! This fantastic game from Evolution takes away all the waiting, and FanDuel typically has 3 separate Speed Blackjack tables available.
The standard rules of Blackjack apply. However, there is one key difference. Cards are distributed first to those who react the quickest. This means no waiting and a much smoother progression of hands. It can take a little getting used to, but the fast-paced gameplay is incredibly exciting.
Live Dealer Top Card (Football Studio)
Type: Gameshow
RTP: 96.27%
Forget about traditional card games, why not opt for something completely different and enjoy a gameshow from Evolution? Top Card or Football Studio is great for soccer fans as the gameplay is based on soccer match outcomes.
It is a card game where you place wagers on the outcome of these matches in the form of higher or lower selections. The studio looks amazing and futuristic and it has a relatively simple set of bets. The RTP can vary depending on if you pick the main hand or draw bets (Main Hand = 96.27%, Draw = 89.64%).
I urge you to give this a try as it will give you a fun and immersive break from those rounds of Blackjack and Roulette.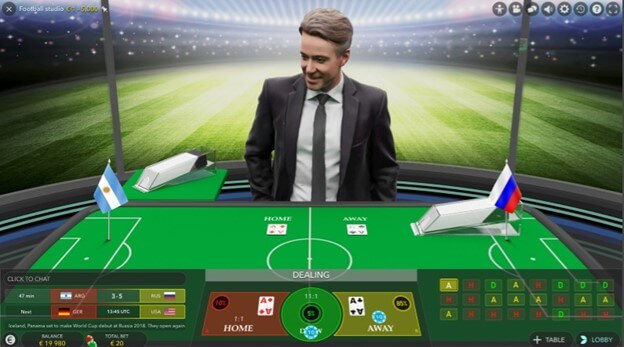 How to Play Live Croupier Games on FanDuel Casino
So, you are ready to jump into one of the live dealer studios and enjoy a relaxed gaming experience. But how do you do this and what can you expect from this gaming operator?
Exclusive $1,000 Play it Again Bonus
21+. T&C Apply
21+. T&C Apply
Amazing choice of slots & games
Exclusive Play it Again Bonus Up to $2,000
I completely understand that live dealer games can be daunting and it is a different experience from traditional FanDuel online slots and casino games where you are simply playing against an AI dealer. Don't worry – below, I explain some of the common features of these games, and what FanDuel casino players can expect from live games.
The Dealer
One of the best aspects of these games is that you get to see an actual human dealer! How about that? The dealers have their own studio and a complete casino setup depending on the game you are playing. For example, a Roulette croupier will have a proper Roulette wheel.
They are connected to you via a live streaming feed and you can see what they are doing. Typically, the dealer will control the game, much like in a physical casino setting. They have a microphone and can speak to you.
Game Rules
The game rules should be available before you join the live dealer lobby. Standard games like Blackjack and Roulette should be easy to pick up and they function just like the tables in physical casinos – the only difference is that you are playing via a streaming feed instead of face-to-face!
However, some games have special rules and features. For example, Evolution's Lightning Roulette has special random lucky numbers that can appear on each spin and trigger additional wins. As with the standard rules, things like this should be explained before you enter the game lobby. Evolution offers a video tutorial of all their games, with additional details on FanDuel Live Casino payouts via the information window. Watching a few rounds before betting might also help getting the feel of the game.
Regardless, if you are unsure of anything, you can simply ask the human dealer! They are professionally trained croupiers and have excellent knowledge of the game.
Placing Bets
The gaming aspect of these live dealer titles is virtually the same as single-player titles. You have a complete set of controls and can change your bet amount and selection easily.
For example, with Roulette, you can simply click on the relative icons embellished over the pay table to select the combination of numbers you want. The dealer can see what you select and the decisions you make and thus will be able to keep the gameplay running smoothly.
Interactivity
Michigan and Pennsylvania customers and people from other legal states also have the opportunity to interact with the dealers. This is another fun aspect of the game and it can make your experience more immersive and engaging.
Typically, FanDuel casino players can communicate via a chat system. You simply send a message to the dealer and they will reply using their microphone. If the game supports multiple players, you can also chat with them.
Some titles support the use of a microphone too, so you can speak to the dealer and other gamers instead of typing. Just remember that this isn't a necessity so don't worry if you don't feel like talking!
FanDuel Live Casino Problems
Generally, the FanDuel interactive casino experience is superb and runs smoothly. You should rarely experience any issues, but as with most things, it's not perfect.
When playing FanDuel's live dealer games, I advise making sure that you have a stable internet connection so that your streaming feed runs smoothly. Also, it's a great idea to close all other programs on your computer, or apps on your smartphone. This ensures that your device can allocate 100% of its processing power to these classic casino games.
On occasion, you may experience some FanDuel account errors. Don't worry – there are three common problems that people face, and the answers are widely known. I have listed the main three issues below, and how to troubleshoot them on FanDuel.
FanDuel Live Dealer Not Working
You may simply get an error message or not be able to connect to a live casino gaming floor. This should be an easy fix and there are several potential reasons.
Firstly, and simply, make sure that you are physically located within the state you registered your FanDuel account in! This is a legal requirement, but FanDuel also has advanced detection software so if you try to access the site from an illegal state, you might simply get an error message.
Secondly, it could be an issue with your web browser or WiFi connection. I advise clearing your internet history and cache. This will remove any previously loaded versions of the online casino games and reload everything from scratch. Also, make sure that you have a strong WiFi connection.
FanDuel Live Casino Down
This is incredibly rare as FanDuel is a premier gaming destination and its services are generally reliable. However, there may be the odd occasion when its dedicated live dealer studio simply isn't available.
This could be due to server issues, connectivity, or problems with the streaming equipment. Unfortunately, in these instances, you can't do anything. This is a server-side problem and not something you can fix.
When this happens, you can use websites like Downdetector.com to check for outages and problems. Also, I advise checking the FanDuel Twitter feed – they typically post important service updates here that could affect their customers.
FanDuel Live Casino Hours
You may want to play out of what you would deem "standard" hours and may not be sure if the FanDuel casino games will be active.
This is a fair question, but you don't need to worry. All FanDuel live games are available 24/7! There will always be a live dealer on hand and they typically operate in shifts to ensure that there is always someone to deal with and chat with.
FAQ's