Gamble USA strives to improve your online gambling experience. We aim to help you play safely, make informed decisions when gambling, and increase your betting knowledge through our guides.
We adhere to strict editorial integrity; our content may contain links to products from our licensed & legal US partners.
With an element of player skill and its fast-paced nature, online Blackjack is one of the most popular casino games in New Jersey.
Numerous variations of the classic table game have developed over time, but all are based on a fundamental set of rules. Blackjack has a long history as being a favorite game among players who visit brick-and-mortar casinos in New Jersey and has made the transition to New Jersey online casinos seamlessly.
Blackjack is available at every regulated New Jersey online casino and is available in many different variations. The premise of online Blackjack is not complicated, but there is a degree of skill required to have more chance of success. One of the significant reasons Blackjack is extremely popular at New Jersey online casinos is that players are playing against a minimal house edge, typically less than 1%.
Best New Jersey Online Blackjack Sites
If you are looking to play and win at Blackjack online in NJ, these are the top Blackjack sites. Available online & mobile apps
As online Blackjack is so widely available at NJ online casinos, it can be tricky to choose the online casino that is most suitable for you. In this guide, we will talk about the numerous New Jersey online Blackjack variations, how to claim an online Blackjack bonus, where to play, and more.
As we have mentioned above, every Blackjack game available at NJ online casinos has a house edge of under 1%. We have listed what we feel are some of the best online casinos that offer Blackjack games, but every regulated online platform in New Jersey will offer Blackjack in some form. Some, such as the Golden Nugget Atlantic City, have extensive choices, making it a great option if you want to play Blackjack.
Atlantic City Blackjack is exceptionally prominent and is equally as popular in Golden Nugget rooms or online. Some of the casinos may not be as grand as Bally's Casino in Las Vegas but still offer fantastic Blackjack games. A lot of the casinos featured offer a free play demo version, so you can check out the games before putting down any real money.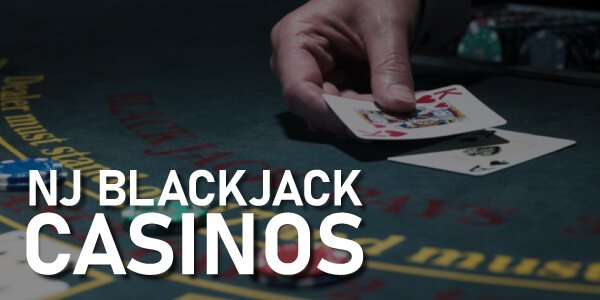 How to Play Online Blackjack in New Jersey
The basic premise of Blackjack is straightforward: Get as close as you can to 21 without going over that number. If you go over, your hand is a bust. Players going over 21 automatically lose; however, if the dealer goes over, the player wins. Moreover, if the player has more points than the dealer without going over 21, the player will still win some money; if the dealer has more points, the house wins. If a scenario arises where the dealer and the player have the same hand, there will be a push, which means the player gets their bet back.

At the beginning of the game, all players will be dealt two cards face up, with the dealer having one card face up and one face down. Players must judge what to do from looking at the dealer's one card and decide how to play their hand.
Card Values
Before playing online Blackjack in New Jersey, it is vital to know the values of each card. All numbered cards are face value in points, so cards 2-9 keep their value. Jacks, Queens, and Kings count as 10 points each, whereas an Ace can count as 1 point or 11, whichever would work best for that particular hand.
If you are lucky enough to be dealt an Ace plus a 10 point card with your first two cards, you will have 21 and automatically win as you will have achieved 'Blackjack.' If the dealer doesn't have a Blackjack hand, the player is usually paid 3:2 on their bet. If a player wins the hand without reaching 21, they are paid even money on their bet.
Blackjack Player Options
Once you have placed your bet and have committed, your first two cards are dealt. Players will then be given the following options:
Stand
You are happy with your points tally and do not wish to be dealt any more cards.
Hit
You will hit if you want another card from the deck. You can keep requesting more cards until your hand value exceeds 21, by which point it will be a bust.
Double Down
A player has the opportunity to double their bet and take just one more card. You can only do this on the first two cards that are dealt, and you must keep the extra card that is dealt and cannot draw any other cards.
Split
If you are dealt a pair, you can split the two cards into two separate hands and double the bet. When the cards have been separated, the dealer will create two hands from the original cards and add an additional card to each. Players can then choose to stand or double down as they usually would. However, when Aces are split, you can only get one extra card on each.
Surrender
You can fold your hand on the first two cards and give up half of your bet. An excellent example of this in a Blackjack game would be if you are dealt a hand worth 16 points, and the dealer has a 9, 10, or an Ace.
Insurance
If the dealer has an Ace on their up card, they will ask for insurance. Players can place a side bet that predicts the dealer's down card is a 10. If the dealer was to have Blackjack, the insurance pays 2:1.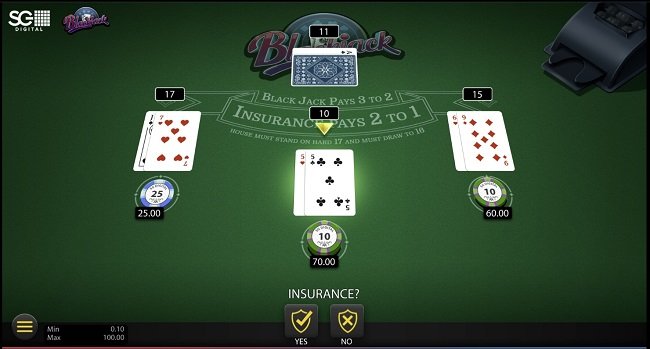 NJ Online Blackjack Variations
The majority of online Blackjack games in New Jersey are based on a generic set of rules. Most Blackjack games will use six or eight decks that will be shuffled after each hand. Players will have the chance to double down on any two cards or split them at most online casinos that offer Blackjack in New Jersey.
However, there are some unique and different online Blackjack versions that can be played at various online casinos in New Jersey. Some of these differences may range from the number of hands you play with, what the surrender rule means when you can double down, hand limits, etc. Most online casinos in New Jersey also have different software providers. Currently, NYX and IGT are the most prominent gaming software companies offering excellent online Blackjack games.
Online Blackjack With Side Bets
There are several variations of NJ online Blackjack that allow players to make additional 'side bets' and their primary bet on any hand. These only vary by what cards you are hoping to come out on the original bet. If you want to try Blackjack at an NJ online casino, Borgata, Pala Casino, and PartyCasino all offer side bet options. The Borgata Blackjack rules mean you must stay on all 17's, and they do not allow surrender. However, Pala Casino does allow surrender and hits soft 17.
Making a side bet is optional, but players must make the flat bet on the actual hand. Players can place as many side bets in one hand as they like.
Online Blackjack Micro Limits
Mirco Limits bets in New Jersey online casinos are very low, starting with a minimum bet of $.10, giving players a nice start when they want to play Blackjack. Even though the house edge is typically the highest on average out of various online Blackjack games, the house edge remains under 1%.
No online Blackjack game in New Jersey has more of an advantage for the casino, but it is still more favorable than the 6-5 games with Atlantic City Blackjack. The extremely small minimum bet offsets the higher house edge.
Multi-Player Blackjack
This version is not too dissimilar to classic Blackjack, with there always being eight decks in the shoe and being shuffled frequently. Players can split cards if they wish, but they can only play one hand per round. The house edge is small again here, at 0.6%.
Live Dealer Blackjack
Live dealer Blackjack games are one of the newest developments to take the NJ online casino industry by storm. These live dealer games are broadcast from a live studio and played in real-time; however, you can play from the comfort of your own home via a computer or mobile device. Players can connect from their sofa and play a live dealer Blackjack game in an Atlantic City casino.
A real-life dealer is used to run these live dealer games, with physical playing devices being used, which means the action is not as fast as playing a standard Blackjack online game. A camera feedback system allows players to make bets from anywhere, including the usual options of electing to hit or split.
The Golden Nugget Casino currently offers live dealer Blackjack with Betfair Casino, soon joining them, making more live dealer games available for players in New Jersey. Live dealer Blackjack is becoming more and more popular and will soon be available in most online casinos in New Jersey.
There is now an extensive range of live online casinos available in NJ. Want to know more? Then have a read of our NJ live casino guide.
How to Find the Best Blackjack Game at NJ Online Casinos
Players must look out for what a casino offers. Keep your eye out for different variations of Blackjack that increase the house edge. Even considering that most Blackjack games will follow the same rules, individual providers may make subtle changes that will increase the house's edge, which over time, can eat into your profits.
If you want to play Blackjack online, it is vital to do a little research before you start. For example, some Blackjack games may pay 6:5 instead of the usual 3:2. Although that doesn't seem much, to begin with, it could make a big difference over time.
New Jersey Mobile Blackjack
Almost every online casino in New Jersey has a dedicated mobile app that is available to download on iOS and Android devices. Although the majority of the casino games on mobile are slots, there are some decent Blackjack options. Some NJ online casino platforms will naturally have more Blackjack options than others, depending on how popular each casino game is for the operator.
Want to know more about mobile blackjack?
The good news for players in New Jersey who want to play Blackjack on mobile is that the house edge will still be below 1%. The rules are the same as Classic Blackjack, so they won't usually offer the option to surrender, but you can double down and split on 9,10, and 11.
You won't find as many Blackjack games on a mobile app as you would on a desktop version. There will be at most two options, and live dealer Blackjack via a mobile app is unlikely.
Advantages of Playing Online Blackjack in New Jersey
There are numerous plus points to playing Blackjack online for NJ residents. The most obvious one is that you can play anywhere you want at any time. There is no need to make the journey to Atlantic City; as long as you are in state lines, you can play on your mobile or computer. Playing Blackjack online is also softer on the wallet. If you were to visit a physical casino, a minimum bet would be around $10. However, an online casino will typically offer bets from $0.10.
If you would rather play Blackjack on a casino floor because you enjoy the buzz, you can now experience that online. Liver dealer Blackjack has become very prominent in New Jersey, with many online casino platforms now offering a comprehensive live dealer section. You can enjoy the thrill of the Golden Nugget casino floor from your sofa!
Additionally, you will likely be able to take advantage of bonuses and promotions if you choose to participate in Blackjack online. Every NJ online casino will offer an incentive to get players to sign up, and then keep them engaged.
Playing online means you have a wide range of cashier options too, including the ability to deposit and withdraw using PayPal, Paysafecard, and Play+. Using these methods means you are guaranteed a fast payout from the casino. Depositing with the casino is easy, and not all make you deposit a small fortune to play. There is now a great range of minimum deposit casinos available in NJ.
FAQs
Can I play Blackjack outside of New Jersey?
The answer is no; however, there are a few exceptions. Blackjack could be available depending on where you are traveling to and which online casino you choose. For example, in Pennsylvania, DraftKings casino and Betfair Casino will transfer your available balance if you close down the app and then perform a restart to relocate you.
Can I access Blackjack games on my mobile?
Yes. Online casino sites in New Jersey recognize the importance of offering a quality mobile app. Players will be able to download to both iOS and Android devices. Due to rules on the Google Play Store, Android users will need to download the app directly from the casino website.