Gamble USA strives to improve your online gambling experience. We aim to help you play safely, make informed decisions when gambling, and increase your betting knowledge through our guides.
We adhere to strict editorial integrity; our content may contain links to products from our licensed & legal US partners.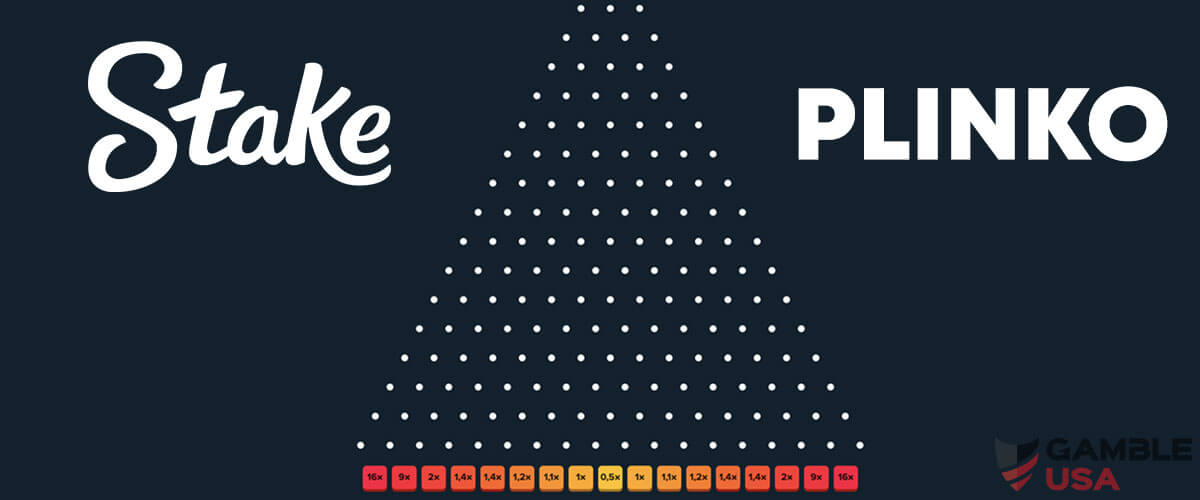 Are you searching for a simple and fun game to play with Bitcoin? If so, Stake Plinko is the game for you. Taking its cues from both the fast-paced thrills of the Japanese game Pachinko and the well-known 80s American TV show "The Price is Right", this thrilling new attraction blends the best of both worlds. Whatever the case, the game has found a home at a crypto casino and has grown in popularity among crypto gamers.
Plinko by Stake Originals is a fantastic game that's simple to play and might net you plenty of great rewards. If you want something different than slots or table games, this game offers a great chance to spice up your gambling experiences.
So stay with us as we fill you in on all you need to know about how to play, what you can win, some playing strategies, and how to play Plinko on Stake.US for free.
10,000 GC + 1 Stake Cash No Deposit Bonus
Only legal crypto gambling site in the US
Stellar range of slots, including Stake Originals
RNG and Provably Fair Games
Plinko Gambling Game by Stake Overview
Plinko is an online arcade game developed by Stake, one of the top crypto casinos. You will play on a pyramid-shaped layout with white dots where you can adjust the number of lines between 8 and 16. The game payout depends on a ball or group of balls falling between these white dot rows into colorful boxes with multipliers. Yeah, it's that easy, and the massive payouts combined with its simplicity have made it so successful.
Playable on mobile and desktop, this game of luck includes many betting possibilities to suit every player. It's a crypto betting game that mainly uses the best cryptocurrencies, like BTC, ETH, LTC, and TRX. You can bet anywhere from 0.00000001 BTC and 0.1 BTC, although different currencies have varying limits.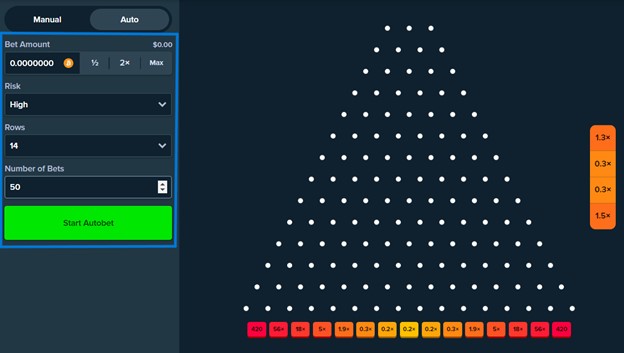 With an average RTP of 99%, the Plinko game also provides one of the highest payback percentages. A few features in the game give you additional control, such as Autoplay and the ability to adjust the Risk Level, which varies from low to high. If you play Plinko at a high level, you can get a whopping 1000x multiplier on your wager.
🎲Plinko Game
🧑‍💻Developer
Stake Originals
💯RTP
99%
📈Volatility
Low/Medium/High
💲Min Bet
0.00000001 BTC
💰Max Bet
0.1 BTC
💵Available Cryptocurrencies
BTC, ETH, USDT, LTC, TRX, DOGE, XRP, BCH
⭐Features
Risk Management, Autoplay
🤑Max Win
1000x / 5 BTC
📱Compatibility
PC, Mobile, Tablet, Android, iOS
🎰Legal Site to Play
Stake.us
How to Play Plinko Game Online
Despite being adapted for online play, the Pachinko game from Japan still serves as the basis for the gameplay here. Even if you've never played Stake Plinko before, it is simple to grasp the rules because of the simple concept of dropping balls. But to play in the US, you must first create an account at Stake.us.
10,000 GC + 1 Stake Cash No Deposit Bonus
Only legal crypto gambling site in the US
Stellar range of slots, including Stake Originals
RNG and Provably Fair Games
All you have to do is go to Stake.us social casino, click on register, and fill out the sign-up form with your details. Verifying your account is the last step before you can begin playing for free with Gold Coins or for real money with Stake Cash.
Before the game begins, a grid of white pins will be visible; this grid will calculate your wins for each round. You can customize every controller, including whether to play in Manual or Auto bet mode, from the left. Whichever suits you best, you can alter your wager in the Bet Amount sections and select the rows you want to play in the game using the Rows section.
To begin, choose a bet, a level of risk, and 8 to 16 rows where the action will take place. The number of pins or white dots is determined by the number of rows chosen, allowing you to customize the pyramid game grid.
Press the green Bet button to drop a ball from the top of the grid after your bet and pins are in position. One ball will drop with each hit, and you can click as frequently as you like to launch multiple balls. Watch it bounce between pins as it travels below to land and reveals your prize. You take the reward available in the box where the ball lands after it has reached the bottom. There are no further guidelines needed to play Plinko; that's all.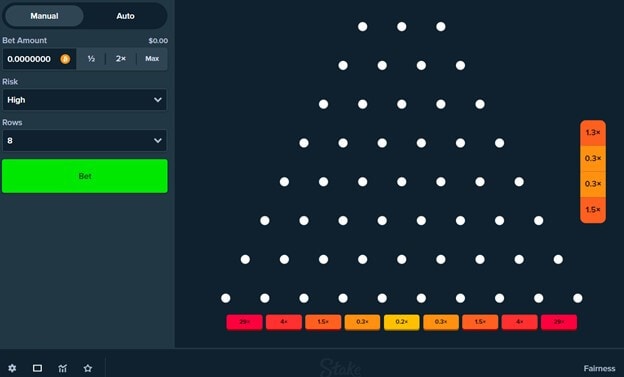 Plinko Bet Payouts and Winning Odds
The Stake Plinko casino game offers random cash awards, and your odds of winning depend on the settings you apply. You'll notice colorful number boxes with distinct multipliers underneath the grid when you play Plinko online. These show how much each reward would be worth if your disc falls into any of them.
Depending on the volatility level you are ready to take and the number of rows, each position has a corresponding multiplier that ranges from 0.2x to 1000x. When you add more lines, there will be more dots, which will make it harder to win but could also lead to higher payouts. It's comparable to picking a high volatility slot where you get big wins for taking high-risk. Notably, you require a multiplier greater than 1x to get profit from your bet.
Besides that, this Plinko game has an RTP of 99%, leaving only a 1% house edge. It means that nearly all of your bets would return to you. So, if you're a risk-taker and select all 16 rows, you might win a stunning 1,000x your bet.
Plinko Special Features
Plinko doesn't include bonus rounds, as you would often experience in other casino games. But, the Stake.us sweepstake casino has added a few essential features to alter the gameplay and make it appear and act according to your preferences.
If you want to play Plinko online for real money, you need to be familiar with these features:
Autoplay
If you want the game to play automatically, select auto mode and watch Plinko win for you. Set your bet, rows, and the risk level you wish to play at just like in manual mode. There is only one more option – "Number of Bets," which specifies how many balls you intend to drop for each round.
So ensure your bankroll can handle it because you will be playing with the same bet, number of rows, and risk level.
Risk Management
Stake Plinko offers two options to control risk levels and adjust odds, making it the ideal game for those who want to set specific risk boundaries.
The first is the Risk button, which enables you to set the game's volatility to Low, Medium, or High. Low risk involves greater possibilities of winning smaller prizes, while high risk implies lower chances of winning, but the payout can be huge. Between them, there is a medium risk level where you can often earn average-sized wins.
The second is the Row button, which controls how many lines the Plinko ball falls through to reach down and affects the risk level. As we mentioned, there are 8 to 16 rows, and the more rows there are, the greater the potential for big wins. For instance, the maximum multiplier is 29x if you choose eight rows with a high-risk level, whereas choosing all 16 with the same risk can result in 1000x.
How to Win Real Money at Plinko
The only crypto casino in the US where you can play this Plinko game for real money or in demo mode is Stake.us. There aren't any guaranteed game winning strategies because it is a game of chance. But we've compiled some essential tips that may help you boost your winning chances.
First and foremost, managing your bankroll is crucial to ensure that it can handle the amount you bet. So, it's essential to set up and stick to a spending plan. Also, avoid betting amounts you'd feel uncomfortable losing, and never try to recover your losses. Select your bankroll size and the most you can afford to lose before playing Plinko.
It's also a good idea to play with a medium level of risk because it puts your winning rate in the middle of the spectrum. That's because low wins might be so minor that you may lose, while big wins are rare, and not everyone has the budget to play for so long. Also, avoid playing with fewer rows because the returns nearly never match the stake.
An efficient strategy for those watching their budget is to alternate the rows and risk levels between low, medium, and high. If you encounter a losing streak when playing the same setting, you might consider lowering your risk level or the number of rows. Instead, if you're winning with specific settings, you can increase the number of balls you're dropping.
Other than these, the gameplay is entirely dependent on your settings. So all you can do is place your bet and see how your luck plays out.
Plinko Spribe vs Plinko Stake
When comparing Stake Plinko with Plinko Spribe, there aren't many changes. Both games play similarly, although with somewhat different controller settings.
The Plinko Stake provides you with the option to choose between 8 and 16 rows, but there aren't many more options available in Plinko Spribe. You only have three options (12, 14, or 16 lines) when choosing rows in the Spribe version.
The Spribe Plinko does not have a risk level setting; instead, the risk level depends on the color of the balls you select to play. These colors have varying multipliers that connect to the risk level you intend to play at. Red offers the high risk and the biggest multipliers, while Green offers a smaller multiplier but better winning chances.
Spribe Plinko allows you to select the color box where the ball will land while this feature is missing from Stake Plinko. These are the little differences you will notice when comparing these games.
Other than these, you can play Plinko in most of the United States, except for Stake.us excluded states Nevada, Washington, Idaho, Kentucky, and New York. Spribe games are not yet legal anywhere in the US.
Play Plinko online Real Money or Risk-Free at Stake.us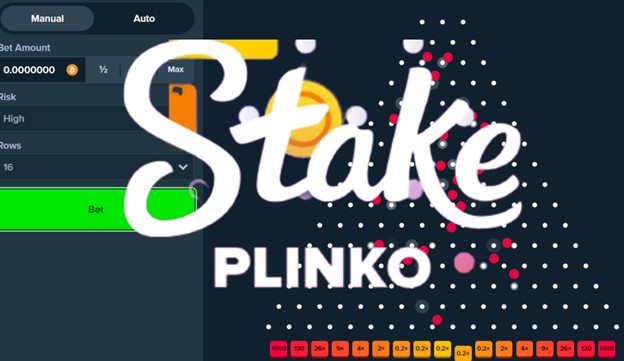 Stake.us is the best free-to-play alternative to the popular real-money crypto casino Stake.com and has a well-deserved reputation as one of the best sweepstakes casinos in America. The latter is unavailable in the US, but you can join Stake.us to play your favorite games without depositing any more. Their no deposit sweeps bonus and daily offers can help play Plinko for free and win real money.
The design of the Stake.us website stands apart from other social casinos in a positive aspect. The site's general design is pretty clean, which makes it simple for users of all skill levels to navigate. This online casino has a black and gray backdrop, and you can expect quick load speeds and nearly no lags. Like its Stake.com real-money counterpart, the games collection is simple to explore. The lobby is well-structured with straightforward and helpful game icons, divided under Stake Originals, Slots, Live Casino Games, and Table Games.
You might be surprised that you don't need to deposit to have fun playing at Stake.us if you're new to online sweepstakes casinos. Here, you can play using two game modes: Standard, similar to the fun play that uses Gold Coins, and Promotional, which you play with Stake Cash. They are available for free by registering, logging in daily, and taking advantage of site promotions.
10,000 GC + 1 Stake Cash No Deposit Bonus
Only legal crypto gambling site in the US
Stellar range of slots, including Stake Originals
RNG and Provably Fair Games
You can redeem all your wins from promotional games played with Stake Cash for cryptocurrencies like BTC, ETH, DOGE, BCH, LTC, TRX, and more. Any player in America (except five states) can play on Stake.us, but they must be 21 or older to access the site and play casino games on Stake.us. So, register right now to start playing Plinko or other games for free while you try your luck.
Plinko Background and Relation to the Game Show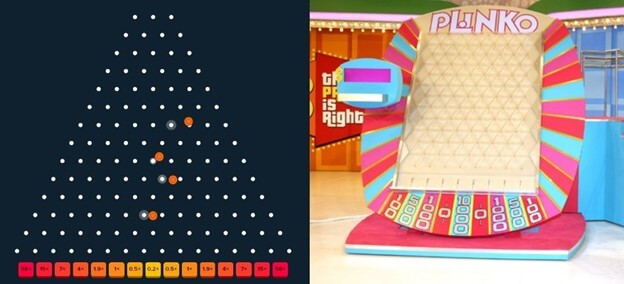 If you've ever watched an episode of "The Price Is Right," you undoubtedly believe this program deserves the credit for creating the Plinko game. But hold on, it's clear that the Pachinko machines from Japan served as Plinko's primary inspiration. Here, silver ball bearings drop from the top of a vertical glass-covered board, bounce around pins, then fall to the targets. This core concept still holds for all Plinko games.
On the other hand, it significantly matches the game show The Price Is Right, which was the most well-known Plinko pricing game. It was established in 1983 by Frank Wayne and offered up to $50,000 in cash prizes. While the mechanics haven't changed, Stake has revamped the online version of the game to make playing more enjoyable anytime you want.
Stake Plinko lets you compete against the machine for bigger prizes instead of just watching. In the crypto version of Plinko, you can drop as many balls as you like, whereas, on television, participants only receive one chip. Online Plinko has its own features for adjusting the grid, like picking more pins and controlling the risk level and rows.
It doesn't matter how or who invented Plinko games; the excitement of playing this game of dropping balls as they travel to their destination stays unchanged.
Is Plinko a Provably Fair Game?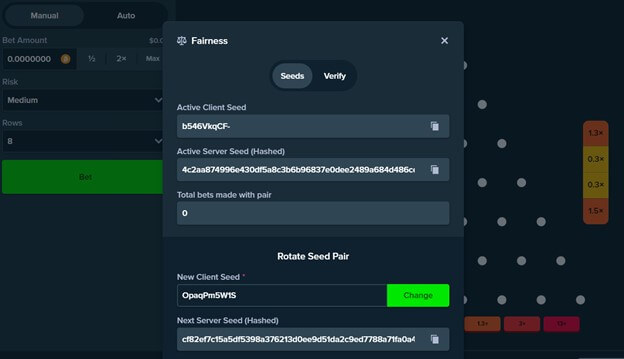 Stake Plinko is a provably fair game in which you can investigate fairness using algorithms. These games provide you with a code known as a hashed that allows you to check the game's fairness on the network. It helps verify that everything is completely random when playing at Stake.us online casino.
Stake.us is a safe social casino abiding by all sweepstakes rules and is legal in America. The same cannot be said for Stake.com, its sister site, but they share the same noteable ties to the UFC, Liverpool, and other premier betting bodies.
FAQ's
Where can I play Plinko online?
You can play Plinko at online casinos like Stake.com, but if you live in the United States, you can join the sibling site Stake.us. There are also several well-known variants, like BGaming's Plinko and Spribe Plinko, but none of them is legal in America.
Is Plinko rigged?
The Plinko slot game is not rigged because gravity helps the ball land on the bottom spots after it jumps off the pins in the pyramid. The Provability feature of the game also demonstrates that the ball's final location is purely random when playing the game online.
Where can I play crypto Plinko?
The best place to play crypto Plinko online is at Stake.us. You can play Plinko using your favorite cryptocurrencies or risk-free gambling at this crypto casino.
Can you play Plinko in the US?
Although crypto gambling is not yet regulated at real money casinos, sweepstake casinos do not have to adhere to the same casino laws. As a result, Stake.us offers crypto gambling games like Crash and Plinko legally to most US states.
What casino has Plinko?
The only legal platform with Plinko in the USA is Stake.us, a sweepstakes casino that works with gold coins and stake cash.
What is the Plinko game called?
The Plinko Game represents the modern version of Pachinko and is also the most popular game on the Price is Right show.
Is there a trick to winning Plinko?
There is no sure way to win at Plinko; it is a game based on luck. There isn't an ideal strategy because some players enjoy playing at a higher risk level for higher payouts and others favor low yet constant wins. So, hoping for good fortune and having a great time playing Plinko is the best way to play.
What is Plinko, the Price is Right?
The Plinko "The Price is Right" is a famous American TV show from the 1980s that inspired the Plinko online game. When this game segment was released and the Plinko game became famous, many fans and participants were delighted. Because of it, you can now play Plinko online anytime you want.