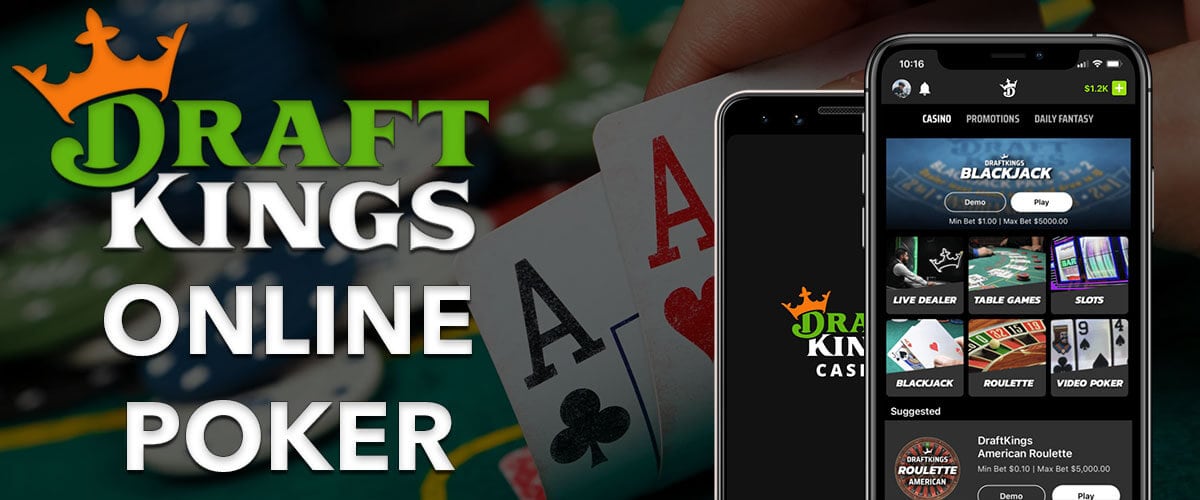 When it comes to online casino games — one family of games stands out head and shoulders above the rest. Poker. From No-Limit Texas Hold'em to Pai Gow — these games attract a very different player base, a player base opting to rely on their skills instead of their luck.
Many casinos don't like this. They may offer a single video poker machine; however, it's usually a variant with a low RTP and a low max bet. This is because when using optimal play, the house's edge can regularly drop below 1%, and so of course, from a profit standpoint, they'd much prefer you to play a low RTP Slot. DraftKings casino is different. With a selection of 14 different poker variants — they're more than happy to take on the player, and they're happy to do it at the player's game.
Better yet, with the DraftKings Casino promo code of a free $50 no-deposit bonus plus a first deposit matched 100% up to $2,000, you can try their online poker for free — then when you've found your game, you can double your deposit and play them for the chance to make some serious cash.
If you're experienced with online poker, you may be ready to jump in right away. If so, you can follow our exclusive links to take advantage of this offer right away. Though we recommend you stick around a little longer. Because in this guide, we'll not only give you the top five poker variants available on the DraftKings online casino platfrom as decided by our expert team, but we'll also be giving you our top tips to ensure that you walk away with as much money as possible from DraftKings.
$50 Casino Credits + $2,000 Bonus
Excellent mobile app
User-friendly design & games
DraftKings Poker Overview
🃏DraftKings Online Poker
🎁First Bonus
$50 No-Deposit Bonus
🎁Second Bonus
First Deposit Match 100% Up To $2,000
🌐Availability
www.casino.draftkings.com
❓Restrictions
New Jersey, Connecticut, Pennsylvania, West Virginia, & Michigan
Age: 21+

DraftKings casino does not currently offer any live poker rooms. For some, this may be a deal breaker, and if that's you, we recommend trying out other online casinos like BetMGM poker or Borgata Poker. However, while DraftKings may not offer any live poker rooms, what they can offer is video poker with some of the best odds available across the US. These odds not only separate them from other online casinos offering similar games, but they also set themselves apart from pretty much all other casino games on offer. Below you can see our highlight of the best poker games at DraftKings.
| 🃏Poker Variant | 💯RTP | 💲Side Bets | 🌐Live | 💯Score |
| --- | --- | --- | --- | --- |
| Ultimate X Video Poker | Varies — Up To 98.91% | ❌No | ❌No | 9.5/10 |
| Three Card Poker | 96.63% | ✅Yes | ✅Yes | 9/10 |
| Four Card Poker | 98.68% | ✅Yes | ❌No | 9/10 |
| Ultimate Texas Hold'Em | 97.82% | ✅Yes | ✅Yes | 9.5/10 |
| Fortune Pai Gow Poker | 97.47% | ✅Yes | ❌No | 9/10 |
While the RTP listed above is pretty great, it's important to remember that it can only be achieved through optimal play and a thorough understanding of the rules.
DraftKings casino is legal for players in the following states; New Jersey, Connecticut, Pennsylvania, West Virginia, & Michigan. If you are in any of the above states the good news is, is that not only can you play at DraftKings casino, but you can also take advantage of the two-part DraftKings welcome bonus of $50 free upon successful registration, plus your first deposit being matched 100% up to $2,000.
$50 Casino Credits + $2,000 Bonus
Excellent mobile app
User-friendly design & games
DraftKings Online Top Five Poker Games

While there are 14 different variants to choose from, in this list, we've gone for a little of everything. So, whether you're after that live play feel, the classics, or a bit of video poker, you'll find the best of each. All with some of the highest RTPs in the entire US.
Ultimate X Poker Ten Play
With so many video poker variants, we've gone with a machine that allows for nine different variants. Ultimate X Poker.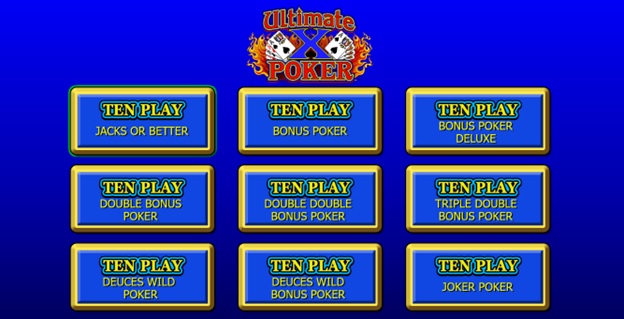 Choose from either the classic like jacks or better, or go for something with a little higher volatility, like triple double bonus poker. Personally, I'm a massive fan of the classic deuces wild. In this variant, you play with the Illinois deuces wild rule set, which carries an RTP of 98.91%. As the name suggests, all deuces are wild. This means big hands like straight flushes and four-of-a-kinds are much more likely, with there even being a bonus for getting a five-of-a-kind.
As part of the Ultimate X experience, you can choose to play with the Ultimate X bonus that allows you to win not only cash prizes but also multipliers for future hands. It does require you to double your wager, however. Our expert team has advised that for optimal play, you should not take part in this bonus. The logical part of me agrees with this assessment. But play with it for a couple of hands, and I think you'll agree that the fun it brings is worth sacrificing half a percent of RTP.
At DraftKings, there are three different types of Ultimate X Poker — including triple-play, five-play, and ten-play, which is the one we've gone for. The only difference between these is how many hands you play, and if you're after a more relaxing experience, you may opt for triple-play. For the veterans, we recommend ten-play so that you can grind up the profits faster.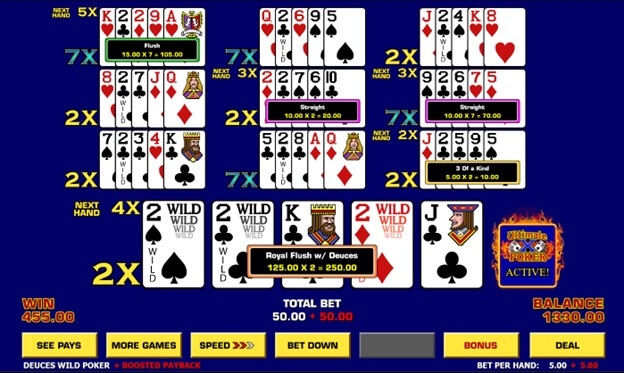 Live Dealer Three Card Poker
Three Card Poker is probably the most popular of the poker table games. And with an RTP of 96.63%, it's no wonder why. Though instead of the classic table game, we've gone with the live dealer variant.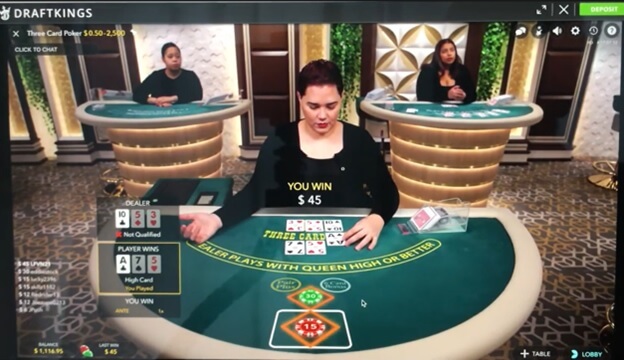 With only three cards to worry about, Three Card Poker is one of the simplest games to understand. Ace high is usually good, but to get the full value, the dealer's hand will need to qualify with at least queen high — otherwise only your ante will win a profit. Optional side bets include pair plus and the 6-card bonus. However, I think the standard game is good enough.
With a game this straightforward, optimal strategy is incredibly simple. If you have a hand of Q-6-4 or better, you should bet. Otherwise, fold. Do that, and you'll achieve a 96.63% RTP.
With a game this simple, I prefer to play with the live dealers as it allows you to chat with other players as well as the dealer themselves between betting rounds.
Four Card Poker
A newer variant, Four Card Poker beats Three Card Poker in terms of profitability with an RTP of 98.68%. However, don't let the name fool you. This is not the same game as Three Card Poker, but with an extra card.
In Four Card Poker, you're dealt five cards and the dealer gets six, with both dealer and player tasked with using their cards to make the best four-card hand. In this variant, all of the dealer's hands qualify, and you can take advantage of this fact when they expose their first card by either folding, betting x1, or betting x3. The strategy is a little more complicated here. Although to simplify it, fold the bad hands, bet x1 with mediocre hands (most single pairs), and bet x3 with anything better.
Again there are some opportunities for side bets. Though again, it's recommended you don't take part in them as they'll cost you 2.05% in RTP.
Live Dealer Ultimate Texas Hold'Em
While you can't play Texas Hold'Em against other players, you can take part in Ultimate Texas Hold'Em against a live dealer.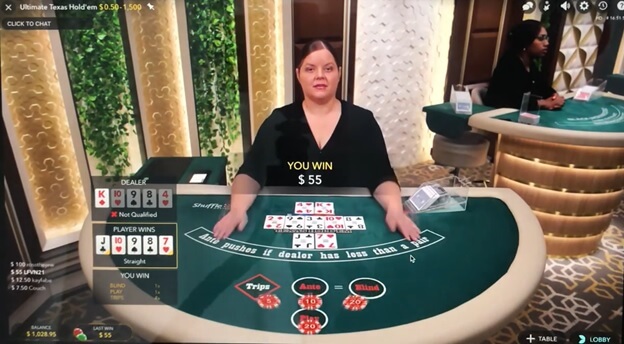 As you'd expect, there are a few different rules to keep in mind for Ultimate Texas Hold'em. These mainly concern the size of bets and on which streets you can bet, though the general idea is the same — using your two starting cards and the five community cards make a five-card hand stronger than your opponent.
Classic Texas Hold'Em is meant to be played against other people. So I prefer the live variant of Ultimate Texas Hold'Em. Another reason to opt for the live variant is that with the optimal strategy of Ultimate Texas Hold'Em being more complicated than other games on this list, it's good to be able to chat with other players and see if you can gain some tips to reach the projected RTP of 97.82%.
Fortune Pai Gow Poker
If the Western variants of poker feel a little repetitive, then you'll be interested to know that DraftKings has poached a new game from China with Pai Gow Poker and put its own twist on it with Fortune Pai Gow Poker. If you jump straight in, it can be a little intimidating. Though once you get the hang of it, the rules are simple.
In this game, both player and dealer are dealt seven cards with the task of splitting these cards into two hands: a low hand containing two cards, and a high hand containing the other five — with the only rule being that the high hand must outrank the low hand. If you beat the dealer with both hands, you win and your bet is doubled. If you win with one, it's a push. And of course, if you lose with both, the dealer wins.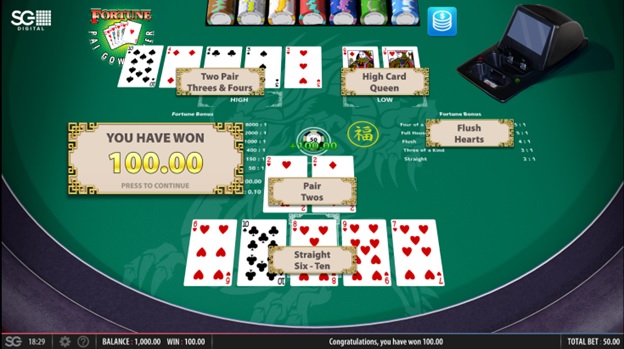 If this seems confusing, you can use the auto-split feature, and DraftKings will split your hand for you. Though you'll want to learn optimal strategy eventually, as it is the only way to achieve the RTP of 97.47%. If you're wondering where the house's edge comes in, it's due to the fact that in order for the dealer's low hand to qualify, it must contain either a pair, or a card higher than a nine.
There are a few other oddities to keep in mind, including a single joker known as a bug which always substitutes as an ace except when needed to form a straight, flush, straight flush, or royal flush; however, the best way to get a grip of this Chinese game is by diving in feet first and experiencing it for yourself.
DraftKings Video Poker Rules
The rules of video poker vary between games. But the gist is usually the same. You're dealt five cards, and you then choose which cards to hold onto and which to discard, after which, you're re-dealt the number of cards you chose to discard. You'll then be paid out according to your final hand, with higher hands commanding higher payouts.
In Jack or Better (the most popular variant), you'll need a pair of jacks or higher to see any money. However, my favorite is deuces wild — where as the name suggests, all deuces are wild, with the catch being that you now need a three-of-a-kind or better to see any money. This rule set increases the volatility — though it also increases the RTP.
If you're playing a different variant, you'll be able to check what hands pay by checking out the paytable.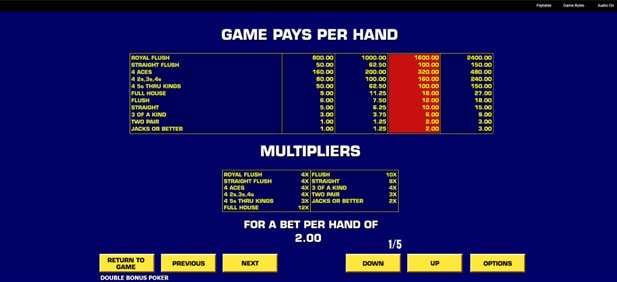 Alternatively, you can click the "Game Rules" button in the top right corner of your screen to check out the rules page.
Online Poker Tips & Strategies
When playing online poker at DraftKings casino, there are a few things you can do to improve your win rate.
Understand the Rules — Poker is a game of skill. As such, you'll need to understand what it is you're doing, and what the optimal strategy is. This doesn't mean you have to spend hours and hours studying online to get that

perfect poker strategy

down pat, but you do need to understand the rules and spend a minute thinking about them.
Stick to the Base Game — If profitability is your chief concern, you should stay clear of the side bets. These can be fun, but they always decrease your RTP. If you do decide that you want to use them, we recommend using a 10:1 betting strategy where for every $10 that you're wagering on the base, you place $1 on the side bet.
Use Bonuses — Bonuses are your key to making money. By taking advantage of the DraftKings welcome bonus of $50 free when you register for a DraftKings casino account, plus a first deposit match bonus of up to $2,000, you can increase your balance by 100% without risking a penny. Then, using careful strategy, you can grind through

playthrough bonuses

and end up profiting.
Know Your Limits — Know how much you're willing to lose and how much you want to gain, and stick to it. Betting strategies like Oscar's grind and Martingale can seem tempting, but they only work when you have unlimited funds. The only thing you'll gain with these strategies is problem gaming habits. Instead, we recommend you pick one bet size and stick to it.
Learn to be Aggressive: Sometimes, in a poker game, aggressive gameplay is essential. It is pointless when you have excellent hands and are scared to increase your wager to make other players fold. If you are in an online poker room with weaker players, an aggressive game may force them to fold and help you win.
Don't Bluff in Excess: Bluffing is an essential strategy for both online and offline poker. However, make sure you don't get carried away with it. If it becomes evident that you love to bluff, no one on the table will respect your play anymore.
Learn the Poker Hand Ranking: All poker cards have different rankings, which could impact your play. Understanding hand ranking and odds is a vital strategy for online poker. Fortunately, the hand rankings are everywhere online, and you can easily print one and familiarize yourself with them. This will certainly boost your winning chances on DraftKings poker.
Don't Exceed your Bankroll: It is crucial to have a bankroll when playing casino games, and poker is no different. This is a strategy that many players tend to ignore, but it can save you tons of cash in the long run.
How to Play Online Poker at DraftKings Casino
If you want to play online poker at DraftKings online casino, then the first thing you'll need to do is register. DraftKings registration is simple. However, if you've never played at an online casino, we'll take you step by step, so you know what to expect.
Using our secure links, navigate to the DraftKings casino homepage.
Click the green "Sign Up" button at the top of the screen.
Here you'll be requested to enter some basic account information, including email and desired password. Once you've done that, click "Next".
On this page, you'll need to enter in some personal information, including your name and address. This information is required due to state legislation which requires casinos to be able to verify that all their customers reside in states in which they have licensing for, and that all customers are at least 21 years old.
After you've done that, DraftKings will verify your information and use their geo-location tools to confirm your location. Once that's done, click the "Register" button.
An email will then be sent to your nominated address. Click it, and you're done. The

no-deposit casino bonus

from DraftKings will be credited to your account, and you can now navigate to the DraftKings casino games section, the live dealer games, or the video poker rooms to play your game of choice.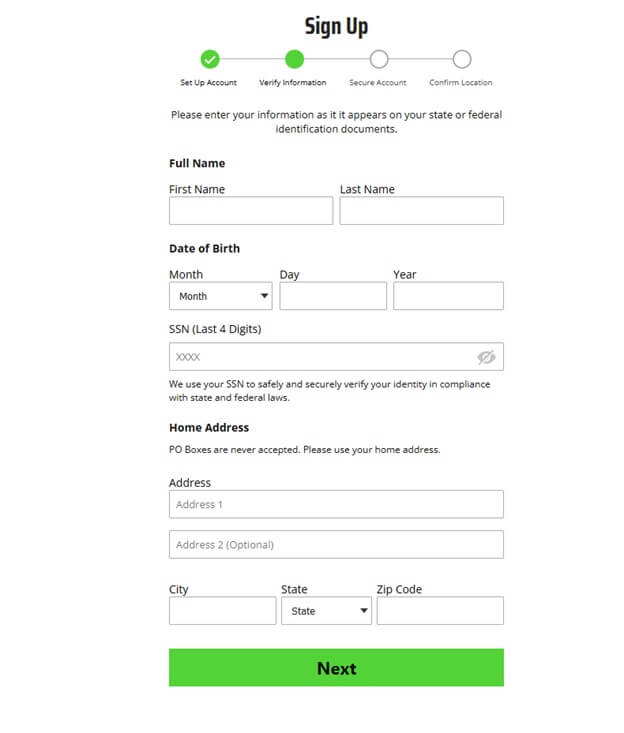 DraftKings Poker App
DraftKings casino is no longer exclusive to just your computer. Available on both Android and iOS devices, you can navigate to the relevant play store and search for "DraftKings Casino" to get the latest mobile casino app from DraftKings on your device.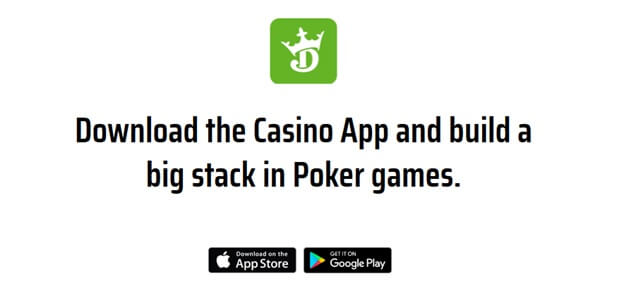 With a 4.7/5 rating from over 25,000 reviews, the DraftKings casino app is the perfect way to play online poker on the go.
DraftKings Online Poker Bonus for New Players
If you've never played with DraftKings, you're in for a treat. Because the DraftKings online poker welcome bonus is the highest in the US, just use our exclusive links to take full advantage of not one, but two of the best bonuses available in the US.
Firstly, upon successful registration you'll get the $50 no-deposit bonus. That's $50 in your account before you make a deposit. Play casino games, play poker — play whatever you want without risking a penny. Even better, though, is their second bonus. A first deposit matched 100% up to $2,000. That's $2,050 worth of bonuses available when you sign up with DraftKings using our links today.
$50 Casino Credits + $2,000 Bonus
Excellent mobile app
User-friendly design & games
The DraftKings referral bonus, Dynasty VIP scheme, and the poker reload bonuses on DraftKings can further your winning chances.
Should you play Online Poker on DraftKings?
Yes. With some of the highest RTP video poker machines that you'll find across all online casinos, DraftKings should be your number one destination for online poker. The one exception to this rule is if you're looking for live poker rooms. In this case, we recommend BetMGM Casino or playing with the PartyPoker bonus codes.
But even then, with the DraftKings welcome bonus including a $50 no-deposit — I'd recommend giving DraftKings casino online poker a shot even if you were looking to play online poker against real players. There's no risk involved. Just register using our links and get $50 credited to your account instantly. Then, if you love it like we're so sure you will, you can then get your first deposit matched 100% up to $2,000.
FAQ
Does DraftKings have online poker?
Yes. DraftKings has an extensive library of casino games, including 14 different types of poker. These games consist of video poker variants like Ultimate X Poker Ten Play, classic table game variants like Pai Gow Poker & Four Card Poker, as well as two live dealer variants of poker, which are Ultimate Texas Hold'Em and Three Card Poker.