Gamble USA strives to improve your online gambling experience. We aim to help you play safely, make informed decisions when gambling, and increase your betting knowledge through our guides.
We adhere to strict editorial integrity; our content may contain links to products from our licensed & legal US partners.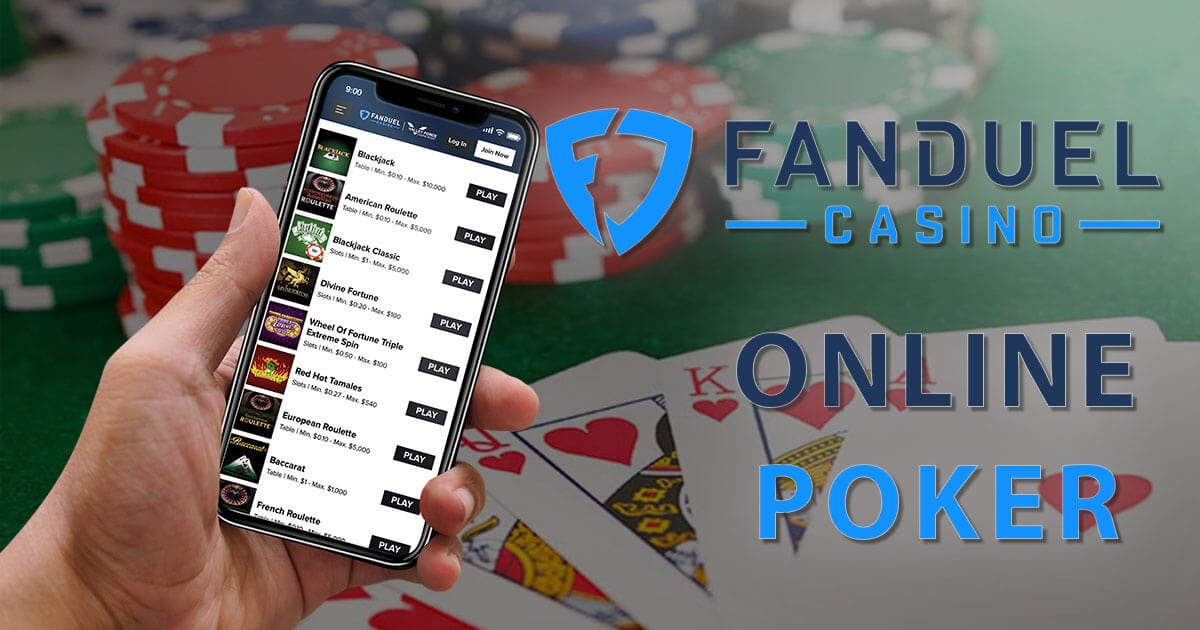 Online slots and table games can be a lot of fun with their exciting mechanics and fun themes, but for players looking to walk away with their pockets full — there's one game type that stands above the rest. Poker.
With its history dating back to the wild west, poker has developed a reputation as the thinking man's game — where a player who uses his head can gain an edge over the competition. Though whereas legends like Doyle Brunson and Amarillo Slim had to travel across the US to find action — players can now play from the comfort of their own homes. How? With FanDuel online casino.

The sister site to the international online poker giant PokerStars, FanDuel is one top online casinos for US players looking to get in on the action and start their online poker journey. With dozens of variations, the only question is — where do you start?
Well, following hours upon hours of playing and studying all of the online poker games available at FanDuel, we've come up with our top five online poker games available. But that's not it. Anyone who knows poker knows that strategy is everything. So in addition to our favorite games, in this review, we'll also be giving you our top tips for playing online poker at FanDuel — including how you can get any potential losses in the first 24 hours refunded to you with the FanDuel welcome bonus.
Exclusive $1,000 Play it Again Bonus
21+. T&C Apply
21+. T&C Apply
Amazing choice of slots & games
Exclusive Play it Again Bonus Up to $2,000
FanDuel Poker Overview
Being so closely related to PokerStars, FanDuel understands what poker players are looking for. Value. That's why the poker games at FanDuel have some of the best odds across all US casinos, beating out many table games. The tradeoff to this though is that these games have a large skill element.
So to truly achieve the best RTP, you'll have to be willing to understand the rules and possibly do a little bit of studying. The good news is that while you're learning in that first 24 hours, all losses will be covered up to $1,000 when you take advantage of the FanDuel Casino welcome bonus by signing up using our secure links. This offer is only available in NJ, PA, WV, and MI.
An important thing to note is that FanDuel does not offer any live poker rooms. But don't worry — because while FanDuel does not offer live poker directly, you can still play against other players with its sister site PokerStars, or with another one of the top US online casinos – BetMGM Poker.
With that being said, while FanDuel does not offer player vs. player poker — they do offer a lot of other variations. And in the table below, you can see how fair against one another.
| 🃏Poker Variant | RTP | Side Bets? | Live? | Score |
| --- | --- | --- | --- | --- |
| Video Poker | Varies | ❌No | ❌No | 9.5/10 |
| Ultimate Texas Hold'Em | 99.27% | ✅Yes | ✅Yes | 9.5/10 |
| I Luv Suits | 98.41% | ✅Yes | ❌No | 9/10 |
| Casino Hold'Em Poker | 97.84% | ✅Yes | ❌No | 8.5/10 |
| Three Card Poker | 96.63% | ✅Yes | ✅Yes | 9/10 |
| Mississippi Stud | 98.63% | ✅Yes | ❌No | 9/10 |
| Texas Hold'Em Plus | 97.01% | ✅Yes | ❌No | 8.5/10 |
| Let It Ride | 96.49% | ✅Yes | ❌No | 8/10 |
Top 5 FanDuel Online Poker Games
All of the online poker games available at FanDuel are good. However, there are still some factors that can separate the great games from the good games. These factors include unique game types, the ability to play live dealer games — and of course, RTP. If you're experienced with online poker, feel free to take your pick from the above table. Although if this is your first experience, we recommend you read carefully and pick one from our top five list.
Live Dealer Ultimate Texas Hold'Em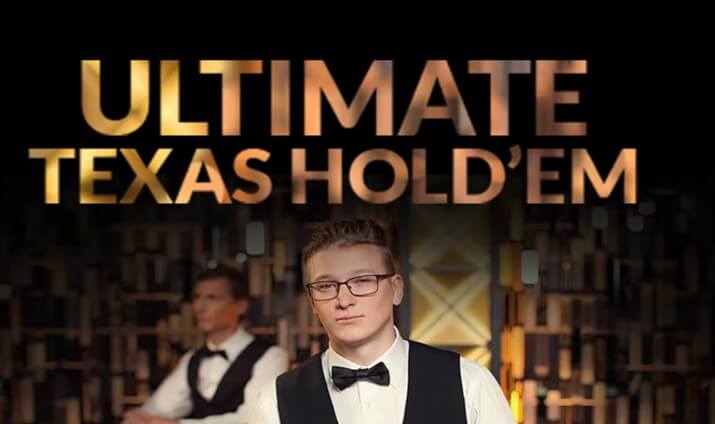 While FanDuel may not have the classic Texas Hold'Em, it does have Ultimate Texas Hold'Em. Even better though, they have live Ultimate Texas Hold'Em. The rules are similar to traditional Texas Hold'Em, with both player and dealer competing to make the best five-card hand from two hole cards and five community cards — however, the betting rules are different. Players can only bet once — either x3 or x4 preflop, x2 on the flop, or x1 on the river. This gives the player the chance to bet big when their massive favorites, and wait for later streets with weaker and drawing hands.
In Ultimate Texas Hold'Em, there is a side bet that awards trips or better. But to achieve the massive RTP of 99.27% — players are advised not to take part in it. The strategy for Ultimate Texas Hold'Em may be a little more advanced than other games on this list, yet if you're one of those who are willing to put in the extra time to study optimal play, you will be rewarded with the highest RTP available at any of the FanDuel poker games at 99.27%.
Mississippi Stud
If you've never played it, Mississippi Stud is the sort of game that can have you pulling your hair out one minute, and celebrating the next. This is because, with Mississippi Stud, you're not playing against anyone. Instead, you're only competing against yourself as you aim to extract as much value as possible out of the good hands, and get rid of the bad hands as soon as possible. There are three rounds of betting. Preflop, flop (flops in Mississippi Stud are only one card), and turn. And for each street, you must bet between x1 and x3 or fold.
It can be expensive and heartbreaking to chase draws. But when you get a strong preflop holding like pocket rockets or cowboys — there's nothing better than going x3 on each street and knowing that you're going to be walking away a big winner.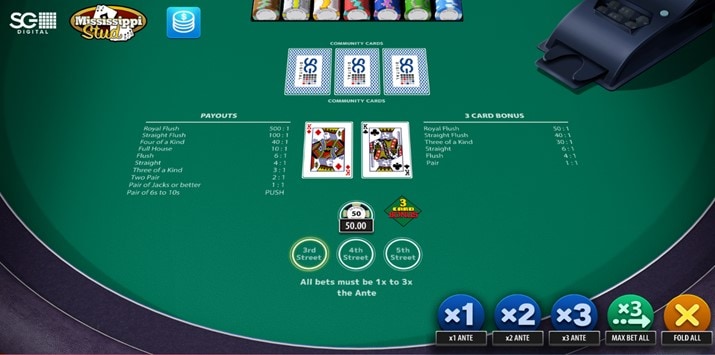 It can be a cruel game at times. Though if you can get the strategy down pat, you can achieve an RTP of 98.63%.
Ultimate X Poker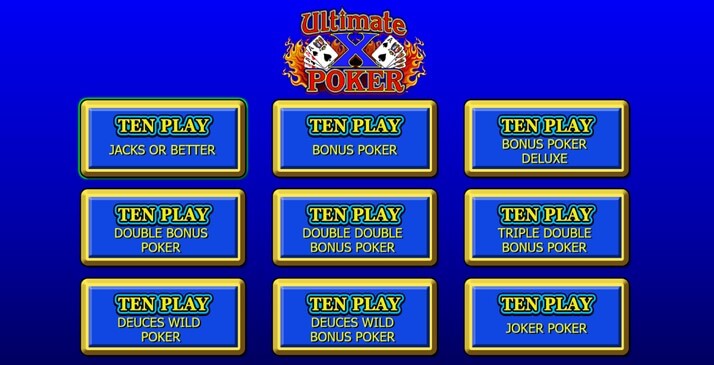 All the video poker games at FanDuel are great. They all offer the same selection of video poker variants with the same high RTP; however, Ultimate X Poker just edges out its competition. The reason for this is the ultimate X game mode that allows players to not only win real money when playing, but also multipliers for their next hand. This ultimate X mode technically reduces your RTP. Though play with it once, and you'll agree that it makes the game so much more fun.
Ultimate X Poker is available in three-play, five-play, and ten-play modes. These modes allow you to play multiple hands at the same time. If you're looking for a variant that plays one hand at a time, then I recommend Game King Video Poker.
Live Dealer Three-Card Poker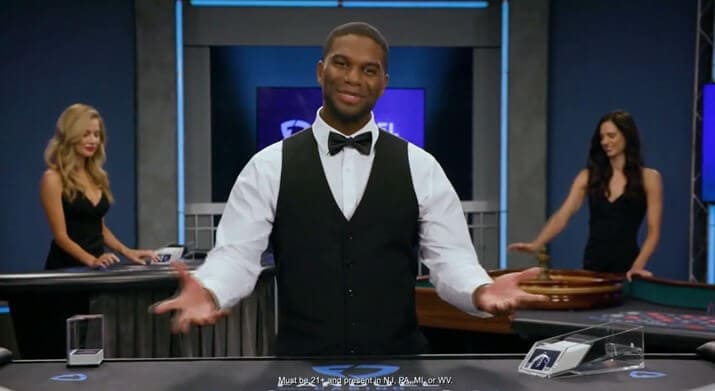 If you're just starting off with poker and are looking for something a little simpler, then you should give three card poker a shot. While the RTP of 96.63% may not be the highest on this list — it is still very respectable and can be achieved by following a basic strategy. Before discussing the strategy, it's essential to know the rules.
In three card poker, both dealer and player are dealt a three card hand, with the goal being to have a higher hand than your opponent. No streets or bet sizing is involved. Place an ante to get started. Then if you want to compete against the dealer, put up an additional bet of x1 your stake. If you beat the dealer and they have a qualifying hand containing queen high or better, you'll be paid 1:1. There are optional side bets, but if you're starting off, we recommend sticking with the base game until you're comfortable. With such a simple game, the strategy is equally simple. Bet with Q-6-4 or better. Fold with everything else.
With a game this simple, we recommend you play the live dealer variant. This allows you to chat with the dealer and the other online casino players as you all play the same game together.
I Luv Suits
If you're looking for something even more straightforward, something that you can relax to while still maintaining a good RTP, I Luv Suits will be for you. Pairs don't count. Neither do straights or full houses. Instead, the sole objective of I Luv Suits is to use your seven-card hand to get a better flush than your opponent.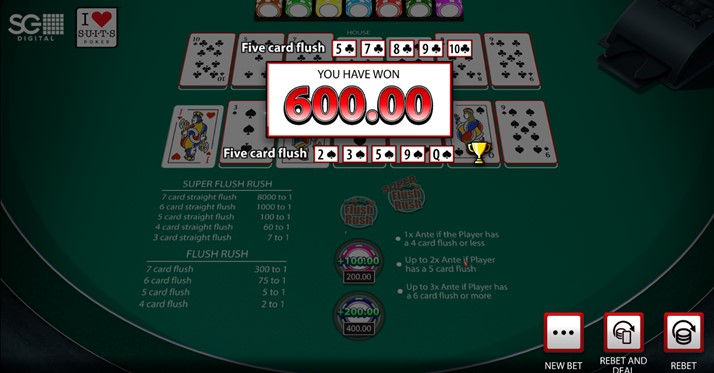 Strategy is simple, with the player being suggested to bet a T-8-6 three card flush or better. In the game there are a few betting options, but they'll only be available if you get very good hands — and as such, it's recommended that if you're going to bet, bet as high as you can.
This simple strategy will grant you a 98.41% RTP. There are two side bets available, though out of every poker game available at FanDuel online casino, these are the worst according to RTP percentages, with the flush rush side bet having an RTP of 92.47% and the super flush rush being even worse at 86.89%. As such, if you're the sort who loves side bets, we don't recommend I Luv Suits to you.
FanDuel Video Poker Rules
On each of the video poker machines available at FanDuel, there are nine different variants to choose from. With each of these nine variants comes a different rule set. This may seem overwhelming, but don't worry. The basic game is always the same, based on the classic five-card draw poker variant.
In this variant, you're dealt an initial five card hand. From that hand, you're tasked with deciding which cards you want to hold onto, and which you want to discard. The discarded cards are thrown into the muck, and you're dealt additional cards to take your hand back up to five cards. This is where five-card draw differs from video poker though. As while in five-card draw you want to have a better hand than your opponent, in video poker, you want to make the best hand possible, as you'll be paid according to your hand rank.
How much you'll be paid will depend on which variant of video poker you play.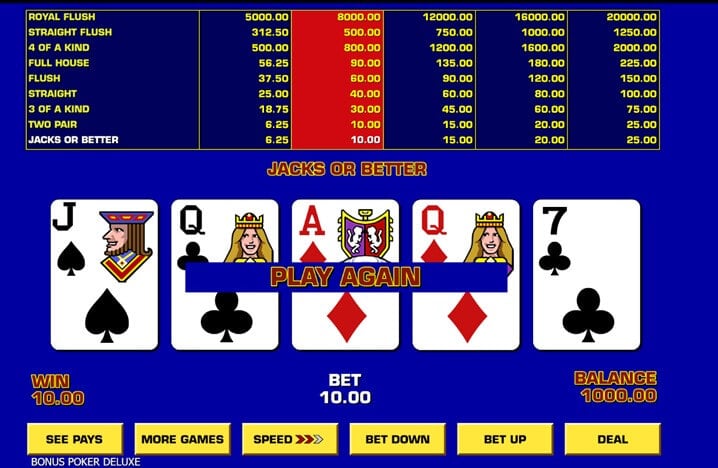 However this information is easy to gather as the pay table will always be displayed on the screen, and you can easily refer to it when in doubt.
Online Poker Tips & Strategies
Despite all of the online poker games at FanDuel online casino having different rules, there are a few things you can do across them all to increase your chances of winning.
Understand the Rules & Strategy — As poker has a large skill element, you must understand the rules of each game as well as the underlying strategy. If you've never played online poker, a great place to get some tips is via the FanDuel poker Reddit at /r/gambling. Of course, all the study in the world doesn't make up for real money experience, and even if you don't have the strategy down perfectly, don't be afraid to dive in. You may make some mistakes. But that leads to our second tip.
Use the FanDuel Welcome Bonus — By signing up using our links, and

opening a FanDuel account

, new players will gain access to the FanDuel signup bonus of having all your losses covered for the first 24 hours up to $1,000. This is the perfect time to try a new game, or go for something a little risky. As even if you end up behind, FanDuel will return any lost money if you're down after the first day.
Don't Rush to the Side Bets — Side bets can take a game from good to great. But when first starting a new game, we recommend you stick with the base game. Then when you

understand optimal poker strategy

, you can look at the side bets. One thing to remember is that side bets will always decrease your overall

RTP

; as such, we recommend using a 10:1 rule when using side bets. This means for every $1 placed on the side bet, you should place $10 on the base game.
How to Play Online Poker at FanDuel Online Casino
Using our unique links, navigate to the FanDuel homepage.
In the top right corner of the screen, click the green "Join Now" button. Then select your state.
For the next step, you'll need to supply your email and decide upon your desired username and password. There is a field for a

FanDuel casino bonus code

, but if you follow step 1, you won't need to enter anything in as by using our exclusive links, the FanDuel welcome bonus will be automatically applied once you finish registering.
The following few pages will require you to enter information to verify your identity. You do not need to be a resident of a

state eligible for FanDuel casino

, just be located in the state when you want to play. Enter all the requested information and click "Continue".
Once you've entered all your information, FanDuel will use its

geo-location tools

to confirm your location. Once that's done, a registration email will be sent to your nominated email. Click the link inside to confirm registration.
You're done. You'll now need to

deposit funds into your FanDuel account

, and once you've done that, you can play any of the online poker games available at FanDuel knowing that if you're down after the first 24 hours, you'll get all your money returned to you up to $1,000.
FanDuel Poker App
No longer just exclusive to computers, FanDuel poker can now be played via the FanDuel casino app from wherever you are.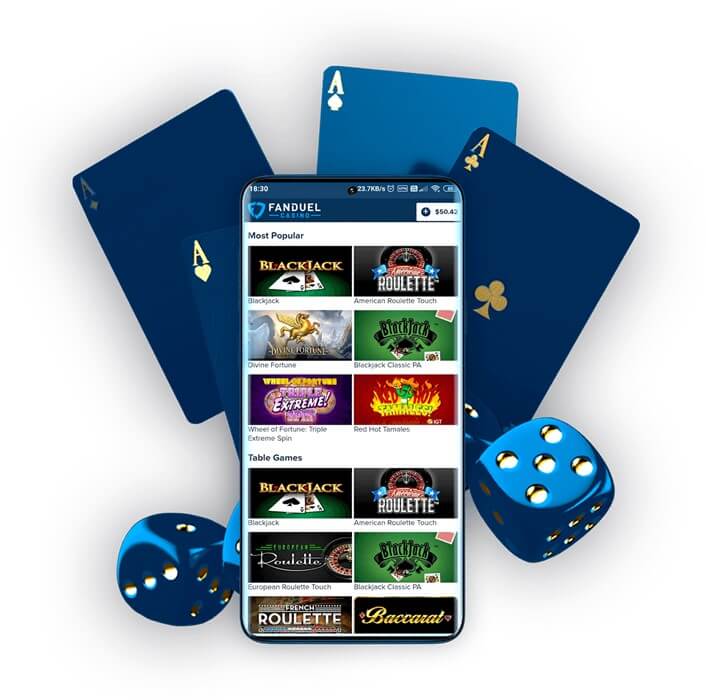 Available on all iOS and Android devices, the mobile app from FanDuel casino allows you to play casino games from your mobile phone. It's not uncommon for quality to sometimes be sacrificed with these mobile apps, but that couldn't be further from the truth here. No repetitive annoying popups. No clunky interface where all the buttons are squished in. Just a simple straightforward app for playing online casino games from wherever you are.
Don't believe us? Just check any one of the over 29,000 reviews on the apple app store where the FanDuel real money poker app has scored 4.8/5 stars.
FanDuel Online Poker Bonus for New Players
Exclusive $1,000 Play it Again Bonus
21+. T&C Apply
21+. T&C Apply
Amazing choice of slots & games
Exclusive Play it Again Bonus Up to $2,000
For new players who sign up using our links, FanDuel offers a unique bonus. A $1,000 play-it-again bonus. Even if you've played at a lot of online casinos, this may be a type of bonus that you've never heard of. In short, when signing up via our links, players will have their losses covered 100% for the first 24 hours up to $1,000.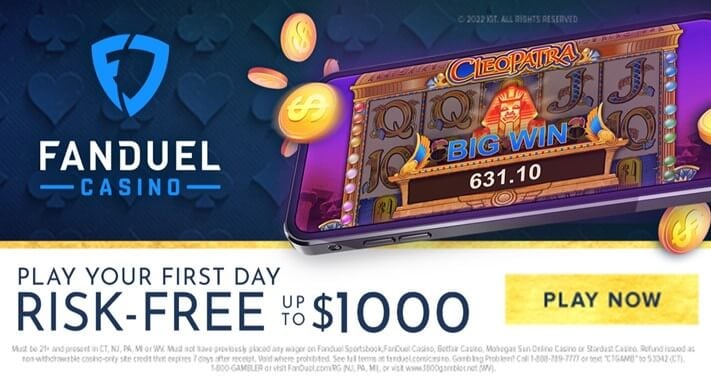 Though what makes this such a fantastic offer is its playthrough requirements. Whereas online casinos like DraftKings Poker and Caesars may offer first deposit matches of up to $2,000, these bonuses are tied to large playthrough requirements of up to x15. This means if you deposit $2,000, while it will be doubled to $4,000 — you'll have to play $60,000 worth of games to be able to withdraw it.
But with FanDuel, the playthrough requirement is x1. That means you get it, you play with it once, and if you decide you want to withdraw — you can.
There's no overstating how great this bonus is. As with it, the FanDuel online poker welcome bonus is as close to risk-free as you will find in the online casino industry.
Even better, newbies get a $25 site credit for each week following their registration, up to a $100 no deposit bonus.
Should You Play Online Poker on FanDuel?
Yes. Whether you're a veteran or brand new to online poker, FanDuel casino has what you're looking for. Eight games to choose from. And better yet, you can play risk-free, knowing that any potential losses incurred in the first 24 hours will be returned to you when you sign up today using our links.
Fanduel Online Poker FAQs
Does FanDuel Have Online Poker?
Yes. Among many other online casino games, FanDuel offers eight different variants of online poker.
Can You Play Poker on FanDuel?
Yes. While there may not be any online poker rooms at FanDuel, there is a wide array of games, including live Ultimate Texas Hold'Em and Live Three Card Poker. If you're looking for online poker rooms, we recommend BetMGM Poker or Stars Casino, the sister site to FanDuel for PA players.
Does FanDuel Casino Have Texas Hold'Em Poker?
FanDuel does not currently offer the classic variant of Texas Hold'Em. However, they do have Ultimate Texas Hold'Em, a variant where you go one-on-one with the dealer. Even better though, is that there's a live variant of Ultimate Texas Hold'Em, so you can play against a real physical dealer with there even being an opportunity to talk directly with them using the live in-game chat feature.