Gamble USA strives to improve your online gambling experience. We aim to help you play safely, make informed decisions when gambling, and increase your betting knowledge through our guides.
We adhere to strict editorial integrity; our content may contain links to products from our licensed & legal US partners.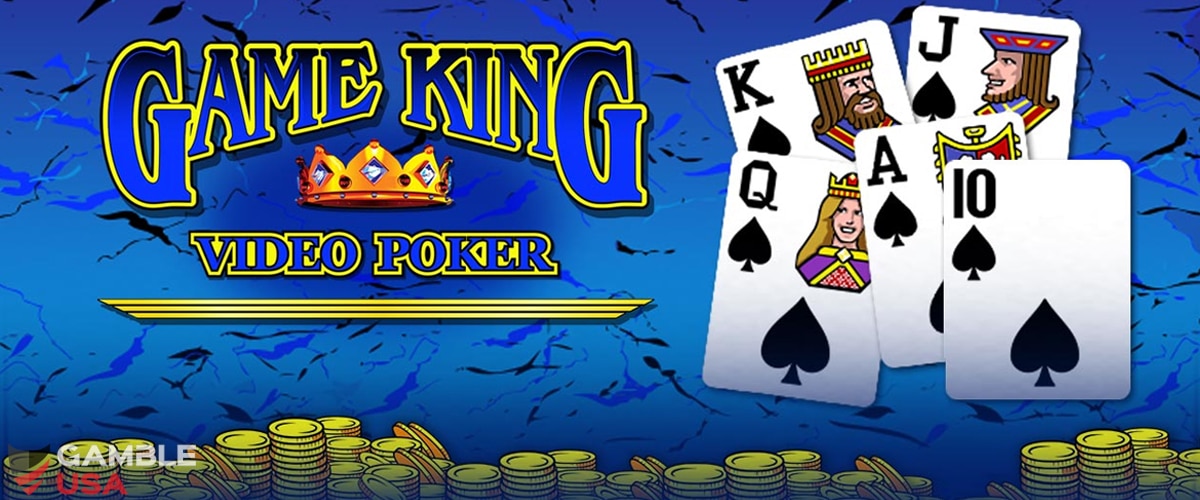 Game King Video Poker is an exciting casino game from the well-known developer IGT. It brings the most popular online Poker versions straight to your fingertips. This game is designed to immerse players in the traditional land-based poker experience.
The Game King version came out in 2019 with nine different poker-style titles. You can play Jacks or Better, Joker Poker, Bonus Poker, and six other exciting variations. There are no special bonuses, but some of these titles offer wilds that can assist in making a winning hand. The design is also quite simple, and the plain blue visuals provide a traditional casino impression.
You can enjoy Game King Poker on any device making mobile video poker a reality, and place bets ranging from $0.10 to $100. You can grab a max win of up to 800x the stake. So, let's explore how each poker variation works and which hand pays best in our review below.
🃏Game King Poker
🧑‍💻Game Provider
IGT
📅Release Date
2019
💯RTP
Above 99%
💵Min Bet
$0.10
💰Max Bet
$100
🌀Available Poker Versions
9 - Jacks or Better, Bonus Poker, Bonus Poker Deluxe, Double Bonus Poker, Double Double Bonus Poker, Triple Double Bonus Poker, Deuces Wild Poker, Deuces Wild Bonus Poker, Joker Poker
🤑Max Win
800x
📱Compatibility
Mobile, Tablet, PC, Laptop, HTML5
How Game King Poker Works
Game King Video Poker is available online at the top online casinos in the legal US states. You can play any poker variant for free or for real money there. This game offers nine different poker games in one, with easy switching between them. So, if you want to try another version, you don't have to shift to an entirely separate game.
When you start Game King Video Poker, it gives you a quick overview of the controls. Then, you can pick one of the nine video poker games to play. These include Jacks or Better, Bonus Poker, Bonus Poker Deluxe, Double Bonus Poker, Double Double Bonus Poker, Triple Double Bonus Poker, Deuces Wild Poker, Deuces Wild Bonus Poker, and Joker Poker.
Once you've decided on a game, you can set a bet ranging from $0.10 to $100 using the Bet Up and Bet Down buttons. The gameplay is standard video poker, with a paytable displaying rewards for the wagered amount.
To begin, hit the DEAL button to receive a five-card starting hand. You can decide to hold one or more cards by clicking on them. Then press the DRAW button to get replacements for the unheld cards and see if your resulting hand is a winner.
The main goal in all games is to create the best poker hand possible. Also, some poker games offer unique features like wild cards to boost gameplay and excitement.
There are also more options at the bottom, such as Speed and More Games. You can select from three different settings to increase the game's speed. The More Games option lets you play other versions and try something new.
Game King Poker Games Rules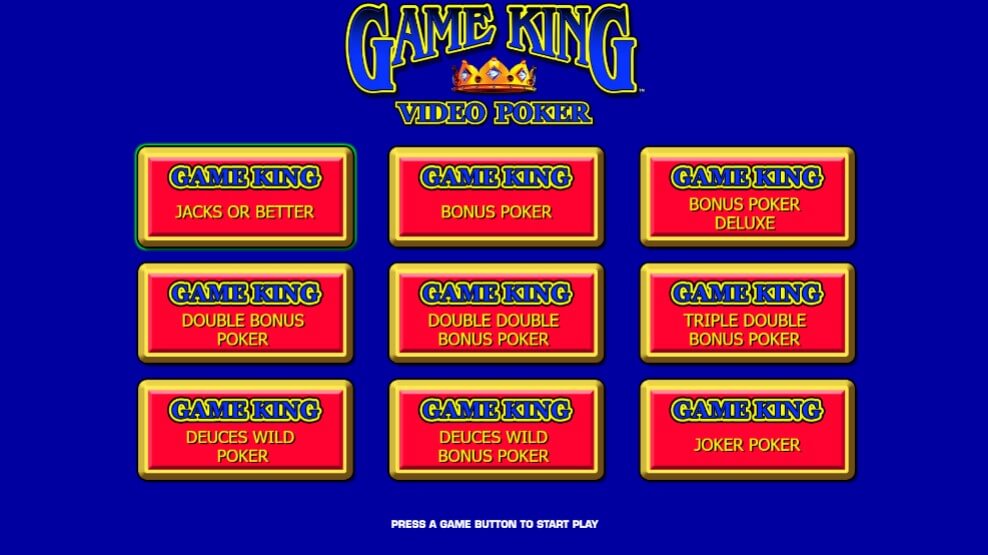 As previously said, Game King Video Poker gives an exciting opportunity to enjoy nine popular video poker paytables. Each poker game has its own set of rules, so let's explore how they differ.
Jacks or Better
Jacks or Better is the most common online video poker game. It's simple to learn as all you need to win is a pair of Jacks or a better hand. The rewards improve as you move to better hands, with a Royal Flush offering the top prize of 800x the bet.
Bonus Poker
Bonus Poker comes with the Jacks or Better format but a few exciting changes. In this variant, four aces awards you a high premium (80x your bet), while four 2s, 3s, or 4s win you a lower premium (25x your bet). However, payouts for other hands will be significantly lower.
Bonus Poker Deluxe
This poker game version adds an extra twist to Bonus Poker. Unlike Bonus Poker, where only four aces result in a big win of 80x, this game gives you the same boost for four-of-a-kind hands. To compensate for these higher wins, the payouts for the other hands are less lucrative.
Double Bonus Poker
You can win even more big prizes in the Double Bonus Poker game. If you have four aces, you will win up to 160x your wager, and all other four-of-a-kind hands get a payout increase. The rest of the pay table is changed to compensate for the higher payouts for these hands.
Double Double Bonus Poker
The next game on the list is Double Double Bonus Poker, which features kickers. If you have four aces along with 2, 3, or 4 kickers, you will win 400x your stake. There is also a prize boost for four-of-a-kind hand combinations with kickers. On the other hand, the prizes for common flushes are decreased.
Triple Double Bonus Poker
It's the last game in the bonus series, which pays as much as a royal flush (800x) for a pair of aces with 2, 3, or 4 kickers. Moreover, you can get smaller rewards for two-pairs and three-of-a-kind hands, while any wins with a flush are slightly increased.
Deuces Wild Poker
In this poker version, any 2s you receive act as wild cards, making it much easier to create a winning hand. To win in this game, you must have at least three-of-a-kind. The rewards for four-of-a-kind hands are slightly dropped, but the royal flush prize stays the same at 800x. There is also a premium if you get four 2s (deuces).
Deuces Wild Bonus Poker
This game is similar to Deuces Wild in that the 2s work as wild cards to help you win. This version, however, has a minor change. Your winnings will get doubled if you have four 2s and an ace kicker. To balance this increased payout, the payout for straight matches the payout for three of a kind.
Joker Poker
The final game in the Game King Video Poker collection is Joker Poker, played with a deck of 53 cards. The Joker is an extra card that serves as a wild card here. You'll need a pair of Kings or better to start winning, and the Joker can help you win big prizes. Big hands come more frequently in Joker Poker than in Jacks or Better but less frequently than in Deuces Wild.
Which Game King Poker Variant is the Best?
All these variants feature an above-average RTP at 99%+, easy-to-understand rules and payouts, and a similar interface.
You cannot go wrong with any of these IGT video poker variants placed under a single title.
Just stick to the one you know how to play best since video poker games like the Game King 9-1 variant are heavily dependent on strategy.
Game King Poker Payouts & House Edge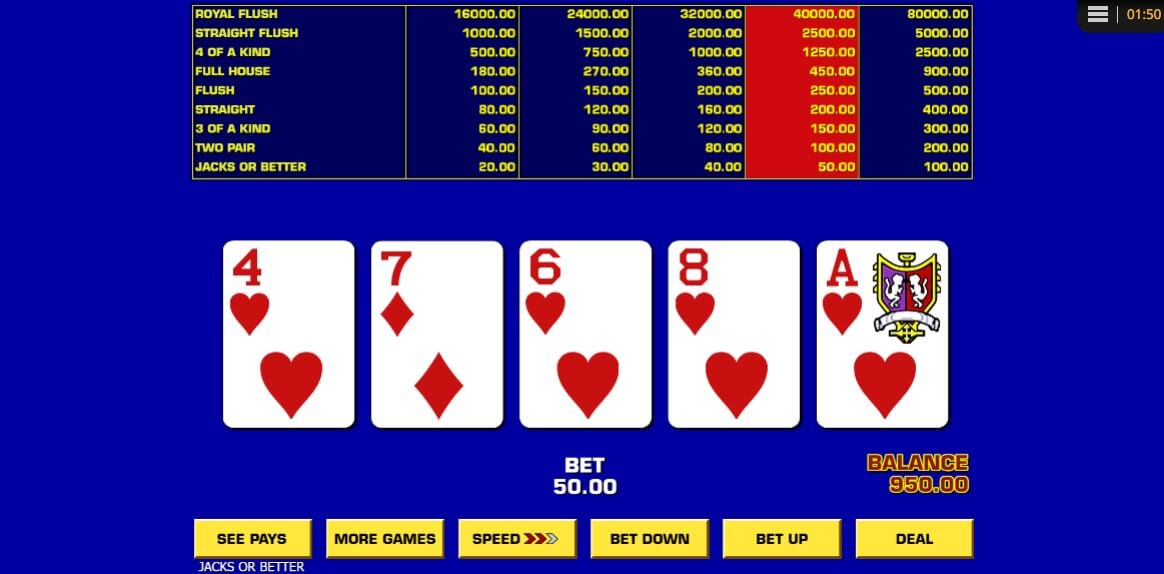 The payouts in Game King Video Poker depend on the type of game you pick to play. There are different payouts based on rules, your wager, and your final hand value at the end of a game. Each time you adjust your bet, the related paytable becomes marked in red. It gives you a clear overview of your possible winnings for each hand.
The Royal Flush is the highest-ranking hand in Game King Video Poker, worth 800x the bet. You must hit the 10, Jack, Queen, King, and Ace of the same suit to win it. There are also many other lucrative hand combinations, like the Straight Flush, Full House, 5-of-a-kind, and more. All titles in this game have a theoretical RTP rate above 99%. It means the games come with a house edge, giving the casino a slight advantage over the players in the long run.
Tips & Tricks for Game King Poker Online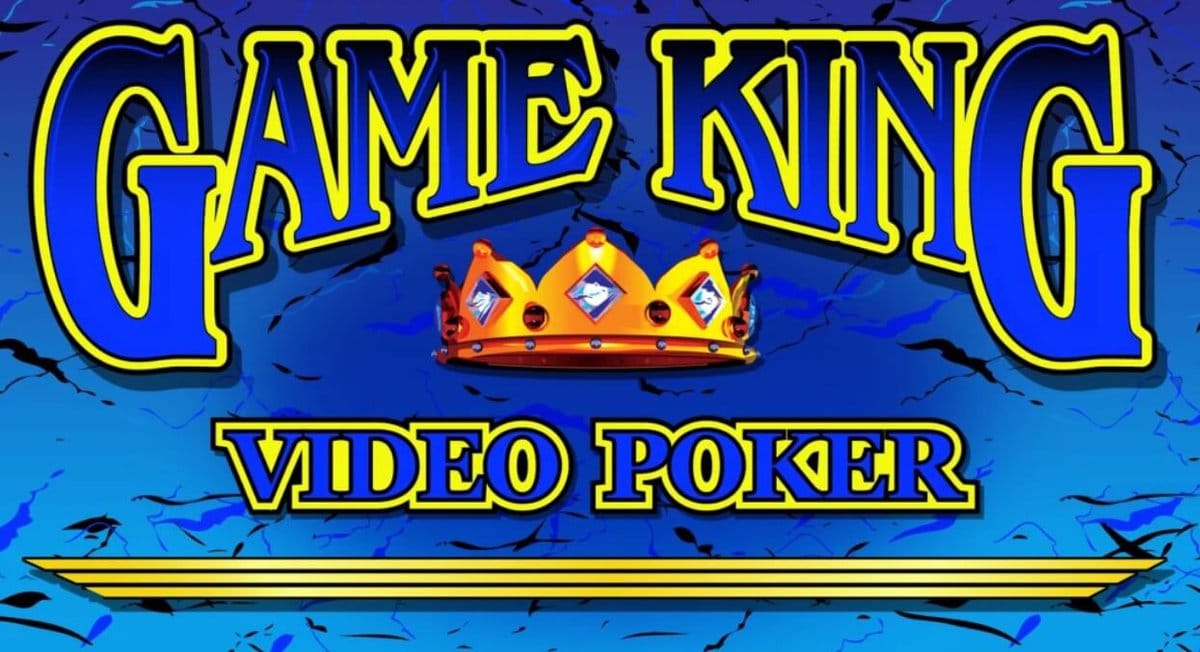 Game King Video Poker mixes simplicity and fun with bigger wins requiring a solid strategy. So, let's explore some tips that might lead to big wins in the various game types.
It is crucial to become familiar with the pay table of the specific poker game. Once you've mastered these, you'll be ready to play your first hand. Another important thing is making good decisions about which of your first five cards to keep and which to discard. Understanding the basics of poker becomes significant at that point. Play video poker with a statistical mindset and take your time, as you're up against a machine instead of players.
Maintain enough bankroll for the video poker bets you want to play. Although it is a low-edge game, it might still have high variance. So, gamble wisely if you don't want your session to stop soon due to bad luck. Also, don't hold three cards for a straight or flush because you're unlikely to receive the two cards needed to complete the hand.
It's best to stick to one or two types of video poker games, as each has its own strategies. Trying to remember all of the tricks and rules for various games might be difficult. Choose a game that you like and become proficient in its specific strategy.
Is Game King Video Poker Worth Playing?
Game King Video Poker provides a diverse range of exciting poker games to play online. There's a game for all video poker fans, whether you favor classic versions or more dynamic kinds. All the titles are simple and fun, with the added excitement of winning big for the best poker hands.
Game King Video Poker has a simple layout with no distracting visuals, allowing you to focus on the gameplay. Unlike slot machines, there aren't many bonuses, but some cards can activate unique features that boost the excitement. So join the virtual world of Game King Video Poker and let your inner poker expert unleash.