ParlayPlay App
Gamble USA strives to improve your online gambling experience. We aim to help you play safely, make informed decisions when gambling, and increase your betting knowledge through our guides.
We adhere to strict editorial integrity; our content may contain links to products from our licensed & legal US partners.
ParlayPlay employs a hybrid model that fuses sportsbook elements with traditional DFS gameplay. Participants craft parlays using player props, thereby predicting athletes' performance against the set benchmarks.
The platform offers two paid contests where players are squaring off against the house. The accuracy of their picks dictates the potential payout.
ParlayPlay also runs free rolls. Entry is cost-free in these contests, and your objective is to outdo the competition and clinch top positions on the leaderboard for a share of the prize pool.
Currently, ParlayPlay is up and running in 27 US states. First-timers can ease in with a $5 no-deposit bonus. Plus, your initial deposit gets matched 100%, effectively doubling your betting power from the get-go.
---
ParlayPlay Review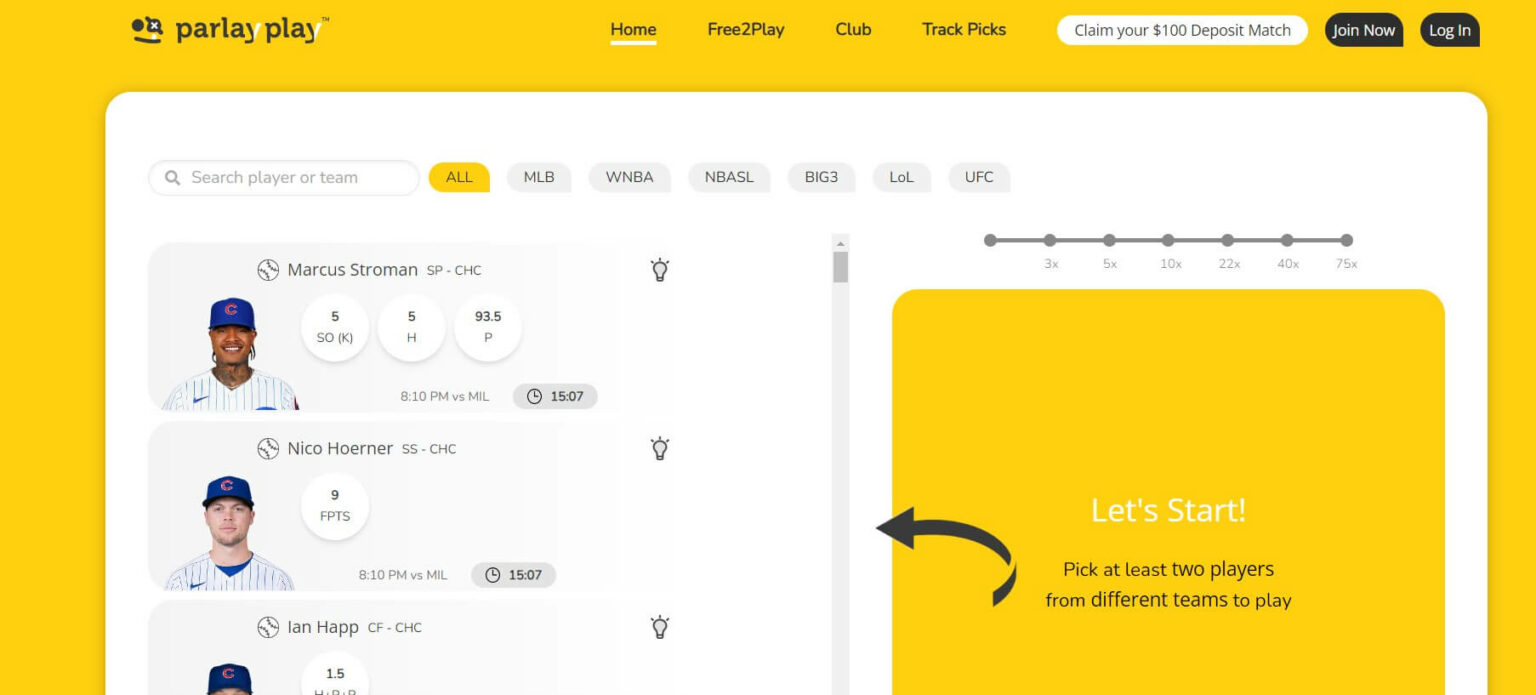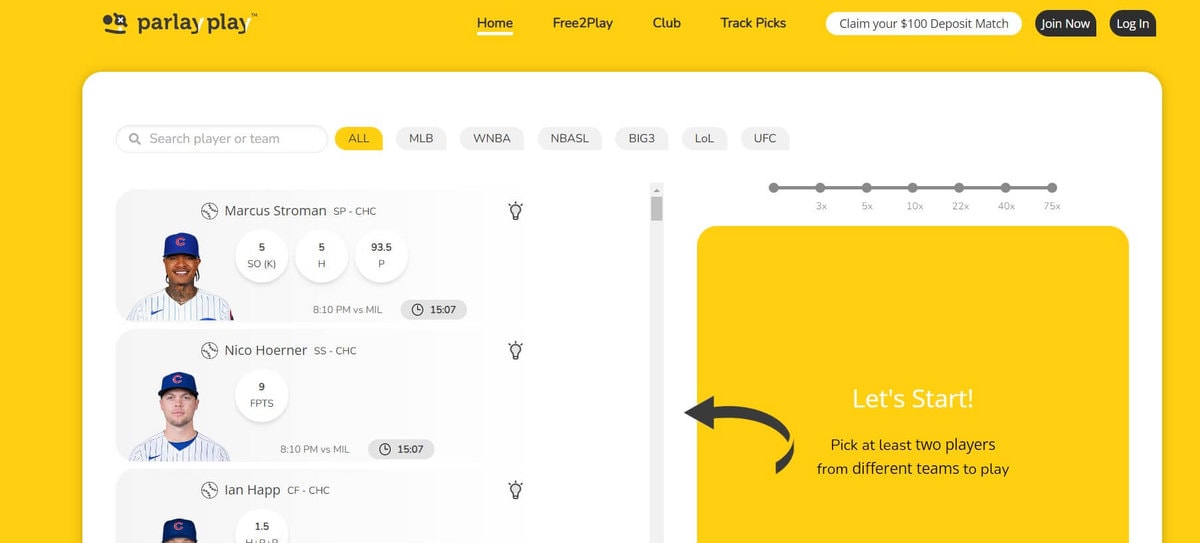 ParlayPlay popped onto the DFS scene in 2021 and brought a new flavor to the table. It veers away from the conventional salary-cap contests — the cornerstone of industry titans like FanDuel and DraftKings. Instead, it embraces a more casual format. This refreshing approach provides a much-needed change of pace in a domain where algorithm-wielding sharks often leave rookies scrambling for crumbs.
Parlay-based contests centered on player props (bets revolving around specific player stats) are the name of the game at ParlayPlay. These are sourced from a broad spectrum of sports, including major leagues, soccer, and UFC, and esports, like CS:GO and Dota.
The platform features two types of paid contests: More/Less and Hit-It. The former is akin to standard player props — you predict if a player will exceed or fall short of a given stat. Hit-It is a spinoff of this and involves estimating if a stat will fall within a defined range. You don't need to be spot-on with all your picks. There's a bit of a safety net, as you can win a redemption prize if a few of your selections miss the mark.
Free-to-join contests are also available, pitting you against other users.
ParlayPlay pulls no punches when it comes to promotions. Right out of the gate, you get $5 on the house. Then, you can claim a 100% match deposit bonus worth up to $100. Regulars can reap extra benefits from the rewards program, ParlayPlay Club.
You can play online on desktop and mobile browsers. Android and iOS apps are also available for download via their respective stores.
Our ParlayPlay review will give you the full scoop on this up-and-coming DFS platform. We'll break down how the contests work, what the sports selection is, which banking options are available, and more.
📱ParlayPlay
📅Launch date
2021
🎲Game format
Vs-the-house player prop parlays; against other users
🏈Sports coverage
Football (NFL, College, XFL), basketball (NBA, College, WNBA), Hockey (NHL), Baseball (MLB), MMA (UFC), esports (Dota, Valorant, CS:GO, LoL)
🌀Contest types
Hit-It, More/Less, Free2Play
🇺🇸 Legal in
27 US States
🎁No-deposit bonus
$5
✍️Welcome bonus
100% on the first deposit
👑VIP/loyalty
✅Yes — ParlayClub program
🖥️Platform availability
Desktop, mobile browsers, iOS app, Android app
☎️Customer support
Live chat; email (support@parlayplay.io); phone (+1 888-680-0405)
💳Banking
Credit cards (Visa, Mastercard, Discover), ACH
💵Min withdrawal
$30
---
ParlayPlay Promo Code and Bonuses
New users at ParlayPlay can tap into a two-part welcome offer that includes a $5 no-deposit bonus and a 100% match on their first deposit. This roughly squares up with what most other DFS platforms roll out as an intro promo. You won't need a promotional code for this dual sign-up deal; simply register via our links, and you'll be good to go.
$5 No-Deposit Bonus
Once you're on board and have successfully verified your account via mobile and email, the DFS site will slide you $5, no strings attached. The bonus manifests as a free entry coupon that can be redeemed on any 2-pick More/Less contest. Those who win money from risk-free entries can immediately cash out their prize.
This free join bonus is valid for 7 days, giving you ample time to weigh up your picks.
100% Match on First Deposit up to $100
ParlayPlay also offers a 100% match deposit bonus worth up to $100. In other words, they'll double your betting bankroll for any amount you deposit between $10 and $100. For example, if you top up your account with $50, you'll get an extra $50 in bonus bucks.
The bonus is awarded in the form of entry coupons, and the allocation depends on the deposit amount:
$10 deposit = 1x $10 entry coupon
$25 deposit = 1x $25 entry coupon
$50 deposit = 2x $25 entry coupons
$100 deposit = 2x $50 entry coupons
You can use the coupons on 2-pick More/Less contests, and they must be redeemed within 7 days of depositing.
The offer has a mere 1x wagering requirement, so whatever you win from your entries becomes real, withdrawable cash.


How the Bonus Stacks Up
While the ParlayPlay welcome bonus doesn't quite measure up to the giants like DraftKings, FanDuel, and Thrive Fantasy that offer $200 or more, it's still a good deal.
It aligns with what you'd expect from smaller DFS brands like Underdog Fantasy, Vivid Picks, Monkey Knife Fight, and PrizePicks.
---
How ParlayPlay Betting Works
Gameplay at ParlayPlay mirrors standard sports betting. You are required to place stat-based predictions on athletes' individual performances. For each contest, you handpick at least two players from a pre-set pool, making calls on whether they will outdo or fall short of the predicted stat line. The more successful picks you make, the larger your payouts grow.
ParlayPlay has woven in an insurance feature, giving bettors a second chance after a heart-wrenching miss. With this option in play, you'll receive a cashback if some of your selections fail. It can be several times the staked entry amount, which helps take the sting out of those all-too-disappointing near misses.
While ParlayPlay's model isn't a trailblazer — the credit goes to Thrive Fantasy for popularizing the concept — it brings a breath of fresh air to the scene. ParlayPlay also offers a refreshing break from the traditional, highly competitive, stat-centric salary-cap contests.
By delivering a sports betting-esque experience, it also serves as an appealing option in those states that haven't legalized actual sportsbooks yet.
---
ParlayPlay Contests
ParlayPlay hosts two distinctive types of paid contests, each with its own spin. Alongside these, the platform runs free-to-join competitions that resemble traditional DFS contests, rewarding only the top performers.
More/Less
In More/Less contests, you select between 2 and 7 athletes and bet on whether their actual stats in specified categories — like points, rebounds, touchdowns, runs, or fantasy points — will surpass or fall short of ParlayPlay's projections. This format closely echoes over/under player prop betting in conventional sportsbooks.
For example, you might put together a parlay where you've pegged LeBron James to score over 25 points in an NBA Lakers matchup and MacKenzie Gore to have fewer than 6 strikeouts in his Nationals showdown.
Your journey starts by picking your preferred sport. From there, you tap into ParlayPlay's curated pool to select an athlete and decide on more or less for the predetermined line. After adding two players (from different teams) to your ticket, you set the stake. Entry fees vary depending on the number of picks in play.
Before hitting the "Place Bet" button, you must opt for one of two risk modes. The All-In mode requires all your picks to come through but promises a heftier payout, whereas the Insurance mode delivers a small consolation payout if a few of your selections go south.
ParlayPlay also offers several browsing tools to facilitate navigation. These include a search bar for players and teams and a filter option for specific stat categories or player positions. And if you're a fan of stats, the bulb icon opens up a wealth of data displaying an athlete's recent five-game performance, seasonal averages, and what other users have picked.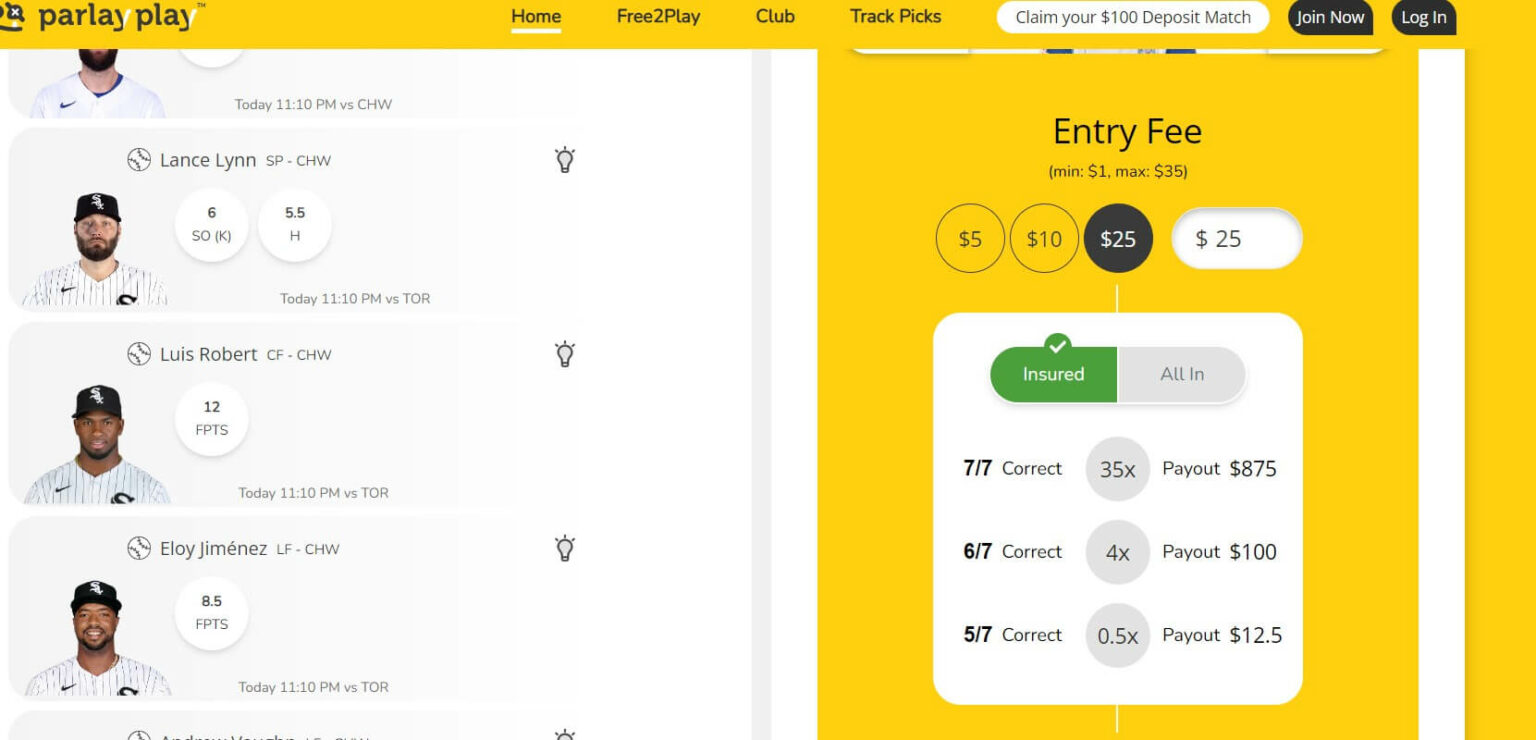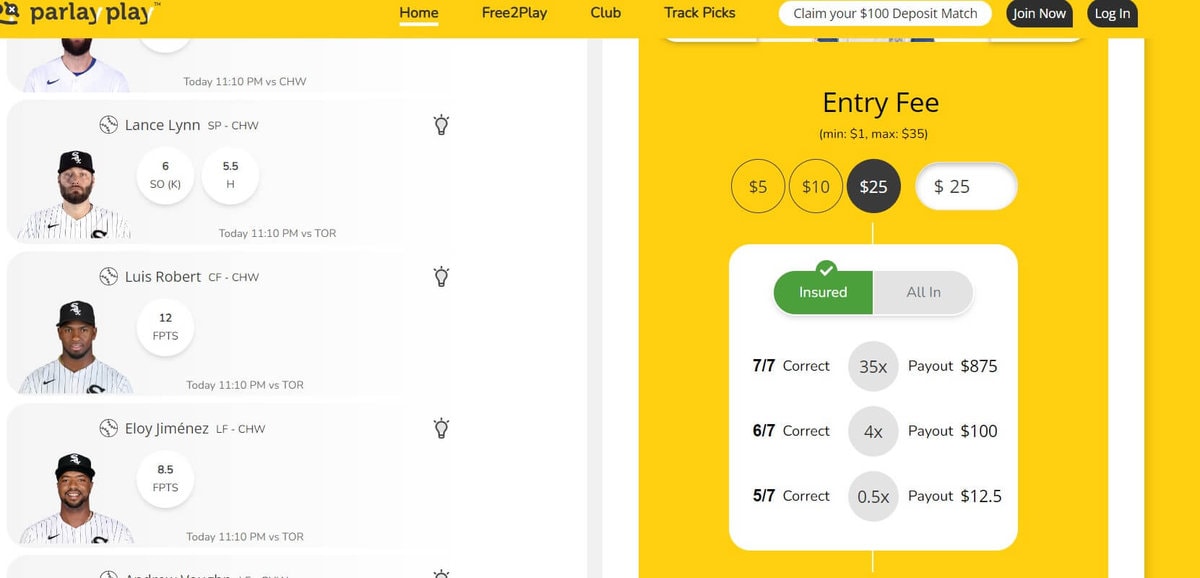 Payouts
In More/Less contests, your payout hinges on both the total number of picks on your slip and the number of successful picks. For a perfect 7-of-7 score in an All-In contest, the payout is a hefty 75x the entry fee. Considering the maximum fee in this setup is $35, you could pocket up to $2,625.
Here's the potential winning scale for the All-In mode:
| #️⃣Number of picks | 💰Payout | 💵Entry fee |
| --- | --- | --- |
| 7 | 75x | $1–$35 |
| 6 | 40x | $1–$60 |
| 5 | 22x | $1–$100 |
| 4 | 10x | $1–$100 |
| 3 | 5x | $1–$100 |
| 2 | 3x | $1–$100 |
Should you opt for Insurance, your maximum payout may dip a little. Still, this mode offers a safety net — something to fall back on if some of your picks don't hit the mark. The entry fee is the same as in All-in mode.
| #️⃣Total number of picks | 🤑Picks hit | 💰Payout |
| --- | --- | --- |
| 7 | 7 | 35x |
| 7 | 6 | 4x |
| 7 | 5 | 0.5x |
| 6 | 6 | 25x |
| 6 | 5 | 2.5x |
| 6 | 4 | 0.5x |
| 5 | 5 | 12x |
| 5 | 4 | 2.5x |
| 4 | 4 | 5x |
| 4 | 3 | 1.25x |
| 3 | 3 | 2.5x |
| 3 | 2 | 1.25x |
| 2 | 2 | 2x |
| 2 | 1 | 0.5x |
Fantasy Points
Occasionally, ParlayPlay uses Fantasy Points as key metrics rather than individual stats. For example, you might encounter a Less/More line for 50 Fantasy Points on LeBron James instead of points, rebounds, or assists.
Fantasy Points wrap up multiple statistical factors, assigning a point value to each. In basketball, the point distribution is as follows:
Point = 1 FP
Assist = 1 FP
Rebound = 1 FP
Steal = 1 FP
Block = 1 FP
Turnover = -1 FP
You can find the detailed point distribution in the terms and conditions. Alternatively, when you choose a player with an FPS line, there's a drop-down button labeled "Fantasy Points Scoring Card," where you can see the full breakdown.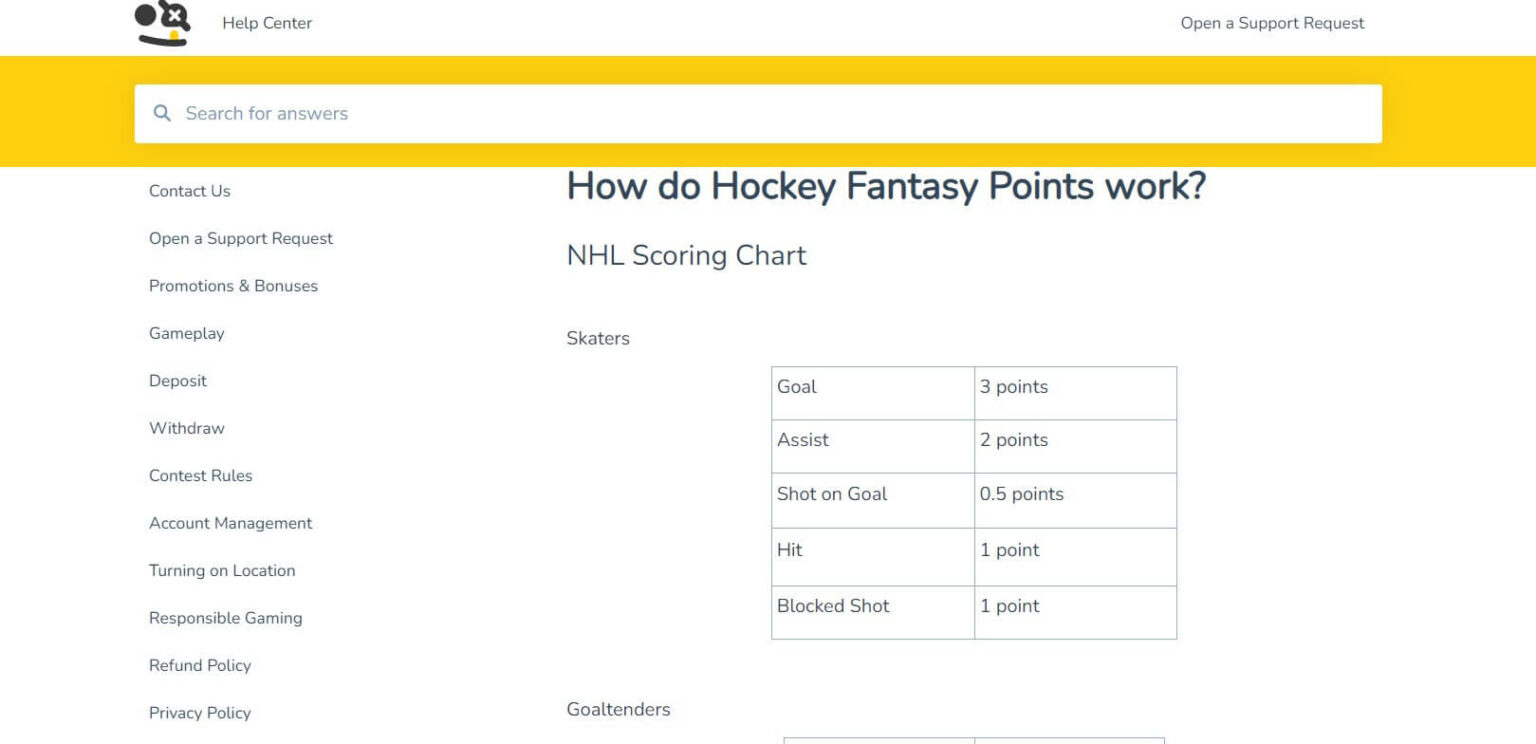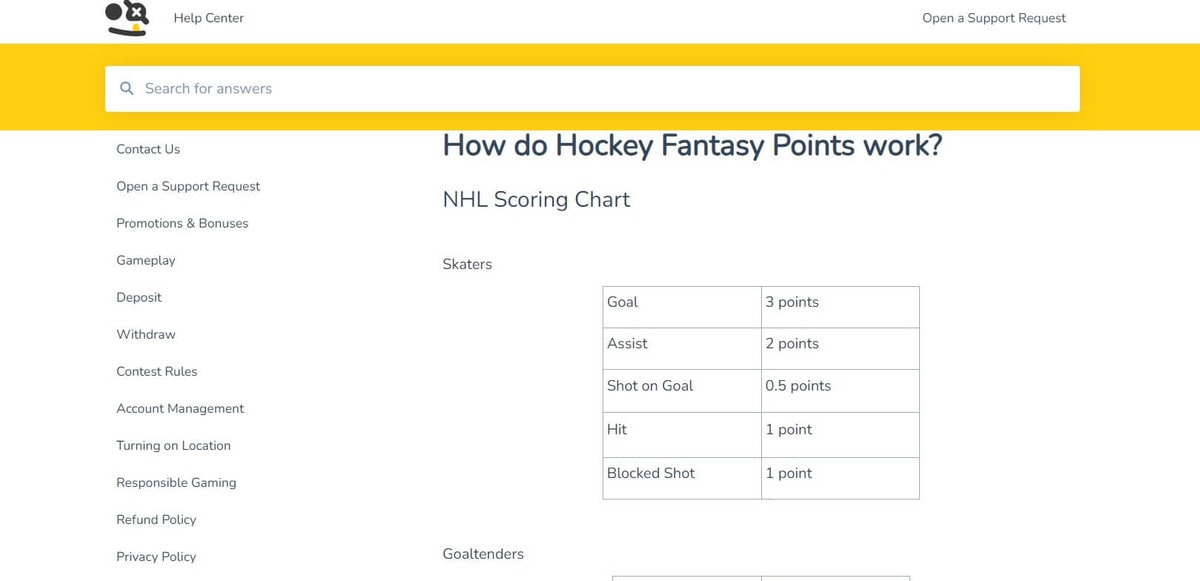 Hit-It
In Hit-It contests, you select two athletes from your chosen sport and predict the performance range for their stats.
For example, you could construct a Hit-It entry where you expect Patrick Mahomes to land between 270 and 310 passing yards and LeBron James to score within a 22–27 point range.
Hit-It contests also incorporate an insurance feature, ensuring a small payout even if one of your predicted ranges doesn't hold up:
2/2 = 6x payout
1/2 = 2x payout
Free2Play
ParlayPlay also hosts weekly free rolls that come with zero entry fees. However, the trade-off manifests in smaller rewards (when contrasted with paid contests), and you have to best other contestants. Even if you nail a solid 2-leg parlay, your cash prizes aren't a given.
Head to the Free2Play tab in the main menu to join these events. Once in the lobby, select your contest and choose from the ready-made lineup of athletes, guessing whether they'll outperform or underperform the projected stats. The top three forecasters earn a share of the prize pool when the contest concludes.
House Rules
Before you dive in, it's critical to grasp the contest rules. They lay down the groundwork for these events and address specific scenarios like injuries, forfeitures, rescheduling, and postponements.
Here's a brief rundown of some essential points:
If an athlete hits the projected stat line exactly, it results in a push, and that selection gets taken out of the contest. Consequently, your slip downgrades to the preceding level — a 4-pick slip turns into a 3-pick, and a 3-pick becomes a 2-pick. If it's a 2-pick slip, the entry becomes null, and your entry fee is returned.
There are specific criteria for player injuries. For example, in baseball, if a pitcher delivers at least one full inning and then gets injured, the pick stands.
Overtime outcomes are factored into full-time markets. However, in segmented markets (like the first or second half), OT results don't count.
You can't edit your active picks, but you can withdraw your entry within one hour of joining, as long as it's more than 15 minutes before the game commences.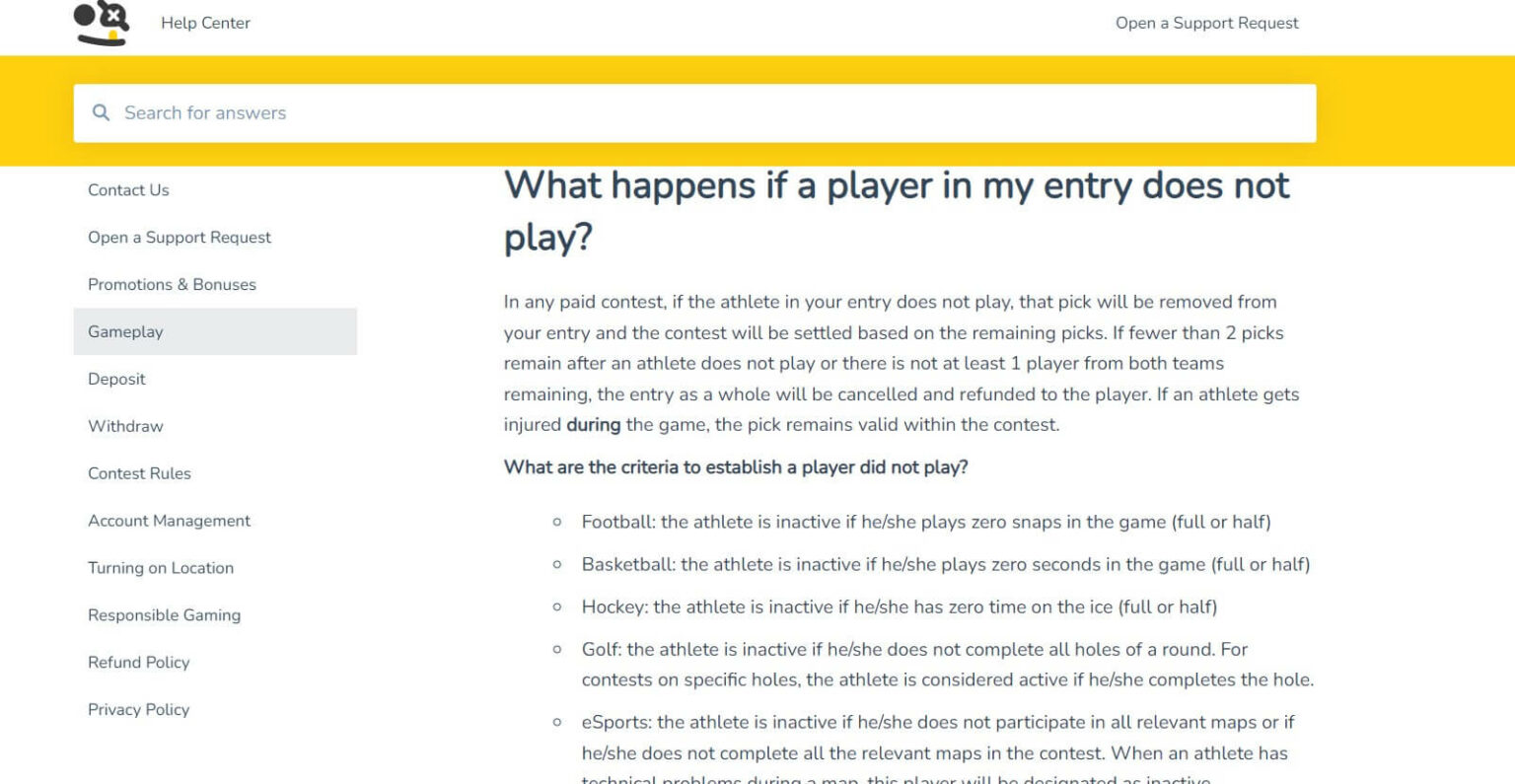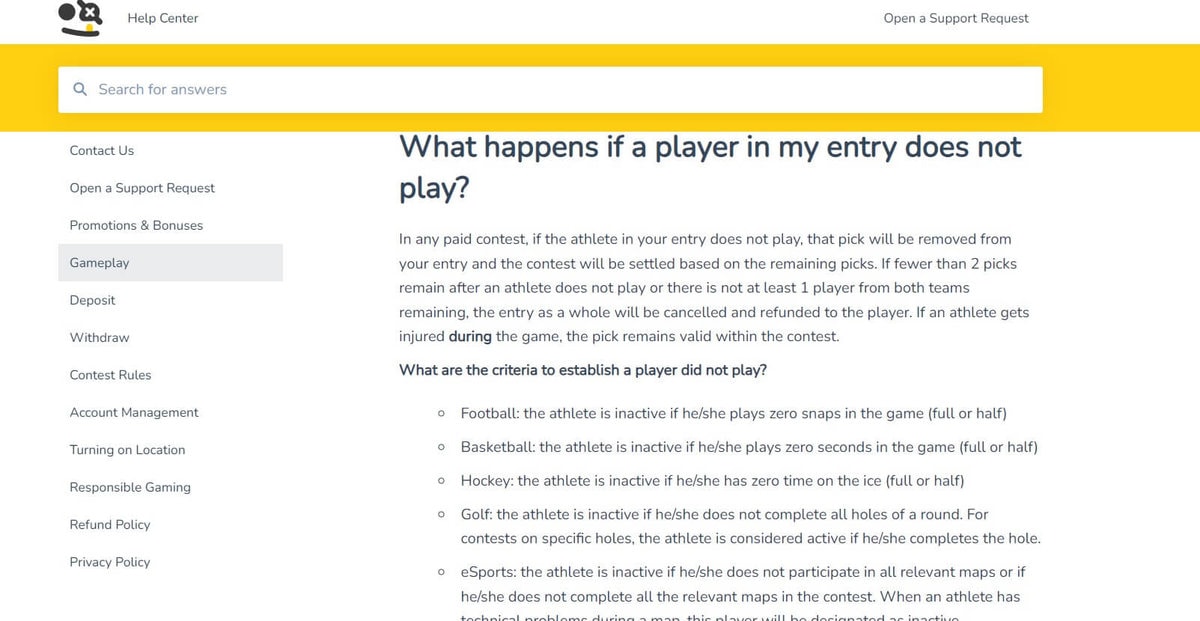 ---
ParlayPlay Betting Markets and Sports
ParlayPlay started out with a limited selection of sports but has since made impressive strides in diversifying its portfolio. Now, it hosts contests covering a comprehensive array of college sports and pro leagues. Here's what's on offer:
As for betting market variety, ParlayPlay has got you covered. The DFS platform offers a broad spectrum of player prop bets, including niche options:
Goals, saves (soccer)
TDs, pass completions, receiving yards (football)
3pt made, FT made, PRA (basketball)
Strikeouts, RBIs, runs (baseball)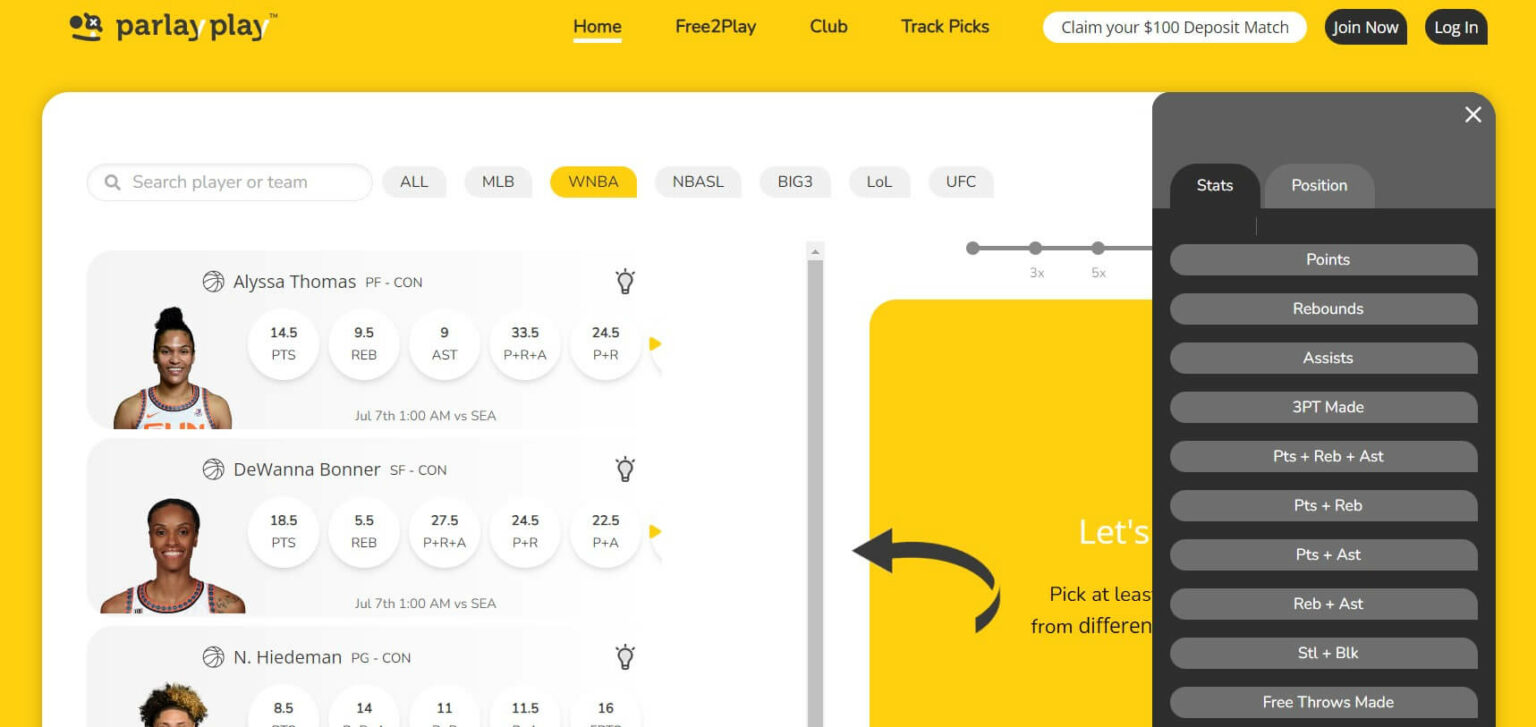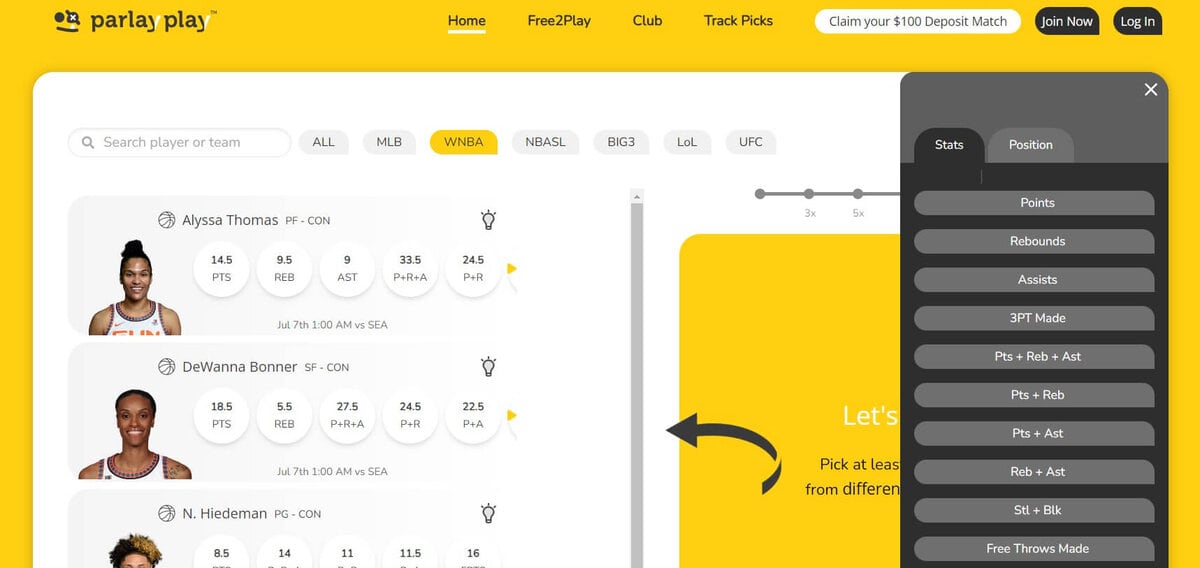 ---
ParlayPlay Sign-Up Process
Signing up with ParlayPlay is as simple as it gets. To kickstart your journey, follow these steps:
Access ParlayPlay.
Click the "Join Now" button in the upper right corner.
Proceed with the sign-up process by providing necessary details, such as login credentials, full name, email, and date of birth.
Input a valid US phone number and click "Verify." Key in the code sent to you via SMS.
Check your email inbox and confirm your email.
Voila! You're all set and ready to roll.
As an added perk, a $5 no-deposit bonus will instantly hit your account once you've completed these steps.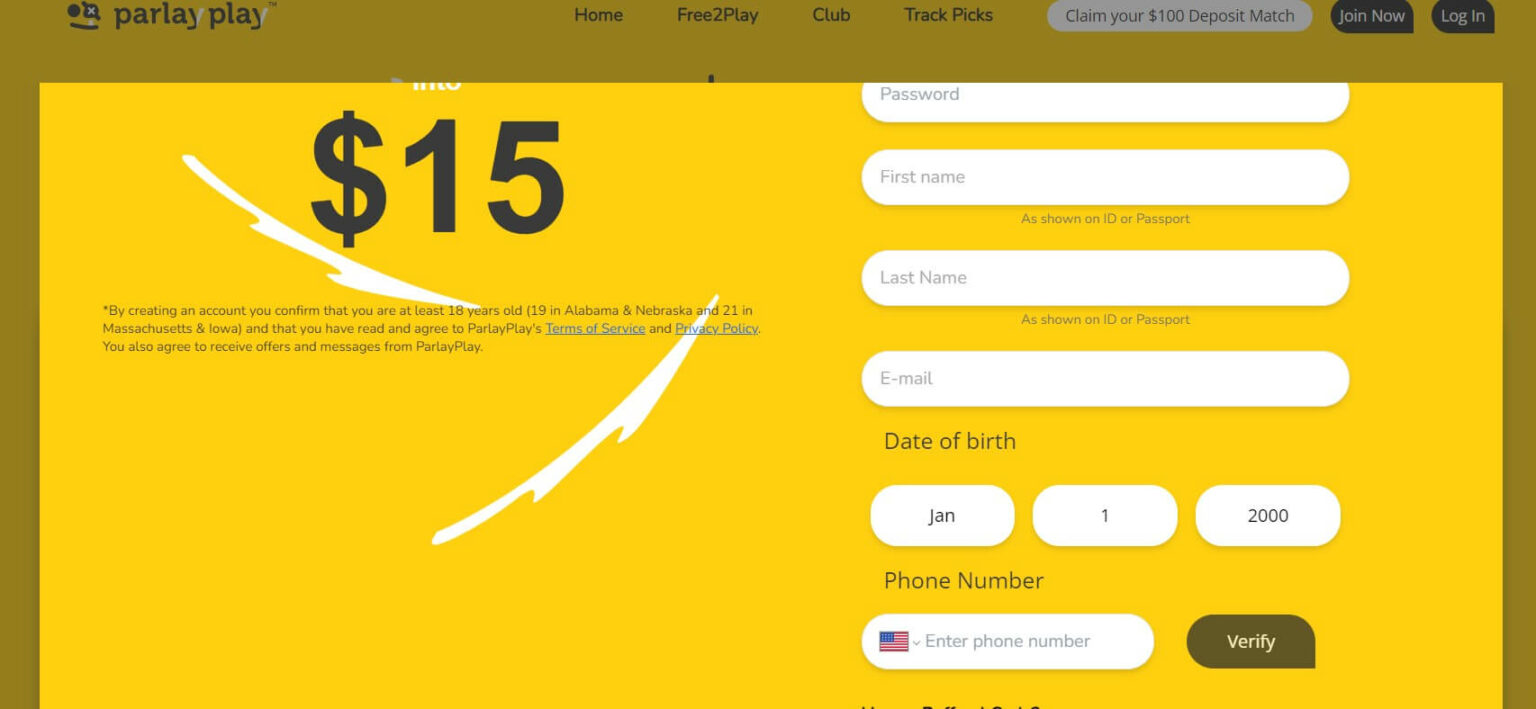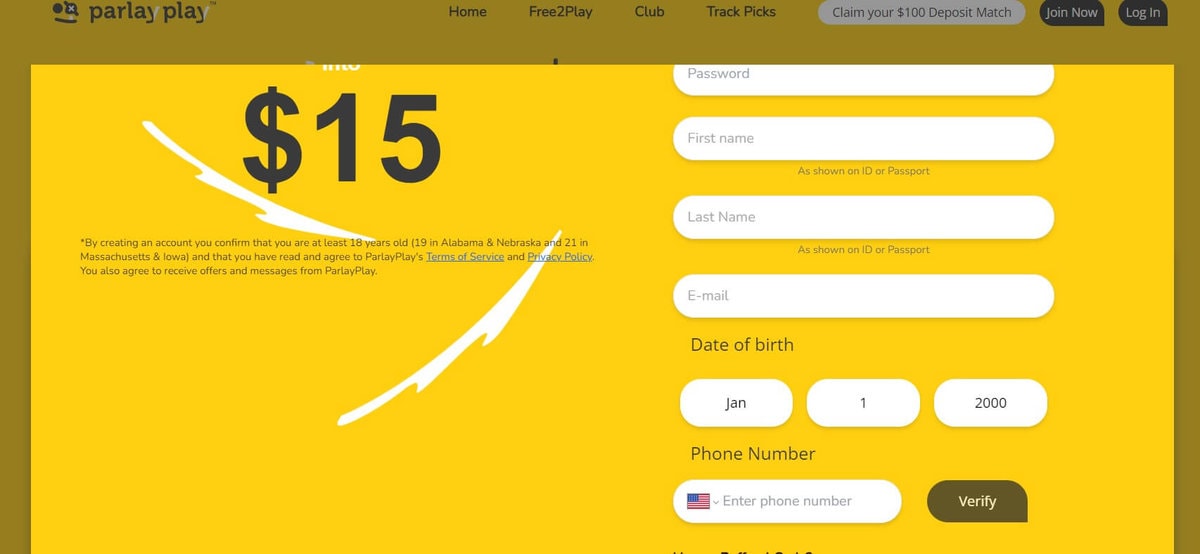 ---
ParlayPlay Betting Apps
For on-the-go action, you can access ParlayPlay on your mobile browser or download the native Android or iOS app. The apps boast impressive ratings of 4.7 and 4.5 stars on the App Store and Google Play Store, respectively.
Users appreciate the app for its rock-solid performance and user-friendly interface. The design mirrors the desktop version's vertical layout, ensuring a consistent gaming experience across all platforms. By sporting a clean white and yellow color scheme, the app puts all game categories and preferred stats at your fingertips.
Remember, you'll need to enable location services on your device to ensure smooth operation. You can download the app directly from the app stores or use the links in the footer of the ParlayPlay website. See all of our top sports betting apps.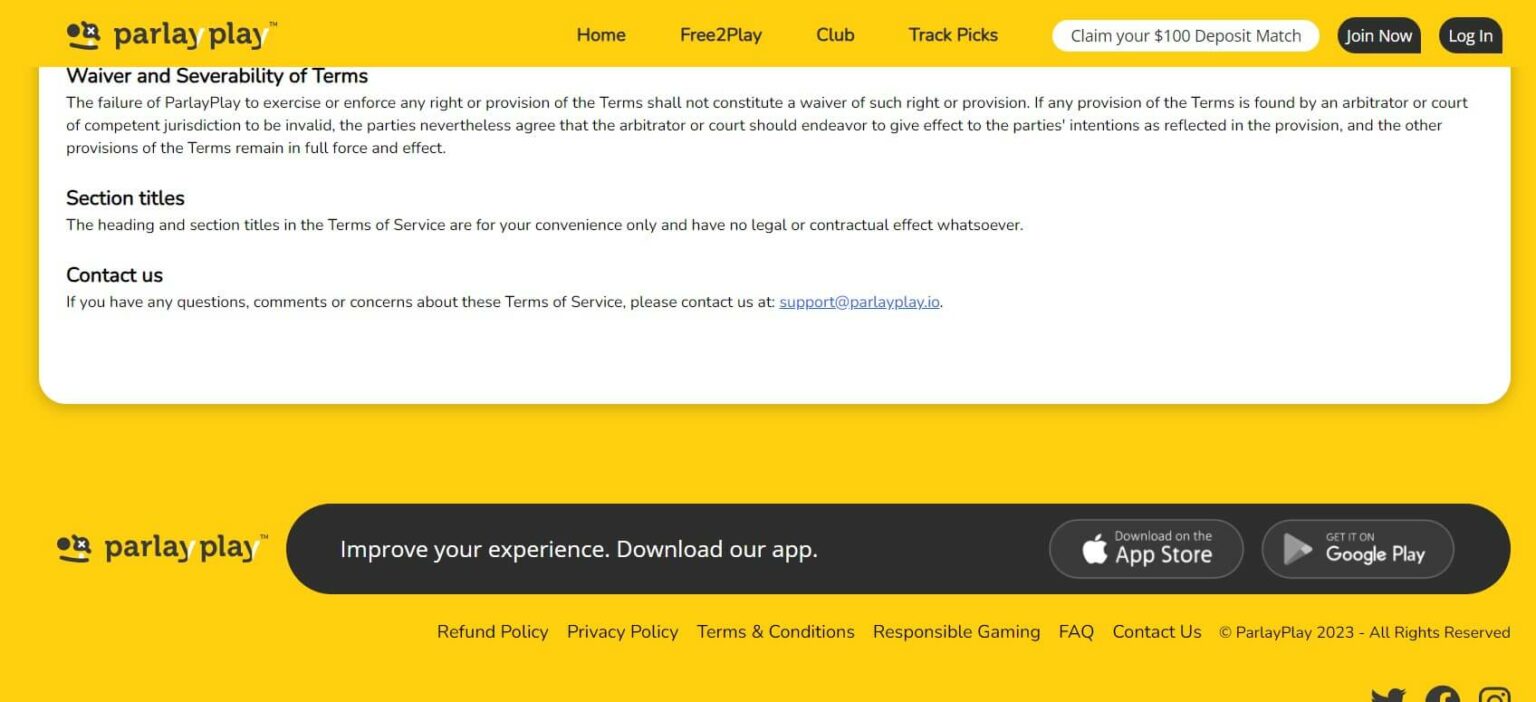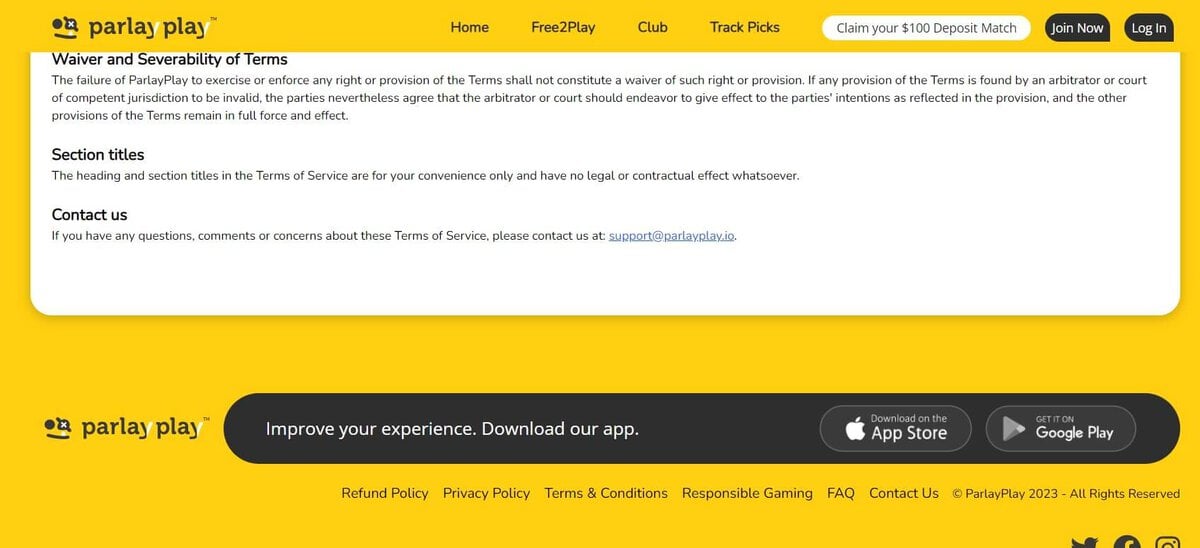 ---
ParlayPlay Banking Methods
ParlayPlay has only two available options for depositing funds: credit cards (Mastercard, Visa, Discover) and ACH transfers. Deposits through credit cards are processed instantly, while ACH deposits might take a bit longer.
There's no explicitly stated minimum deposit amount, but the site provides six predefined deposit options: $10, $25, $50, $75, $100, and $125. The maximum deposit limits are capped at $500 daily, $2,000 weekly, and $10,000 monthly. Notably, residents of Massachusetts have a unique monthly limit of up to $1,000.
ACH transfer is the sole method available for withdrawals. ParlayPlay ensures that cashouts are processed back to the original deposit method used within the past 90 days. Any remaining balance is then transferred via ACH.
Payouts are typically completed within 72 hours, and you can withdraw anywhere between $30 and $500 per transaction.
---
Customer Service and Contacts
If you encounter any hiccups during your ParlayPlay experience, you can get assistance via multiple channels.
For a quick response, you can leverage the automated live chat feature. However, as this is bot-operated, its proficiency is limited to straightforward inquiries and may not address complicated issues effectively.
If you have more complex queries, your best bet is to contact them through their dedicated support email: support@parlayplay.io. But, if you require an instant resolution or prefer one-on-one assistance, they also offer phone support — just dial 1-888-680-0405 to speak directly to a representative.
In addition, ParlayPlay has compiled an exhaustive FAQ page housed in the Help Center. This resource covers various topics, including payments, account information, contest regulations, and bonus details.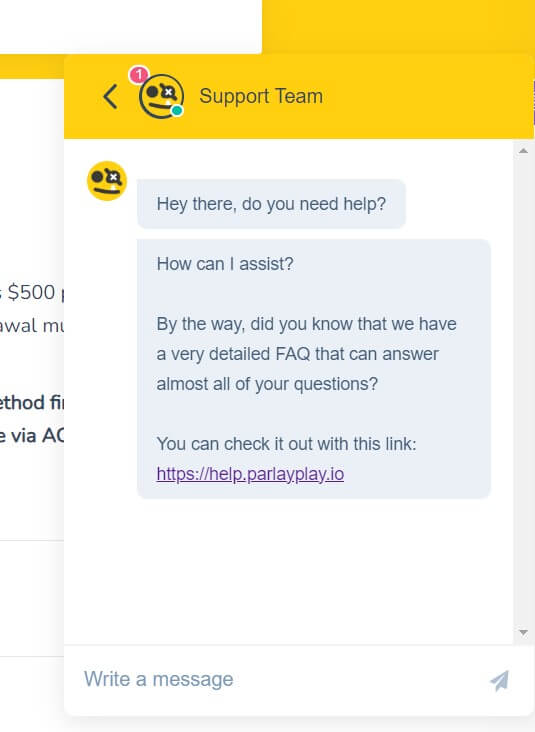 ---
Is ParlayPlay Safe?
ParlayPlay employs stringent security measures to ensure a safe environment for its players. Notably, the platform utilizes 256-bit SSL encryption, certified by Cloudflare Inc ECC CA-3. Rest assured — your personal and financial details are well-protected and hidden from potential cyber-attacks.
However, it's worth noting that while the current security is robust, an additional layer like a 2FA (two-factor authentication like on FD) would provide users with an enhanced sense of security. We anticipate that this feature could be implemented in future updates.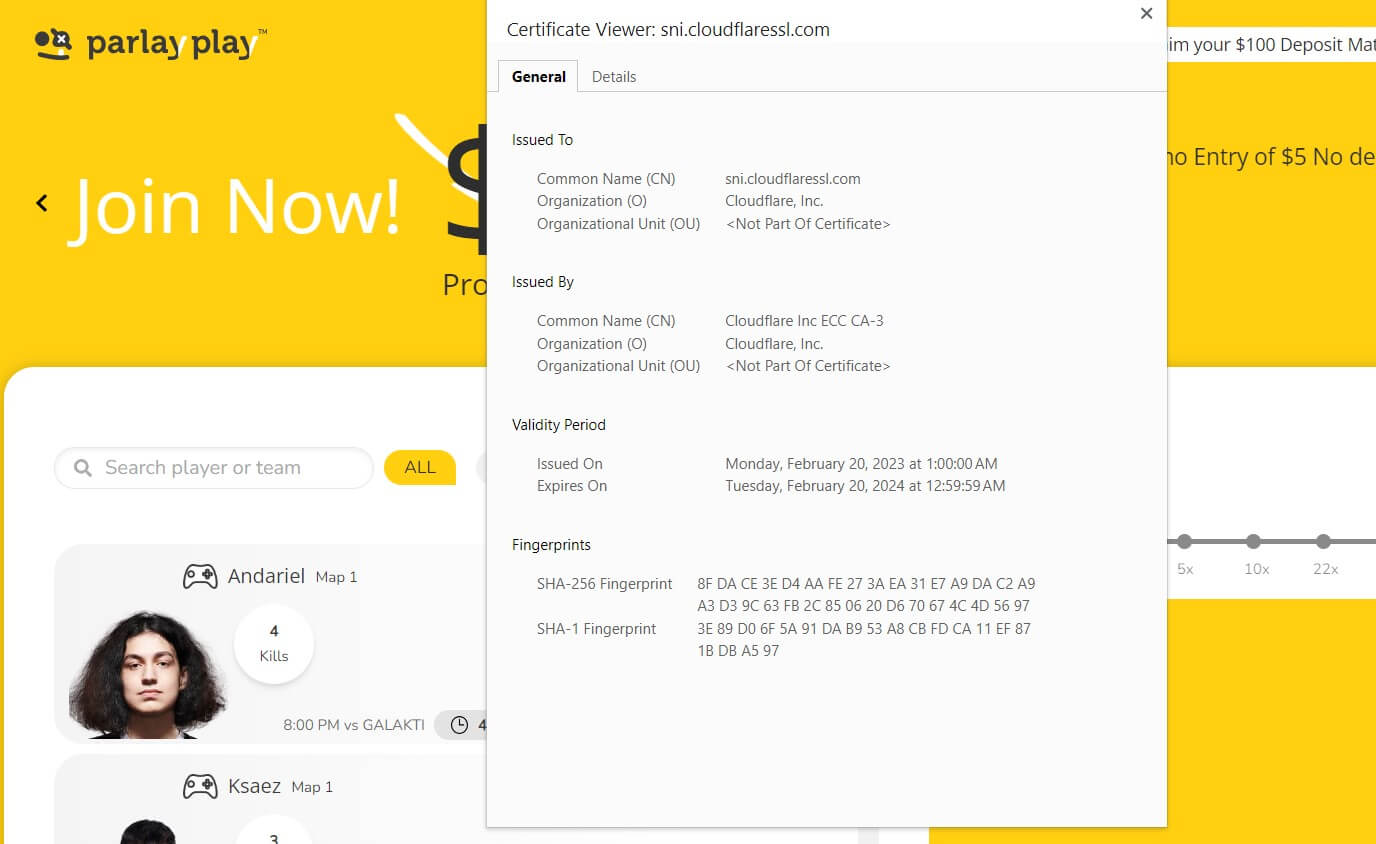 ---
Where Is ParlayPlay Legal?
ParlayPlay is operational in 27 US states:
Alabama
Alaska
Arkansas
California
District of Columbia
Florida
Georgia
Kentucky
Minnesota
Nebraska
New Mexico
North Carolina
North Dakota
Oklahoma
Oregon
Rhode Island
South Carolina
South Dakota
Texas
Utah
Vermont
Wisconsin
ParlayPlay operates exclusively in the US and Canada, accepting registrations only from the residents of these two countries. The platform requires registrants to be a certain age; however, the minimum age varies depending on the state of residence. In most jurisdictions, it's 18 years, but in Alabama and Nebraska, participants must be at least 19. For Massachusetts, Arizona, Iowa, and Louisiana, the age limit is raised to 21.
It's worth noting that Washington State accounts, while able to participate in other contests, are excluded from participating in Free2Play games as per the local jurisdictional laws.
---
Is ParlayPlay Legit?
Indeed, ParlayPlay is a bona fide, credible daily fantasy sports platform. Thorough scrutiny across various channels (including app store reviews and online forums such as Reddit) reveals no hints of any fraudulent activities. All the evidence suggests that ParlayPlay conducts business ethically, paying out its winners promptly and operating without any incidents.
Users shower ParlayPlay with positive feedback, with the standout features being the impressive 75x payout potential and the seamless user interface. The only criticism has been aimed at the somewhat high minimum withdrawal limit. Nevertheless, this issue is relatively minor and does not affect the overall positive sentiment surrounding the platform.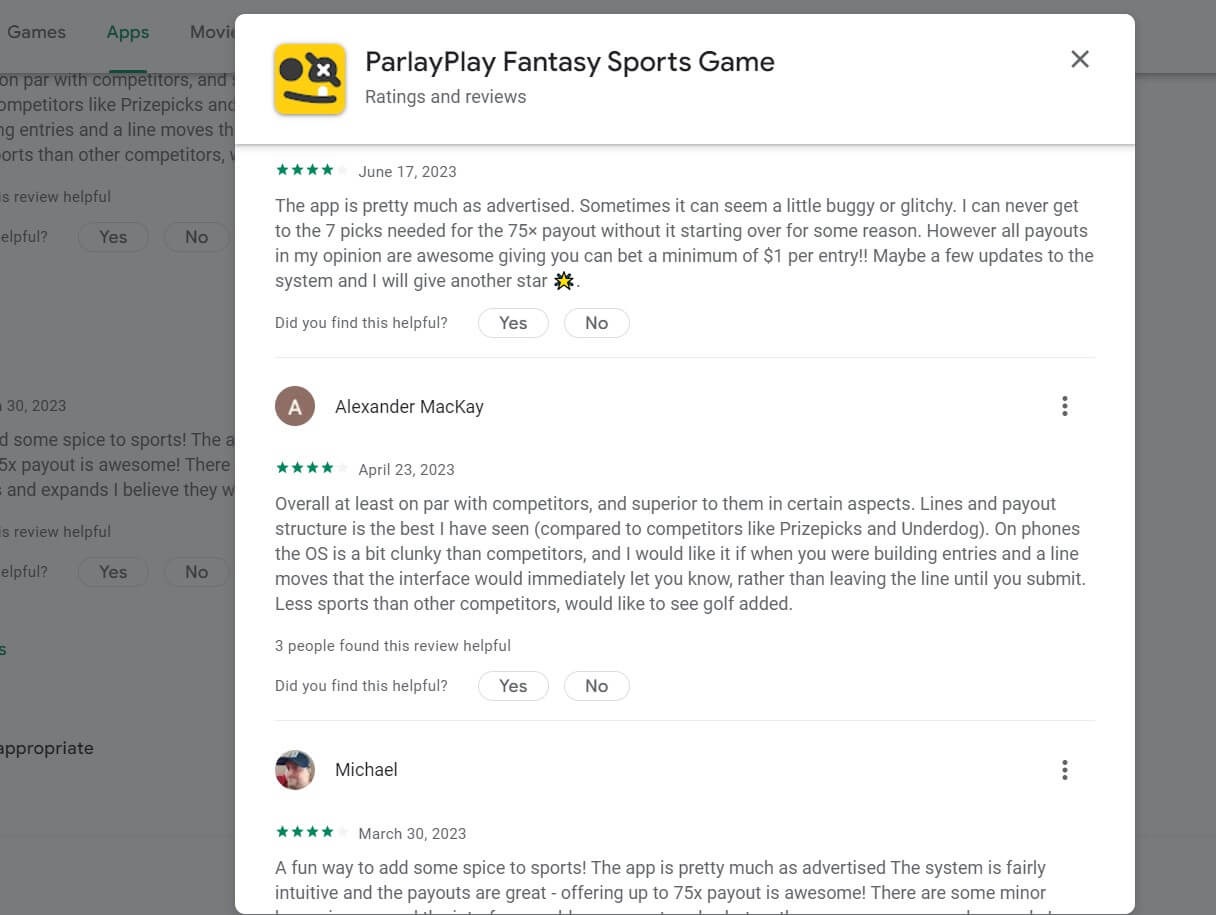 Who Owns ParlayPlay?
ParlayPlay is a privately owned daily fantasy sports platform co-founded by Florens Röell, Olivier Go, and William Pullen. Based on the information on LinkedIn, Florens Röell is currently serving as the company's CEO. According to publicly available details from Crunchbase, the company's headquarters are in New York.
---
Is ParlayPlay Better Than Other DFS Sites?
ParlayPlay has hit the ground running in the DFS arena. If you're big into player prop contests and going head-to-head with the house, this site is right up your alley. A big selling point is the industry-leading max payout of 75x your stake, which could prove a game-changer for those who love to shoot for the moon with longshot parlays.
Their mobile app is a breeze to navigate, and the bonuses will keep players coming back for more. Plus, with updates and new features being rolled out regularly, it's clear these guys aren't resting on their laurels.
That said, there's always room for improvement. Adding draft contests could crank up the excitement and give ParlayPlay an edge in the highly competitive DFS market. Tossing in some racing sports wouldn't hurt either, as they are a crowd favorite among DFS enthusiasts.
While it might not be in the big leagues with FanDuel or DraftKings yet, ParlayPlay is undoubtedly a rising star in the DFS world, and it's worth checking out.

$5 No Deposit Bonus