Penn State Nittany Lions at Michigan State Spartans Betting Preview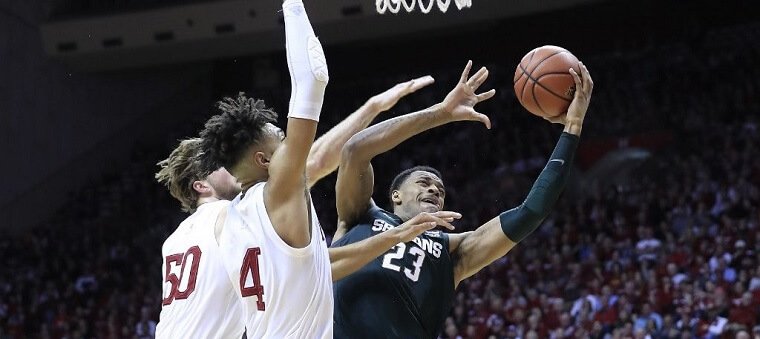 Well past the midway point of a long and grueling college basketball season, we are finally starting to see some teams separate themselves from the pack.
Date: Tuesday February 4, 2020
Time: 8:00pm
Location: Jack Breslin Students Events Center, East Lansing, Michigan
Watch: BTN
Early in the year, it looked like we could not figure out who the favorites were, but now conference play is setting teams into a groove.
Two of the best teams that the Big Ten has to offer will be squaring off on Tuesday when the Penn State Nittany Lions are on the road against the Michigan State Spartans.
Both of these teams are ranked inside the Top 25 — Michigan State at No. 16, Penn State at No. 22 — and have been playing some great basketball recently.
With that out of the way, let's break down the matchup to help you determine where you should be putting your money.
Let's Get Running
This season has been all about senior forward Lamar Stevens, who is Penn State's leading scorer, averaging almost 17 points and seven rebounds per game.
He is a dominant force inside the arc and can really attack defenses in a multitude of ways to get himself buckets all over the floor.
The good news for Stevens is he has some backup behind him. These Nittany Lions are not a one-trick pony.
Guard Myreon Jones is averaging about 14 points per game, and there are four more players on the roster averaging between seven and 10 points per game.
This balanced attack, coupled with the Nittany Lions' fast tempo, is the reason that Penn State is ranked inside the Top 25 and has been one of the best teams all season long.
What Penn State really loves to do is force a lot of turnovers. It pressures the ball and then some, and likes to get teams running up and down the floor to put up shots quick.
The bad news for them is Michigan State has some of the best guard play in the Big Ten. It's going to be a challenge to get them phased.
Leading The Way
Before we get into this, the Spartans did just lose their last road game at Wisconsin. It was a close battle and a good reminder that no one wins for free this season.
At any rate, Cassius Winston has been absolutely spectacular this entire season. Winston is averaging 18 points, six assists and two steals on nearly 40 percent three-point shooting.
He is not the reason for the Spartans' struggles; instead, he is the reason they are even still relevant.
Michigan State has put together some nice wins, but its biggest problem is its players beyond its starting five.
Winston, Xavier Tillman, Aaron Henry and Gabe Brown are all fantastic players, but after that, the talent for the team trails off.
With Winston being a senior and Tillman being a junior, there is a solid foundation of leadership present in the Michigan State locker room. This leadership will be crucial going forward.
The Spartans have the opportunity to bounce back in a big way against this ranked Penn State team.
The Spartans have good matchups to take on and foil what Penn State wants to do, so hopefully, for their sake, they can take care of business.
Betting Preview
Coming into this game, Michigan State seems like it is the better team, and it will be looking to bounce back after its loss to Wisconsin.
Looking at the spread, the Spartans are favored in this contest at -8.5. This spread comes as no surprise with them being the home team.
Even though Penn State has been solid and consistent all season, I am rolling with Michigan State in this game.
Make sure you are locking in all your bets before Tuesday night's tip-off!
Relevant news