Penn State Nittany Lions at Michigan Wolverines Betting Preview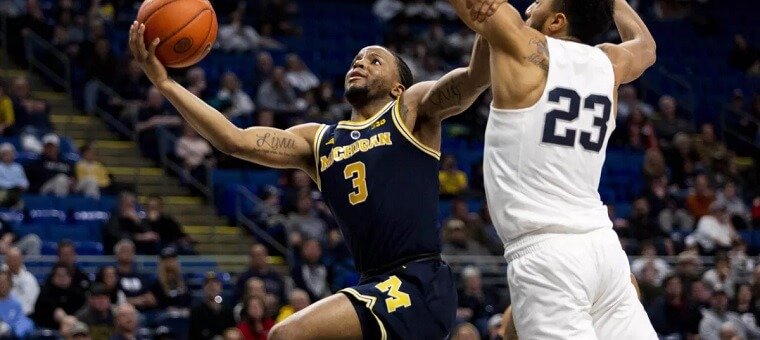 We are currently in the middle of one of the wildest basketball seasons in recent years. There is no clear favorite, and the NBA draft candidates are entirely up in the air.
You almost have to go back to 2006 with JJ Reddick and Adam Morrison to remember the last time there was this much parity in the NCAA.
The good news about parity is that it makes it much more fun to bet. None of the conferences really stand out from each other, and the Big Ten has a strong game headed our way on Wednesday night.
The Penn State Nittany Lions will be on the road to take on the Michigan Wolverines.
It wasn't too long ago that both of these teams were featured in the Top 25 rankings, but they have certainly fallen out of favor of late.
Let's break down the matchup to help you determine where to put your money.
Conference Play Unkind To Wolverines
Before conference play in the Big Ten had started this season, Michigan was 9-2. In conference play, they have gone 2-4 for an overall record of 11-6.
That level of performance is spelling disaster for these Wolverines, as every one of these games starts to mean more.
They have dropped three of their last four, but this could very well be the game to turn it around.
As a team, the Wolverines play as fast as they ever have, averaging nearly 80 points per game. There isn't really any questions on that side of the ball.
Seven-footer Jon Teske is the senior leader and leading scorer for this offense. Averaging around 15 points and seven rebounds for the season, Teske is a dominant force in the paint.
The problem with Michigan has been its defense. While the Wolverines aren't terrible, they really don't force a lot of turnovers, and that prevents them from stringing together a consistent run.
They will have to figure that out if they want to pull this off at home.
Is It Coming Back For The Nittany Lions?
Penn State, like Michigan, has struggled in conference play. The Nittany Lions are sitting at 3-4 in the Big Ten and have yet to wow anybody.
Their defense is smothering, as they have four players averaging at least one steal per game. As a team, they average eight steals per game, and that pressure they put on the ball-handler wins them games.
Led by Lamar Stevens, they also can get it done on the offensive end of the floor.
Despite also losing three of their last four games, I think they have a chance to make some noise this year as one of the most complete teams coming out of the Big Ten.
They are going to have some trouble matching up with Teske from Michigan, but pressuring the guards on the perimeter can make it harder to find ways to get Teske the ball.
If they are able to put a lid on Teske down low, the Nittany Lions could easily walk out of this game with a victory.
Betting Preview
Putting aside all of the strengths and weaknesses of these two, both teams are both very similar in their playstyle and sit at a crucial turning point of the season.
A win in this game could be just what they need to spark their season.
With that being said, the Wolverines are favored in this game at -5.5. I think they are going to dominate with Teske down low and come away from this game with a victory.
Make sure you lock in all of your bets before Wednesday night's tip-off!
Hit us up up on Twitter @Gamble_usa for more game previews
Relevant news