Philadelphia Eagles at Atlanta Falcons Betting Preview
Week 1 of the NFL regular season is in the books, and we saw seasons created and destroyed with how their first game performance went.
In this article, we will be looking at two teams who are on opposite ends of how they feel about themselves. The Philadelphia Eagles will be traveling to Atlanta to take on the Falcons on Week 2's edition of Sunday Night Football.
We will cover the matchup, betting lines and how these teams performed in their Week 1 games, making sure you have all the necessary information to make the best bets.
Without further ado, let's take a look at the matchup:
Philly Special On Pace For Super Bowl?
The Eagles were one of the most confusing teams in Week 1. They hosted the Washington Redskins and were favored by over a touchdown to win the game. Most people did not expect the Redskins to have much success this season, that is until they came out and took a 20-0 lead in the first half.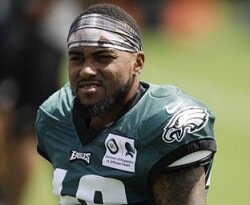 Washington led 20-7 at halftime, and besides one 50-yard touchdown to DeSean Jackson, the Eagles did not have much offense to speak of. The second half was a different story, as the Eagles and Carson Wentz came out and scored 25 straight points to take the lead. They held onto that lead, winning the game 32-27.
After his slow start, Wentz finished the game 28 of 39 with 313 yards passing and three touchdowns. Jackson hauled in two touchdowns to go along with 154 yards receiving. Philly's rushing attack left little to be desired, but overall, it was a feel-good victory to come from behind and have such a dominant showing in the second half.
Will Quinn Be The First Coach Fired?
Look, everyone remembers the 28-3 lead that the Atlanta Falcons had over the Patriots in Super Bowl LI. Ever since that collapse, the Falcons have never really been the same.
It would be an understatement to say that Atlanta looked bad in its Week 1 game. The Falcons' offense was nonexistent for the entire game. They managed to score two touchdowns in garbage time that did not mean anything.
Minnesota had complete control over Atlanta the whole game. Kirk Cousins only attempted 10 passes, and the Vikings rushed for over 160 yards. It was complete dominance on both sides of the ball for a 28-12 Vikings win.
With that being said, in this home opener against Philly, the Falcons need to utilize their weapons on offense better. They need to get Julio Jones going early, and that will open up holes for Devonta Freeman to run the ball effectively.
Matt Ryan, the former MVP, needs to take control of this Atlanta squad or their head coach, Dan Quinn, may be on the hot seat. These Atlanta fans are ready to see their team perform, and Sunday Night Football should be the place to do it.
Betting Lines For Philadelphia At Atlanta
The Falcons are a home underdog in this game at +1, with the moneyline at Eagles -120. The over/under is set at 51.
It may sound like an overreaction, but if Atlanta loses this game at home and starts its season 0-2, it will be a long way to climb back into the playoff picture.
The Falcons' division is unforgiving with the Saints and Panthers, so Atlanta should be motivated at home to get the job done against Wentz and the Eagles.
Take Atlanta as a home dog in this game at +1, and I would attack the over of 51. Both of these teams boast fast-paced, big-play offenses, and we will see them unleashed on Sunday night.
Make sure to lock it in before kickoff!
Check back for more Free Football picks and follow us on Twitter @Gamble_usa
Relevant news