Philadelphia Eagles vs. Washington Redskins Betting Preview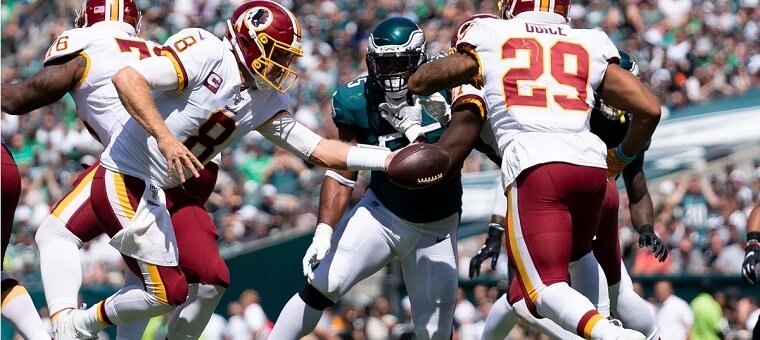 Week 15 of the NFL regular season is upon us, and there are still a number of things that are yet to be decided.
Date: Sunday, December 15th, 2019
Time: 1:00pm
Location: FedExField, Maryland
Watch: FOX

Odds provided by DraftKings Sportsbook – Sign up for a $200 free bet
The NFC East has been one of the most up-and-down divisions in recent memory, with the division title and the playoff spot that comes with it still entirely up for grabs.
The Philadelphia Eagles are in strong contention after their overtime win over the New York Giants on Monday Night Football, and they have a chance to jump ahead with a win this week and a Dallas Cowboys loss.
The Eagles will be on the road to play the Washington Redskins, who have been in all sorts of dismay for the entire 2019 season.
Both of these teams have faced a ton of criticism, but we will break down the matchup to get your Sunday started right.
Is Wentz Really The Problem For The Eagles?
The Eagles came away with a victory on Monday night against the Giants, but it wasn't without making the fans of the team sweat it out.
During the game, the Eagles lost wide receiver Alshon Jeffrey and offensive lineman Lane Johnson in the first half, creating an even bigger hill to climb to win.
Due to injury, the Eagles were down to just one eligible wide receiver on the roster.
Despite all the problems, Carson Wentz found a way to get it done, even with trotting out three tight ends on nearly every snap of the fourth quarter and overtime.
His receivers were dropping balls for much of the first half, but ultimately he was able to hook up with Zach Ertz for two scores to clinch the comeback win.
Boston Scott was a highlight for the Eagles, as he and Myles Sanders looked like a strong duo coming out of the backfield.
Many doubted whether or not Wentz was the problem, but even with all of the injuries, he has proven time and time again that he can make plays happen with the most depleted cast around him.
I think the problems are bigger than Wentz, but he will always find a way to be successful.
What Are We To Do With The Redskins?
Boy, when it rains, it pours over in the nation's capital.
The Redskins have been a hot pile of garbage all season long and have struggled to find any continuity in their play.
They tend to get down early in all of their games and spend most of the time playing catchup with their rookie quarterback, Dwayne Haskins.
Another bit of unfortunate news was running back Derrius Guice going down with an injury. Guice missed all of last season and most of this season before returning for a couple of games. Veteran Adrian Peterson will be replacing him in this contest and will look to have a big day.
There are not a whole lot of bright spots for this team. The Redskins' defense has held teams to less than 20 points in five of their last eight games, but they don't score enough to take advantage of that fact.
Betting Preview
The Eagles draw the betting favorite in this game at -4.5 on the road. Philly has a chance to push itself closer to the playoffs with another division win in this matchup.
Despite all of the injuries, I like what the Eagles have been doing with their offense. They need to patch up the offensive line a little bit more, but Wentz has proven he can get it done.
I'm taking Philly in this game as the road favorite. I think the final score will be close and relatively low scoring, but this game is a must-win for the Eagles.
Make sure you lock in your bets before Sunday morning!
Be sure to check back for more Free NFL & NCAA Football picks and hit us up over on Twitter @Gamble_usa
Relevant news