Can You Use a Prepaid Card on DraftKings?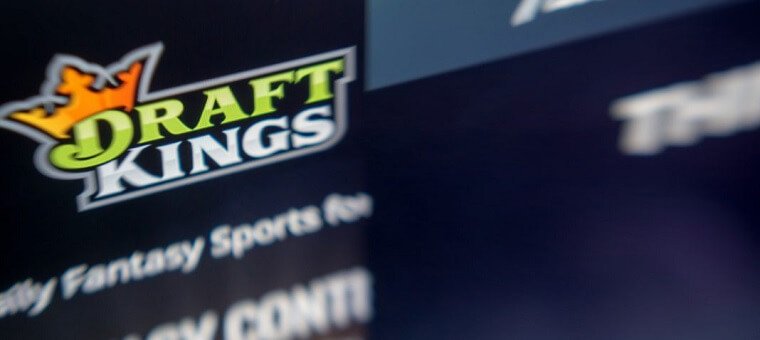 As one of the most popular DFS and sports betting providers in the US, you are probably wondering if you can use a prepaid card on DraftKings?
DraftKings is one of the most popular gaming operators in the world. Its Daily Fantasy Sports offerings, and now sportsbook, attracts plenty of customers to its website and mobile app. One of the most common questions from users of draftkings.com is Can I use a prepaid card?
The answer to this common query is, yes, you can; you need to enter the prepaid card as a debit or credit card. Please note that some states may have limited deposit options and offer only one option, such as PayPal. If that is the case, you can choose to use your prepaid card as a deposit option on PayPal and then deposit on DraftKings.
The sportsbook is legal and available in the following states: New Jersey, Indiana, Pennsylvania, Colorado, West Virginia, New Hampshire, Tennesse, Illinois, and Iowa.
You can join from any state, and claim a $1,000 sportsbook sign up bonus by visiting sportsbook.draftkings.com, but you do need to be in a legal state to place a bet.

21+. T&C Apply
21+. T&C Apply
Some customers who are new to the online gambling world may be wary of providing their personal and sensitive information to a betting website. However, DraftKings is a well-established name, has been around for a good few years, and is a reputable company. They are widely praised for their fantastic customer service levels, so if you have any problems, they will be addressed quickly and efficiently. They are also legally licensed to operate in many states (with more on the way) and are a very trusted brand.
See more:
NJ online & mobile sportsbooks
PA online & mobile sportsbooks
You will have no problems purchasing a prepaid card; they are widely available. All you need to do is choose the monetary amount you want to deposit at DraftKings. All of the major credit cards are accepted on the website, so as long as your bank fir these criteria, you will have no problems. One of the best options is the non-re-loadable gift cards, as once you have purchased them, there are no extra fees involved. Additionally, using gift cards means you don't have to provide any information, and you can use them anywhere.
If any gift cards are lying around from last Christmas or a recent birthday, and they still have at least $5 credit on them, these can also be used to make a deposit. We have all been there when there are small amounts left on gift cards, and you are not sure what to do with them, depositing the remaining amount is a great solution. You can purchase a DraftKings gift card from lots of places throughout the US.
The operator has just their very own DraftKings Sportsbook Gift Card. Available to buy from selected retailers, you can buy a $25 or $50 pre paid card to wager on the sportsbook.
Using Your Prepaid Card on DraftKings
Click Deposit on the cashier section
Select credit card from the list of payment type options
Enter card details from the deposit screen and the amount you wish to deposit
Use the 'other box' if the amount with to deposit is not an option
Click the 'deposit' button highlighted in orange, and you are ready to go
Once you have made your initial deposit, you will be eligible for the DraftKings welcome bonus. The bonuses usually change every month, so keep an eye on the details of the current bonus when you sign up.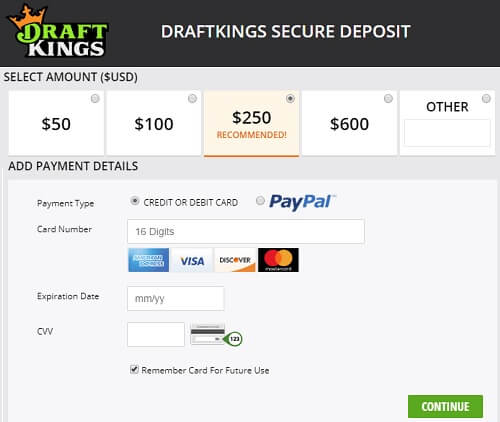 Withdrawals Using Prepaid Cards
When you cash out for the first time, it will automatically be credited to your original deposit method, up to the same value as your first deposit amount. For example, if you initially deposited $30 via your Visa Debit Card, the first $30 will be refunded to your Debit Card. Any winnings you generate after this can be withdrawn via a different payment method. If you need help making a withdrawal, we have a separate guide on how to withdraw from DraftKings sportsbook.
If the gift card you are using is non-refillable or a prepaid card, you will need to reach out to the DraftKings customer service team to inform them you can't access that card, and they will use what method you select.
For our full guide to using DraftKings, you can check out our DraftKings sportsbook review. We also rate and rank the brand new DraftKings casino which is now live in New Jersey, Pennsylvania, and West Virginia.
Follow us on Twitter @Gamble_usa to stay up to date on the latest legal casino and sports betting news across the US.
Relevant news