PrizePicks App
Gamble USA strives to improve your online gambling experience. We aim to help you play safely, make informed decisions when gambling, and increase your betting knowledge through our guides.
We adhere to strict editorial integrity; our content may contain links to products from our licensed & legal US partners.

Legal sports betting and daily fantasy sports continue to grow in the United States. Consequently, more sportsbooks and legal sports betting app options are available for bettors than ever before. One daily fantasy sports operator that has been making waves recently is PrizePicks. This company takes a different approach to DFS than its competitors, such as DraftKings and FanDuel.
A traditional daily fantasy sports platform hosts games that involve building fantasy lineups and competing against other players for points, whereas PrizePicks.com contests are far more straightforward and played against the house.
Some have described this new way of doing things as an amazing gaming app and it is already one of the best sport betting app options on the market.
When playing in a contest on Prize Picks, users choose numerous athletes and make over/under predictions on the stats or fantasy results achieved by their choices for payouts up to 15x the entry fee.
In this PrizePicks app review, we will look at how this daily fantasy sports site works, the welcome bonus, PrizePicks odds, and how this site has changed the way we look at fantasy football.
What is PrizePicks?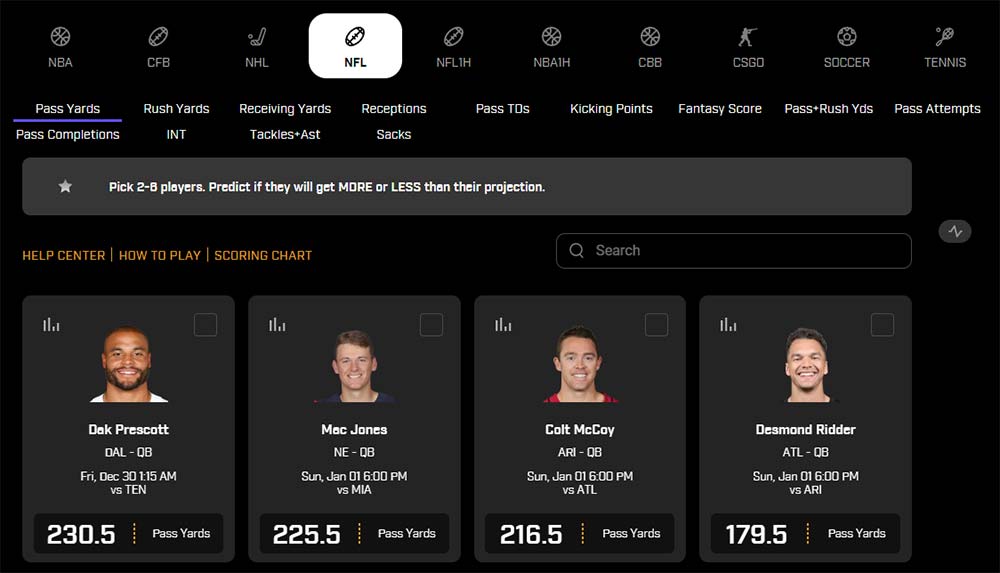 PrizePicks is essentially a daily fantasy site similar to Boom Fantasy, but it feels more like a traditional sports betting site. The concept makes PrizePicks.com a popular choice for people 18 or over who live in states with legal sports wagering.
Once you have created your PrizePicks account and signed in, you will quickly discover that a typical contest involves choosing 2-5 athletes and then predicting whether their actual fantasy output or stats totals will be higher than /less than their projected totals, then waiting for the results.
To break down the above information, PrizePicks differs from traditional DFS sites in the below crucial aspects:
The aim is to make accurate over/under predictions rather than build fantasy points by building a team.
Players don't compete against each other; they earn payouts by making accurate predictions.
There is virtually no learning curve required to start playing on PrizePicks. It is simple; you can make your predictions in under a minute and then relax and watch the game. There is no need to put in hours of research competing against highly skilled players who are constantly tweaking their fantasy teams.
The PrizePicks format is straightforward, and anyone can quickly grasp the concept and play. You may have heard of the fantasy points line or other phrases on more traditional DFS sites, but PrizePicks simplifies the process.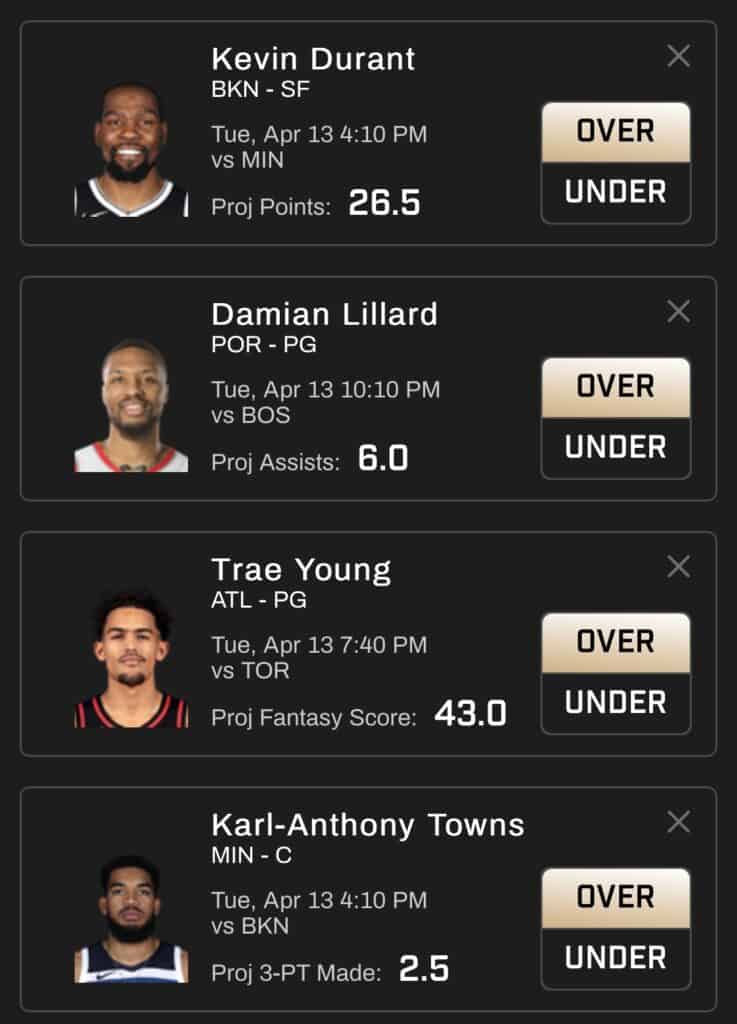 How the PrizePicks Contests Work
The core principle of PrizePicks is to make a simple over/under prediction on fantasy totals or stat totals. If you are familiar with Monkey Knife Fight and other PrizePicks alternatives you will recognize that the PrizePicks contests are similar but not identical.
The contests start by players choosing a team of 2-5 athletes and then deciding if they would rather make predictions on statistical totals like points scored or fantasy point totals. If you choose the "single stat" option to make predictions on player statistics, you must then decide which stat to predict. For example, a PrizePicks NFL game may have players choose touchdowns, field goals, tackles, or sacks, while a soccer game might have users choose between goals and assists.
The PrizePicks interface displays a stats total or fantasy points total underneath each player's total. Then you must predict whether each athlete's actual statistical total or fantasy total will be over or under the projected total. There are two contest types, each with different payouts depending on the number of athletes players add to the selection.
So, in college football, you could wager on Bulldogs quarterback Stetson Bennett will throw over or under his projected total. You could do the same in terms of yard gains or losses for Tom Brady in the NFL or a receiver for total receiving yards. The principle is the same as a player prop with mixed sport entries with numerous markets available. PrizePicks DFS is different from regular daily fantasy football contests as it reaches beyond just football into different sports.
Power Play
Power Play contests provide bigger payouts; however, there are no secondary prizes. You either get every prediction correct for a prize or win nothing.
A breakdown of the payouts is below:
2 Athletes: Pays 3x for two correct predictions
3 Athletes: Pays 5x for three correct predictions
4 Athletes: Pays 10x-15x for four correction predictions
As mentioned above, if you are after a higher payout, this contest is the ideal choice.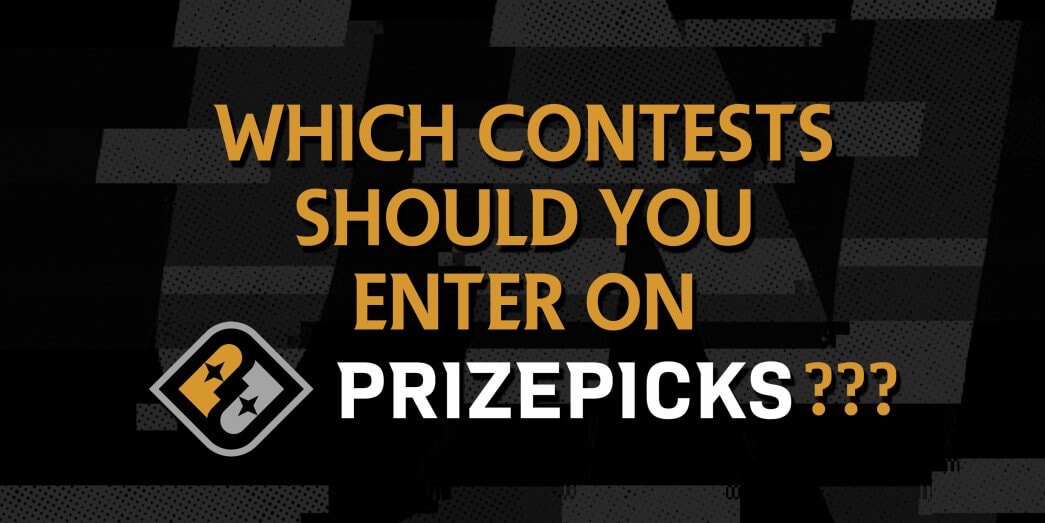 Flex Play
Flex Play offers secondary prizes if you just miss out and come up short in your predictions, although the payouts are lower.
The breakdown for flex play contests is below:
2 Athletes: Pays 0.5x for one correct prediction; 2x for two
3 Athletes: Pays 1.25x for two correct predictions; 2.25x for three
4 Athletes: Pays 1.5x for three correct, 5x for four
5 Athletes: Pays 0.4x for three correct predictions; 2x for four; up to 15x for five
The above might seem a little bit confusing but don't worry. The PrizePicks mobile app takes you through step by step. The desktop website and PrizePicks app direct players through choosing players, making their predictions, and selecting a contest type.
Bonus Information and Promo Codes
Players can get a 100% match on their initial deposit worth up to $100 using the PrizePicks promo code "GAMBLEUSA"
This PrizePicks promo offers new users a 100% deposit bonus for an extra $100. For example, any new player that makes a $25 first deposit would be eligible to receive a $25 bonus, while any new user who makes a $100+ first deposit would get $100 in bonus funds. This PrizePicks offer is very appealing to any sports fans looking to get involved in the Prize Pick action.
The most crucial to note is that players may not withdraw promo funds; they can only use them to enter fantasy contests.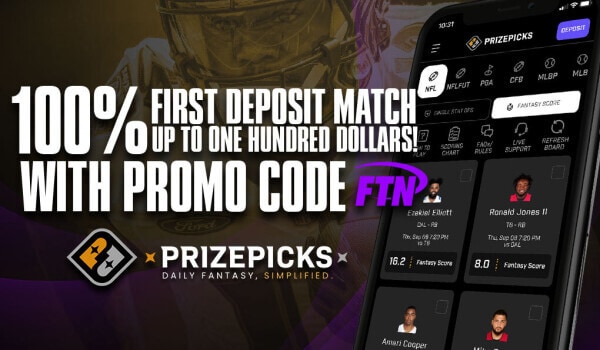 PrizePicks App
The whole concept of PrizePicks is that it is a simple format, and that mantra applies to the mobile app. Customers should experience no issues navigating the app and entering their first contest as PrizePicks designed the interface to guide players through every game step by step.
The PrizePicks mobile app gets the action going instantly once players log in by displaying a list of athletes slated to play in upcoming games from different leagues. Customers can then use filters near the top of the screen to sort the athletes by sport (MMA, NASCAR, NBA, etc.) and add selections as and when they wish.
Once you have made 2-5 selections, you can hit the "go" button to make over/under picks on each athlete's projected fantasy points or statistical total. You can also choose a game (type flex play or power play) and a buy-in amount.
The PrizePicks app shows you how much you are risking on each contest, along with how much you could win for getting 2, 3, 4, or 5 picks correct. You confirm your buy in and payout potential before paying your entry fees, so you know how much you are risking and what you could win.
Once you have entered a contest, you can follow the PrizePicks app for live scoring data and updates. The app is available for iOS and Android devices. You can visit the App Store or Google Play Store to download it. If you are playing on a desktop, you can visit PrizePicks.com to play online.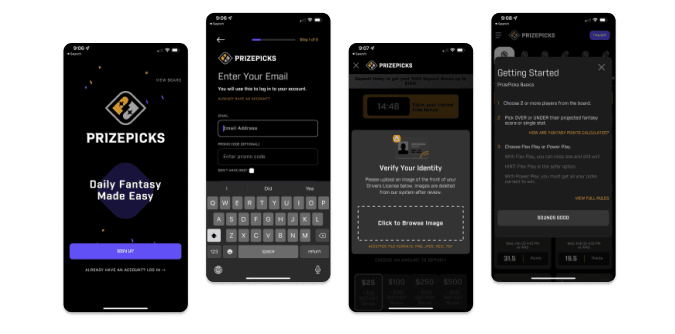 Refer-a-Friend-Scheme
If you feel that PrizePicks is good enough to recommend to your friends, you can invite them to play and receive $25 in promo funds for each person you refer.
To do this, log in to your PrizePicks account, open the user menu and select "invite friends" to get your unique referral code. You can then share that referral code to begin earning money by referring your friends.
Available Sports Markets
PrizePicks contests don't revolve around single sports in the way traditional fantasy sites do, as players can mix and choose between sports when creating contests. PrizePicks does provide live scoring data from a wide range of sports, including:
NBA
1st Half/ 2nd Half Games
Cricket
Call of Duty
NASCAR
CS: GO
Soccer
PGA
NCAAF
Truck Racing
WBNA
Disc Golf
Valorant
Rocket League
As you can see, there is enough action to suit all tastes, with the above sports popular across North America. You could be a massive fan of the New York Giants, Atlanta Falcons, Los Angeles Rams or New Jersey Devils, there are enough sports and teams for you to make some performance predictions.
Banking
You can deposit at PrizePicks by using PayPal and Mastercard. Additionally, players can choose PayPal deposits to fund their accounts with Discover or American Express.
Please be aware the following limits apply to deposits and withdrawals:
Minimum deposit: $10
Maximum deposit: $10,000
Minimum withdrawal: $30
Waiting times for withdrawals can take up to five days.
What States is PrizePicks Legal in?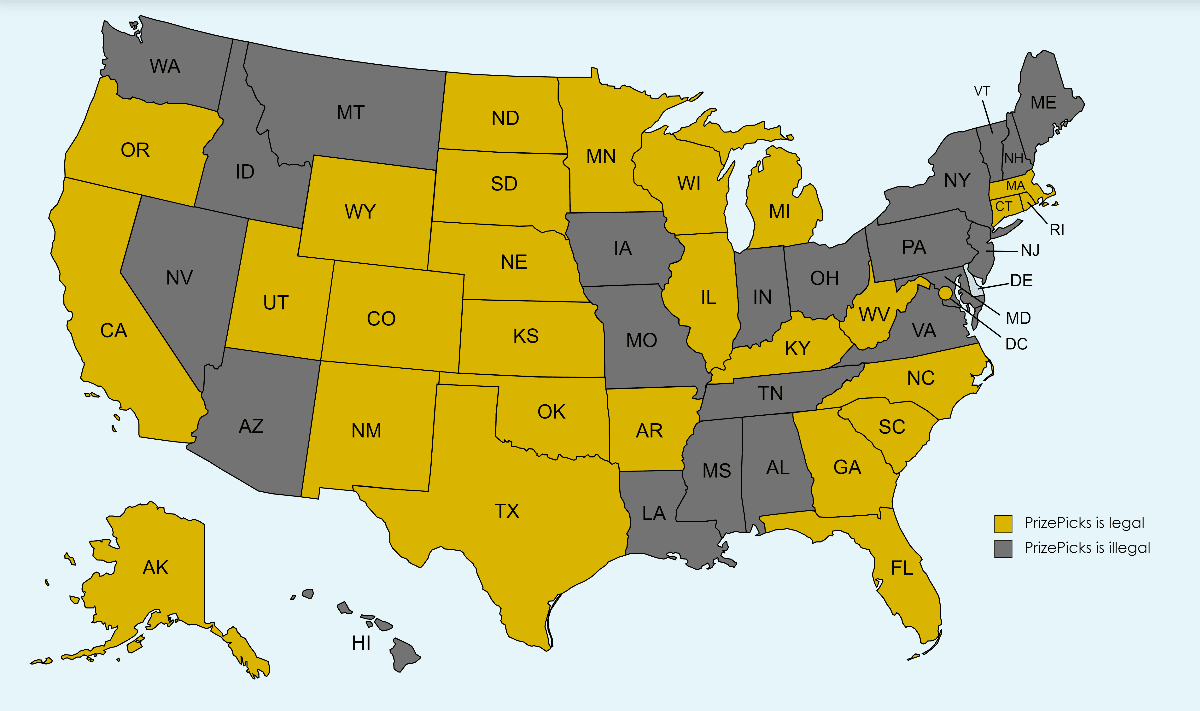 The following are the PrizePicks legal states where everyone over 18 can register to play online.
Florida
Arkansas
Washington, DC
Alabama
Massachusetts
Kentucky
Maryland
Minnesota
North Carolina
Rhode Island
South Carolina
South Dakota
Oregon
Texas
Utah
Vermont
Wisconsin
West Virginia
Wyoming
Please be aware that PrizePicks restricts deposits and withdrawals for players not located in the above states.
FAQs
How do you get promos on PrizePicks?
To get the latest promo codes to use on Prizepicks, make sure to check out our specific Prize Picks Promo Code article, which is checked and updated each month to ensure you get the best promo codes and that these are valid and working fully.
How does PrizePicks work?
PrizePicks is not a typical DFS players contest. Instead, bettors predict two or more players' statistical totals for instant payouts. Also, players do not compete against each other.
Is PrizePicks legit?
Yes, you can legally play PrizePicks in the states we have listed in our review. PrizePicks payouts are all done smoothly, and you are always protected. It is as safe as regular well-known daily fantasy operators such as DraftKings and FanDuel.

$100 Instant Bonus 100% Match Rate
Get Bonus
21+. T&C Apply
18+. T&C Apply