Jeremy Pruitt Out at Tennessee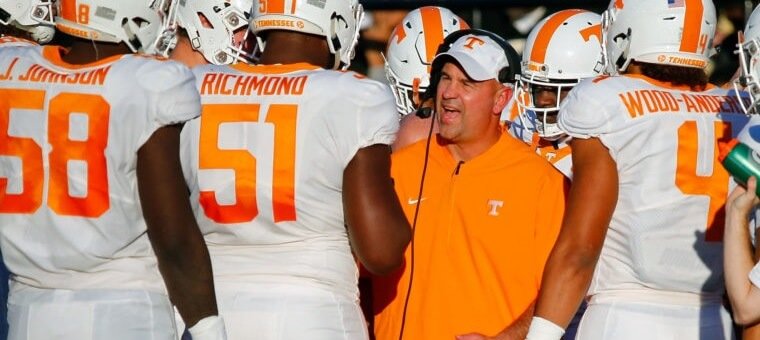 The University of Tennessee is planning to fire head football coach Jeremy Pruitt after conducting an internal investigation.
Pruitt has been notified of this decision after it was discovered that he violated the recruiting policy.
ESPN was able to get a copy of the letter sent to Pruitt, and it was announced that he was being suspended without pay immediately. An official announcement is expected to be made on Tuesday afternoon, which is when the firing will occur.
According to the report, Tennessee found that several recruiting violations occurred under Pruitt, with both assistant coaches and recruiting staff members being guilty. It does not state that Pruitt himself committed any of these violations, but he was unable to have control over his program.
The letter also claims that the NCAA is expected to find that Pruitt was unable to promote an atmosphere of compliance within the program, and NCAA sanctions are likely. By firing Pruitt after an internal investigation, the school could save itself from any additional punishment.

21+. T&C Apply
21+. T&C Apply
Assistant coaches Brian Niedermeyer and Shelton Felton have also received termination letters from the school, along with several other staff members. Athletic Director Phil Fulmer and Chancellor Donde Plowman both signed the letters.
This investigation began in November after it was determined that football recruits were receiving improper benefits while being on campus. Pruitt met with investigators last week, and that meeting was monitored by the NCAA.
Pruitt was given a contract extension and a raise prior to the 2020 season, signing him through the 2025 season. He was set to make $4.2 million beginning in 2021 after being successful in turning the program around.
The Volunteers finished the 2020 season with a record of 3-7, as they lost six of their final eight games. With his tenure now over, Pruitt posted a 16-19 overall record at Tennessee but went just 10-16 in SEC games.
The next head coach at Tennessee will be the sixth new coach since the 2009 season. Pruitt is also the fourth SEC head coach to be fired this season.
Steele In, Fulmer Out
Tennessee recently hired former Auburn defensive coordinator Kevin Steele as a defensive assistant, and he is expected to serve as interim head coach until a replacement can be found. Steele is a former head coach at Baylor, but he is not expected to be a candidate for the permanent job at Tennessee.
A search firm will be hired to help choose the next head coach at Tennessee, but that process could take some time. Tennessee will also be looking for a new athletic director, and he will be in charge of the hiring process.
Fulmer has announced that he will be retiring from his position as athletic director, which could potentially be a huge blow to the university. This investigation had no impact on the decision by Fulmer, who was already planning to step away.
Tennessee hired Fulmer in December 2017 after firing John Currie from the role of athletic director. Fulmer is a Hall of Fame coach at Tennessee, leading the Volunteers to a national title in 1998.
Want to stay up to date on the latest legal sports betting news across the US? Then come and follow us over on Twitter @Gamble_usa.
Relevant news