No More Redskins, Washington Changing Team Name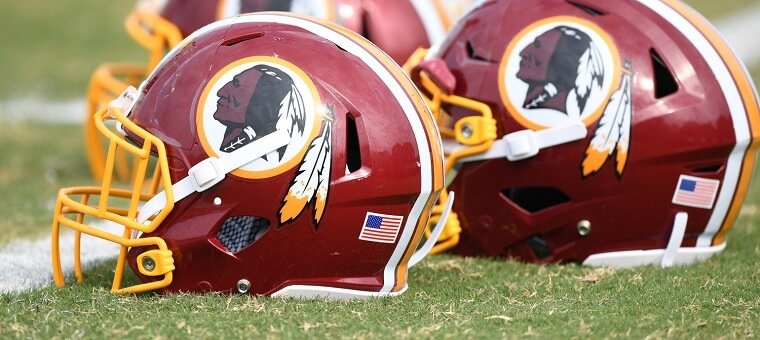 In a move that was widely expected, the Washington Redskins officially announced on Monday that they would be changing their nickname and logo.
The term "Redskins" will no longer be used, and the team has already started to develop plans for a new name.
Owner Daniel Snyder issued a statement on Monday morning, announcing that the organization began a thorough investigation on July 3. The team felt that it was in their best interest to change their nickname and remove the Native American logo immediately.
The announcement also states that Snyder and new head coach Ron Rivera will be working together to come up with a new nickname and team design. Native American imagery is not expected to be a part of any new logo going forward.


21+. T&C Apply
21+. T&C Apply
Washington's logo was designed by a Native American in 1971, and they have had a Native American chief logo since that time. The team has been called the "Redskins" for 87 years, but there have been numerous calls to change the name in recent years.
A "Change the Mascot" campaign has been started, and they put extreme pressure on the Redskins to change their name. Oneida Nation representative Ray Halbritter commended the team for making the announcement so quickly.
Snyder has been unwilling to change the team name and announced in 2013 that he would not even consider the option. He and the Redskins were facing some intense pressure, and some of their key sponsors were looking to end their partnerships with the team.
Some stores such as Amazon and Walmart have also stopped selling Redskins merchandise, and the team was losing money in that regard as well. In the end, it became clear that Snyder needed to change the name, and the decision was made rather quickly.
New Name Expected to Be Announced Soon
The team was hoping to announce their new team name as a part of this statement, but many factors have held that up. Sports Business Daily is reporting that the team is caught up in trademark issues, which is why an official announcement has not been made.
According to a report, there is one man that might be slowing down the process. Philip Martin McCauley has several different trademarks for potential team names, but he is willing to work with the team.
McCauley started trademarking potential team names in 2015, in an effort to keep other teams from using them. He has trademarks for team names such as the Washington Pigskins, Washington Redtails, and the Washington Warriors.
It is believed that the Redskins are hoping to incorporate the military into their new team name, but nothing has been officially announced. The team is expected to keep the same color scheme, although that could change depending on what team name and logo are used.
Several activist groups have already been outspoken about the fact that they do not want the team to choose the nickname, "Warriors." These groups believe that this nickname is too close to the Redskins name, and will continue to conjure up Native American feelings.
Football is still on hold, like a lot of sports across the country but plans are underway to get things moving again.
Come and follow us over on Twitter @Gamble_usa for more legal sports betting news across the US.
Relevant news