Luis Rojas Fired By Mets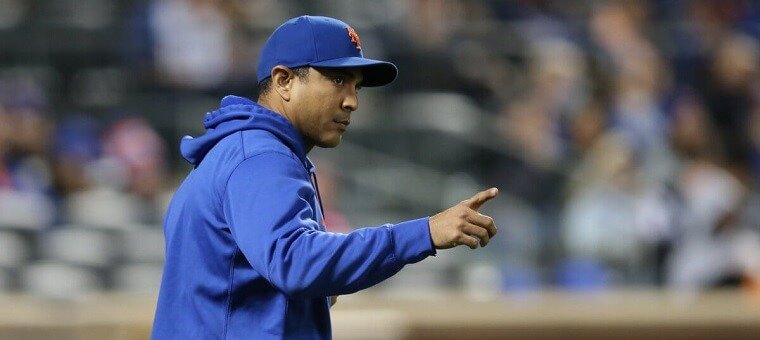 The New York Mets will have a new manager in 2022 after Luis Rojas was fired on Monday by the club.
Rojas just completed his second straight losing season with the Mets and the franchise will be looking to go in a different direction.
New York finished the 2021 regular season with a record of 77-85, but that came after leading the NL East Division for several weeks. The Mets chose to decline the option that was in his contract for 2022, and this was a move that was expected around baseball.
Rojas has been with the Mets organization for more than a decade, and he released a statement after the team made its decision. His statement said, "We live in a results-oriented business, and am deeply disappointed for our staff and fans that we didn't reach our goals this season."

21+. T&C Apply
21+. T&C Apply
The 2021 season was filled with adversity for the Mets, and injuries to key players were also common throughout the year. Still, this team had enough talent to compete in a very weak NL East Division and ownership did not believe that Rojas did a good enough job.
Rojas had his Mets team in place for nearly three straight months earlier this season, but things fell apart quickly at the end of the year. The front office attempted to right the ship by making some big moves at the Trade Deadline, but this team still ended up missing out on the postseason yet again.
The Mets landed on Rojas as the next manager when they were forced to fire Carlos Beltran after he didn't even manage a game. Beltran was involved in the sign-stealing scandal with the Astros and he was let go back in January 2020.
Rojas was working as the quality control coach for the Mets at that time, but did have eight years of experience as a Minor League manager. He was the second-youngest manager in MLB during his time of employment, with Rocco Baldelli of the Minnesota Twins being the only man younger than him.
Mets Have Several Openings
Steve Cohen just completed his first season as the owner of the New York Mets and he will have his work cut out for him this offseason. Team President Sandy Alderson will also be working with Cohen to fill a number of roles, including general manager.
Jared Porter was hired prior to the start of the 2021 season as general manager, but he didn't even make it a month before he was fired. Porter allegedly sent unwanted text messages to females back in 2016 when he worked with the Chicago Cubs.
Zack Scott was then hired to replace Porter, but he was only given an interim tag as the team needed someone to take this position. Scott has been on administrative leave since early last month after he was arrested on a DWI charge.
The Mets have not made an official announcement on Scott, but they are expected to hire a full-time GM and a new President of Baseball Operations this Winter.
Want to stay up to date on the latest legal sports betting news across the US? Then come and follow us over on Twitter @Gamble_usa.
Relevant news