Royal Eagle Sweepstakes Casino
Gamble USA strives to improve your online gambling experience. We aim to help you play safely, make informed decisions when gambling, and increase your betting knowledge through our guides.
We adhere to strict editorial integrity; our content may contain links to products from our licensed & legal US partners.
Royal Eagle Sweepstakes Casino is a gaming software provider available in land-based sweepstakes cafes and online across all US states other than Washington. It allows iGaming enthusiasts to play casino games for free using virtual currency. Despite the lack of real money wagers, players can still win cash prizes by redeeming their sweepstakes coins.
Owned by Social Gaming LLC., Royal Eagle Sweepstakes Casino offers players Android and Apple apps alongside a browser website. The mobile app launched in March 2021, so this is one of a newer breed of social casinos. Its parent company also operates older platforms like Diamond Sky Casino and Cash River Slots, so there is experience on its side.
Players enjoy over 50 game genres, including slots, keno, wheel of Luck, video poker, casino war, and fish games. We struggled to find evidence of any major software providers throughout our investigations, but the game catalog provides a great mix of game types. The inclusion of tournaments and community jackpots is also a major selling point.
All sweepstakes casinos offer their player's multiple ways to gain free sweeps coins, but information was limited for this platform. There are regular exciting bonuses listed on the "Royal Eagle Sweepstakes Slots Cash App" Facebook page, and we expect the operator to add welcome offers and other incentives in the future.
Can you trust Royal Eagle?
Unfortunately, we cannot recommend playing at Royal Eagle Sweepstakes Casino for several important reasons. The registration method is massively convoluted, and there are numerous reports of unpaid winnings. Finding background information about Social Gaming LLC is also challenging.
We'll explore these claims in more detail throughout this review. You'll learn exactly why we have suspicions about this site's legitimacy and a bit more about the games if you want to try your luck. Before we begin, here are some far superior legal US sweepstakes casino alternatives:
What is Royal Eagle Sweepstakes Casino and is it Legit?
Royal Eagle Casino is a sweepstakes operator offering a range of slots, keno, video poker, wheel of fortune, and fish games. Instead of gambling with real money, players use virtual sweepstakes coins to place bets. An iOS casino app and an Android casino app are available via the App Store and Google Play marketplace.
Serious questions surround the company's legitimacy. During our comprehensive review process, we found several worrying characteristics that suggest this platform cannot be trusted.
For example, creating an account with the operator involves texting (385) 412-0427 with some personal details. This is an exceptionally dangerous registration method, especially considering the lack of background information. It leaves players' sensitive data unsecure, with no SSL encryption or trustworthy recipient on the other end of the line.
Cash App is also the only supported payment method we found during our research, which is another indication of illegitimacy. In our experience, most sweepstakes platforms offering Cash App as a casino payment method are better avoided. This is especially true when Cash App QR codes are repeatedly advertised on Facebook pages. Go to the Royal Eagle Sweepstakes Slots Cash App profile, and you'll see what we mean. You can find more cash app casinos with more information about them in this guide.
Unlike traditional online casinos, Facebook can be a great place to learn more about sweepstakes sites. In the case of Royal Eagle Sweepstake Casino, looking here only confirmed our suspicions. There is no way of verifying whether it comes from Social Gaming LLC, but the address is listed as La Goulette, Tunisia.
It appears there is also a land-based sweepstakes casino in this location from the description. Legitimate sweepstakes sites with clean background checks, such as WOW Vegas or Pulsz Casino, are located within the USA. We're unsure we would trust an operator based elsewhere, especially if it's masquerading as a US sweepstakes provider.
Overall, there is absolutely no way we can vouch for this operator's legitimacy. There are far too many red flags for us to be able to recommend it. And don't get mixed up with Royal Eagle Casino, a genuine real-money land-based establishment in Tirana.
Royal Eagle Sweepstakes Casino Bonuses
Despite sustained research, we couldn't find much information about Royal Eagle Sweepstakes Casino bonuses at all. The Facebook page mentions a few seasonal offers but nothing with any regular consistency. Nevertheless, we found some mention of bonuses during our investigations. We cannot verify them, but you can check them out below:
🎰Royal Eagle Sweepstakes Casino
📜Royal Eagle Sweepstakes Casino Promo Code
-
🎁No Deposit Bonus
$20 Free Sweepstakes Coins
💵First Purchase Bonus
100% First Purchase Bonus
🇺🇸 Availability
18+, all US states other than Washington
🤑Other Promotions
Daily Login, Tournaments, Social Media, Community Prizes
Royal Eagle Sweepstakes Casino's welcome offer and first purchase bonus are similar to other competing platforms. However, the fact we struggled to verify these offers is a major downside.
But don't worry. There are plenty of safe alternatives offering players huge welcome bonus packages. For example, WOW Vegas offers amazing sweepstakes software and a 5,000 WOW coin and 1 sweepstake coin no deposit registration offer. Not only this, but you can receive a 200% first purchase bonus. This delivers an exceptional 1,500,000 WOW coins and 30 sweepstakes coins for $9.99.
This is a greater amount of free coins than what Royal Eagle Sweepstakes Casino offers, but it's also fully verifiable. We urge you to take advantage of legit welcome offers from safe and secure platforms.
Royal Eagle Casino No Deposit Bonus Code
There was no mention of no deposit promotions on the Royal Eagle Sweepstakes Casino website, social media, or apps. Nevertheless, sweepstakes casinos must have no purchase offers to comply with legal restrictions. Players must be able to play without spending any real money, or the platform won't class as a sweepstakes site.
But bending the rules is possible, especially if a company fails to provide much background information. Law enforcement would struggle to punish this operator, for example, as it's almost impossible to find enough data surrounding the parent company Social Gaming LLC. As a result, there is nothing to suggest this sweepstakes casino actually offers a no deposit bonus code. We saw mention of a $20 in free sweepstakes coins promotion but couldn't validate it.
If you're looking for a generous and easily obtainable no deposit sweepstakes welcome bonus, Stake.us Casino is a far better option. You can receive a Stake cash coin and 10,000 gold coins after completing your registration. This is among the industry's best no purchase promotions.
Welcome Bonus
Similar to the registration offer, we couldn't find any concrete information on the first purchase welcome bonus. It would be surprising if Royal Eagle Sweepstakes Casino didn't offer some kind of coin package promotion. We found mention of a 100% first purchase offer but verifying this proved impossible.
Even if the platform had an obvious welcome bonus, there's no guarantee it would actually pay. As mentioned, there are several dodgy aspects to this site. You're better off taking advantage of the countless generous no deposit registration offers and purchase bonuses from legal US sweepstakes casinos.
How Royal Eagle Sweepstakes Casino Works
Royal Eagle Sweepstakes Casino uses virtual currency to allow players from all US states other than Washington to get in on the fun. The platform isn't classed as an online gambling site, as you bet with sweepstakes coins rather than real money. This allows social casinos to evade strict US gambling laws. For context, real money online casinos are currently only legal in six states.
As far as we could tell, the only currency available at Royal Eagle Sweepstakes Casino is US dollars. You can use Cash App to purchase coin packages and redeem cash prizes after winning enough sweeps coins.
How to Get More Sweepstakes Coins
Sweepstakes sites usually give their customers multiple ways to get more sweepstakes coins via regular promotions. There are almost always daily login bonuses, referral schemes, and VIP programs available.
Unfortunately, we couldn't find much information on regular Royal Eagle Casino promotions. You can check out the few things we did find and some examples of common offers below:
Community Jackpots: We found mention of Community Jackpots on a website called internetcafe.games, a marketplace for sweepstakes cafes looking for gaming system software. It mentions Community Jackpots under the Royal Eagle page, so we assume the operator offers these. There isn't any extra information, but we assume there are some community

progressive jackpots

available. These can result in big wins!
Tournaments: internetcafe.games also mentions Royal Eagle Tournaments. These pit players against each other, with a significant prize pot available at the end. If you win, you could receive a hefty amount of free sweepstakes coins.
Social Media: Keep an eye on the "Royal Eagle Sweepstakes Slots Cash App" Facebook page, as there are regular gold coin package promotions to take advantage of when you want to buy gold coins.
Daily Login: Although there is no concrete mention of a daily login bonus on this platform, it's common throughout the sweepstakes industry. For example,

BetRivers.net

offers players free coins every four hours.
Royal Eagle Sweepstakes Casino Software and Casino Games
Royal Eagle Sweepstakes Casino is a social gambling platform and a gaming software provider in its own right. Players can choose from various slots, keno, video poker, casino war, wheel of luck, and fish games.
One thing we must flag here is that there is no way of verifying whether these games are fair. Third-party testing is non-existent, and we also struggled to find any meaningful reviews of Royal Eagle titles online. As a result, there is no guarantee these games aren't rigged.
If you're looking for high-quality and provably fair sweepstakes casino games, alternatives like Pulsz Casino are far better. This platform offers a wide range of iGaming titles from leading developers, such as Pragmatic Play and Relax Gaming. You can play Megaways titles, vintage slots, or other innovative game mechanics. Moreover, these games all come from reputable developers, so you can play with full confidence.
Nevertheless, if you still feel like trying your luck playing Royal Eagle Sweepstakes Games, we've listed the game categories below:
Slots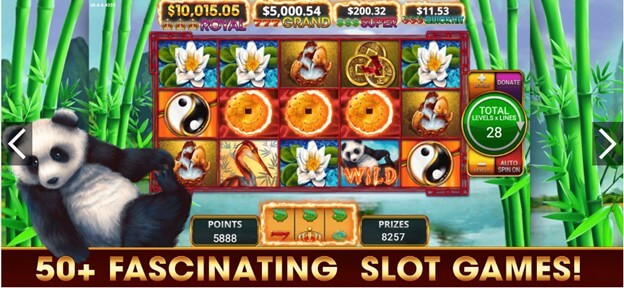 The operator probably won't appeal to major online slot enthusiasts, mainly because its gaming software is limited to in-house titles. There aren't a huge number of slots available, although there is a nice variety of different themes. Here are a few examples of what to expect:
Royal Eagle Panda
Royal Eagle Crime Scene
Royal Eagle Lucky Clover
Wheel of Luck
Royal Eagle Sweepstakes Casino has a selection of simple yet exciting wheel of luck games. These involve spinning a wheel and hoping it lands on a prize. Evolution popularized these types of games with live dealer titles such as Crazy Time. This social casino doesn't offer anything on that level, but there is a basic video software wheel of luck game:
Royal Eagle Wheel of Luck
Keno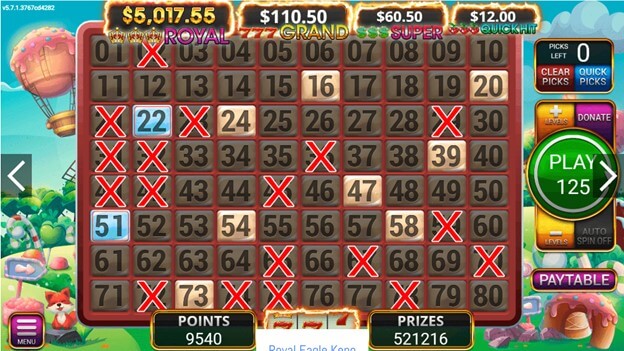 Keno is a slightly rarer iGaming option, so hat's off to Royal Eagle Sweepstakes Casino for including it. This lottery-inspired gambling game has become more popular in recent years, especially at social casinos. The operator has its own in-house keno game to play:
Video Poker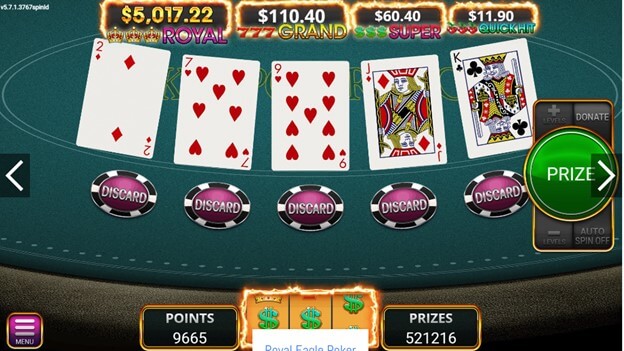 Royal Eagle also has an in-house designed video poker title. It features a Quick Hit, Super, Grand, and Royal Jackpot. Extra information is very limited, but we imagine it works much like other online video poker games.
Account Registration
New players will have their work cut out when creating a new account with Royal Eagle Sweepstakes Casino, as it's a very convoluted and strange process. As mentioned earlier in the article, you must text (385) 412-0427 with your details to open an account. Alternatively, you can send the Facebook page a message or go to a land-based sweepstakes cafe and register.
We don't trust any platform that makes it this difficult for new players to sign and play. Most social casinos offer straightforward registration forms, so this sign-up process looks extremely suspect. Our advice? Stay away. There are plenty of legal and safe US sweepstakes casino apps to check out instead.
Mobile Casino and App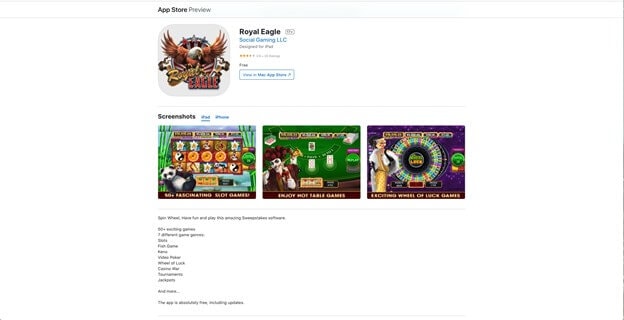 Weirdly, the Royal Eagle Sweepstakes Casino apps are some of the only characteristics that look half-legit. Most social casinos only have browser websites, so the presence of an iOS and Android app is certainly a highlight.
The iOS casino app is available on the App Store and has a 3.6 rating after 25 reviews. The fact it's available on the official marketplace indicates its trustworthiness. However, there are several negative reviews citing a lack of payment.
The Royal Eagle Sweepstakes Casino app is also available on the Google Play store. It has a 3.7 rating after 121 reviews. Unfortunately, we also found plenty of negative reviews complaining about missed payments and bonuses.

Royal Eagle Purchase and Redemption Methods
It's a recurring theme, but we couldn't find any real information relating to Royal Eagle Sweepstakes Casino's payment and redemption methods. It looks like you can only purchase gold coins via Cash App by looking at the Facebook page. The absence of any information or more reputable payment methods is worrying. It's a significant reason why we cannot recommend this platform.
Redeeming Cash Prizes
Similarly, there is hardly any information on redeeming cash prizes. During our comprehensive research process, we only found mention of Cash App redemptions a few times. Meanwhile, there were plenty of complaints citing unpaid winnings.
Support Channels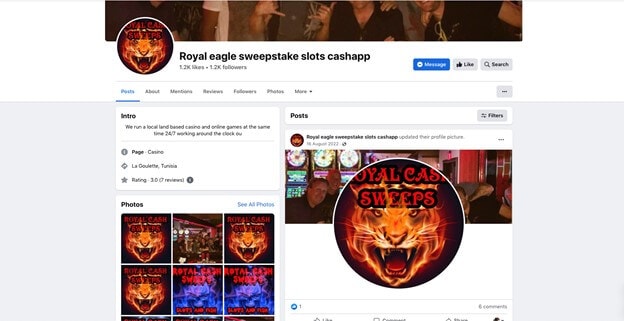 If you run into any problems while playing at Royal Eagle Sweepstakes Casino, the only thing we can suggest is contacting the Facebook page. Other than this, you can try texting (385) 412-0427, but we didn't receive any response during our investigations.
This is in stark contrast to other legit and recommended US sweepstakes sites. Most of them have live chat support or at least an email support address.
Royal Eagle Casino Hits and Misses
Regrettably, Royal Eagle Sweepstakes Casino has considerably more misses than hits. Check out a summary below:
| ✅Hits | ❌Misses |
| --- | --- |
| iOS and Android apps | Limited background information |
| Exclusive Games | Hardly any mention of payment methods |
| | Unregulated gaming software open to rigging |
| | Weird and convoluted registration method |
Royal Eagle Sweepstakes Casino Overview
In summary, there is no way we can recommend playing at Royal Eagle Sweepstakes Casino for several high-profile reasons. Primarily, the strange lack of information leaves many important questions unanswered. We struggled to find data concerning the background information, payment methods, location, and games throughout our comprehensive research process.
In fact, the "Royal Eagle Sweepstakes Slots Cash App" is allegedly based in Tunisia. This is strange for a sweepstakes site aimed at US players and only confirms our suspicions. Elsewhere, the registration process is weird and untrustworthy. The fact you must text a number or message a Facebook page reeks of unprofessionalism and illegitimacy.
Ultimately, you're much better off playing at some of the following legit US sweepstakes casinos with generous bonuses, watertight security, and amazing sweepstakes software:
FAQ's
Is Royal Eagle Sweepstakes Casino legal in the USA?
Yes. Royal Eagle Sweepstakes Casino is legal across all US states other than Washington.
Can I win real money playing at Royal Eagle Sweepstakes Casino?
Yes. Players can allegedly win real money prizes by redeeming sweepstakes coins. However, we found several user complaints citing missed payments during our review process.
What games can I play at Royal Eagle Casino?
Royal Eagle Sweepstakes Casino software covers slots, keno, video poker, wheel of luck games, and more.
Do I need a Royal Eagle Sweepstakes Casino bonus code?
No. The welcome bonus should be credited after registration. Just bear in mind information here is very limited.
Is Royal Eagle Sweepstakes Casino legit?
We cannot vouch for Royal Eagle Sweepstakes Casino's legitimacy. There are far too many red flags to recommend this operator. In fact, we suggest staying away.

$20 Free Sweepstakes Coins
Get Bonus