San Francisco 49ers at Arizona Cardinals Betting Preview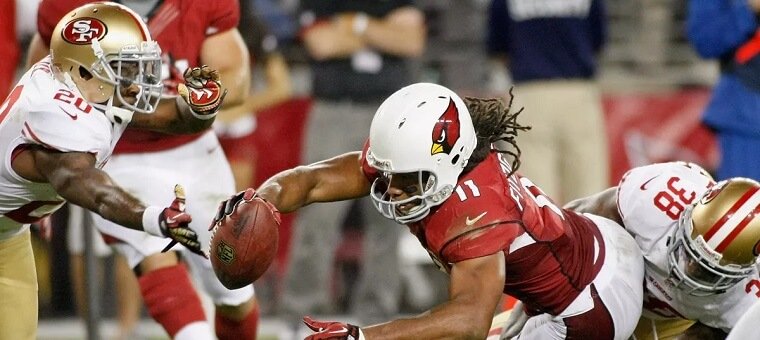 After officially reaching the halfway point in the NFL season, we finally have a legitimate idea of who the real contenders are in both conferences.
Game time: Thursday, October 31st @ 8:20pm
The NFC appears to house the stronger grouping of the two conferences, and they hold one of the two remaining unbeaten squads, the San Francisco 49ers.
After their showing this past weekend against the Carolina Panthers, it may be time to start taking the 49ers seriously. I have seen some experts argue against their strength of schedule, but they are in one of the toughest divisions in football and absolutely dismantled the Panthers on both sides of the ball.
Our Thursday night matchup will have the 49ers traveling to face their division rival, the Arizona Cardinals. The Cardinals have been up and down all season and have recently been plagued by injury, but they could make some noise at home.
Let's break down the matchup and help you determine your best bets.
Unbeaten And Won't Stop Rolling
Many experts in the media thought playing against the Carolina Panthers would be the game that the 49ers would inevitably mess up in and let Christian McCaffrey continue his sneaky MVP run.
McCaffrey put up his numbers, but San Francisco's win was never in doubt in this one. Tevin Coleman finished the contest with four total touchdowns and over 100 yards from the line of scrimmage.
That is the 49ers' game plan. Their defense has been dominant and lights out, and I feel like if the New England Patriots were not on their historic run, people would be more aware of how good this defense really is.
Jimmy Garapolo has been the ultimate game manager, and why shouldn't he be? He boasts three quality running backs behind him in Coleman, Matt Breida and Raheem Mostert. San Francisco rushes the ball nearly 40 times per game, and it has been their bread and butter all season long.
The Cardinals just gave up over 100 yards rushing to Latavius Murray in New Orleans, so in this matchup, San Francisco's backfield should be able to eat all over again.
Nothing But Highs And Lows For The Cardinals
After three straight victories, it looked as if the Cardinals had figured some things out, and rookie Kyler Murray was the real deal.
However, they ran into a brick wall in New Orleans as the Saints welcomed back Drew Brees and had their way all over the field. Brees did not have his A-game yet coming off of his thumb injury, but Latavius Murray took full advantage of Alvin Kamara being out and lit up the shaky Cardinals run defense.
I thought for a moment that the Cardinals were sneaky good, and maybe they still are, but their defense does not stand a chance against the best teams in the league. San Francisco has one of the most dominating rushing attacks in the NFL, and I think that it will be hard for Kyler Murray against the best team in the NFC.
The Cardinals were without David Johnson this past weekend and lost backup Chase Edmunds to injury during the game. If they are on their third-string running back, that is not going to bode well for them.
Game Prediction
Vegas has the 49ers favored in this game at – 8.5. There should be no hesitation in anyone's mind to take them in this one.
There were some doubts about Jimmy G and his team going into this weekend, but I think Kyle Shanahan dispelled any question marks people still had.
This game should be over early, and San Francisco's rushing attack will help it maintain its lead with ease.
Just make sure you lock in your bets before kickoff and enjoy Halloween!
Be sure to check back for more Free NFL & NCAA Football picks and follow us on Twitter @Gamble_usa
Relevant news