Santa Came Early In Michigan: Sports Betting Bill Becomes Law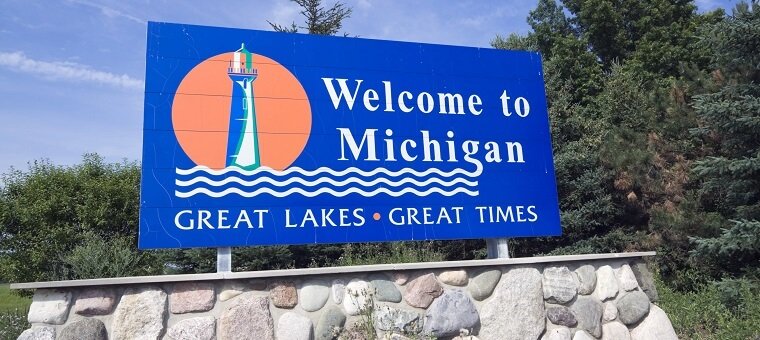 Online sports betting is now legal in Michigan after Governor Gretchen Whitmer signed a package of bills.
That's not all that was signed off as fantasy sports and online casino and poker have also been legalized, with officials hoping to have everything up and running by the 2020 NCAA Men's Basketball Tournament in March.
As a result, Michigan becomes the ninth state to legalize sports betting in 2019 and the 21st jurisdiction (20 states plus Washington DC) overall.
It also becomes the fifth state to legalize online casinos and the sixth to legalize online poker.
The three House bills that make it all possible are as follows:
House Bill 4311 – allows the Michigan Gaming and Control Board (MGCB) to regulate online and mobile casino games.
House Bill 916 (Legal Sports Betting Ac) – both tribal and commercial casinos will now be able to offer both land-based and online sports wagering.
House Bill 4308 (Fantasy Sports Consumer Protection Act) – sets out a legal framework for  fantasy sports contests in the state.
Long road to legalization
State Sen. Curtis Hertel Jr. played a big part in the final process, amending the bills to get the governor's support, and his prediction that they would be "signed before Christmas" proved on the money.
But it was another lawmaker, Rep. Brandt Iden, that had laid the groundwork going back to 2018.
His original sports betting bill was vetoed by an out-going Governor but his perseverance, and in particular his work in getting the state's 24 Indian tribes on board, eventually paid off.
An even bigger obstacle, however, was the proposed tax rate for iGaming and sports betting, with Iden's proposed 8.75% falling way short of the 15% demanded by Whitmer.
Her concerns were that sports betting would draw money away from the state lottery, and ultimately the School Aid Fund, which has benefited by more than $250 million since the lottery was set up.
Those fears were addressed by the last-minute adjustments to the bills, by fellow Democrats, and the key details of the sports betting bills include:
Michigan's three commercial and 23 tribal casinos will be allowed to offer sports betting at their brick-and-mortar facilities as well as online, subject to licensure.
A tax of 8.4% on adjusted gross gaming revenue (commercial casinos pay an additional 1.25% city tax to Detroit).
Fees to offer sports betting include $50,000 for an initial application, $100,000 for the license and then $50,000 annually.
Sports betting operators are limited to using one internet sports betting platform (or "skin") in the state.
All in-play wagers offered must use official league data, the fees for which remain undetermined (the law allows the MGCB to arbitrate any disputes).
"My top priority in signing this legislation was protecting and investing in the School Aid Fund, because our students deserve leaders who put their education first," Whitmer said in a statement. "Thanks in part to the hard work and leadership of Sen. Hertel and Rep. [Elizabeth] Warren, these bills will put more dollars in Michigan classrooms and increase funding for firefighters battling cancer. This is a real bipartisan win for our state," she added.
As mentioned, online casino, poker and daily fantasy sports were also given the green-light and here are the key ins and outs of the legislation:
iGaming will incur higher taxes and the tiered structure will range from 20% to 28% – this represents something of a compromise from lawmakers in return for lower sports betting taxes.
Each casino in the state will be permitted to pursue licenses for both online casinos and online poker, with each property afforded one brand in each vertical. Fees mirror that of the sports betting model.
The DFS law sets the tax rate at the same 8.4% rate as sports betting. Operators will also have to shell out $20,000 for initial licensing and $5,000 for annual renewals, both set relatively low to encourage smaller companies to join the likes of industry giants DraftKings and FanDuel.
The bottom line
Michigan expects to make $19m in sports betting revenue annually. That could prove a conservative figure given the state's large population and the nature of the sweeping new sports betting bills, which allow for multiple operators, statewide online/mobile wagering, reasonable tax rates and betting on all college sporting events. Indeed, everything is in place to create a top sports betting market to rival some of the existing lucrative markets in the country, such as New Jersey and Pennsylvania.
Hit us up up on Twitter @Gamble_usa for more legal US gambling news.
Relevant news