SBK Sportsbook App
Gamble USA strives to improve your online gambling experience. We aim to help you play safely, make informed decisions when gambling, and increase your betting knowledge through our guides.
We adhere to strict editorial integrity; our content may contain links to products from our licensed & legal US partners.
The SBK Sportsbook is an up-and-coming sports betting service that gets rid of the margin the house normally implements on a standard bet and passes the savings onto the user! It's a smaller sports betting platform only available in two states and has become increasingly popular due to its phenomenal odds and user-friendly mobile sports betting app.
The SBK Sportsbook was created in 2008 in the UK by the Smarkets Betting Exchange, one of the world's largest betting exchanges. It launched in the United States in 2020 and is available in Colorado and Indiana thanks to a deal with Full House Resorts to become their exclusive mobile sports betting app.
The following review details how to join the SBK Sportsbook, how to download the SBK app, its stand-out features, banking and customer support options, areas it could improve, and our overall thoughts and impressions.
How to Join the SBK Sportsbook
Creating an SBK account is simple and only takes a few minutes to complete. First of all, SBK is completely mobile-exclusive, meaning that you will need to download the SBK online sportsbook app on your mobile device to use it because the website doesn't provide access to the platform.
After the app is downloaded, users will need to open it up and create an account in the app by clicking the "get started" button on the homepage. From there, you will need to enter your phone number, email address, and create a password for your account; these credentials will be how you sign-in in the future.
After your sign-in credentials, you will need to enter your full name, address, and the promo code you intend on using, in this case, "SBK100". After the promo code is entered, you will need to enter your date of birth and the last four digits of your social security number to finish verifying your age and identity, followed by creating a username for your account.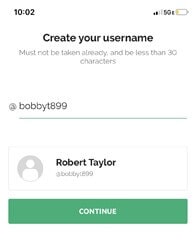 After your account is created, you will need to verify your email before your account is fully complete and ready for both deposits and withdrawals. You will also have the choice to upload a legal document verifying your identity, which can be done through the account section pictured below.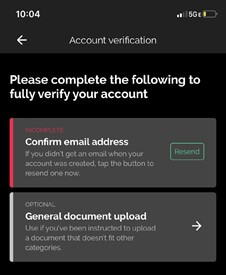 The SBK Sportsbook Mobile App
The SBK Sportsbook Mobile App performs phenomenally as its user interface is well-organized and the features offered are great for both existing and new customers. One of the most interesting features that separate the SBK Sportsbook from the competition is its social feature, which effectively works as a sports betting version of Facebook (as seen below).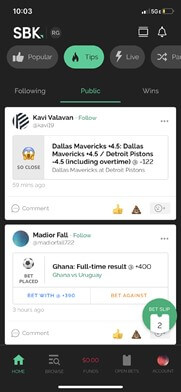 This social media feature allows users to follow other bettors and see their posted betting history, whether it be their friends or the platform's best bettors! Doing this allows users to profit from someone else's hot streak as well as share betting tips and tricks for upcoming events or just betting strategies in general.
The SBK Sportsbook mobile app is perfect for iOS and Android users and can be easily downloaded on either the Google Play Store or the Apple App Store. Read below for more information on each of the different operating systems apps.
Downloading the SBK Sportsbook Android App
If you're using Android mobile devices, downloading the SBK Sportsbook app is very easy and can be done through the Google Play Store or the Android app market. The Android app requires a minimum APK of 5.0 and can be found by searching for the "SBK Sportsbook" or clicking the link below.
SBK Sportsbook Android App Download
Downloading the SBK Sportsbook iPhone App
Similar to the Android app, the Apple app can be found by searching for the "SBK Sportsbook in the app store or by going to the SBK website. It requires a minimum iOS of 12.0 and 78.7 megabytes of free storage to download the sportsbook product on Apple devices.
SBK Sportsbook Apple App Download
Our Thoughts on SBK Sportsbook
While the SBK Sportsbook has a few drawbacks, such as a limited number of promotions and betting markets, it benefits from its unique experience because of its memorable betting app and having the best odds. The best odds speak for themselves, but the betting app has several different key features that allow users an experience that is hard to find anywhere else.
While many online sports betting operators have a social aspect to their app, the SBK app is on a different level. The SBK app features the social tab on the top of the screen and encourages users to use it to get betting tips and picks from other users on the platform.
As mentioned above, SBK doesn't feature the most betting markets, but it does feature the most popular, which means unless you have an obscure bet, it's probably offered on the platform (more details on that later). It also features several withdrawal and deposit options that process quickly, don't have fees, and have reasonable transaction minimums.
Bonus Information
This is the section for you if you're looking for information on an SBK promo code. Below is detailed information on the welcome bonus, promotions for existing users, and how to claim these bonuses.
Welcome Bonus
The welcome bonus for users who create a new account is $100 in free bets for placing an initial wager of at least $20. The wager will need to be placed on minimum odds of -200 and can be placed on any sports betting market, including major sporting events like the Super Bowl or World Cup.
The free bet expires after 90 days and can be placed in $1, $5, or $10 increments, meaning you will receive a minimum of 10 free bets from this offer! Winnings from free bets will not include the initial risk from the free bet, meaning if you place a $10 free bet on a +500 wager, you will receive $50 for winning instead of $60.
Promotions for Existing Customers
Promotions for existing users are one of the aspects of the SBK Sportsbook that needs some improvement, and as it becomes more popular, it will likely get it. Currently, promotions are region based, and the last one in Colorado and Indiana was when the Broncos played the Colts in Denver on Monday Night Football in early October. This promotion was just a risk-free bet worth up to $10 and was only available for that event!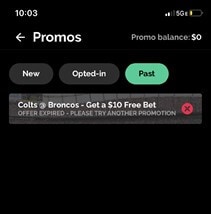 Stand-out Features
The biggest stand-out feature is the community-led social network that is featured through the app on the tips tab at the top of the screen. When you download SBK, you're getting more than just a betting platform; you're getting a betting resource because of the available knowledge that's passed around on their social platform in the app.
One of the other best features of the app is its Price+ option (pictured below) which allows users to look at the odds available on SBK compared to other online sportsbooks. Because SBK takes out the extra house margins, they're almost always featured at the top of the list or at least the top 3.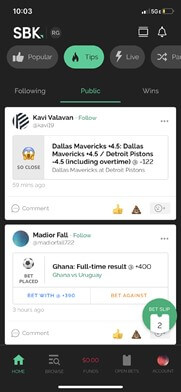 Other features that SBK offers include live betting options and an early cash-out feature that allows users the ability to cash out their bets during the event before it ends. Cashing out early is a form of live betting where the user is betting with the sportsbook on whether or not their bet will end up winning.
SBK Sports Markets
The SBK Sportsbook has a limited number of sports markets, but the sports and leagues they do have are essential for all American sports bettors, meaning that most people will have their bases covered. As of right now, SBK features eight total sports with 29 leagues available, all of which are listed below: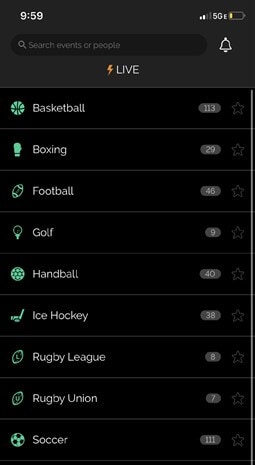 SBK Betting Options
Similar to the betting markets, SBK has a limited number of betting types and options. While it covers all of the basics, it doesn't feature more complex betting types like same-game parlays, round robins, or flash bets. All of the betting options on the SBK sportsbook are listed below:
Moneyline – the outright winner of the event
Over-under totals – a bet on the total points scored in the event between the two teams
Point Spread – a bet on who will win an event given a spread; meaning points will be given or taken away from the end result
Halves – any of the betting options above, but for the first half of the event exclusively
Quarters – any of the betting options above, but for specific quarters of the event exclusively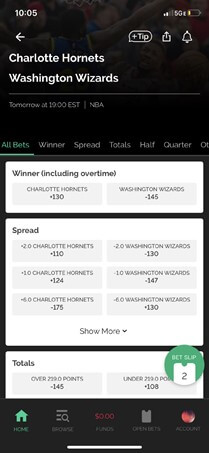 Which states is the SBK Sportsbook available in?
The SBK Sportsbook mobile app is only available for users in two states, Indiana and Colorado. It first came to Colorado in April of 2020 by acquiring a license from the Colorado Division of Gaming, then expanded to Indiana in February of this year after obtaining a license from the Indiana Gaming Commission, both of the governing bodies in each state.
While the SBK Sportsbook app is mobile exclusive, their partner Full House Resorts features several retail betting locations around the country that feature both sports betting and casino gambling. For example, the Rising Star Casino Resort in Rising Sun, Indiana, and Bronco Billy's Casino in Cripple Creek, Colorado, are two retail locations where bettors can gamble in person!
Banking
With the SBK Sportsbook being a smaller platform, it has fewer options available for banking methods and is somewhat limited in this regard. While it still has enough to get the job done, it only features a few convenient ways to pay through a third party outside of Skrill or PayPal, and it doesn't offer an option to pay in cash.
Deposit Methods
| 💳Deposit Method | 💵Minimum Deposit | 💲Fees | ⏱️Processing Time |
| --- | --- | --- | --- |
| Debit or Credit Card | $10 | $0 | Instant |
| PayPal | $20 | $0 | Instant |
| Skrill | $10 | $0 | Instant |
| ACH Wire Transfer | $100 | $20 | 1-2 business days |
Withdrawal Methods
| 💳Withdrawal Method | 💵Minimum Withdraw | 💲Fees | ⏱️Processing Time |
| --- | --- | --- | --- |
| Debit or Credit Card | $10 | $0 | 1-2 business days |
| PayPal | $20 | $0 | 1-2 business days |
| Skrill | $10 | $0 | 1-2 business days |
| ACH Wire Transfer | $100 | $30 | 1-2 business days |
Customer Support & Contacts
If you're using the SBK Sportsbook and require customer support, you will have two options available to contact them. First, if your questions or concerns are not dire, you can contact customer service through email at support@getsbk.com, and they will assist you with your needs in a little under two days. If you're having trouble signing in or settling a former bet, emailing customer service will be your best course of action.
If you're in a more time-sensitive situation, call customer service at (720)213-6164 to accommodate your needs promptly. For example, calling customer service is the best course of action if there is an issue with geolocation services or payments.
Areas For Improvement
Regarding areas of improvement for the SBK Sportsbook, it just needs to get a little more in-depth than it already is. As of now, it's somewhat barebones and only has the essential betting markets and betting types, which is where they need to improve the most.
While they have all of the basic bets like moneyline, totals, and point spreads, they lack more in-depth wagers, such as prop bets on specific stats of individual players, and the more complex wager types like same-game parlays or round robins. SBK also features the main popular sports like football, basketball, and hockey but lacks popular markets like tennis or the UFC.
Similar to this issue, SBK also lacks regular ongoing promotions for existing users, meaning the only bonus you're getting is from the odds.
Final Words
I believe the SBK Sportsbook is worth using because of its great odds and easy-to-use user interface that makes betting on the app a breeze even for beginners. While it doesn't feature all of the bells and whistles that DraftKings or FanDuel might offer, it is a great sportsbook that features phenomenal odds with a very helpful social tool that allows the user to follow their favorite sharps.
It is somewhat limited in its features and betting markets; however, it offers several of the most popular leagues, like the NFL and NBA, with college sports along with them, allowing users to get almost anything they need out of the betting app. The betting types could also be better, but if you're only looking for standard straight bets, SBK is the place for you.
FAQ's
Is the SBK Sportsbook safe?
Yes! The SBK Sportsbook is legal and licensed in Indiana and Colorado. It has licenses through the Indiana Gaming Commission and the Colorado Department of Gaming which ensures user information security.
Is there an SBK mobile app?
Yes! In fact, there isn't an SBK website, and the only way to gamble with this operator is by using the mobile app, which can be downloaded on either Android or Apple devices.
Which is the SBK Sportsbook bonus code?
The promo code for the SBK Sportsbook welcome offer is SBK100, which should be used during the registration process to give the user a chance at $100 in free bets after placing an initial wager of at least $20. This offer is only available for new customers and cannot be combined with any other promotion.
What states is the SBK Sportsbook legal in?
The SBK Sportsbook is only available in Colorado and Indiana but is looking to expand to Iowa in the near future.

Bet $20 Get $100 in Free Bets
Get Bonus