Seattle Seahawks at Atlanta Falcons Betting Preview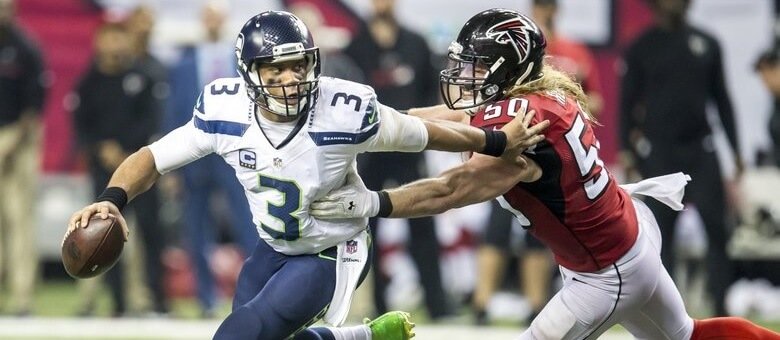 On Sunday, we will watch the Seattle Seahawks travel to Atlanta to take on the struggling Falcons. Of course, struggling might be underselling Atlanta in 2019, as the Falcons have one of the worst defenses and worst offenses in all of the NFL.
Game time: Sunday October 27th @ 1:00pm
Seattle, on the other hand, was making a case for being the best team in the NFC before being stomped out at home by Lamar Jackson and the Baltimore Ravens last weekend.
The Seahawks still have one of the best offenses in the league, even after a poor showing against the Ravens. This should wind up as an easy win for them, but we will help you breakdown the matchup between these two teams and determine your best bets.
Are The Seahawks Contenders Or Pretenders?
Did the Baltimore Ravens just prove what we need to know about Seattle moving forward for the rest of the 2019 season? They have only one win against an opponent that is above .500, and that was in a Thursday night duel against the Los Angeles Rams, where Greg Zuerlein missed a field goal in the closing seconds.
I would not recommend sounding any alarms, but it would call into question if this softer schedule is the reason for the great start to their season.
Coming into the game against Baltimore, there were discussions about Russell Wilson being MVP, but now that head of steam has died down. There is a big question about their defense, as they have allowed around 25 points per game, which is not any place they want to find themselves.
I like the pieces they have on offense. Obviously, Wilson is extremely talented, and Tyler Lockett has looked the part of a top-tier receiver on the outside. Chris Carson, minus his fumbling issue, has been great at the running back position.
This is another softball of a game, but the gauntlet will be here soon, where the Seahawks will face San Francisco, Philadelphia, Minnesota, the Rams and Carolina, with all but the Vikings game on the road. We will find out soon enough.
A Year Filled With Disappointment
There is not much to say for the Atlanta Falcons this year. They have been behind in almost every game they have played, and now Matt Ryan is questionable to play at the time of this writing.
Julio Jones has not lived up to the extension he received this offseason, and Devonta Freeman has disappeared almost entirely.
The Falcons' defense has holes at every level, and they are giving up nearly 32 points per game. Being a defensive-minded guy, head coach Dan Quinn is inevitably on the hot seat.
I will be honest, without Ryan, the Falcons do not stand a chance in this game. Matt Schaub is the backup, and while he is serviceable, I don't think he can go toe-to-toe with Wilson indoors.
They will be playing from behind to start this game, and I think that will be hard to overcome with how poorly their defense has played all season.
Betting Prediction
The consensus line for this game has Seattle favored at -3.5, but I would imagine that would increase if Ryan sits this one out.
I don't think Ryan playing makes a difference either way. Ryan can't save the Atlanta defense from Wilson.
Expect Seattle to come out in this game looking to bounce back after a sloppy home game against the Ravens. They will jump out ahead early on and add to their totals against a shaky Atlanta defense.
Take the Seahawks, and don't think twice about doing so. Make sure to lock in your bets before kickoff!
Be sure to check back for more Free Football picks and follow us on Twitter @Gamble_usa
Relevant news