Seattle Seahawks at Green Bay Packers Betting Preview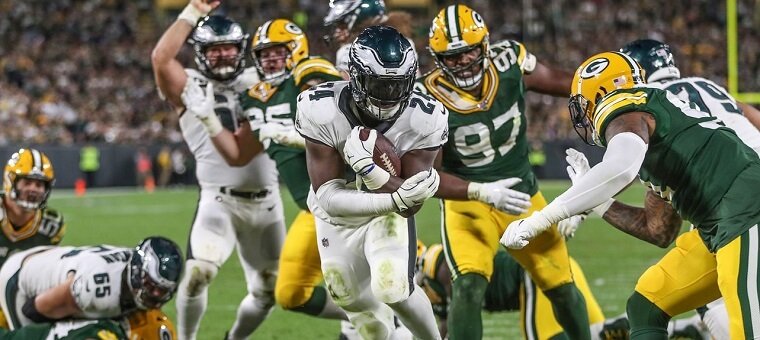 The first round of the playoffs is officially in the books, and it certainly was a wild ride. There were big-time upsets and two overtime finishes, so hopefully that level of excitement carries into the divisional round.
Date: Sunday, January 12th, 2020
Time: 6:40pm
Location: Lambeau Field, Green Bay, Wisconsin
Watch: FOX

Lines are provided by DraftKings Sportsbook – Sign up now and claim a $200 risk free first bet.
On the NFC side, the Seattle Seahawks are going to be heading to Lambeau Field to take on the Green Bay Packers.
The Seahawks were up against Philadelphia last weekend and managed to squeak by behind a big performance by wide receiver DK Metcalf.
With the stakes as high as they have ever been, we will find out if Seattle is the real deal this season against a talented Packers roster.
We have all of your coverage here, so let's break it down to help you determine where to put your money.
Is Seattle Soaring Or Just Lucky?
There is no doubt about the greatness of Russell Wilson. Ever since Wilson has come into the league, he has been nothing but a winner of the highest magnitude.
When the Eagles were hanging around last weekend, Wilson stepped up and made a huge throw to Metcalf down the field.
Metcalf was double-covered but managed to leap and make the catch and bounce up to finish off the touchdown.
Even after all of the brilliance, the Seahawks somehow are 11-2 in one-possession games this season.
Most of the time, the Seahawks are playing from behind, and some could say that it is a testament to their structure, but others would call it luck.
Whatever it is, it will be put up against Aaron Rodgers and the Packers on Sunday. Seattle's defense isn't lights out by any means, but the Packers offense has been inconsistent at best.
If Seattle's defense can force a couple of turnovers, it will be a completely different ball game. Green Bay has handled the ball all season, so the Seahawks will have to be ready to step up in a big way.
The Quietest 13-Win Season Ever
Amidst all of the noise and chaos of this NFL season, the Green Bay Packers have silently dominated their schedule.
Rodgers doesn't have the gaudy numbers of the past, but he has taken control of this season like never before and has also let Aaron Jones have a hand in their dominance.
Jones looks the part of one of the best running backs in the league, and he can break out for a big gain on any given play.
I love everything about Green Bay's offense. Some are down on the Packers, claiming that they have played a soft schedule, but I think with the rest from their first-round bye, they can beat anybody.
The Packers defense has improved significantly from previous years, and it is no longer a situation where Rodgers is carrying the team by himself.
With the improved defensive side of the ball and help from Jones, I think the Packers will be able to make a strong run this postseason.
Betting Preview
I know it is no longer Wild Card weekend, but the Seahawks are a wild card in this matchup. I could be convinced they win the game or that they lose by 20 points.
In any case, the line for this game has Green Bay favored at -3.5. This is the closest of all of the spreads this weekend, as betting against Wilson is a hard thing to do.
As great as Wilson is in big games, I'm taking Green Bay in this one. Lambeau Field will be rocking, and the Packers will be able to ride that energy to victory.
Make sure to lock in your bets before kickoff!
If you are on Twitter, why not give us a follow @Gamble_usa and never miss our big game previews and legal gambling news. Make sure you check back for more Free NFL & NCAA Football picks.
Relevant news