Seattle Seahawks at Philadelphia Eagles Betting Preview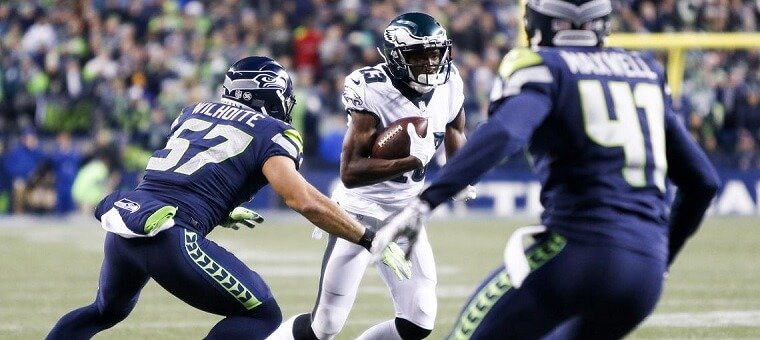 When it comes to the NFL, unpredictability is the name of the game. Usually, by this time of the year, we are able to see the fight for the playoffs unfold, as teams are jockeying for the Wild Card spots.
Game time: Sunday, November 24th @ 10:00am
This is the opposite of what has happened in the NFC this season. There has been a clear top five all season long, and they are now multiple games ahead of everyone else and will likely lock down the playoff spots.
Green Bay, San Francisco, New Orleans, Seattle and Minnesota all boast the best records, with Dallas and Philadelphia still fighting each other for the NFC East title.
Originally the Sunday night game but now flexed to a daytime slot, the Seattle Seahawks will be heading to the East Coast to take on the Philadelphia Eagles.
Both teams are looking to take over their divisions, so we will help break down the game.
Get Up To $100 In Bet Credits
Open Account Offer
Up to $100 in Bet Credits for new customers at bet365.
Make a qualifying deposit (min $10), place bets to deposit value, once they are settled, matched amount in Bet Credits available to use. Bet Credits risk excluded from returns. T&Cs apply
Wilson And Not A Whole Lot Else
This season for the Seahawks has been fortunate. Russell Wilson has played like an MVP — there is no disputing that — but there is not much more to this Seattle team than Wilson.
The run game has slowly but surely faded away, as Chris Carson appeared to start the year out strong but has waned each week.
The Seahawks defense has struggled to put together consistent stops all season long, and many of their wins have come on close calls or fourth-quarter scores where Wilson has had to bail them out.
With that being said, everything that Wilson has done has been phenomenal, and he likely sits second in the MVP race behind Lamar Jackson. The Seahawks culture has been strong, and you could credit the close calls to strong continuity and good coaching.
While the Seahawks are lacking in some areas, they are 8-2 on the season and 5-0 on the road. This bodes well for their trip to Philly.
A Nightmare Season That Just Gets Worse
The Eagles have been one of the most inconsistent teams this season. There were high expectations with Carson Wentz coming into this season, but they struggled mightily with injuries on both sides of the ball, specifically with receivers and their secondary.
The Eagles' secondary is back to being healthy, which improves their defense significantly, but Wentz has no weapons besides tight end Zach Ertz. Ertz, being the focal point, draws double teams on many of their possessions, which makes it tough for their offense to move the ball.
They still have a chance to catch up to the Cowboys in the NFC East, and they have one more game against Dallas at home, so all is not lost.
Wentz is a born leader, and his play this season has been exceptional, especially given the circumstances the team has faced.
Catching Seattle traveling across the country for an early game is the best-case scenario for this game, as the Eagles will have the advantage of the time change.
Betting Preview
Coming into this matchup, the line feels like it would be unpredictable as both of these teams have experienced a number of ups and downs and injuries all season long.
The Eagles get the slight nod at home in this one at -1.5, but this feels like more of a pick 'em to me.
It will be important to monitor Seattle's start to the game, as I expect they will come out sluggish after traveling, but they are undefeated on the road this year.
In this game, I'm taking the Eagles. I think switching it to the early slot works too much in their favor, and Wentz gets it done on some last-minute heroics.
If you like our free previews, then make sure you check back for more Free NFL & NCAA Football picks and hit us up on Twitter @Gamble_usa
Relevant news