Gamble USA strives to improve your online gambling experience. We aim to help you play safely, make informed decisions when gambling, and increase your betting knowledge through our guides.
We adhere to strict editorial integrity; our content may contain links to products from our licensed & legal US partners.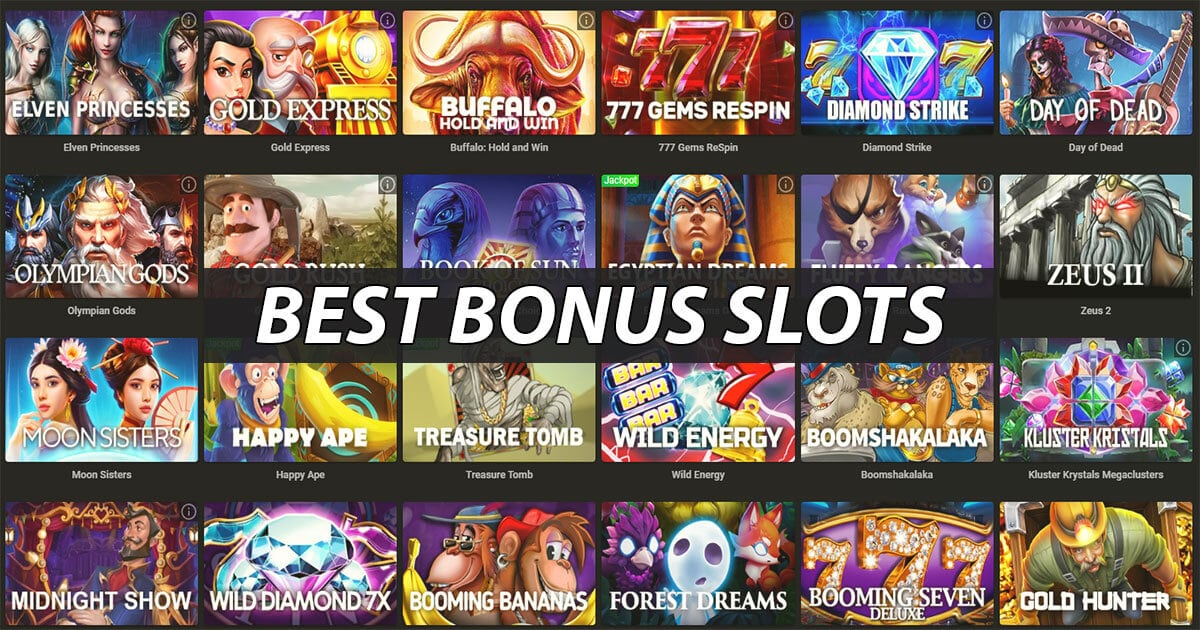 It feels like every day there's a new slot machine on the market. Some are interactive with cascading mechanics, while others take inspiration from Dragon Link jackpot mechanics. The best slots, however, as agreed by most players, are the ones that have the most enticing bonus games. Few things in the world are as pleasing as seeing those scatter symbols line up and the words "Free Spins" light up the screen.
But with so many different bonus games and so many different pay tables, how can you know which are the best? Well, our expert team set themselves that very task, and after extensive research, they have come up with their top 10 online slots with the best bonus games available in the US. You can check them out below, with a list of the sites where you can play them for free or real money.
The Best Bonus Rounds in 2023
#1 Montezuma
To start things off, it's the Aztec-themed Montezuma slot developed by WMS. This 5-reel slot boasts 30 paylines and as with all slot machines developed by WMS, a high level of volatility. While not spectacular, the RTP of Montezuma is decent at 95.86%
The bonus feature is undoubtedly the real star of the show here and is triggered whenever you land three or more of their featured symbol. If you do get three, your payout will be tripled, and if you get four or five, your payout will get a x10 multiplier. But that's just the start of the bonus feature, as regardless of whether you hit the x3 or the x10 multiplier, you will then be presented with a bonus game where you will spin a large wheel to determine how many free spins you will be awarded.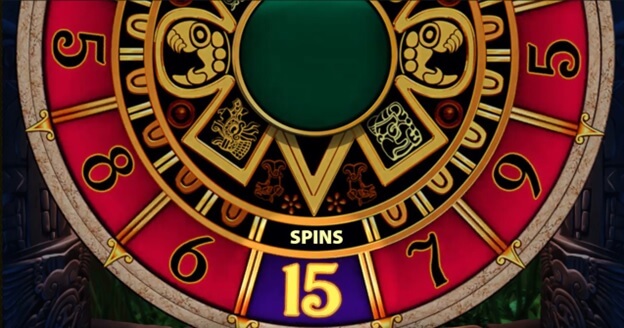 It's still not over though. As for each of your free spins, another wheel will be spun to determine your multiplier. With this multiplier reaching as high as x10, it's easy to spin up a massive payday in these bonus games. Additional free spins are won by collecting two or more scatter symbols and are multiplied by that round's multiplier.
#2 Reactoonz
Reactoonz by Play'n GO is a cascading slot machine with a cartoon look and an energetic feel. The 7×7 slot has an RTP of 96.51% though it is about as high volatility as you can get with a max win of x4570. Match up five symbols vertically or horizontally to collect your winnings and send new symbols cascading down.
As with any game this high in volatility, the bulk of winnings will be found in their bonus features. When 25 symbols have been matched in any spin, one of their four "quantum features" will activate. Implosion, incision, demolition, alteration — regardless of which one you get, they will either add wild symbols, destroy symbols, or sometimes both allowing for winnings to spiral further and new symbols to cascade down.
Once you have matched a total of 125 symbols instead of a quantum feature, the Gargantoon will spawn.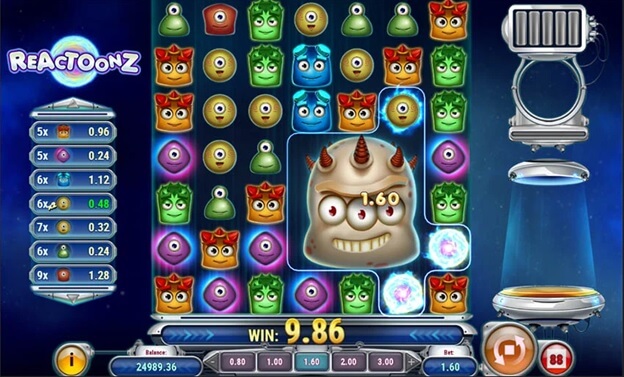 Initially, as a 3×3 wild block, the Gargantoon divides and moves with each cascade. First, it breaks into two groups of 2×2 wild symbols before turning into nine individual wild symbols.
Reactoonz may seem complicated, but it gets easier as you play. In plain English, Reactoonz is a high variance, fast-paced game where winnings can quickly pile up to a massive x4570 before your very eyes.
#3 Moon Princess
Once again by Play'n GO, though instead of cartoons, it's anime with Moon Princess. This five-reel slot machine is another high volatility game with an RTP of 96.5%. Rather than traditional lines, winnings are collected by matching three or more symbols in a row either vertically or horizontally, with winning symbols disappearing and the remaining symbols falling down.
There are two different bonus games, but our favorite is the one involving free spins. Clear the grid to be awarded your choice of Girl Power; Love, Star, or Storm.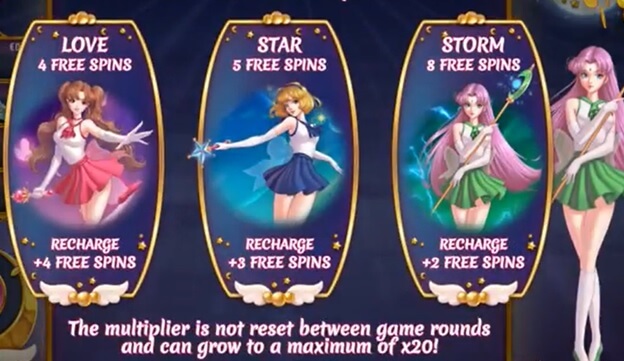 It's interactive, so you choose your power and be awarded the corresponding amounts of free spins. It's worth remembering that your chosen power will activate for each of the non-winning spins, so it's not a case of choosing the power with the most free spins attached. Personally, I prefer Star, as with her power-up, two extra wild symbols can appear for every non-winning spin, further increasing the chance of clearing the grid again and being awarded the 200x payout.
Further additional spins can be won by matching symbols and filling up to the on-screen meter and will be recharged according to your chosen power. However, the maximum amount of additional free spins is capped at 20.
#4 Dead or Alive 2
The sequel to the original Western-themed Dead or Alive slot, Dead or Alive 2 takes everything great about the original and combines it with an array of new features. Created by NetEnt, this five-reel slot has nine paylines and offers 96.8% RTP with huge payouts of up to x111,111.11 of your bet. For payouts this big, it should be no surprise that the volatility of Dead or Alive 2 is very high.
Get three scatter symbols to activate an initial 12 free spins bonus round.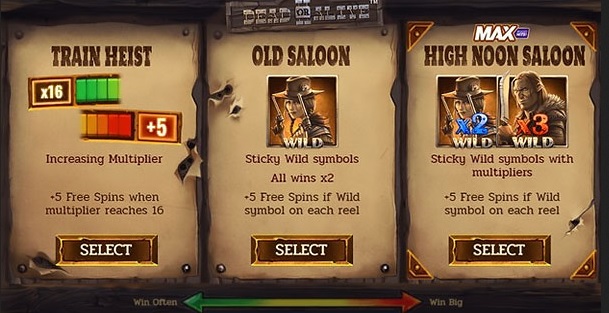 I'm a big fan of what Dead or Alive 2 does with their bonus rounds. They allow you to choose your bonus game and whether you want to decrease the variance and win often with the "Train Heist", or if you want to risk it for the big payday and go for "High Noon Saloon". As a risk-taker, I almost always opt for "High Noon Saloon", as with it, when three wild symbols come up on the same reel, they are transformed into a sticky x3 multiplier. And these multiplier wilds multiply with each other, so two x3 multipliers will multiply any relevant winnings by x9 — this gives you the potential to score some truly massive payouts.
"Train Heist" awards additional free spins based on wild symbols landing anywhere on the reel, whereas for both "Old Saloon" and "High Noon Saloon" it's a little harder to get as you must get a wild symbol on each reel to be awarded five additional free spins.
There is also a bonus feature buy option to get straight to the fun part of the slot game.
#5 Book of Dead
Book of Dead is an Egyptian-themed slot machine developed by Play'n GO. It's another highly volatile game by Play'n GO with an RTP of 96.21% as well as five reels, three rows, and ten different pay lines. All in all, it's a relatively straightforward machine, though it does include a wild symbol that doubles as a scatter symbol in the appropriate form of a book. Get three anywhere on the reels, and you'll trigger ten free spins.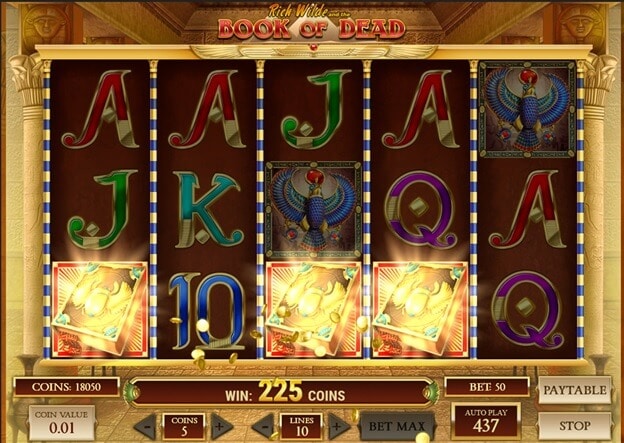 During your free spins, a bonus feature called the "expanding symbol" can trigger at random. When triggered, it covers all symbols, allowing you the potential to hit a max win of up to x5000 of your initial bet.
Lacking on bells and whistles, Book of Dead is like your classic Egyptian-themed slot machine that you're likely to find anywhere in Las Vegas, except now you can play this online slot machine in the comfort of your own home at any of the online casinos in the US that offer it.
#6 Raging Rhino
4096 ways to win. That's the tagline for the African Savannah-themed Raging Rhino by WMS. With an RTP of 95.91%, Raging Rhino has a fair payout system, though it is one of many highly volatile online slots. Six reels and four playlines make up the slot machine itself, and as mentioned, there are 4096 ways to win.
The Raging Rhino bonus game mode is triggered when the feature scattered symbol comes up three or more times. With the number of free spins awarded directly tied to the amount of feature symbols, with the maximum amount of free spins being 60.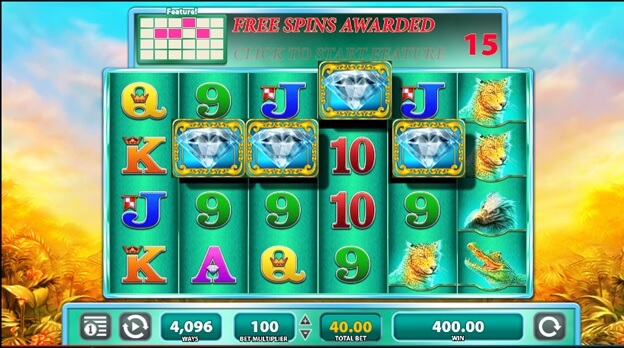 From there, additional free spins can be won by collecting two or more feature symbols. Free spins are awarded generously with Raging Rhino, and when in their bonus game mode, it can feel like the best kind of loop with a seemingly never-ending encore of free spins.
On top of being tied to the number of free spins won, the feature symbols are also responsible for the highest payouts available. As such when you see those diamonds come up, you'll feel that they're almost as good as the real thing.
#7 Gates of Olympus
Gates of Olympus by Pragmatic Play is a relatively new online slot machine based on the ancient Greek gods. However, even so it's quickly becoming a favorite among many. Scatter-based mechanics are quickly becoming a fan favorite as when symbols are matched, they disappear, and new ones fall in from above, creating what can be a never-ending cycle of wins. However, one difference for Gates of Olympus is that rather than relying on betlines, all symbols work in a scatter-like mechanic where so long as there are a minimum of eight of a particular symbol on the reels, you'll be paid out. Gates of Olympus is a 6×5 slot with high volatility and a generous RTP of 96.5%.
Gates of Olympus has many unique features, including an option to buy free spins. However, you can also activate the free spins feature by collecting four or more scatter symbols to win 15 free spins.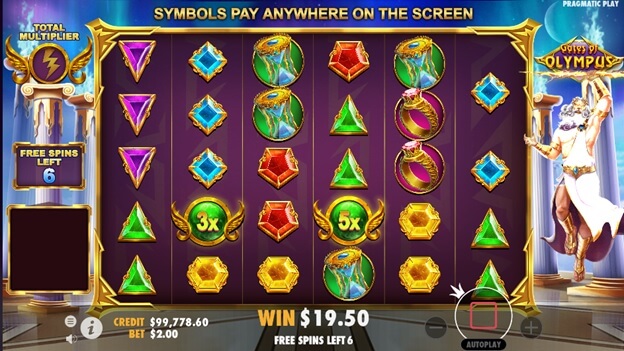 Once there, Gate of Olympus can become wildly profitable as at any time Zeus may call forth a bonus. And while this does happen in regular play, in the bonus mode, these bonuses are added to each other. This means that towards the end of the bonus mode, even a moderate win of 10 units can be multiplied by a bonus of x30 to bring a truly massive x300 payday. As such, it's perhaps understandable that the max win is capped at x5000 your initial bet.
#8 Thunder Cash Charming Lady
Thunder Cash Charming Lady by Novomatic is a slot machine exclusive to US players. On the surface, it may look like your standard high volatility, five-reel, three-row slot machine with magical and mystical themes and ten pay lines. But looking beneath the surface, you can see a whole host of features that makes it one of the most exciting and potentially profitable slot machines available.
The most exciting feature they offer will be familiar to those with experience with Dragon Link slot machines. For those that don't though it's simple to understand, collect six of their scattered symbols and enter into their "Lock & Spin Feature". From here, scattered symbols will be locked in, and you'll be given the opportunity of three free spins to try and get more. If you do, the free spins are reset to three, and you continue until you run out of spins or you hit their progressive jackpot grand prize for collecting all 15 scatter symbols.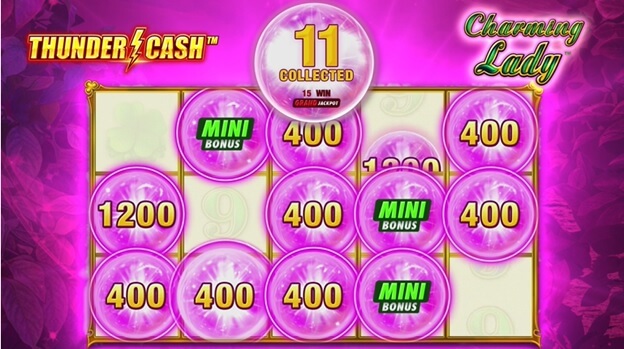 What makes this bonus feature so exciting is that even if you don't get all 15 symbols at any point, you may collect either their fixed mini bonus, minor bonus, or even their progressive jackpots. While not as big as the grand jackpot, any of those other bonuses are attached to truly massive winnings.
#9 Wild Toro 2
The matador-themed slot machine Toro is back with Wild Toro 2. Developed by ELK Studios, RTP has dropped to 95%, and volatility is now higher. However, perhaps the most significant change lies in the maximum payout, which is now x10,000 your original stake. A 5×5 reel allows for 502 different connecting paylines.
Free spins are awarded by collecting roaming matadors that move left every spin till they are off the reels. On top of that, for every additional matador on the screen, an additional row will be added to the slot to a maximum of eight, giving even more ways to win. However, if they remain on the reels when the wild symbol Toro the bull arrives, the bonus feature of Wild Toro 2 will activate.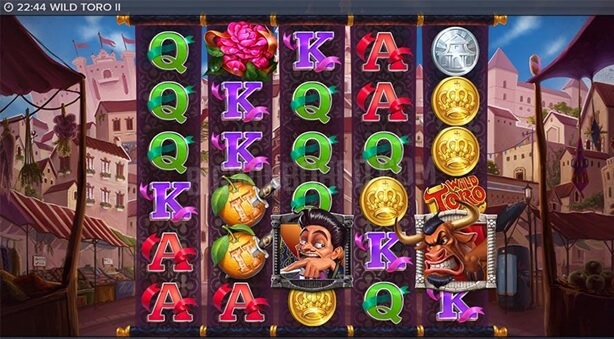 In Toro Goes Berzerk, Toro will charge and knock off the matadors one by one, leaving a trail of wild symbols as he does. And if he knocks off a gold matador, he will absorb the multiplier. Similar to the roaming matadors, when not charging down matadors, Toro will consistently move to the left until he is off the reels. The good news is that any additional Toro that hits the reels while the original Toro is still in play will inherit any multipliers.
#10 Gonzos Quest Megaways
No longer developed by NetEnt, Gonzo's newest adventure is now developed by Red Tiger with the conquistador-themed Gonzos Quest Megaways. One of many cascading slot machines, Gonzos Quest Megaways plays with a 6×6 format and offers a medium-high volatility game with an RTP of 95.77%. This means that while wins may not be as high as other bonus game slots featured on this list, you will at least win more often. In fact, Gonzos Quest Megaways boasts 117,649 different ways to win.
There are a few different types of bonus features. However, our pick for the most profitable of them is the free spins feature, which gets activated when at least three free fall symbols hit the reels.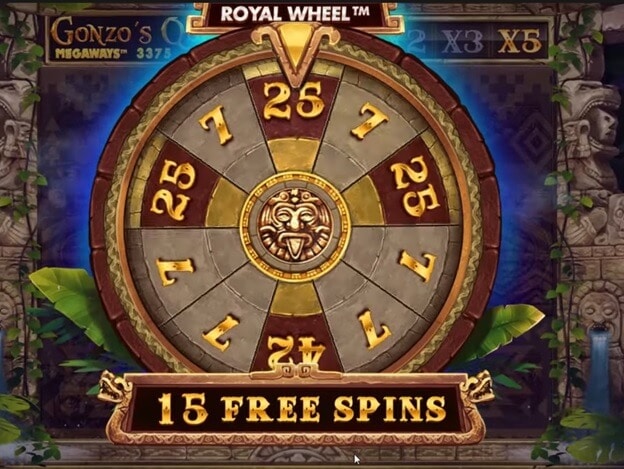 From there, one of Gonzos Quest Megaways bonus games activates, and the player will be given the opportunity to collect nine free spins, or using their gamble feature, you can spin the bonus wheel for more. And if they win, they can spin again for the opportunity to win even more. What makes the free spins especially profitable though, are the bonus features.
In normal games, multipliers are limited to 1, 2, 3, and x5 — however, in the free spins bonus rounds, these multipliers go up to 3, 6, 9, and x15. The multipliers are triggered by matching symbols after additional symbols cascade down.
Bonus Games Payouts
When developing an online slot machine, there are a lot of factors that go into determining the bonus games payouts. Likewise, there are also things that you must consider when choosing which slot machine to play online.
Perhaps the most important of these stats is RTP, or Return to Player. As the saying goes, the house always wins, and RTP can be used to determine how much they will win in the long run. RTP shows how much of the player's money will be returned to them in the long run. For example, a $1 slot with 95% RTP will on average yield 95 cents, i.e. a loss of 5 cents. This is why we prefer online slots, as while land classic slots offer ~90% RTP, it's pretty common to find that the best online slots offer 95%+ RTP.
Volatility is another important metric. Volatility can be seen as the standard deviation towards payouts. As in the above example, the hypothetical lowest volatility slot machines with a 95% RTP would always return 95% of the original stake. Of course, playing such a machine would be boring and high volatility means that while you'll win less often when you do, it will often be for a whole lot more. Volatility is important to take into consideration depending on the sort of experience you are looking for. If you're after a more casual experience, you may wish to play a low-medium volatility game, whereas if you want to win big, you'll play high volatility games.
This leads to max wins. As you can probably infer by the name, these are features designed to cap max winnings. They're usually set quite high, though they're important to keep in mind as the higher the cap, the more you can win. Generally speaking, a good rule of thumb is that if you're playing a highly volatile game, you should also be looking for a slot with a higher max payout to ensure that when you win, you win big.
Finding the Best Bonuses in Online Slots
Finding the best bonus slots in the USA can be tricky simply because of the amount of online slot casinos that are now available. Playing online slots has become one of the most popular things to do for people who enjoy online casino gaming and this had let to more online slot games being created than ever before. Whether you are looking for a game with a straightforward design that you can jump in and out of, or a specific theme following your favorite TV show or movie, the best online casinos will have something for you.
Each one of these slot games has a different bonus round attached to them. The most difficult part will be choosing which one to play as modern bonus slots are all exciting. We would recommend trying all of the games we have listed above on this page to find out which one you enjoy the most. Doing some research on how to win and play on progressive jackpot slots would also be a good idea.
You should always bear in mind that all good bonus slots will attempt to hold your interest be being exciting and sometimes very generous with the payouts. Remember, these casinos want to encourage you to come back for more. It is in their best interests and your bests interests to keep you engaged. If you can generate some big wins whilst being entertained, it is win win for everybody.
Best Bonus Deals for the Listed Slot Games
To play the best bonus slots online, you must be able to access them legally. The USA is somewhat of a landmine, with different rules and regulations for each state. These also affect software companies powering the best payout games. While you might be able to play Microgaming's Mega Moolah slots in the UK, that's not yet the case in the US.
The top 10 payout slots listed above are licensed for selected states, currently available in NJ, PA, MI, DE, CT, and WV. Likewise, all online casinos listed and their welcome bonuses apply in those states. For ease, we have provided links to use and get started with a high paying slot machine today.
FAQs
Which of the bonus game slots has the highest RTP?
How do you use a free spin in the bonus rounds?
Free spins are used just like normal spins. The main difference between the two is that free spins usually bring higher payouts.
Which of the bonus games offer the highest potential payouts?
The highest potential payout offered belongs to the Thunder Cash Charming Lady progressive jackpots.
What is a bonus game in online slots?
Many online slots offer a bonus game feature. This is something like an additional game within the slot game itself.
Where can I play online slots with bonus games?
Bonus game slots are available on many online gaming platforms. However, you should always choose only the best online slots sites to play at. They are licensed and strictly regulated and have the necessary security features to give you a safer gambling session and safe money transactions.