Since 2019, LuckyLand Online Casino has been one of the nation's favorite picks for online gambling. And when I say nation, I mean the whole nation. Because as a sweepstakes casino, LuckyLand has been able to navigate around restrictive laws that traditionally limit online casinos to NJ, PA, MI, DE, CT, and WV, to offer their service to nearly every state across the US.
The method they use to do this is incredibly clever. Instead of depositing and playing directly with money, users instead buy gold coins and sweeps coins. Users then use these in-game currencies to gamble, and when it's time to withdraw, they simply exchange Sweeps Coins for cash prizes. If you're worried about exchange, don't. Sweeps coins and USD are exchanged at exactly 1:1.
Now, well into their fourth year of operations, LuckyLand Slots continues delivering their premier services based on their signature in-house designed slots. With more than 60 unique slot machines in their game library to choose from, it's no wonder that LuckyLand regularly tops the charts when you ask for someone's favorite online casino.
LuckyLand understands this as well. So it's no wonder their site is dedicated almost exclusively to slots with such bonuses for first-time deposits as well as their regular tournaments and events. Better yet, LuckyLand now offers a no-deposit bonus. Simply register using our link to get 7,777 gold coins and 10 sweeps coins.
For US players looking for a larger pool of exciting slots and games with cash prizes and superb bonus features, you can check out the following new sweeps cash casinos:
5 Best Slots on LuckyLand Casino
From progressive jackpots to expanding reels, at LuckyLands casino there's something for everyone, and in a wide array of themes. An important thing to note is that slot games at LuckyLand are not required to showcase RTP or describe volatility, and as such, the following numbers are estimates by our expert team. Second, all LuckyLand slots are developed and powered by Virtual Gaming Worlds, the company behind this and other social casinos like Chumba.
We'll go into detail for each, but for those in a rush, you can find a comparison table for our pick for the 5 best LuckyLand Slots games, which are also among the cheapest games to play.
| Slot Machine | RTP | Volatility | Jackpot? | Score |
| --- | --- | --- | --- | --- |
| Alice in LuckyLand | 94.5% | Medium | Yes | 9/10 |
| Mayan Gold 96% High No 9.5/10 | 96% | High | No | 9.5/10 |
| Madame Tarot | 94-95% | Medium-High | No | 9/10 |
| Snow Queen in 3D | 96% | High | No | 9.5/10 |
| Temple of Fate | 95% | Very-High | No | 8/10 |
#1 Alice in LuckyLand
Starting off, it's one of the newer slots where the Alice in Wonderland inspired Alice in LuckyLand.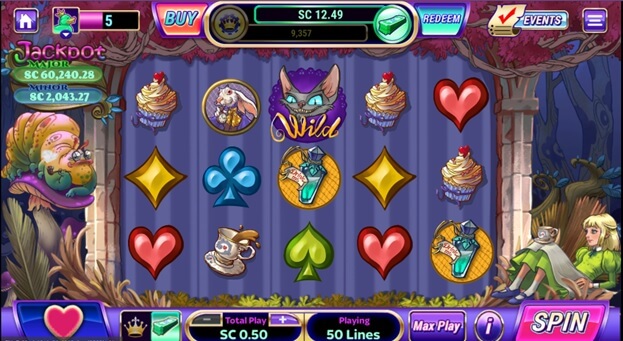 With an RTP of 94.5%, Alice in LuckyLand is one of the few slots that offers a progressive jackpot while still maintaining a medium level of volatility. While the 5×3 slot offers 50 paylines, the real star of the show is in the bonus game. Here, if three or more scatter symbols land, the first of Alice in LuckyLand's wheel will spin with a 1 in 3 chance of landing on the Jackpot Bonus section. If it hits, you'll get between 3 and 10 chances to spin the second wheel for either the progressive minor or major jackpot.
#2 Mayan Gold
Mayan Gold was one of the slots that helped LuckyLand kick-off. On the surface, it can look like a straightforward game with a Mesoamerican theme and a 5×3 layout with 30 paylines. Though those who have spent time playing Mayan Gold will note the high volatility aside, this is one of the most profitable slots on LuckyLand, with an estimated RTP of 96%.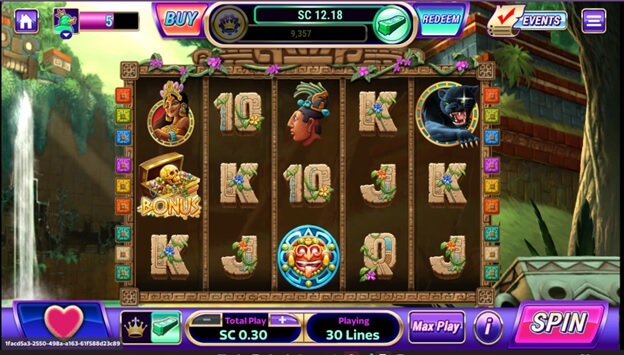 This is undoubtedly due to their free spins mechanic wherein a user who gets three of their Maya blue scatter symbols will enter into the bonus rounds where wilds are 30% more likely to land. If you do play, keep an eye out for their queen or jaguar warrior symbol as they are the top payers, outside of the bonus symbols — paying x33.33 for lining up five.
#3 Madame Tarot
The first thing players will note when playing Madame Tarot is the unique feature in which players are invited to choose their volatility.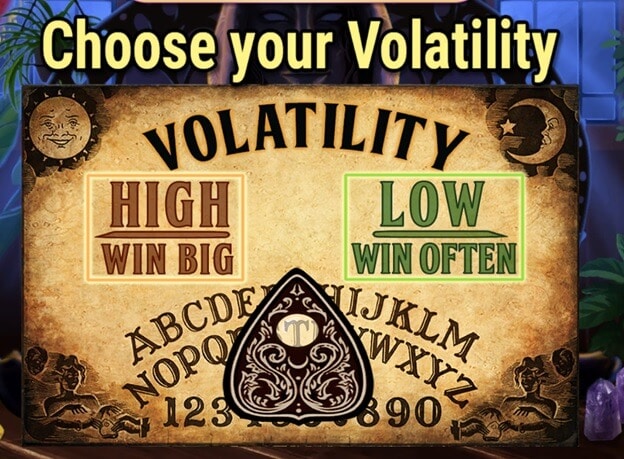 Personally, I'm a huge fan of this feature. Catering to both the more casual player and the risk-taker, it should be no shock that gameplay will largely differ based on which option you choose. RTP is estimated between 94-95%, with volatility being medium-high.
It's another 5×3 reel LuckyLand slot machine. However, that expands to 5×5 when in their free spins mode, which is triggered by collecting three or more of their scatter symbols. Likewise, while the base game features 243 ways to win, their bonus game expands that to 3125 ways.
Looking at a purely superficial level, Madame Tarot has a theme that blends a pastel art quality with a backdrop of the occult.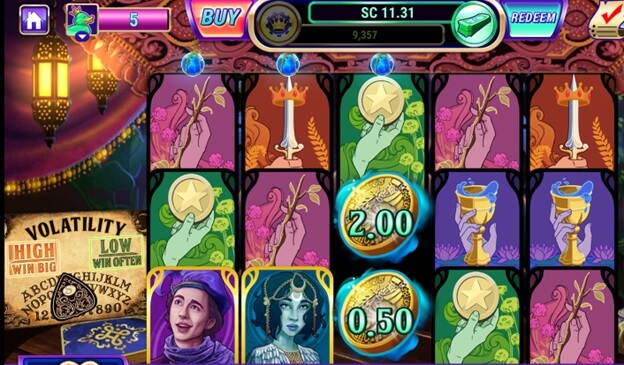 It may be number three on this list. But personally, with its ease of use and unique volatility control — it's one that I recommend to anyone new at LuckyLand, or slots in general.
#4 Snow Queen in 3D
Another top-rated game at LuckyLand Slots is the Frozen-inspired 5×3 machine Snow Queen in 3D. Disney and slots don't typically go hand-in-hand, so you may be wondering what exactly is going on with this machine. The answer, 96% RTP with cascading mechanics. The bonus game is pretty tricky to activate, with bonus symbols being required to land in reels 1, 2, and 3 — which no doubt contributes to its high volatility.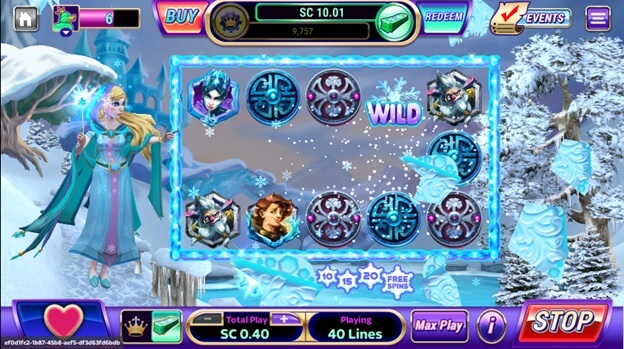 Though even the base game can be plenty profitable as when symbols match, the snow queen will shatter those symbols, allowing new ones to cascade in from above. Anyone familiar with cascading mechanics knows that this can lead to long stretches of wins, and with 40 paylines, it's no wonder Snow Queen 3D is as popular as it is.
#5 Temple of Fate
The treasure hunter themed Temple of Fate can look like a humble game with its 3×3 layout. Though, as you play, you'll quickly realize that Temple of Fate is a game of streaks. For each win, some of the stone grates covering the other reels will fall off, leading to a maximum size of 5×5. However, for each loss, a layer will go back on. As such, Temple of Fate has very high volatility accompanying its RTP of 95%.
Where Temple Fate really shines though is with its bonus games. Collect three scatter symbols, and you'll be awarded 12 free spins as the reels expand to 12. Now you begin Temple of Fate's treasure hunt.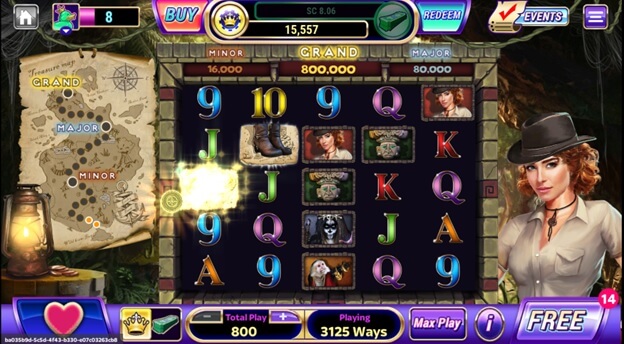 From here, the game's objective changes to collecting as many of the three new symbols as possible. These symbols include a pair of boots, a length of rope, and a satchel. As you collect them, you'll be led through a path of three fixed jackpots. From minor, to major, ending up with the grand jackpot of an x1,000 payout.
Highest Paying Slots on LuckyLand Casino
As Luckyland doesn't allow direct access to RTP or max winning stats, this list will instead focus on the progressive jackpots of LuckyLand — of which there are a lot. An important point of note is that while the following five slots regularly host the highest progressive jackpots, the exact amounts change every second.
For Florida and New York residents, it's important to note that with LuckyLand Slots being a sweepstakes casino, your state has capped your cash prizes at $5,000 for an individual round. As such, the following section with the best paying slot games will not be of much use for residents of those two states.
#1 Dr. Amazing
With a progressive jackpot of 93,176.91 SC, the steampunk Dr. Amazing starts off this list.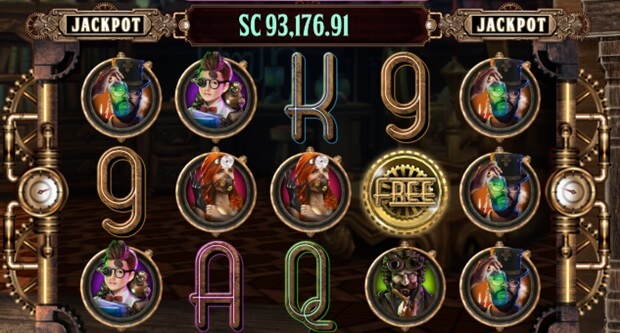 With the classic 5×3 look, the highly volatile Dr. Amazing doesn't have the most impressive RTP with our team estimating 91.5-92%. As such, the main attraction is its bonus feature, which requires its free spin symbol to land in reels 2, 3, and 4. From there, their unique plasma symbol is available to land in reel 5. If it does, you will receive either a bonus prize or the jackpot.
Between the difficult-to-reach bonus rounds and mediocre RTP, Dr. Amazing doesn't have much going for it, especially compared to other slots on this list. Unless the steampunk aesthetic appeals to you, this is not a slot I recommend.
#2 Jurassic Reels
With a dinosaur-themed layout, the aptly named Jurassic Reels is a colorful game with a lot going on. The 5×3 layout may be a little standard. Though with an RTP of 95.5% and over 50 paylines Jurassic Reels is anything but standard.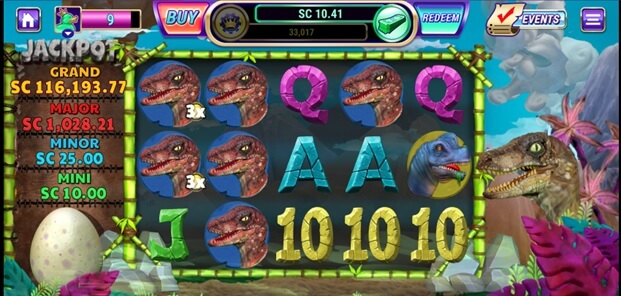 There are a few slots bonus features here, including symbols on the first reel to randomly have a multiplier attached to them. Free spins are hard to earn with the seashell scatter symbol needing to land on reels 1, 3, and 5 — though in our research we found that this happened more than you might expect, and as it awards 10 free spins plus an additional 10 when retriggered, it's definitely a welcome addition.
However, these free spins have nothing to do with getting the bonus of 116,194 SC. Instead, the award is handed out randomly, though it is made clear through the rules that the higher the wager, the more likely it is to trigger. When it does trigger, players will be required to crack open eggs, with baby dinosaurs of green, blue, red, and yellow emerging. These colors correspond with the mini, minor, major, and grand jackpot. The latter two being progressive. When three of these colored dinosaurs have emerged, the color-coded bonus will be awarded.
#3 Adventure Party
Adventure Party is a 3×3 slot with a colorful and fantasy-driven theme.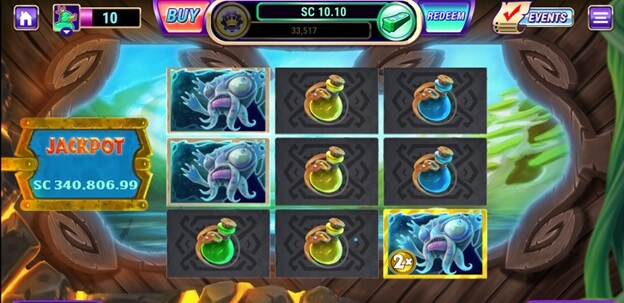 With an average RTP of 94% yet high volatility, the 3×3 Adventure Party may not be all too impressive at first glance. However, with Adventure Party, simplicity is its strength. Five free spins can be awarded when the featured symbol lands three times, removing the low-paying basic potion symbols. This is important as only these other picture symbols can potentially have a multiplier attached to them based on their rarity. However, it's the x5 legendary that you'll want to focus on. Get three anywhere on the reel, and the progressive jackpot of more than 340,000 SC is yours.
#4 Winner & A Movie
Winner & A Movie opens up with a choice between two slots. The Reel Dracula, or The City of Love & War. However, unlike Madame Tarot, your choice will only affect aesthetics.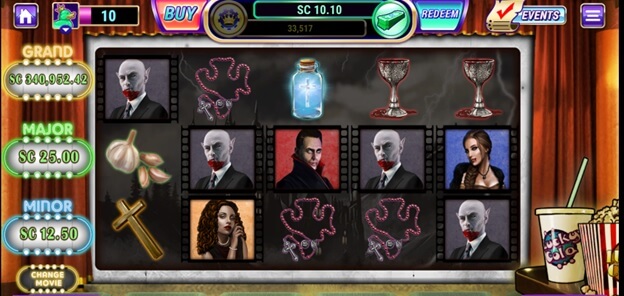 Regardless of that though, Winner & A Movie is anything other than superficial. Free spins and an expanding multiplier wild give it an impressive RTP of 95%. The jackpot bonus mechanic will be familiar to anyone with experience in Dragon Link machines, though for those that don't, it isn't too hard to understand.
In this feature, players must first land six or more of their featured symbol, the coin, to enter into the Hold-n-Spin feature. From here, players will be given three free spins with the object of hitting their featured symbol again. If they do, the free spin counter is reset, and they spin again. In this feature, a coin may award between 1-100x your bet or even the fixed minor or major jackpot. However, for the progressive grand jackpot of over 340,000 SC, players must fill all 15 available slots with the featured symbol.
#5 Aztec Quest
The second wildly popular Mesoamerican-themed slot, Aztec Quest, is a game that has a lot going on. Though with an RTP of 96%, it's one that you'll want to get a good grip of.
The cascading, megaways slots boasts 10,000 ways to win — and after playing it, the label of very-high volatility is definitely earned. While most spins will get you nothing, when you do land, the cascading causes matched symbols to disappear as new ones fall down. Add in megaways mechanics, and wins can quickly pile up.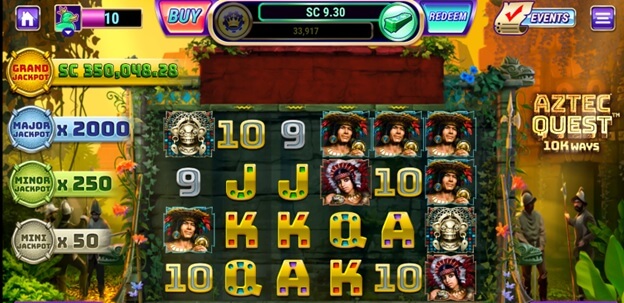 The only free spins feature offered is the one that is directly tied to the Dragon Link jackpot mechanic. A key difference to remember is that unlike Winner & A Movie, you do not need to fill up the reels to win the grand jackpot of over 350,000 SC. Instead, just like the mini, minor, and major jackpot — the grand jackpot is awarded randomly.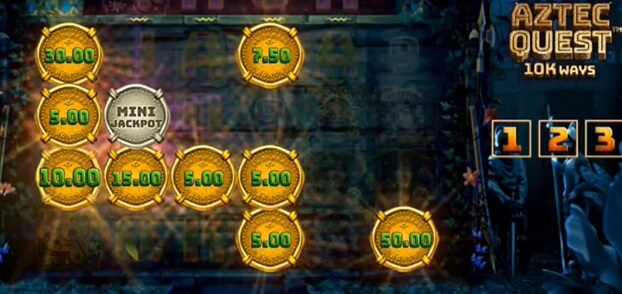 Another key difference is that Aztec Quest features more spaces. This means there are more chances to hit their featured symbol.
How to Play Online Slots at LuckyLand Casino
Playing online slots at LuckyLand is about as straightforward as it gets. There's no need to plan out a trip to Las Vegas, nor is there any need to have to deal with the parades of lurkers. From the comfort of your own home, simply visit luckylandslots.com and click the "Play Now" button.
Alternatively, for use on mobiles, visit play.luckylandslots.com/mobileweb for Android browsers and play.luckylandslots.com/ios1 for iOS devices. Android users also have the option to download the app directly from the developers at play.luckylandslots.com/download/.
From there, you can either choose to log in by linking up your Facebook account, or you can create a new account from scratch. Assuming you create a new account, the only details needed are your email, a new password, and your date of birth.
That's it. You're now free to enjoy all of the slots that LuckyLand has to offer with their free no-deposit bonus of 7,777 gold coins and 10 sweeps coins. The sweeps coins are the currency that can be exchanged for cash prizes. So when trying a slot for the first time, it's recommended to use the gold coins to get a feel for it before switching over to sweeps coins to play for real.
Where can you Legally Play Slots with LuckyLand Online Casino
If you live outside of NJ, PA, MI, DE, CT, and WV, this is usually where your hopes would be dashed. However, as mentioned in the introduction, LuckyLand Slots Casino is not considered a casino or gambling establishment, and is instead considered sweepstakes — as such, they are available in almost every state. The only two states not available are Idaho and Washington state. Even better, since LuckyLand is a sweepstakes casino, the same minimum age requirements do not hold up. Instead, you need only to be 18.
As for exactly where you can play from. Since LuckyLand is an online casino, you can play sweepstakes at home on your laptop, or anywhere you like from your mobile browser.
How to win on LuckyLand Casino Online Slots?
When you play at LuckyLand Slots, you'll immediately notice the regular banners celebrating someone's recent winnings of cash prizes. So of course, one of the questions you may have is how can I be one of them?
Since the exact stats like volatility and RTP are hidden, the best way to win is to try the slots we've listed above first with the use of gold coins. Once you find one you like, you can switch to sweeps coins and start playing for cash prizes.
One more important thing to note is that you won't be able to withdraw until you've won at least 50 sweep coins.
LuckyLand Slots Casino App
The LuckyLand app is only available for Androids. While that may seem unlucky for iOS users, the reality is there is no difference between the mobile browser version and the app version. The only real benefit is convenience. However, if you plan to use LuckyLand Slots regularly on your iOS device, you can bookmark https://play.luckylandslots.com/ios1.
For Android users, though, downloading the casino app requires you to visit play.luckylandslots.com/download/ to download it directly from the developers. From there, all you need to do is tap the .apk file, and accept the prompts to allow the download to install. One thing you may ask is why isn't the LuckyLand app available in the regular store. Well, LuckyLand has answered this question directly in their FAQ section "We cut out the 'App Store Middle Man' to bring our players BIGGER CASH PRIZES!", which makes sense. Less fees for LuckyLand means higher RTP for you.
How does it look?

Well, the picture on the left is a screenshot from my Android, the picture on the right was taken from my laptop. I personally see absolutely no difference. However, this isn't a bad thing. LuckyLand already has an incredibly user-friendly interface, and besides slightly longer loading times on the mobile app, there really is no difference in functionality.
So desktop site, iOS, or Android — you can expect the same interface.
Slots Promo Code at LuckyLand Online
There are no promo codes at LuckyLand Slots Casino. However, that doesn't mean there aren't promotions. As mentioned, there is a no-deposit bonus of 10 sweeps coins and 7,777 gold coins. Plus, users are given free coins through their daily login bonuses of 0.3 sweeps coins for simply logging in, with the 7th day giving an especially generous 1 sweeps coins. So, users can expect 10.3 sweeps coins on the first day simply for registering.
But that's not all LuckyLand has for bonuses. First-time depositors get access to the "1st Purchase Exclusive Offer". With this offer, users get 50,000 gold coins, and 10 sweeps coins for $4.99. On top of this, users can expect small bonuses 100% of the time when depositing larger amounts. For example, when depositing $100, users not only get 576,000 gold coins, but also 104 sweeps coins. While not the largest bonus, this is a bonus that only has a 1x rollover requirement and is available every time you deposit. Essentially giving you four free sweeps coins on every deposit of $100.
On top of this, users can expect regular promotional deals either in the form of popups or emails. Exactly how much they offer varies, but they're usually time sensitive (sometimes as little as two hours), so it's good to check regularly. There's usually only a 1x rollover requirement for these bonuses, however, that's not always the case, and it's a good idea to check the terms and conditions to clarify.
Slot & Casino Game Software Providers at LuckyLand
For online casinos, slot developers must acquire specific licenses to supply their machines to casinos. However, since LuckyLand Slots is not considered gambling but instead sweepstakes, there are different requirements. The details are convoluted and vary from state to state, but the end result is that you will not see any of the most prominent slot machine developers like Pragmatic Play, NetEnt, or NextGen. Instead, for simplicity LuckyLand develops their own in-house slot games.
This may initially seem like a negative, but with over 60 casino games, LuckyLand Slots has a wide array to choose from, all looking and feeling different from one another. Furthermore, Virtual Gaming World's (LuckyLand's parent company) has had their RNG (random number generator) tested by an independent firm, where it has been judged that their games are fair and accurate according to their listed RTP.
This is highlighted by their MGA license, also applying on the best Chumba Slots, Global Poker, and Scratch Carnival – the LuckyLand Slots sister casinos. Still, each site has their own range of games, which is telling of how far VGW goes to make each platform unique.
Top Tips to Play LuckyLand Slots
While LuckyLand Slots have a lot of advantages, the lack of information that is readily available concerning volatility and RTP can make it seem like a daunting task to come ahead. However, our team who have spent dozens of hours have come up with some tips to give you the best chance at winning.
Take part in the tournaments — A lot of players look at tournaments as a kind of side-show to pay little attention to. But with hourly leaderboards paying out free sweeps coins to winners, it's never a bad idea to focus on one. So if it's close to the hour mark, you should consider giving a glance to see if your favorite slot is eligible.
Use Gold coins — It can be easy to look past the gold coins as having no monetary value and thereby being worthless. However, you can use them to get a feel of which slots are closer to that 96% RTP mark, and which feel like 90%. Then when you find one you like, switch to sweeps coins and play for real.
Pay attention to

bonuses

— With certain bonuses lasting as little as two hours, there's good reason to pay attention to when bonuses come and then capitalize on them. Even if they're only gold coins, they'll give you a chance to become better acquainted with a new slot.
Play max paylines — Certain slot machines may allow you to pay fewer paylines. Don't do it though. While they do reduce the cost per spin, they always will come at the price of a lower RTP. Instead, if you want to find a way to pay a little less, just reduce your overall stake. Of course, more paylines doesn't always mean more chances to win — 10,000 wonders may advertise that there are 10,000 ways to win, but that doesn't necessarily indicate that it'll pay more often than a classic three-payline slot. Which leads to the next tip.
Understand the rules — With over 60 slot games to choose from, it might feel a little overwhelming. But the rule book is always accessible by clicking the "i" icon, available in every slot. From there, you can find what exactly you should be aiming for, such as the minimum bet required to hit the progressive jackpots.
Play new games — It's fair to say that when playing slots, it can be so easy to become a creature of habit. But with LuckyLand introducing new machines every few weeks, they almost always will apply bonuses to them. Whether that's a temporary boost to a jackpot, or free sweeps coins for various tasks.
LuckyLand Slots RTP
As mentioned earlier, unlike most online casinos, LuckyLand's slot machines do not have to display RTP due to their status as a sweepstakes casino. As such, it can be difficult trying to calculate the exact RTP. Officially they state that all their machines fall between 90-96%. Our expert agrees with this, and they estimate the overall RTP of LuckyLand to be 94-94,5%.
Even though this number is not exact, it is definitely higher than that of land-based casinos which have an average RTP of 90%. As such, for players concerned with profits, it's always better to play slots at online casinos. And with an average estimated RTP of 94-94.5%, LuckyLand should be at the top of your list when choosing an online casino to play at.
New LuckyLand Slot Games
LuckyLand cares about its customers. As such, they regularly add new games every few weeks.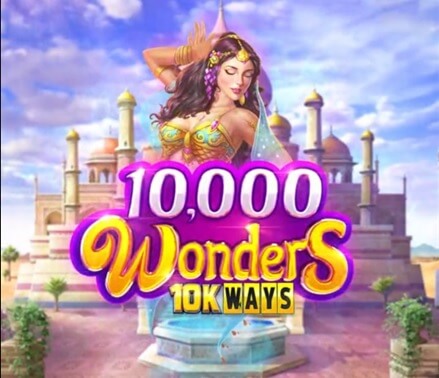 At the time of writing 10,000 Wonders is the newest game, and with it came a whole host of promotions dedicated specifically to it. Before that, it was Alice in LuckyLand that got the same treatment. And soon it will be A Blessed Journey. With games constantly getting added and new promotions constantly getting attached to them, it's never a bad idea to try them.
If you're wondering what the newest slot is, it can always be found on the first page and is usually emblazoned with a red sash reading "New Slot!". Though to check what the current promotion is, you'll have to check the LuckyLand Slots Twitter or Facebook page.
How LuckyLand Slots Casino Keep Play Fair
If you're unfamiliar with the concept of sweepstakes casinos this whole thing may seem a little confusing, and you may be wondering how to know if LuckyLand Slots are fair. To understand this, you first need to understand that LuckyLand Slots is owned by VGW (Virtual Gaming World's) — the same company that owns another top sweepstakes casino in Chumba Casino.
VGW was first founded in 2010. Since then, it has been licensed by the internationally respected MGA (Malta Gaming Authority) before opening Chumba Casino in 2012 and revolutionizing the idea of a "social casino" by using sweepstakes promotions to provide online slot games to states that would otherwise not be able to play. As you can no doubt imagine, this idea of a sweepstakes casino was met by many skeptics. However despite this, VGW has continued to flourish and grow.
Furthermore, while it's undoubtedly unfortunate that Idaho and Washington state miss out on LuckyLand Slots — it shows LuckyLand's commitment to "playing by the rules". They even take social responsibility with their "Responsible Social Gameplay Policy". Which ensures that users who feel they are vulnerable to addiction via online gambling are given the opportunity to give themselves limits, a timeout, and even permanent self-exclusion.
Are LuckyLand Slots Rigged?
In short. No.
Having been licensed by the MGA, they are subject to independent testing of their RNG, and never has it been found to be unfair or misleading. While users with experience in gambling at offshore sites may still not be 100% convinced, a great way to check a casino's legitimacy is to check their history and reviews. In this case, both come up clean. Despite some LuckyLand Slots cheats going around, there is nothing to highlight in regards to the software being subject to rigging or scamming players.
LuckyLand Slots Casino is not a site that has popped up overnight; instead, having been around since 2019. More importantly, VGW has built up their reputation with over a decade of trust, and you can rest assured that they would risk their reputation by rigging their slots.
FAQs
What slots does LuckyLand have?
LuckyLand has a wide array of slots. From the massive progressive jackpots of Aztec Quest, to the ever-popular Snow Queen in 3D, and even unique volatility controlling Madame Tarot. They have a roster of over 60 slots and are adding more by the week.
Can you play slots on LuckyLand?
Yes. In fact, one of the criticisms of LuckyLand is that that's about all you can play, as while they do have a small selection of other online casino games, the vast majority of their games are slots. This isn't necessarily a bad thing though. As if you're a big fan of online slots, you'll find that you're their most catered audience.
Is the LuckyLand Slots Casino App legit?
Yes. Though to cut out the "App Store Middle Man", LuckyLand Slots takes the relatively unusual step of not allowing their app to be listed in the official app store. It is nonetheless legit. One thing to keep in mind is that it is not available for iOS devices and is only available for Androids at https://play.luckylandslots.com/download/.
Are there progressive jackpots at LuckyLand Slots Casino?
Yes. There are a total of 14 progressive jackpots at LuckyLand Slots with the top three being Adventure Party, Winner & A Movie, and Aztec Quest. Plus, with new slots being added every few weeks, it's only a matter of time until there are even more.
What casino bonus codes are there for LuckyLand Slots?
While LuckyLand Slots Casino has bonuses, no bonus code is required. Instead, users who use our link will get a no-deposit bonus of 7,777 gold coins as well as 10 sweeps coins. Other bonuses include their "1st Purchase Exclusive Offer", which is their version of a first purchase bonus. All other bonuses will be sent directly to your email or otherwise can be found on their social media accounts.