Heading to Atlantic City and want to know what the best AC casino to play slots at is? We have got you covered!
We investigated which AC casino slots had the best return to player (RTP) so you can choose where to play in order to maximize your winnings. These are physical slots, not quick hit slot games which you can play on your mobile.
One of the most prominent casino games that people enjoy globally is slot machines. For decades, bettors have flocked to gambling hotspots such as Atlantic City to experience the excitement of new and entertaining slots. Penny slots in Atlantic City draw crowds in as bettors buy into the idea there is low-stakes gambling waiting for them. Although determining which are the best slots in Atlantic City is subjective, there are some factors to consider.
As casino slots are the most popular option in New Jersey, Atlantic City casinos always try and attract customers by stating they have the loosest slots available. Essentially, they are saying that Atlantic City slot machine payouts are superior to the competition.
The New Jersey Division of Gaming Enforcement (NJDGE) releases an annual report of the Atlantic City Casino Industry Casino Win Data. The report contains the amount of money each slot machine in Atlantic City takes each year and how much they keep. You can work out the return to player rates and the loosest slots in Atlantic City from these numbers.
Those playing online slots may presume player rates and payouts aren't relevant. However, that is incorrect as the slots you will discover at NJ online casinos will be the same you will find on the floor in Atlantic City casinos. It doesn't matter whether you are playing at instant play NJ casinos or choose to take a trip to the Golden Nugget Casino; the rules remain the same.
This article covers the best casino in Atlantic City to win, how to look for the RTP, and the best slot machines in Atlantic City. If you can't wait to get to AC, you can enjoy these free online casino bonuses to get you in the mood.
Want to brush up on your slots play before you go? Sign up to BetMGM casino and get a $25 free play at casino.betmgm.com.
What Is the Return To Player Rate?
Before you play, you should understand the fundamentals of how slots work. One of the most significant factors to look for before playing Atlantic City slots is the return to player rate (RTP). For all casino games, whether that be NJ slots or AC slots, the odds of winning are expressed in RTP. Essentially, the return-to-player rate is the payout percentage a bettor can expect to see. For example, if a game has a 90% RTP, for every $100 wagered on it, the player should expect to get back $90. A slot with a favorable RTP may also be referred to as a loose slot machine.
One crucial factor players should note is that the payout percentage is based on the long-term performance of the slot machine. So, it is no guarantee you will $90 from a game you have just put $100 into. It may take patience and numerous spins of the reels before you can estimate the RTP.
Even taking that into consideration, RTP is the best indicator to determine if a slot machine has favorable odds or not. Before you play, you may want to read our guide on how to tell if a slot machine is ready to pay out.
Best Atlantic City Casinos – Average RTP
The Atlantic City casino Win Data report informs of the overall average on slots of all denominations. The below list reveals the average RTP on all Atlantic City casinos:
As you can see from the above list, the Tropicana Casino & Resort Atlantic City has the loosest and best slots. If you want to discover the best slot machines at Borgata, you can see the payout rate from the list above. Additionally, the RTP shown above tells you the Borgata slot's best odds.
Ultimately, the numbers from the Win Data report indicate that if you come across a $.50 slot machine at an Atlantic City casino, you should play it. The average RTP for a slot machine with that limit is 94.1%.
The way odds are interpreted from slots is different from Atlantic City roulette or a blackjack casino in New Jersey. For example, when you play roulette, the payout odds are stated in the form of x to 1, rather than a percentage. So, you may come across a roulette game offering odds of a 35 to 1 payout.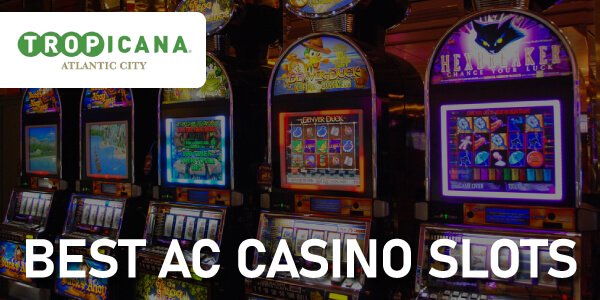 Return To Player Rate Online VS Live
Some of the most popular online slot games, such as Wolf Run and Siberian Storm, offer generous RTP's. The common consensus among those in the casino industry is that bettors would be better off online rather than at a physical casino. Although that may be the case, there are some essential distinctions between the numbers.
First, the RTP numbers at a land-based casino are based on real data from all slot machines on the floors of Atlantic City casinos provided by the NJDGE. Conversely, the online casino RTP numbers are theoretical and took much longer to be released. If you want to play online, you can check out our guide on the highest RTP slots in 2022.
Additionally, the physical casino numbers are created from actual data from every slot on a casino floor in Atlantic City. All online casino numbers are theoretical figures for only ten games found at both online casinos and physical casinos in New Jersey.
Most Popular AC Online Slots
Some of the most prominent AC slots available online include:
Zeus (WMS/SGi)
Gonzo's Quest (NetEnt)
Siberian Storm (IGT)

88 Fortunes

(Shuffle Master/SGi)
Private Eye (Microgaming)
All have an average RTP of approximately 94.94%. As more online casino platforms launch, new slot games are appearing all the time. If you want to know which online casino in NJ has the best slots for you to play, we have analyzed and listed the best games to play from the most popular NJ online casinos:
Atlantic City Casinos List
Atlantic City is home to 9 casinos, a lot of the names you will be familiar with. The full list of casinos in AC is:
Bally's Atlantic City, Park Place, and the Boardwalk. Opening date: 12.29.1979
Borgata Hotel Casino & Spa, One Borgata Way. Opening date: 7.3.2003
Caesars Atlantic City, 2100 Pacific Avenue. Opening date: 6.26.1979
Golden Nugget Atlantic City, Huron Avenue, and Brigantine Blvd. Opening date: 5.23.2011
Hard Rock Atlantic City, 1000 Boardwalk. Opening date: 6.27.2018
Harrah's Resort Atlantic City, 777 Harrah's Boulevard. Opening date: 11.22.1980
Ocean Casino Resort, 500 Boardwalk. Opening date: 6.27.2018
Resorts Atlantic City, 1133 Boardwalk. Opening date: 12.29.1979
Tropicana Casino and Resort, Brighton Avenue, and the Boardwalk. Opening date: 11.23.1981
AC Casino details:
Bally's Atlantic City
1,480 slot machines
93 table games
Online Casino Portal: None available
Retail Sportsbook:

FanDuel Sportsbook

1,214 guest rooms
The Ballys Atlantic City Hotel is luxury personified.
Borgata Hotel Casino & Spa
Caesars Atlantic City
Caesars also has an online casino where customers can benefit from Caesars rewards playing a slot game or any other real money game online. The Caesars Atlantic City Hotel lives up to the Caesars brand of market-leading gambling options.
Golden Nugget Atlantic City
1,216 slot machines
72 table games
9 Poker tables
Online Casino Portal:

Golden Nugget Online Casino

Retail Sportsbook: The Sportsbook (powered by Golden Nugget)
717 guest rooms
Hard Rock Atlantic City
2,189

Hard Rock slot machines

154 table games
Online Casino Portal: Hard Rock Online Casino
Retail Sportsbook: Hard Rock Sportsbook
1,971 guest rooms
The Hard Rock hotel is known for its world-class entertainment and dining options.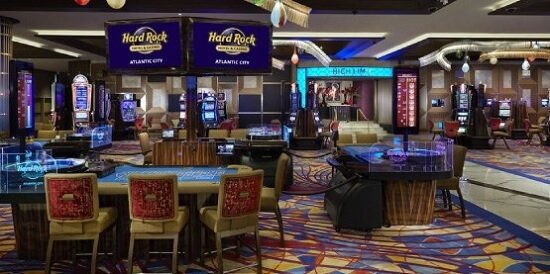 Harrah's Resort Atlantic City
Ocean Casino Resort
1,742 slot machines
104 table games
Online Casino Portal: Ocean Online Casino
Retail Sportsbook:

Caesars Sportsbook

1,399 guest rooms
Resorts Atlantic City
The Resorts Casino Hotel provides guests with a luxury ocean view so a casino player can take in the scenery as well as playing video poker or any of the other casino game options.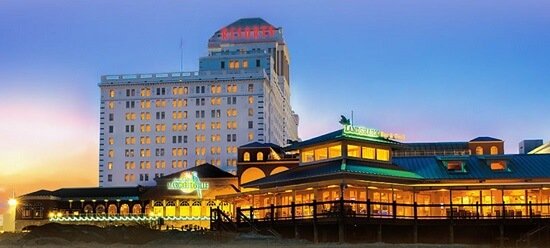 Tropicana Casino and Resort
The Tropicana Atlantic City offers fantastic table game options.
Can I Earn Comps At AC Casinos for Playing Online?
Naturally, you may think that you will miss out on bonus offers, comps, and loyalty rewards programs if you play online rather than gambling at a physical casino. However, this is not the case. The type of comps offered by online casinos varies, but most offer some form of bonus to attract customers to sign up. Some casinos have loyalty schemes that will give players a direct or indirect route to perks at Atlantic City properties.
For example, the Tropicana online platform has an online VIP loyalty program. Although this program is primarily for high-rollers, it is possible to get comped getaways to the hotel in Atlantic City, weekends away, and luxury dining experiences.
There is also the Golden Nugget program, where players are automatically entered into the brand's Ultimate Rewards program when they register. Players get benefits based upon their activity and how often they play. If a customer earns 5,000 Golden Points, they become a member of Golden Nugget's VIP Rewards Club. One of the significant benefits of being part of this scheme is getting complimentary perks at Golden Nugget Atlantic City.
You may also want to see our full list of NJ online casinos.
Advantages of Playing Slots Online
Playing your favorite slot games from the comfort of your home is convenient and suits most players. If you want some slot machine action at an Atlantic City casino, you may need to pay for travel to get there, and there is also the time element of getting there to consider.
Alternatively, you can log in and be playing on a slot machine online within minutes. As the slots at Atlantic City casinos are mostly the same as NJ online casinos, and you don't need to travel, this is appealing to the vast majority of players.
Any serious slot fan will no doubt have played at some of the casinos in Vegas. We also have a guide to finding the best slots in Las Vegas that you may want to check out.
If you have any questions about playing slots in AC, then why not send us a tweet @Gamble_USA. Good luck playing!