Las Vegas, or 'Sin City,' is home to close to 200,000 slot machines, more than enough to keep the most ardent gamblers occupied.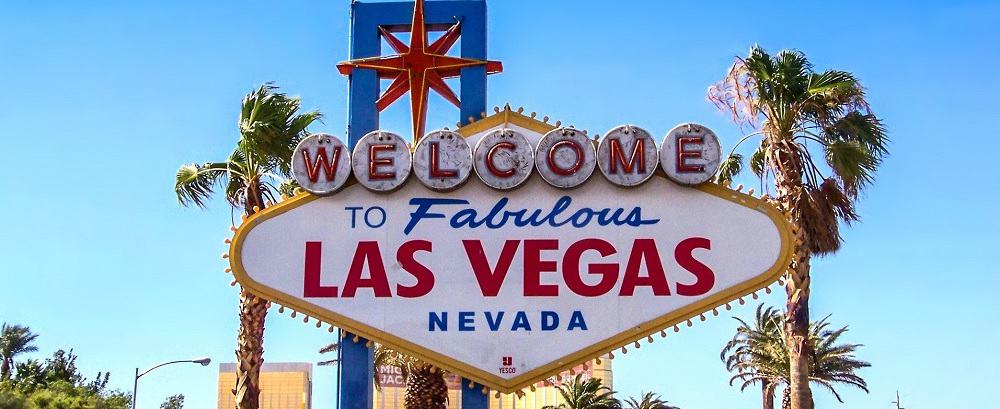 Slots in Las Vegas have been around for nearly a century and have evolved considerably from simple one-armed bandits to modern-day linked progressive jackpot video slots. But with so many options to pick from, how do you find the best slot machines in Vegas or discover which casino in Vegas has the best slot payouts?
Las Vegas is the king when it comes to the slots. You may judge the quality of the slots by the theme and visuals or the pleasant surroundings of a hotel and casino, but if you are really looking to find a loose slot machine, it is essential to know where the best vegas slot action is.
The significant action in the city has shifted from Downtown to the Las Vegas Boulevard. The Las Vegas strip is home to over 30 casino resorts, with names like MGM and Caesars well-known worldwide. Indeed, some of these brands now offer online casinos providing MGM slots online or FanDuel slots. If your primary objective is to find the loosest slots on the Strip and the best-paying slots in Vegas, we've got you covered.
Using the latest data from payback percentage rates, also referred to as a Return to Player (RTP) rates, we also look for the slots with the highest RTP. Based on data such as this, we have provided a list below of the best-paying casinos in Vegas. These all contain loose Vegas slots and a high return-to-player percentage. The good news is that they are also some of the most fun slot machines in Vegas.
Which Casino Has the Loosest Slots in Vegas?
Before we provide you with the definitive list of who has the loosest slots in Vegas, we must clarify a few points regarding loose slots in Vegas. One loose slot machine in a casino can be programmed at a payback of 99%, while others in rival casinos could be programmed at 90% payback. The programming is not the same across the board and always differs from one Las Vegas casino to the next. So while they may look identical from the outside, the setting could vary from casino to casino.
Additionally, players should not expect to win on every spin with a loose slot. It may happen, but it typically takes some time, patience, and a good amount of luck too to generate profits, even with the loosest slots in Las Vegas. So even if you feel you know the best casino for slots in Vegas, it is unlikely you will be "printing money" from them straight away.
In terms of how we created our list of where are the loosest slots in Vegas, it is all based on payback percentage data. Consequently, the below list ranks casinos that offer a higher-than-average payback percentage compared to other Las Vegas casinos.
Unlock 57,500 Gold Coins + 27.5 FREE Sweepstakes Coins
Large collection of casino-style games
Loyalty Program
There is a progressive jackpot on the site
Unlock 57,500 Gold Coins + 27.5 FREE Sweepstakes Coins
Circus Circus Hotel & Resort
From the outside, Circus Circus doesn't look particularly appealing, especially compared to some other properties on the Strip. It has been a long time since the building has been updated and renovated. However, if you don't mind "slumming it" for a little while, if you play slot games at Circus Circus, they score an average payback percentage of 92.56%, which is the highest of any casino in Las Vegas.
Circus Circus is home to classic penny slots, which still accept quarters and use a pull-lever to spin the reels. You will also find Classic Coin Machines for $1 a spin over at the Main casino. Slots such as the Magnificent 7's come with an impressive 97.4% payback, which is high enough to rival most online slots, making them very popular with local players.
The good news is that Circus Circus is currently undergoing a $30 million renovation project scheduled to carry on into 2023. This is fantastic news, provided they don't decide to fund it by making the slots tighter!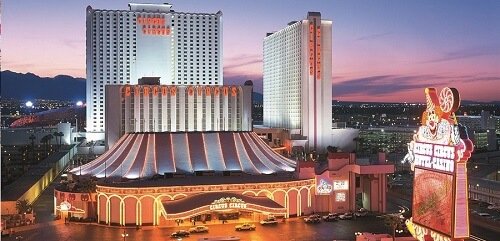 The excellent 92.56% payback rate surpasses the Strip's overall average of 91.47% by more than a whole percentage point. This may not sound like a big deal, but considering the millions of dollars involved in Vegas, this difference is enormous.
Luxor Hotel and Casino
Even if you are not familiar with the name Luxor, it is likely the first casino resort on the Strip you will notice as you experience the nightlife of Vegas for the first time. A striking black pyramid catches the eye as it shines a bright beam of light straight from its peak into the skies above. The light can be seen from miles away and is synonymous with the Vegas skyline.
When you venture inside, you will discover over 1,100 slot machines, one of the city's most extensive offerings. Altogether, they offer an average payback rate of 91.92%. The vast selection covers a range of games, from modern video slots to the more traditional three-reel machines. These slots come with movable seats and sound effects so players will feel at home. Top-quality slots such as the Cash Express Luxury Line, Dragon Link slots from Aristocrat, and the newest smash hit machines such as Stinkin Rich Skunks Gone Wild, Rakin Bacon Deluxe, and Captain Riches are all available at the Luxor.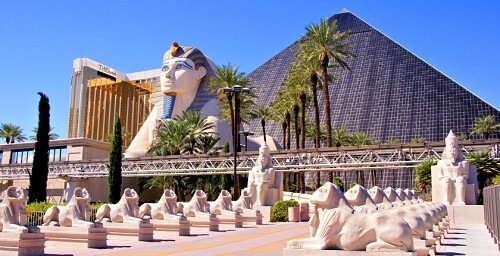 Excalibur Hotel and Casino
If you have a family with small children, Excalibur is an improvement on Circus Circus and is well-known for its medieval castle theme. When visiting, you will be greeted at the entrance by "town criers" dressed in traditional medieval garb. The ambiance at Excalibur is fun and quirky, which adds another element of fun to the experience.
In terms of the slots lineup, Excalibur's slot portfolio offers an average 91.84% payback rate, which beats the baseline for casinos along the Strip.
At this casino, you will find hundreds of slot machines, ranging from $0.01 to $100 stakes. Another perk for visitors is that they offer some of the most popular slot games around, including Monopoly Hot Shot, Buffalo Grand, and Dancing Drums. Plenty of new slots are available, including releases such as 88 Fortunes Money Coin, Gold Fish Feeding Time, and Wolf Run Eclipse.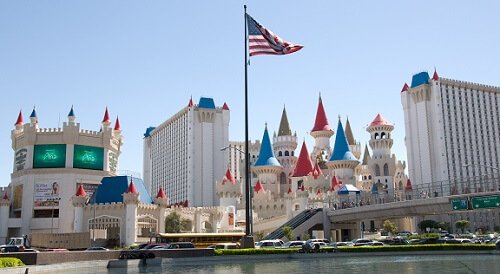 One of the best things about playing slots at Excalibur, which MGM Resorts own, is the seasonal monthly tournaments. Events such as the "Excaliventure" offer $25,000 prize pools in a unique format.
Bally's Las Vegas Hotel and Casino
If you love new technology and video poker games with the latest features, you won't find that at Bally's. However, their slots average out at 91.82% payback. Similar to Circus Circus, this Caesars-owned property has a dated appearance and uninspiring interior, but it also has high-paying slots and lots of them, too with well over 1250+ slots.
These high-paying slots do an excellent job of attracting players from some of the fancier joints on the Strip. Bally's does what it says on the tin and can definitely be called a no-frills casino.
With that being said, you will undoubtedly find some classic slots offering plenty of fun but not as much cutting-edge technology.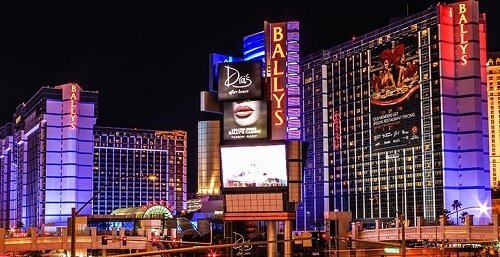 Paris Las Vegas
Suppose you are a loyal Caesars Entertainment customer and are part of their Total Rewards Program instead of being part of the MGM Resorts M-Life scheme. In that case, you can switch across Las Vegas Boulevard to Paris and find the same 91.92% overall payback rate as in Luxor.
With over 1,700 machines, the range of slots is massive. There are three-, five- and six-reel games, plus a wide selection of jackpot machines. Standout slots on offer here include the mega-million-dollar statewide progressive Megabucks games along with some slots catering for the high rollers in the high-limit Champagne Slots.
If you are exhausted from gambling, you can also experience other amenities like dining, shopping, and world-class entertainment.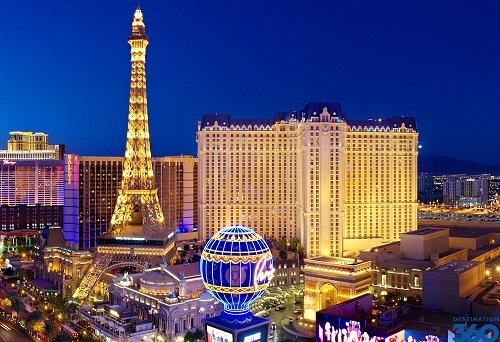 New York-New York Hotel and Casino
This MGM Resorts property contains all of the modern features gamblers these days have come to expect. This includes amenities such as cafes and restaurants, retail shopping outlets, and a variety of bars. The casino also caters to kids, with a video game arcade and the famous roller coaster twisting and turning outside.
New York-New York's 900 slot machines average out with a payback rate of 90.99%. These include the following:
Wheel of Fortune
Megabucks
Jackpot Party
Blazing 7's
Top Dollar
Sex and the City
Monopoly
Goldfish
Wizard of Oz
The newly added slots to New York New York casino include Cashman Bingo, Lucky Golden Toad, Triple the Thrill: Divine Diamonds, and Triple the Thrill: Honey Hearts
The payback rate is only 1.57% lower than the Circus Circus. Consequently, this casino is the perfect alternative for players who want to visit a family-friendly casino that's also safe and clean.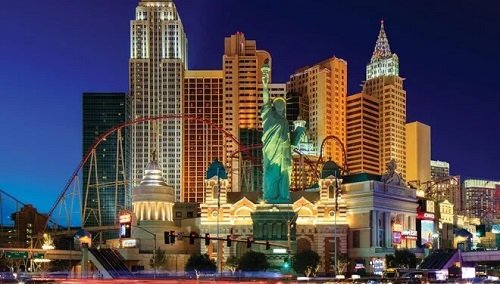 How Do Slots Work?
Nowadays, most slots are digital, but they work in the same way as classic machines. With slots being the most popular among casino games, it is no surprise that casinos worldwide usually have plenty of slots in every room. One of the major reasons bettors enjoy slots is they bring excitement and are very simple to play.
There is no playbook to learn or complex instructions to follow. Additionally, slots require minimal investment in order to play, so you can keep yourself entertained for a longer period of time.
The concept of slots is a simple one. Players put in the amount of money they want to play with, and once the machine registers it, you can start playing. The game itself is straightforward; you just need to pull the arm or activate it with a button or lever, depending on what type of machine it is.
This will then trigger the reels which hold different symbols to start spinning. Eventually, the reels will stop, and you will notice a combination of symbols that give a certain payout depending on how the symbols got lined up.
The vital thing to remember when playing slots is the house, otherwise known as the casino, will always have an edge regardless of the type of game you play. It doesn't matter if it is a penny machine or a dollar slot; they have all been designed in a way that will keep a minimum percentage of your money over the long term.
However, as with the primary purpose of this article, there is one thing you can do to give your winnings a boost, you can choose the loosest slots at the casino.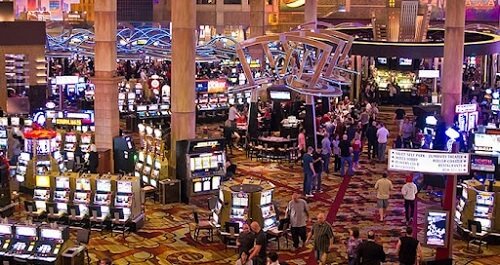 What Is a Loose Slot?
A loose slot is a significant reason why many bettors choose to put their money in this machine. Each machine gives a different rate of payout, meaning some naturally give more than others. As with any form of gambling, the aim is the same, to win big. So when it comes to slots, the objective is to find the machine that pays more than most.
This is where the term loose slot comes into play. It is used to describe a slot machine that has the most generous payout percentage and pays out more frequently. Another term players may come across when gambling in Vegas is a "hot slot".
It is also felt that these loose slots also have the lowest house edge. In other words, if slots on average keep 5% of your funds, the loose ones will keep less and subsequently return more back to the player.
Reading this may lead you to immediately think about visiting the Mandalay Bay or Golden Nugget casino floor to earn some money. However, as we have previously mentioned, a little research is required before you go to find out where the loosest slots on the Strip are located.
Can Slots Be Loose?
It might come as a shock to some, but slots can be loose. Additionally, there are some tricks and tips that can lead you directly to them in Las Vegas.
Firstly, there are some basic rules that you can put into action if you have never heard of the term 'loose slots' before. One of these rules is that the more active a selection of slots is, the more chance you will have to get your money back. Typically, regular customers will already be aware of which slots are the loosest, so it may be a wise decision to visit the bar and have a drink just to enjoy the buzz of the casino for some time and see if you can spot where the regulars are playing at..
Another saying you often hear from gamblers is that the higher slot denomination brings higher and more frequent payouts. Essentially this means a 100$ machine will, eventually, pay more than a penny slot. We have a guide on how to tell when a slot machine is ready to pay out that you may also want to explore.
We now have some new findings in terms of the specific brands or slot games that carry the name of a hit TV show or movie. Slots such as those are believed to payout considerably less since the casino is also paying a fee for using the patented product or license. There are various factors are be considered when a slots RTP is revealed, knowing this value gives you the knowledge of how loose the slot will play over the long term.
Apart from the above factors, there is something even more convincing that can help you in your bid to win some money and find the loosest slots in Sin City. This is, all of the Las Vegas casinos must report their revenue to the Nevada Gaming Board. The report includes information about the slot hold percentage. The board then reports the statistics regarding its casino industry, and that is where we can find the information we are looking for.
How To Work Out A Machine's Payback Percentage
There are a few factors that determine a machine's payback percentage. One factor is that a programmer can manipulate it according to the amount of numbers they assign to each blank or symbol. More numbers that are assigned to higher-paying symbols and few numbers aligned with blanks results in a higher payback percentage. Conversely, more numbers lined up with blanks and cherries give a lower payback percentage.
Individual casinos are also a factor with payback percentages. When a casino is choosing a machine from a manufacturer, they are presented with numerous theoretical payback percentage ranges. Each casino selects the range they want for each denomination (for example, dollar, nickel, or penny slots) based on casino policy.
Although it is possible to find out payback percentages, it's vital to bear in mind that they are theoretical. These percentages are not based on a whole night's worth of play or a single spin of the reel. Instead, they are worked out by the average outcomes of millions of spins. This is why you could be playing all day and still lose. It is not you who is cursed, and it is not the machine; it is just pure statistics at play.
Certainly aiming to find the slots with the highest theoretical RTP is a great start though, but factor in things such as volatility and variance of slots too, and a healthy dose of luck!
Other Ways To Find Loose Slots
Although we have provided a comprehensive list of where to find the loosest slots in Las Vegas, we understand it is a complicated question, and the answer frequently changes. With that in mind, we recommend you carry out your own research before you pack for your trip to Vegas. If you are really serious about locating the loosest slots and want to make some big money, some places to look include:
Promotions: One option is to sign up for casino players' clubs. These clubs give users unique access to special games and free slot plays. Additionally, you will be eligible for free merchandise on your next trip to Las Vegas by completing your registration. Getting free comps and bonuses automatically gives you more playtime and chances to win regardless of the slot being played.
Nevada Gaming Revenue Report: If a series of numbers and statistics don't scare you and you have some spare time, it is worth checking out Nevada's official statistics. These figures are published on a yearly basis and break down the payouts by region, casino revenue range, and slot machine denomination. Additionally, the report can be downloaded in PDF form directly from the Nevada Gaming Commission's website.
Podcasts: Podcasts are all the rage now. You can listen to people talk about food, the weather, sport, or even knitting via a podcast. It is no surprise then to discover that there are several Vegas podcasts available. On these podcasts, loose slots are a popular topic. Some Vegas podcasts to look out for include:
The above are all available on the usual platforms where you listen to your podcasts.
Online Message Boards and Forums: It is always worth checking out sites like Wizard of Vegas or Tripadvisor for more information than just reviews on your hotel. Additionally, Vegas message boards will contain plenty of conversations on slots and how loose they are.