When it comes to online casinos, New Jerseyans are spoilt for choice. Behemoths like DraftKings and BetMGM are an obvious pick. However, keen players are always keeping their eyes open for that perfect NJ online casino that offers a perfect combination of exciting slots, with mouth-watering high RTP — and in 2021, they found the holy grail. Bally Casino.
From money makers like Blood Suckers to the exclusive Secrets of the Phoenix — Bally online casino know precisely who their target market is, and they are more than happy to cater to them. Though with so many to choose from, it can be a tough ask for new players to work out what are the best Bally slot machines.
Well, in this guide with the help of our expert team, we'll show you our picks for the best Bally slots. Even if you're a veteran, you'll want to stick around. Because we're giving away the tips and tricks from the most successful members of our team.
Unlock 57,500 Gold Coins + 27.5 FREE Sweepstakes Coins
Large collection of casino-style games
Loyalty Program
There is a progressive jackpot on the site
Unlock 57,500 Gold Coins + 27.5 FREE Sweepstakes Coins
5 Best Slots at Bally Online Casino
At Bally Casino, everyone will inevitably have their favorite slot machine. Some prefer progressive jackpots, while others lean towards Megaways. However, when you ask enough people for their top five, you'll start to see the same names pop up. From them, we've compiled the community's pick for the best of Bally's slots.
| Rank | Slot Machine | RTP | Volatility | Jackpot? | Score |
| --- | --- | --- | --- | --- | --- |
| 🥇1 | Kronos Unleashed | 95.86% | Medium | Yes. Fixed. | 9/10 |
| 🥈2 | Deal or No Deal | 90.2% | High | Yes. Progressive. | 8/10 |
| 🥉3 | Gonzo's Quest Megaways | 95.77% | High | No | 8.5/10 |
| #4 | Secrets of the Phoenix | 95% | Medium | No | 8.5/10 |
| #5 | Montezuma | 95.22% | Very High | No | 9/10 |
#1 Kronos Unleashed — SG Interactive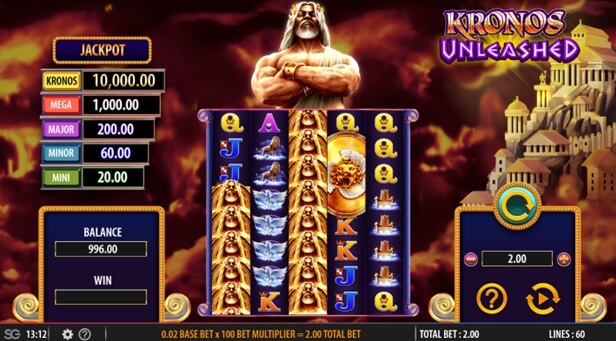 Starting, it's Kronos Unleashed. One of the most common themes of slot machines is ancient Greece, and when you think of ancient Greece — inevitably, thoughts go to Zeus. However, in Kronos Unleashed it's Zeus' father who's the star of the show. Five reels with expanding rows that can take the games from its usual 5×8 to 5×12, Kronos Unleashed is an exciting slot that's anything but ordinary.
An RTP of 95.86% and medium volatility may seem standard. Though what makes this game stand out is its plethora of bonus features. Paramount of all is the Jackpot bonus spins. If during the free spins the lightning symbols land, the user will be invited to spin the two-reel jackpot slot. From here, players will win two of the jackpots of either the mini (x10), minor (x30), major (x100), mega (x500), or the Kronos jackpot (x 5,000). With the max bet of $50, this can lead to the life-changing grand prize of $250,000.
#2 Deal or No Deal — Endemol Games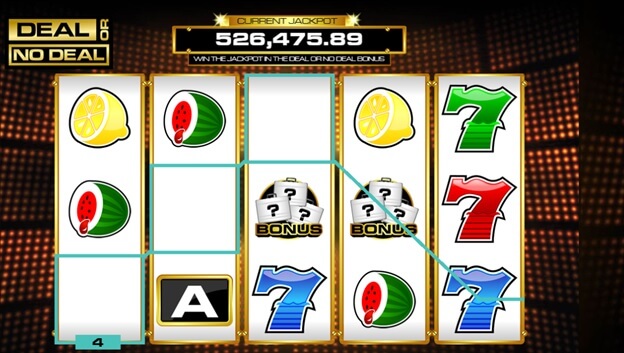 The nationally syndicated television series is now licensed by Endemol Games to produce a slot machine. It's a remarkably simple high volatility five reel and three rows with 20 paylines. While it may be slightly too simplistic for many people, fans of the TV series will love its bonus features which all correlate with a feature from the TV series.
The most profitable of these features is undoubtedly the "Deal or No Deal Bonus", which just like the TV series, has the player opening briefcase after briefcase eliminating potential prizes, all the while the banker will continuously call and make you an offer. Like the show, the game ends with two briefcases. Here, the player must select to open one — with the top prize being the progressive jackpot top prize which as of writing sits at $526,475.89.
While not the most profitable with an RTP of 96.4%, the Deal or No Deal slot is undoubtedly an excellent game for those who want to replicate the feeling of playing the real thing.
#3 Gonzo's Quest Megaways — Red Tiger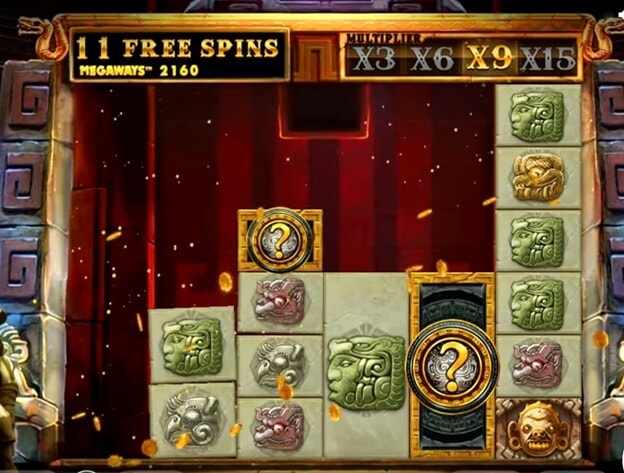 One of the most popular franchises in all of slots, Gonzo the Spanish explorer is back with Red Tiger in Gonzo's Quest Megaways. With an RTP of 95.77%, the highly volatile Gonzo's Quest Megaways combines two of the most popular features in slot machines with cascading and megaways mechanics to create a thoroughly enjoyable game. Though while the base game is great on its own, what takes Gonzo's Quest Megaways to the next level is its bonus rounds.
Collect three scatter symbols to be awarded nine free spins, with each additional scatter awarding a further three. During these free spins, the free fall multiplier is activated.
Here, instead of the cascading multiplier awarding x1,x2,x3, and x5 — they award an x3 multiplier for the first batch of symbols matched, x6 for the second, x9 for the third, and a whopping x15 multiplier for all subsequent wins. This can lead to streaks of big wins, leading into streaks of massive wins – which is why it is widely considered one of the best bonus slots.
#4 Secrets of the Phoenix — Roxor Gaming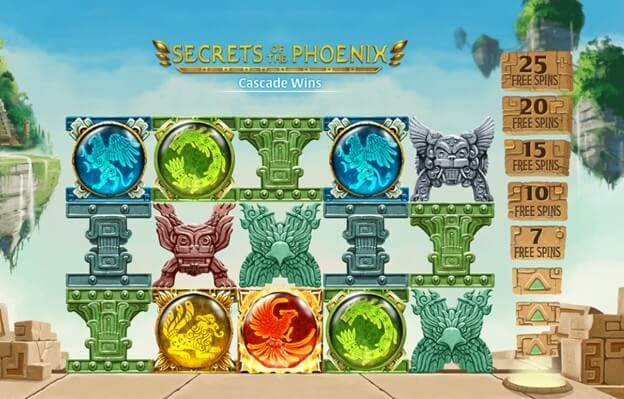 Exclusive to Bally online casino, Secrets of the Phoenix is a brilliantly simple game for people who don't want any bells and whistles. The medium volatility cascading game carries a 95% volatility and a standard 5×3 layout. While not the most exciting slot machine in the world, Secrets of the Phoenix is just an enjoyable and relaxing game where the user doesn't have to stress wondering when their next win will come.
The bonus feature in this game is relatively simple to understand, and rather than collecting scatter symbols — it's triggered by the cascading function. Here the player needs four cascades worth of wins to win the initial seven free spins. Of course, the more cascades, the more spins the player is given.
#5 Montezuma — WMS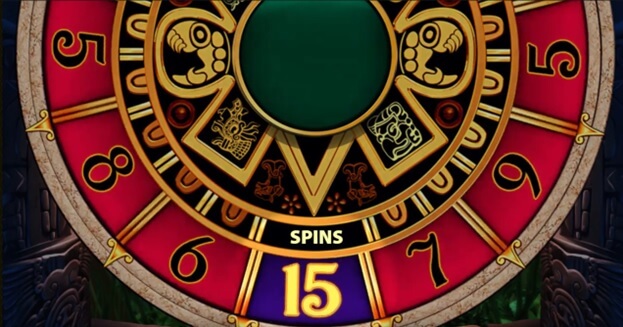 The Aztec-themed Montezuma by WMS is a classic 30 payline, five reels, three-row slot machine that is a favorite among both veteran and newer slot players. With very high volatility, players can't expect to win a whole lot in the base game with the majority of the 95.22% RTP coming from the bonus game.
To activate, a player must land three scatter symbols or buy the bonus feature.
From here, the first of two wheels are spun to determine the number of free spins awarded, with a maximum of 25 being on offer. Here, your free spins will begin. Though before each spin, a different wheel will spin. This one will reveal a multiplier that can be as large as x10, which will be applied to all winnings from that round. If you're after additional free spins, they can be won by collecting two or more of the scatter symbols.
Highest Paying Slots on Bally Casino
The previous games can be a lot of fun. However, if the potential of your life changing in an instant is what you're after these next games will be for you. For this task, our team looked at every game's RTP to determine which games were the best paying slots at Bally Casino.
Blood Suckers — 98% RTP
Monopoly Money in Hand — 97.75% RTP
Blood Suckers 2 — 96.94% RTP
Dead or Alive — 96.82%
$100 Risk-Free Play
21+. T&C Apply
21+. T&C Apply
Casino, slots & bingo games
Win Free Spins daily
#1 Blood Suckers — 98% RTP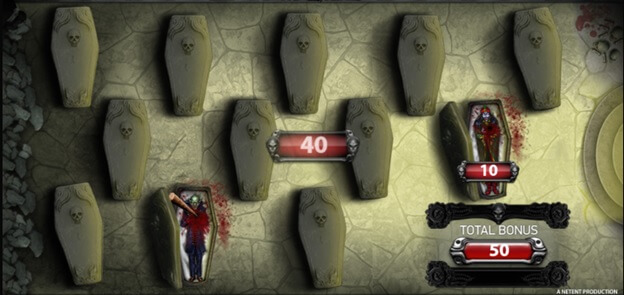 At a mouth-watering 98% RTP, the vampire-themed Blood Suckers by NetEnt is a game that offers the potential of massive wins at every spin. Blood Suckers breaks the mold by offering surprisingly low volatility with a massive slot RTP. The 5×3 game has 25 paylines and is simple to get the hang of. While the base game is one of the most profitable that you'll find on this list, the real money is to be made with the bonus round.
Collect three or more of the bonus symbols (not to be confused with the scatter symbol) to be presented with rows upon rows of coffins. From here, you're tasked with prying open the caskets and slaying as many vampires as possible, with each vampire having the potential of delivering an x150 payday. Players are invited to keep slaying until they uncover an empty coffin. Here, the bonus game ends, and the player collects their winnings and is taken back to the base game.
#2 Monopoly Money in Hand — 97.75% RTP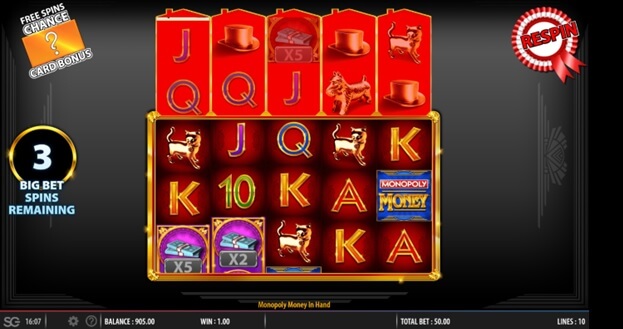 We've all been a Monopoly millionaires before; however, Monopoly Money in Hand by SG Gaming allows you to turn your Monopoly millions into real cash. Monopoly Money in Hand is a game you should only play if your bankroll allows it, as our expert team has determined that RTP changes based on your bet. Going from a low 94% for the smallest bets, to 97.75% for big bets in the bonus rounds. Though if you are going big, don't worry. The medium volatility of the game almost guarantees that you won't have too long till you get a win.
While free spins can be won in normal play, the expanding reels that take the game from 5×3 to 5×5 can only be purchased for $50. At $10 a spin, it may seem heavy though in the mode when the scatter symbols land, they're locked in. This means that the chance of winning free spins while in 5×5 mode is higher than that of the base game. With the progressive multiplier that the free spins add, it's no wonder why the winnings can be truly massive as the multiplier reaches x25 and above.
If you've got the money, Monopoly Money in Hand is for you.
#3 Blood Suckers 2 — 96.94% RTP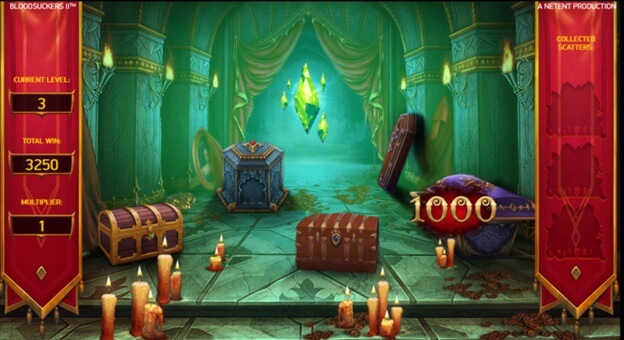 With the success of the original, it was inevitable that there would be a sequel. The layout is the same at 5×3 and 25 paylines, with the expected vampire theme, though with medium volatility. At a lower RTP of 96.94%, the inevitable question is, why play this when the original has a higher RTP? The answer. The bonus game.
It may seem the same as you're once again opening coffins, though the highest cashing vampire is no longer your chief concern. Now you're searching for keys to advance the levels. And you'll want to do this because if you complete the last level, you'll be awarded x1000 your bet, plus all your winnings that you would have collected.
While technically not as profitable as its predecessor, Blood Suckers 2 offers a much better chance to win big.
#4 Dead or Alive — 96.82%
So often it's the Western-themed, NetEnt-produced, Dead or Alive's successor that gets the limelight. Though with an RTP of 96.82%, it just barely edges its successor on profitability. A 5×3 layout and only nine paylines matched with high volatility might make it seem that wins are going to be separated by long stretches of losses. But in our assessment, that hasn't been the case. Of course, with such high volatility you can't win every time. But Dead or Alive is a simplistic and fun game where wins occur enough of the time.
Of course, with all high RTP games of this volatility, most of your winnings occur in the bonus rounds. By collecting three scatter symbols, players are awarded 12 free spins. In this mode, wilds are sticky. This means that by the end of your spins, the reels can be covered in wilds, and profits can be huge. As such it's perhaps understandable that additional free spins can only be won once.
How to Play Online Slots at Bally Casino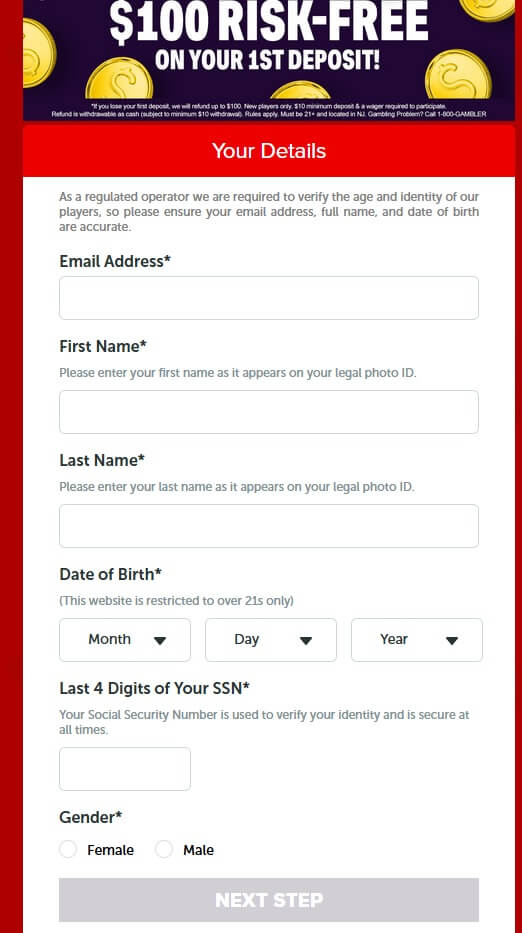 To play Bally's slots online, you need to have an account. Fortunately, registering and depositing with Bally is simple.
Follow our secure link to visit

Bally online casino

. Then navigate to the registration page.
Enter the first page of information, including your full name, date of birth, and last four digits of your social security number, before hitting "Next".
Choose your username and password and hit "Next" again.
Lastly, enter the third page of information to confirm your identity. This information includes your residential address, as well as your mobile number. It's essential to enter this information accurately as you won't be able to withdraw any of your winnings unless they can confirm this information.
You're done. Just confirm your mobile and get ready to deposit.
Where can you Legally Play Slots with Bally Online Casino?
Currently, Bally Casino is only available to residents in New Jersey. If that changes though, we'll be sure to update this page.
However, if you're looking for the best casinos in other states, check out our guide for online casinos in Pennsylvania, Michigan, and West Virginia.
$100 Risk-Free Play
21+. T&C Apply
21+. T&C Apply
Casino, slots & bingo games
Win Free Spins daily
How to win on Bally Casino Online Slots?
How do you win at online slots? It's the million-dollar question. The simple answer is to play the games listed in the above section for the highest-paying game. Looking a little more in-depth though, you need to decide whether you want to win a few bucks, or whether you want the potential of a seriously life-changing win. If your answer is the latter, you may wish to veer towards Bally's massive selection of progressive jackpots.
These games are traditionally high volatility as you'll win less often, but when you do, it can be for massive amounts. However, if you want to go somewhere between regular small winnings and irregular big winnings, you should look for a high RTP game with a great bonus round. Blood Suckers 2 is an example of this sort of game, as it has a massive RTP of 96.94%, with an incredible bonus game that can pay above x1000 your stake.
Of course, if you're unsure which you prefer, use the demos. In this mode, you can play free Bally online slots. They play just like the real thing. Only you won't be risking any real money. Once you find a slot you like, and one that you understand the strategy of you can switch to real money play and start making bank.
Bally Casino Slots App
One of the most significant benefits of online casinos compared to land-based casinos is your ability to play from the comfort of your home. However, in the ever-prevalent age of smartphones, many people now want the ability to play on the move. For these people, Bally has a brilliant app.
Available from both the Apple app store and Google play store. Just navigate to your relevant store, download the casino app and log in. From there, you'll be greeted with a similar and easy-to-navigate interface. It's just that simple.
Slots Promo Code at Bally Online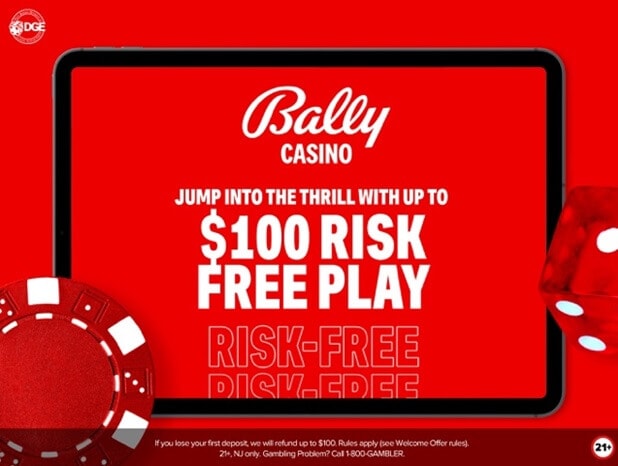 Bally Casino may not have any bonus codes; however, don't let that fool you into thinking that they don't have any great deposit bonuses — because Bally has one of the best. Simply make your first deposit, and if after the first week you're down, you'll be given up to $100 cashback. While that may sound small compared to many other bonuses, such as the DraftKings $2000 first deposit bonus, what makes Bally unique is that the $100 cashback has no playthrough requirement.
Zero. So if you decide you want to stop playing, you can. No complicated wagering requirements. The money is yours. This makes Bally Casino's promotions one of the few genuinely risk-free promos.
$100 Risk-Free Play
21+. T&C Apply
21+. T&C Apply
Casino, slots & bingo games
Win Free Spins daily
Slot & Casino Game Software Providers at Bally
Bally online slots are made by a variety of casino software developers. Not only can you expect to find the usual suspects of NextGen Gaming and NetEnt, but you can also find some of the lesser seen software providers like Barcrest. While we recommend players get acquainted with all the software providers at Bally, we'll mention our top three here and which games they make:
NetEnt — Blood Suckers & Dead or Alive franchise.
WMS — Montezuma & Raging Rhino
IGT — Action Jack & Crown of Egypt
Though with Bally, we recommend that the player experiment and not limit themselves to any particular developer.
Top Tips to Play Bally Slots
With a combined total of over 100 years of online slots experience, it's fair to say that our team has played a lot of slots. Machines and themes may differ, though if you want to win, some things always stay the same. The following are our top tips for playing Bally slots.
Check RTP — If long-term profit is your chief concern, then there can be no more critical statistic than RTP. You can use our highest paying slots from the above section as a guide, though when trying any other slot, it's essential to do your own independent research.
Read the rules — When going after jackpots there can be nothing more dejecting than hitting it, but then realizing you don't get it because you didn't bet the right amount. For this, it's always wise to check the rules.
Play the demo — While the above games are a great start, you should still play the demo first. This will allow you to play free Bally slots to find which games you prefer, and what their optimal strategy is before you start risking your cash funds.
Play max paylines — In some games you may be able to reduce the number of paylines you play in order to reduce the overall cost of a spin. Don't do it. This will always lead to a reduction in RTP. If you're looking for a way to reduce the amount of money you risk per spin, it's always better to just reduce the overall stake.
Stick to your limits — Always gamble responsibly. It's never a good idea to chase losses, so set a limit for the amount you want to play and stick to it.
Bally Slots RTP
Regardless of whether you play for fun or profit, you should always consider RTP. The house will have an edge in all games, and RTP (Return to Player) determines that edge. For example, looking at Bally's top RTP slot, Blood Sucker, we can see it has an RTP of 98%. This means that over the average course of $100 worth of gaming — $98 will be returned to the player; therefore, Bally will have made $2.
This trumps slots at land-based Las Vegas casinos, which on average have RTP of ~90%. As such, to ensure that you have the best chance of coming out ahead, you should always prefer online casinos over brick-and-mortar casinos. For this, there are few better than Bally.
New Bally Slot Games
With Bally Casino becoming increasingly popular, slot machine developers rush to them to get their games featured in their casino. This is to the player's benefit as new slot machines are always available at Bally. As of writing, the most recently released slots are Clash of the Beasts, Reel Keeper, Johnny Cash game, Golden Cryptex, and Ultimate Fire Street China Link.
We recommend you keep a close eye on their "New Slots" section and give their games a shot in the demo mode. This will ensure that if they're hot — you'll be the first to know about it.
How Bally Casino Keeps Play Fair
Online casinos have always been a point of confusion for US players. Unfortunately, illegal off-shore casinos take advantage of this to confuse and attempt to rip off players. As such, the inevitable question you may have is, "How do I know Bally Casino is fair?" The answer. The New Jersey Division of Gaming Enforcement.
They ensure that online casinos are held accountable, that slot machines aren't rigged, and that when it's time for them to pay up and give you your winnings, they do. Licensing in New Jersey is strict, as each online casino must be partnered with a land-based casino, thereby ensuring that they have a good reputation and adequate funding. So when they say Bally Casino is fair, you can be sure that Bally is fair.
Further, Bally Casino goes above and beyond with their social commitments, with their "Let's Keep it Fun" policy. This policy protects not only minors, but also users who may be vulnerable to addiction. If you feel this may be you, contact their customer help team via live chat or email at support@nj.ballycasino.com to discuss limits, as well as short-term and long-term exclusion.
$100 Risk-Free Play
21+. T&C Apply
21+. T&C Apply
Casino, slots & bingo games
Win Free Spins daily
FAQs
What slots does Bally's Online have?
With over 100 slots as part of their ever-growing roster, it's impossible to name them all. Though rest assured, they have all types. Progressive Jackpots? Deal or No Deal. High RTP? Blood Suckers. Plus, a truly massive library incorporating all the most popular features, including cascading mechanics and megaways.
Can you play slots on Bally Online Casino?
Yes. On top of all the classic Bally casino games and table games, players can find a wide selection of online slots.
Is the Bally Slots App legit?
Yes. Available on both iOS devices and android phones. Just download it from the relevant app store, log in, and you're ready. With a similar interface to the desktop site, players can expect the same excellent service all from the convenience of their mobile devices.
Are there progressive jackpots at Bally Casino?
Yes. There's a large selection of progressive jackpots at Bally Casino. As of writing, the highest progressive jackpot belongs to the Deal or No Deal slot machine developed by Endemol Games which currently sits at over $500,000.
What casino bonus codes are there for Bally Slots?
Bally Casino does not currently have any bonus codes. However, they do have a risk-free first deposit bonus.

Simply by depositing at least $10, if players are down after their first week, they'll be compensated 100% up to $100. With the cashback bonus, players do not need to worry about playthrough requirements as the funds are instantly available to withdraw, making this a genuinely risk-free bonus.