The Tropicana casino is one of the most popular casinos in Atlantic City. Not only do players love playing on the massive choice of slot machines in the casino, but the online casino also has some of the best slot games from any NJ casino. But with so much choice, which are the best Tropicana Slots to play in the casino?
There are now many online casinos in NJ where you can play real money slot games, but the Tropica Slots offer up one of the widest choices of titles and amazing gameplay.
A name such as the Tropicana Online Casino is bound to offer excellent slots. With its excellent player benefits rewards program, the gameplay experience is a match made in online casino heaven. All players need to choose what suits their gaming and banking needs the most to gain profit.
Promo Code: TROPTEN
Up To $100 Real Cash Bonus
21+. T&C Apply
21+. T&C Apply
Awesome slot games
Tons of promotions
Promo Code: TROPTEN
Up To $100 Real Cash Bonus
21+. T&C Apply
21+. T&C Apply
Tropicana Casino NJ
If you are looking for things to do in Atlantic City, the Tropicana Casino should be one of your first stops. Located on the Atlantic City boardwalk, The Trop and its gaming floors offer over 3,000 slot machines. The casino has some of the best AC slots to play, with the highest RTP rates of any AC casino.

Offering over 3,000 slot machines is impressive, but where Tropicana NJ really shines is their online casino offering. No need to head to AC to play your favorite slot game as you can now play online on the excellent app and desktop site. To play Tropicana Slots Online, you need to create an online account. New players can take full advantage of the promo code for Tropicana slots app iPhone and Android to get up to $100 cashback to use at the casino. Sign up today at www.tropicanacasino.com and you can be playing your favorite slot titles within a few minutes.
Finding the list of 180 Tropicana slot machines is relatively easy. The Gamesys-designed Tropicana NJ Online Casino interface ensures that. The homepage is clutter-free, making it easy to find what you are looking for. Tropicana slots are available to play online and on mobile, as they have a dedicated casino app for iPhone users and an app for Android mobiles.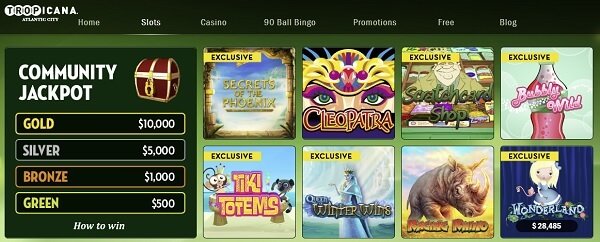 Just locate the Tropicana Atlantic City Casino logo at the top of the screen. Look through the seven different menu choices to the right, and you should; see one labeled "Slots." Just press on it, and you will see that a list of all 180 online slots Tropicana appears below. The slots are available to play for real money (in NJ) and there is also a demo mode available on most of the titles so you can try them before you play for real cash.
The list is in tile format, but the Tropicana tiles are more extensive than most, making it easy to browse through the list and find exactly what you need.
Each of the tiles contains information about the slot machine, a link to a free-play demo, and the slot machine itself where you can play for real money.
You may see tiles with a yellow banner on the top left with the word "Exclusive." These are the slot machines found exclusively at Tropicana Casino. It is a list that includes favorites such as:
Family Feud
Million Dollar Money Drop
The Godfather
Tiki Island
Plus, about a dozen more slots that you will not find anywhere else in New Jersey.
Browse through all the tiles, and tiles with a black banner on the bottom half with a dollar amount inside should become clear to you.
The Wonderland progressive jackpot slot machine and the dollar figure inside that banner signify how much the current progressive jackpot is worth.
The Wonderland Slot is the only progressive jackpot slot on Tropicana, but with a jackpot above $500,000, that is enough.
If you are like most players, you play slots chasing the big jackpot, and Tropicana gives you the chance to do that with the Wonderland slot machine.
Here is a closer look at the game:
Wonderland at Tropicana NJ
Wonderland is Tropicana's most popular online slot machine because of the massive progressive jackpot it offers. The slot has a reputation for paying out some of the most massive jackpots in NJ gambling website history.
The West Pier Studio-designed five-reel, the 100-payline slot machine features the same characters and symbols you will find inside Lewis Carroll's children's classic Alice in Wonderland.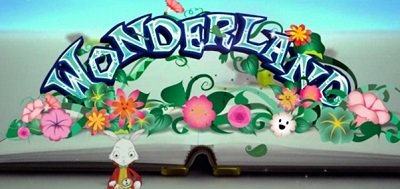 Iconic characters such as Mad Hatter, the Queen of Hearts, and the White Rabbit are here.
Wonderland features four different bonus games.
The Queen's Court bonus game is where you have a chance to win the progressive jackpot. The Queen's Court is a classic high-low card game. You will advance through the game by picking whether the next card will be higher or lower than before.
If a joker appears, the progressive jackpot is yours.
Tropicana Casino Las Vegas
Located on the Las Vegas Strip's most hotel-dense corner, the Tropicana Las Vegas is a landmark. The Tropicana Las Vegas was built in 1957 and has been a pillar on the strip ever since. The casino is well renowned for offering one of the best gambling experiences in Sin City, as well as having some of the loosest slots in Vegas.
James Bond even stayed here in Diamonds are Forever. While many other casinos on the Vegas strip have been demolished to make way for newer, flashier modern casinos, The Tropicana Las Vegas has managed to remain a classic, a living part of Vegas history.
The casino is themed for Palm Beach, Florida, and carries through a tropical theme throughout the casino and resort. However, the décor is much more subtle than some of the strip's casinos' more modern iterations.

This does not seem to stop anybody from enjoying it, though. The Tropicana is known for its part in Vegas history, and it is known for its gaming experience.
Like many Las Vegas casinos, slot machines are top-rated at the Tropicana Resort and Casino.
Slots are plain fun, and there are several slots to choose from. With over 13,000 machines to choose from, there is a game to suit every player. If you are looking to save some money, you could spend your playing time at the penny or nickel slots. But high rollers can play slots that require a minimum bet of $100 or even more.
You will also find iconic themed slots machines such as Elvis and Wheel of Fortune. These slot games bring an added level of fun and excitement to the Tropicana Resort and Casino slot machines.
What Are The Best Slots To Play At The Tropicana Online Casino?
If you are a slots player, the good news is that you will be able to play some of the casino's most popular slots on your mobile device. We have reviews some of the best titles at Tropicana and listed them here:
1. Cleopatra: RTP 95.02%
As the saying goes, a classic never goes out of style! This rule certainly applies to the beloved slot game Cleopatra. The massive payouts and miraculous atmosphere ensure its place in the history of slot games.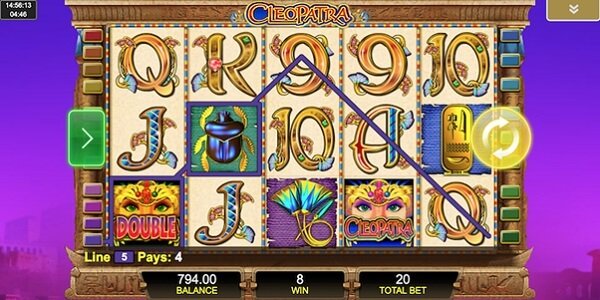 Cleopatra is a slot provided by IGT, an enthralling theme, excellent bonus rounds, and numerous other fabulous characteristics. The Cleopatra slot is a must-play game for all slots fans. It is, without a doubt, one of the most famous slots of all time. It has gained its popularity due to its achievement to transfer the magical atmosphere of Ancient Egypt.
2. Wolf Run RTP: 94.98%
Wolf Run is five reels and 40 pay-lines video slot powered by IGT software. As the name itself suggests, this slot is wolf-themed. Even though the graphics look a bit old-school, the gameplay will certainly not leave you indifferent. This slot encompasses everything that deals with the mysterious world of shamans.
3. Jackpot Party: RTP 96.01%
The Super Jackpot Party is a 5-reel video slot running on the WMS software platform that is all about wild parting. So, do not be surprised to see symbols such as party cups, party punch, balloons, presents, and disco balls spin in. The number 7 is featured throughout the reels, and the big wins come in when you land the jackpot 7's on a single pay line across the reels
4. Cats: RTP 94.93%
Cats is a five-reel and 30 pay lines video slot game. With appealing graphics and the symbols are well crafted to match the theme, this game is based on wild cats. The reason why this game can pay well is because of the Split symbols feature. So, one symbol counts as two.
5. Diamond Bonanza: RTP – 93.52%
The Diamond Bonanza slot features the traditional 5×3-reel setup, but there are only five pay lines in play on this game. Additionally, the price to play the game is $2.50 or $0.50 per pay line, which cannot be changed. The pay lines are simply the three horizontal rows across the reels along with the two V-shaped diagonals from top to bottom, top to the back, and vice versa.
There are only five symbols on the Diamond Bonanza reels too: the four usual playing face cards, the jack, queen, king, and then the ace, as well as a diamond symbol, which is the highest paying symbol and is needed to unlock the progressive jackpot win when you land it on the fifth pay line
6. Wonderland: RTP – 93.59%
Designed by West Pier Studio, Wonderland was first released in 2011 and has been available on the Tropicana Casino online platform since it entered the NJ online gaming market.
The five-reel game is based on Lewis Carroll's classic 1865 classic, Alice's Adventures in Wonderland. It features all the iconic characters and symbols from the beloved story, including Teacups, The Mad Hatter, Hookahs, The Queen of Hearts, and Alice herself.
How to win on Tropicana Casino slots?
Ready to spin slots at a tropical location, at least in a virtual setting? Tropicana casino is one of NJ's most exotic online casinos with a fantastic collection of slots. Its collection of slot games includes the biggest hits by IGT, SG Gaming, and more studios, so you'll find yourself immersed in a massive collection of games you can't get enough of.
Of course, all the games are available for free, real money, and with one of Tropicana casino's great bonuses. What makes the gaming site so great are the daily picks (Daily Free Games) that allow players to win free spins all the time. Some of these may require a small deposit, but you'll still be gunning for free games that will certainly boost your bankroll.
We're not going to lie – winning on slots in Tropicana casino is not easy. But then again, it's not easy anywhere else. Online slots are a game of chance, and since they require no particular skills, you can't win on slots all the time.
The good news is that by going slow and trying games for free you might optimize your profits in the Tropicana online casino. This means playing responsibly ad going with small bets instead of maxing them out. The casino's collection includes classics and plenty of jackpots that can deliver prizes you can't even dream of.
Try any of them for free first then splash the cash and you'll most likely do great. It's better than spending your full bankroll on a high-paying slot that 'must' pay according to others.
Slot Titles
With over 180+ different titles available to play, we can't list them all, but in addition to those above, some of our favorites are:
Secrets of the Phoenix (exclusive to Tropicana)
The 100,000 Pyramid
Anchorman
Baywatch
Cash Spin
Monopoly Mega Movers
Silent Movie
Twin Spin
Wild Wild West
Games are provided by 3 of the biggest iGaming providers on the market; NetEnt, Williams Interactive, and IGT, so you know you are in good hands. There is also a nice range of exclusive slots at Tropicana online casino that you won't find anywhere else.
One feature we can reassure you of is that regardless of whether you choose to play slots online or on your mobile device, the site is 100% secure, and all your activity is fully protected.
When playing Slots at Tropicana online you can also join in with the Community Jackpot. This bonus means if someone does hit the jackpot, everyone who's played within the last hour gets a share of the prize, even if you're no longer playing. It is split into 4 tiers, these being:
Gold: $10,000
Silver: $5,000
Bronze: $1,000
Green: $500
As well as the Jackpot, there is an additional $20,000 that is shared out amongst the community. To unlock a Community Jackpot, just play any game for real money. Look out for a special key that appears in the bar above the game. Then just click the key for your chance to strike it rich. As an added bonus, you will also win a share of the community prize.
Are the slots at Tropicana rigged? Most certainly not. In NJ the DGE has a responsibility to ensure all casinos (online and land based) treat players fairly. They regularly audit casinos to make sure no games are fixed. Tropicana also only uses machines and slots from licensed providers who ensure gameplay is kept legal. If the casino was ever found using pirated games or found fixing games, their license can be revoked.
It's not difficult to see why the Tropicana Slots are some of our favorites to play online in NJ.