Gamble USA strives to improve your online gambling experience. We aim to help you play safely, make informed decisions when gambling, and increase your betting knowledge through our guides.
We adhere to strict editorial integrity; our content may contain links to products from our licensed & legal US partners.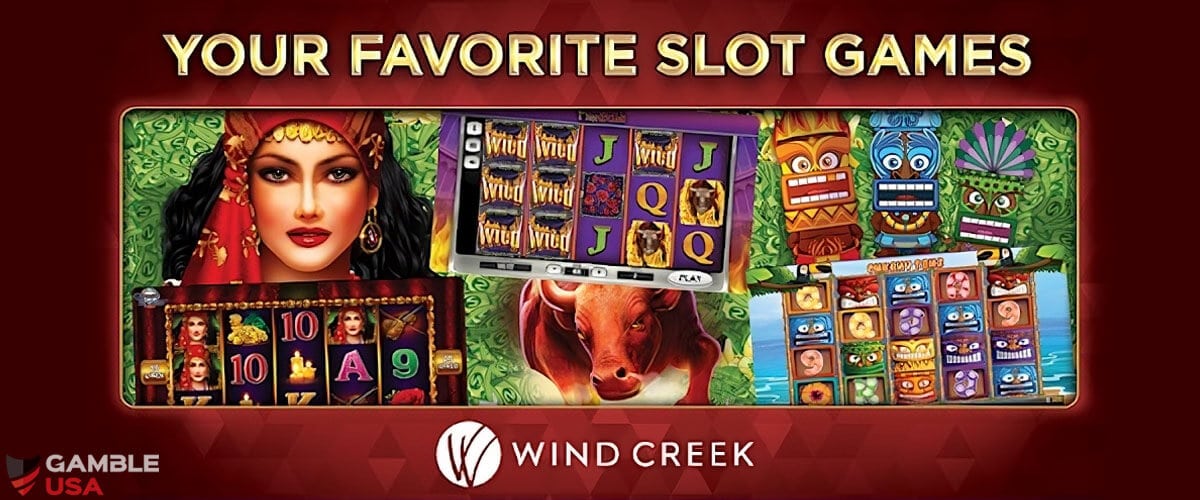 Widely recognized as one of the fastest-growing casinos in Pennsylvania and beyond, Wind Creek Casino strives to ensure its customers have access to some of the best-paying slot machines and live dealer rooms available in the United States.
Trusted by thousands of returning slot connoisseurs, Wind Creek Casino Hotel brings thousands of slots, table games, and what we love the most, amazing bonuses for both current and fresh players looking to make a fortune while spinning those reels.
With so many games, bonuses, and betting options available at Wind Creek Casino, it's easy to get lost and not know where to start. As avid fans of online casino gaming and legitimate pro-player casino venues, we wanted to dissect the best slots at Wind Creek Casino so you can jump right in with both feet on the ground.
In this comprehensive review of Wind Creek Casino, you will find detailed information about the best-paying slot machines & games, all the bonuses the casino offers, particulars about Wind Creek itself, and tips about using its advantages to your favor.
A point to be raised is that Wind Creek is exclusively available to players in Pennsylvania, and doesn't double-up as a PA no deposit casino; for online casinos available to all US legal casino states, better bonuses, and even more slot games than at Wind Creek, we recommend the following:
Best Five Slots on Wind Creek Casino
Sci-fi, wildlife landscapes, magic fantasy, sports, luxury – there are so many themes in Wind Creek Casino slots that it's nearly impossible not to find at least a dozen that fit your aesthetic preferences.
When it comes to wagering options, Wind Creek slot machines offer something for every budget. Whether you're looking for quality penny slots or if you plan to put hundreds of dollars on the line per hand, this is the place to be.
In the following sections, we'll take you through the five best slots to gamble on at Wind Creek Casino. Here's a quick overview to help you become more familiar with what's ahead:
| 🎰Slot Name | 💯RTP% | 📈Volatility | 🔢Paylines | 💰Jackpot | 💵Max Bet | 🧑‍💻Software Provider | 🎁Bonus |
| --- | --- | --- | --- | --- | --- | --- | --- |
| 🥇Halloween Jack | 96.28% | High | 20 | ✅Yes | $100 | NetEnt | Scatter, Wild, Recurring Wilds, Stacks of Wilds, Free Spins |
| 🥈Cleopatra 2 | 95.88% | Moderate | 20 | ❌No | $80 | IGT | Scatter, Wild, Free Spins |
| 🥉Jack Hammer | 96.06% | Low | 25 | ❌No | $250 | NetEnt | Wilds, Recurring Wilds, Scatter |
| 🎖️Reel Steal | 95.87% | High | 9 | ❌No | $45 | NetEnt | Wilds, Scatter, Scatter win multiplier |
| 🏅Silverback Gold | 96.11% | High | 1,024 | ✅Yes | $100 | NetEnt | Scatter, Wilds, Free Spins |
1. Halloween Jack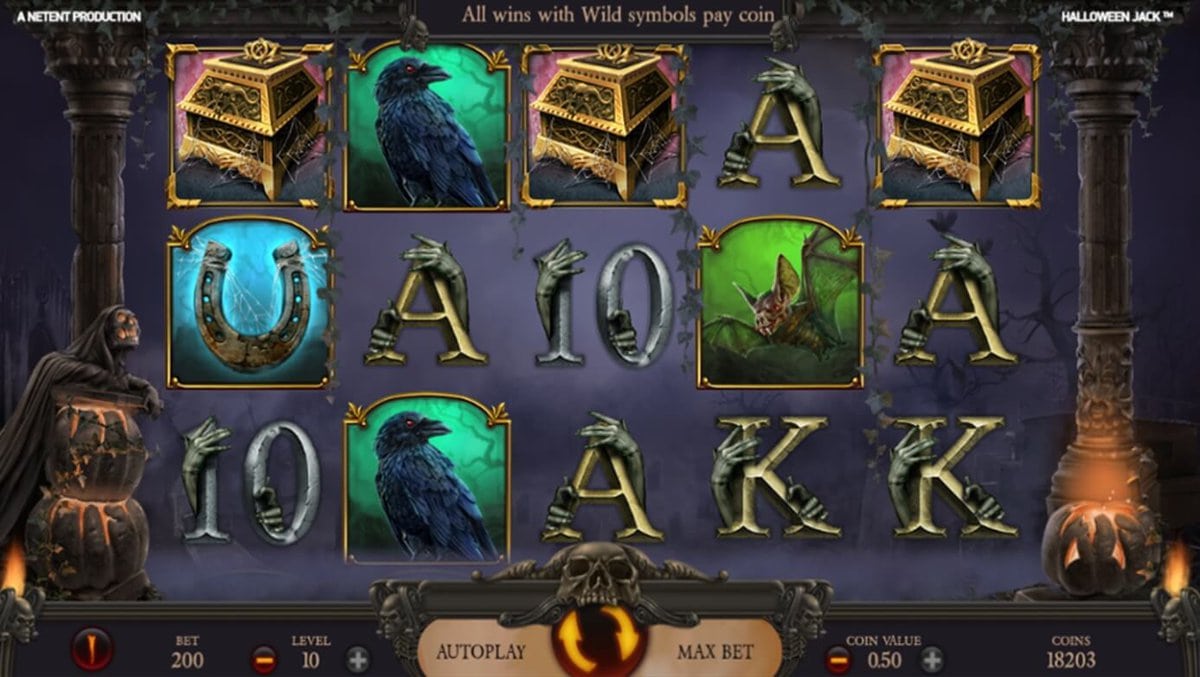 Dubbing NetEnt's Halloween Jack an "interesting slot game" would be an understatement. With hauntingly beautiful graphics and almost a dozen unique features, players are bound to have fun even if their spins aren't the luckiest.
Speaking of which, Halloween Jack is a high volatility slot, meaning that losses can be quite common. When the player connects a winning combination, the payout is usually high enough to cover up multiple lost runs; its RTP is 96.28%, largely because you'll get to see repeating and stacks of wild symbols if you manage to collect three scatter symbols on any line.
Halloween Jack's max win is "only" 3,000x. There are better-paying slot games at Wind Creek online casino, but this game offers a fairly comfortable setting to win big, even at lower wagers.
2. Cleopatra 2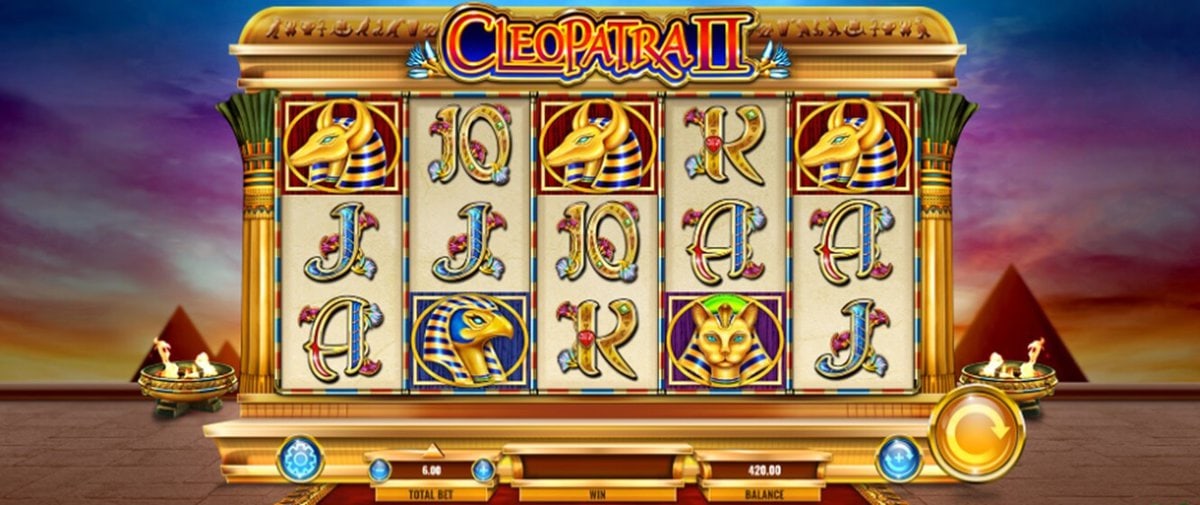 The Cleopatra 2 slot is the sequel to IGT's "original" Cleopatra. It quickly succeeded its predecessor by offering a slightly higher RTP (95.88% RTP compared to 95.02%) and more polished graphics.
When testing this slot, we went with a relatively modest bet. Several scatter symbols appeared, but not enough to trigger free spins. Similar to Buffalo, the stability of payouts in this game helped us double our initial wager in less than ten minutes.
Cleopatra 2 gives you an opportunity to win up to 50,000x if the stars align; more specifically, if the gorgeous "Cleo II" symbol happens to line up on all your betting reels. This is quite a rare occurrence, though, since Cleo is also the Wild symbol.
If you ever played "book-type" (Book of Ra, for example) slots before, you'll probably be familiar with the scatter system of Cleopatra 2. Three scatters anywhere will give you up to 15 spins; four scatters give up to 18 while five scatters award you a one-off credit bonus plus up to 20 free spins. Scatters can appear mid-scatter round, re-triggering the bonus feature.
3. Jack Hammer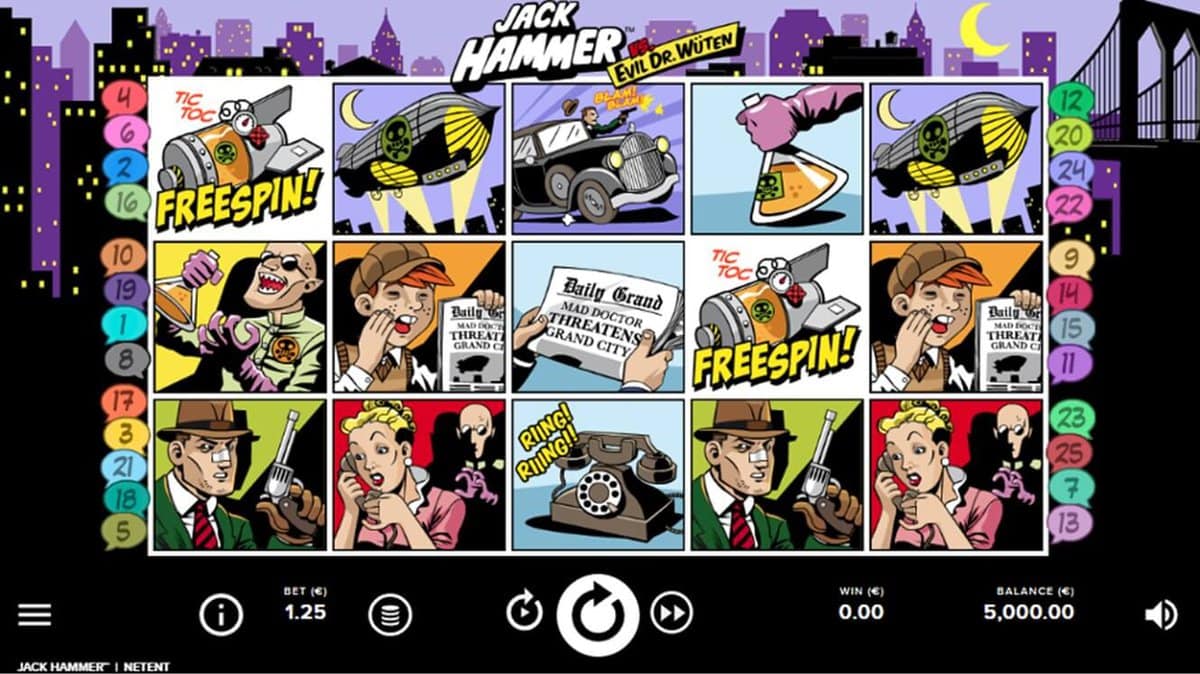 Jack Hammer is a cartoon-style, low-volatility slot game by NetEnt. It is an ideal game for beginner gamblers because it boasts a high RTP of 96.6% and exceptionally simple gameplay.
Excluding scatters and wilds, there are only 9 symbols. Memorizing the payout values is a breeze since the symbols of similar worth have the same background color. Unlike in Cleo 2 or Halloween Jack, winning in Jack Hammer means to play on the highest number of betting lines to reap the benefits of Sticky Win symbols (recurring wild).
The maximum win for each spin is merely 500x the desired wager, but that's where its low volatility comes into play. Given that you'll usually win something whenever you hit the spin button, there is a high possibility that you'll gradually build up a solid amount of cash.
4. Reel Steal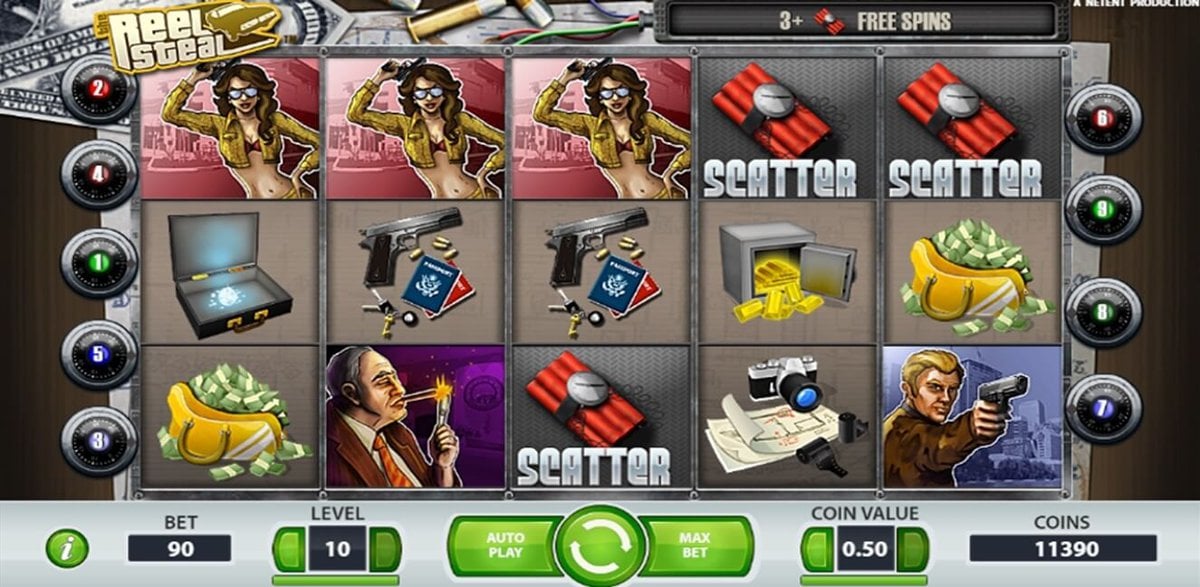 Reel Steal is another NetEnt classic, boasting a 95.87% RTP, straightforward gameplay, and a modest selection of special features all experienced gamblers will be familiar with. These include the wild and scatter symbols, although entering the Free Spin round by collecting three dynamites awards a 5x multiplier on all winnings achieved throughout those 15 spins.
With a max win of 4,166x and high volatility, Reel Steal is mainly favored by high-rollers who can afford hitting that max bet button every now and then. Scatters aren't too common, but having at least two anywhere on the board will give you a portion of wagered coins back.
5. Silverback Gold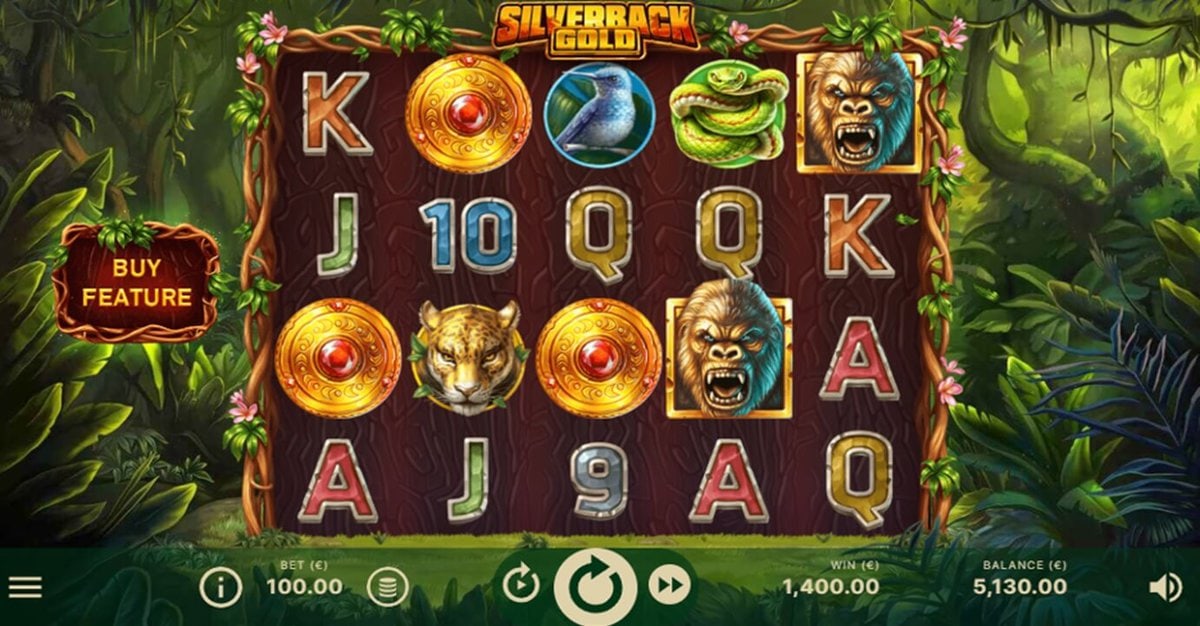 What separates Silverback Gold from the previous four slots is that it boasts 1,024 paylines. Even so, there are only 12 symbols, as well as scatter, regular wilds, and wilds equipped with multipliers.
Silverback Gold gives players an opportunity to work their way to the top by betting small or to win a fortune with higher wagers, hoping that three scatters will emerge on any reel. Either way, it is highly recommended to play on all betting lines to maximize your chances of scoring as many coins as possible.
Silverback Attack is a special feature that "summons" up to 20 Silverback symbols on the board. If it appears during the bonus round, the Silverback symbol evolves into the Golden Silverback, which pays twice as much.
This slot game was created by NetEnt, boasts 96.11% RTP, and is one of the newest additions to the Wind Creek online casino.
Highest Paying Slots on Wind Creek Casino
New gamblers often mistake high bets for high wins. When it comes to winning big, it's all about lining up winning combinations consistently. Even though all you need is one big jackpot to retire from your gambling career/hobby, it rarely pays to put all of your chips on one horse in sportsbooks, or all of your coins into a hit of a max bet button.
At Wind Creek Casino, players win by playing games with high RTP (return-to-player). Some of these games include Gold Rush, Jimi Hendrix, Divine Fortune, Guns N' Roses, and Wild Wild West, so let's take a look at their main features:
| 🎰Slot Name | 💯RTP% | 📈Volatility | 🔢Paylines | 💰Jackpot | 💵Max Bet | 🧑‍💻Software Provider | 🎁Bonus |
| --- | --- | --- | --- | --- | --- | --- | --- |
| 🥇Crazy Wizard | 96.56% | High | 10 | ✅Yes | $100 | IGT | Wild, Scatter |
| 🥈Jimi Hendrix | 96.9% | Low | 20 | ✅Yes | $200 | NetEnt | Scatter, Wild, Free Spins |
| 🥉Divine Fortune | 96.59% | Medium high | 20 | ✅Yes | $100 | NetEnt | Scatter, Stackable Wilds |
| 🎖️Guns N' Roses | 96.98% | Low-medium | 20 | ❌No | $200 | NetEnt | Wilds, Respins, Multipliers, Special Wilds |
| 🏅Wild Wild West | 96.74% | Low-medium | 10 | ❌No | $100 | NetEnt | Wilds, Special Wilds, Free Spins |
Crazy Wizard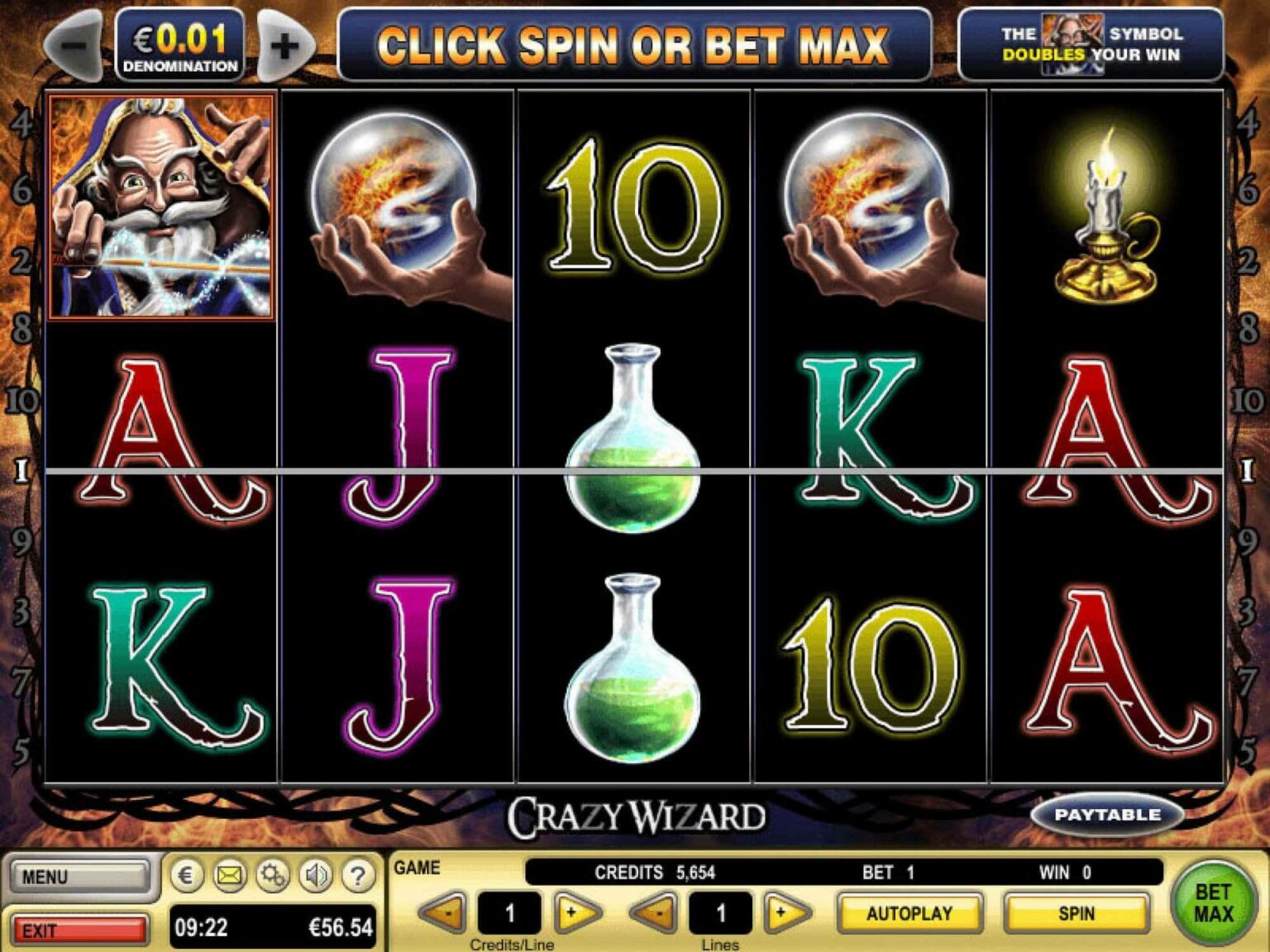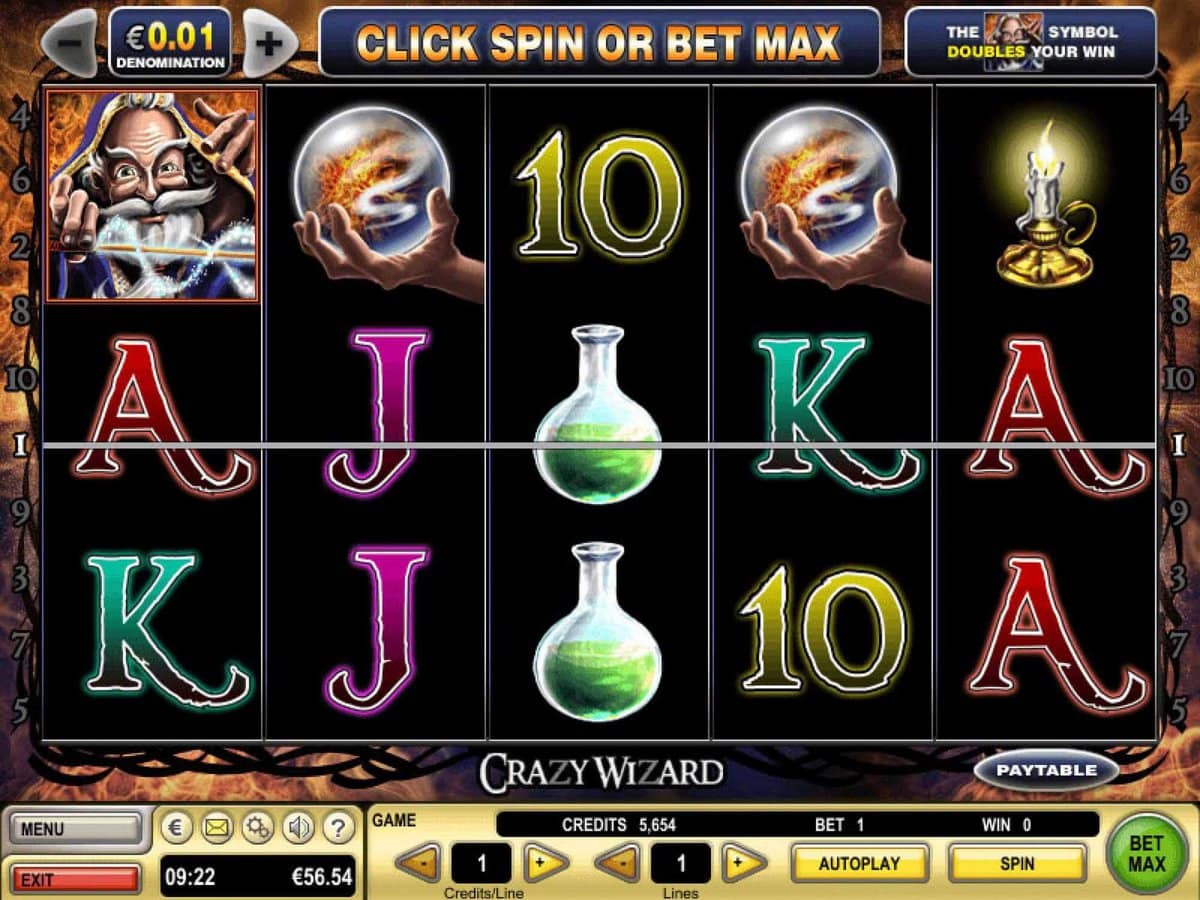 Crazy Wizard is extremely popular among players that prefer to gamble when a bit of risk is involved. This highly volatile slot was created by IGT and is a game primarily focused on its jackpot feature. All bets have a chance of winning the pot, regardless of how big or small they may be.
Its RTP is 96.56%, although there will be cases where you won't line up a winning combination across multiple consecutive spins. Crazy Wizard's max win is 2,000x, which pales in comparison to Cleopatra 2, but with frequent free spins (and multipliers on all winnings during bonus rounds) and a solid chance of hitting the jackpot, it can be argued that Crazy Wizard has the potential to out-pay games with much higher win ceilings.
Jimi Hendrix Video Slot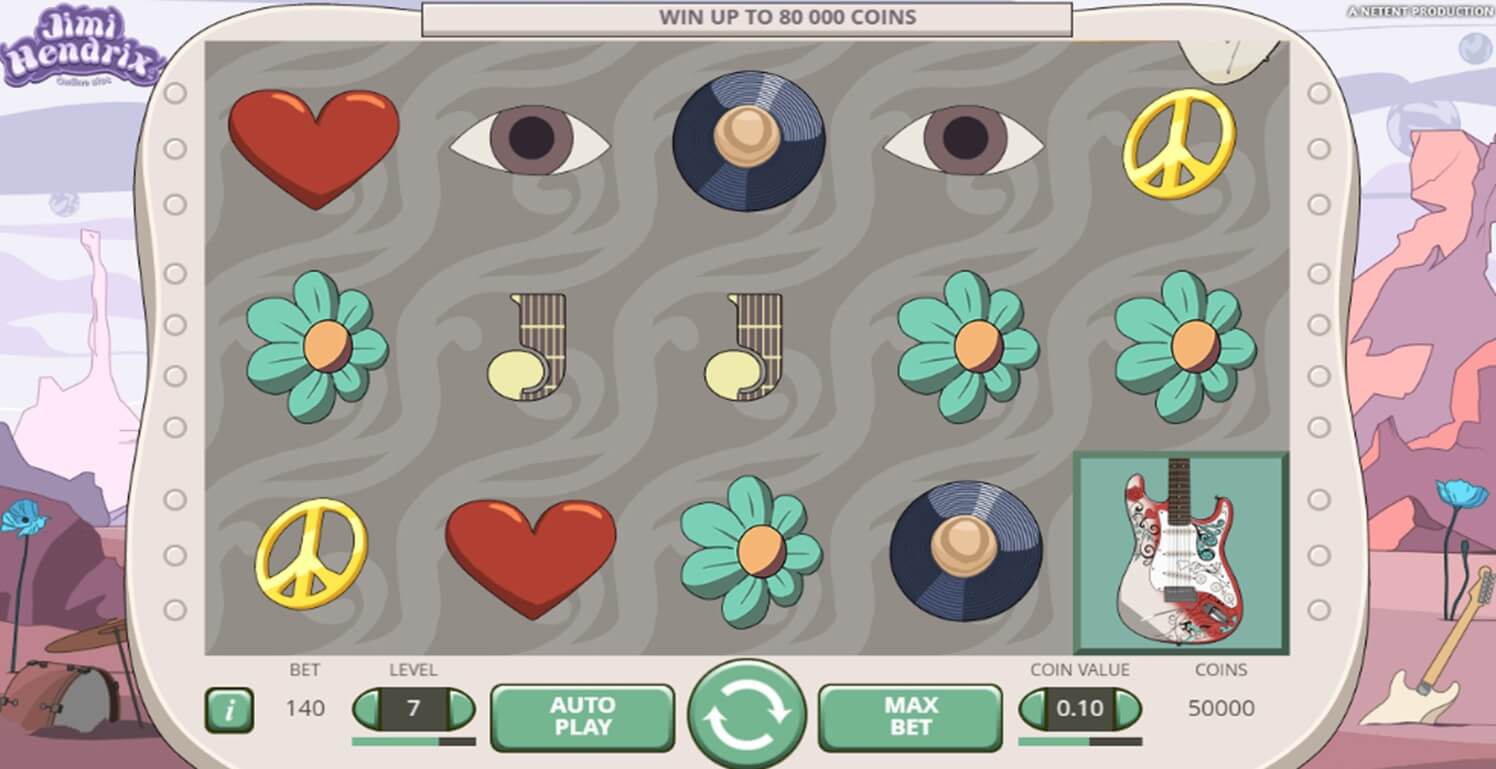 Low volatility, smooth psychedelic rock nostalgia, and a range of unique features like Red Guitar Respin, Purple Haze symbol transformations & free spins, and up to 30x wild multipliers are just some of the reasons why Jimi Hendrix video slot is held in such a high regard among experienced gamblers.
With each spin, you have a chance of earning up to 400x your stake, which amounts to $80,000 on the max bet settings. Since its RTP is 96.59% and it offers numerous ways to connect high-paying symbols, not to mention all the re-spins, NetEnt's Jimi Hendrix slot is perfect for greenhorns and seasoned veterans alike.
Divine Fortune
With an amazing RTP of 96.59%, jackpot bonuses, scatters that appear more often than they don't, and gorgeous Pegasus wild symbols, a gambler would have to make an effort not to win at NetEnt's Divine Fortune.
Its simple gameplay and moderate volatility make it so appealing to players at Wind Creek Casino. Divine Fortune gives you an opportunity to bet anything between $0.20 and $100 for an opportunity to win up to $350,000. You can play this slot game online for real money at this casino, or simply give the demo version a shot without risking your money.
Guns N' Roses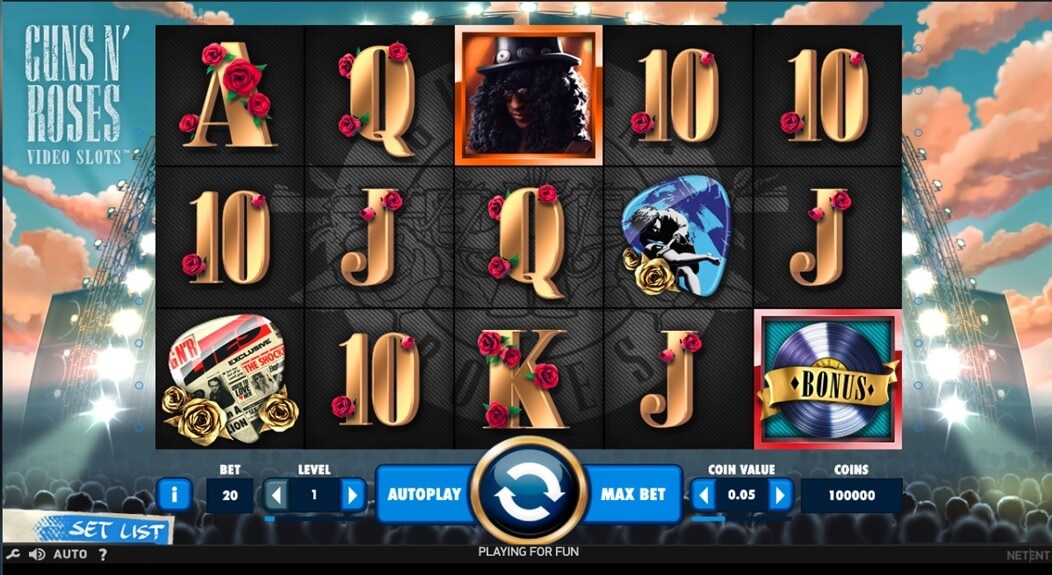 Another NetEnt classic slot, Guns N' Roses is a musically-themed game similar to Jimi Hendrix, only this time you'll be listening to "Welcome to the Jungle" while the reels are spinning. GNR slot has an excellent return-to-player (96.98%), lower than average volatility, and an abundance of bonuses to keep you afloat if you're having a bad hand.
Although its max payout is slightly lower than Divine Fortune's ($225,000), it pays frequently, and it pays well. Some of the most notable bonus features of this game include stacked wilds, scatter record symbols, free spins, and the unique "Appetite for Destruction Wild" – a cross-shaped wall of wild symbols to help you connect the best winning combination.
Wild Wild West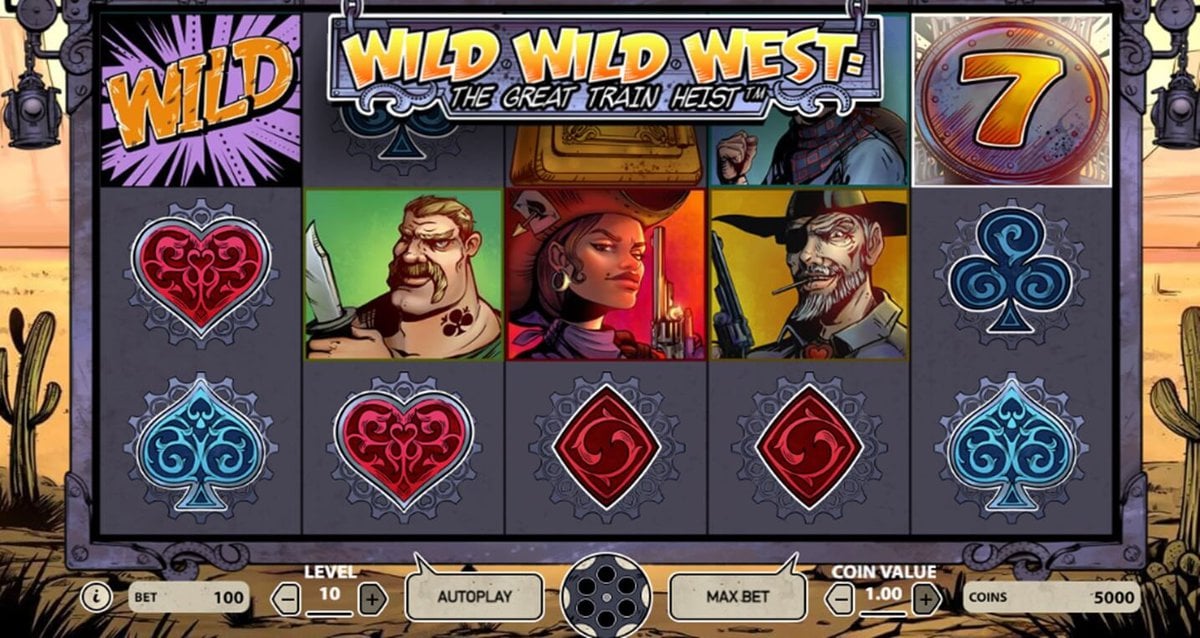 Wild Wild West is a favorite slot game of players who want to minimize their gambling risks. Its RTP is a whopping 96.74%, its volatility is very low (on rare chances, it can reach medium volatility), and it offers a range of exquisite bonuses, such as special wild multipliers, the "Pick and Click" scatter, respins, and more.
Designed and provided to Wind Creek Casino Hotel by NetEnt, this game is very easy to jump into. Its max payout per hand is about $60,000, which is drastically less compared to the previous 4 games. However, you're far more likely to hit a jackpot since WWW features several different kinds of wild symbols and often rewards the player with free spins.
Introduction to Wind Creek Casino Services
It's not surprising that slots are among the most popular gambling games ever. A study published by Mike J. Dixon, Candice Graydon, and Stephen D. Smith merely four years ago explains that the dazzling lights and the anticipation of rewards are enough to blow table games and more social forms of gambling out of the picture.
At Wind Creek Casino PA, slots are not popular just because they look aesthetically pleasing. Slot machines are extremely popular in this online gambling venue because they pay phenomenally well. With huge RTPs, an amazing selection of games across a broad spectrum of payline options, and an extensive range of jackpot-eligible games, it's uncommon not to win.
Trust Factor: Is Wind Creek Casino Legal?
Online betting is only safe when exercised at casinos that are licensed and have been verified by relevant legal authorities. This is especially important today since online gambling frauds in 2022 skyrocketed by a whopping 50.1%.
Wind Creek Casino is available to residents in Alabama, Illinois, and Pennsylvania. It is owned by Poarch Creek Indians and has been authorized by the Pennsylvania Gaming Control Board before going online in PA. Built on transparency and trust, WCC would never risk its excellent reputation on trivial scams.
What People Are Saying About Wind Creek Casino
Wind Creek Casino Hotel is exceptionally popular among American gamblers for a variety of reasons, but don't take our word for it. The data says it all, so let's take a quick look at its ratings on prominent online platforms:
The Wind Creek Online Casino shares a similar reputation, backed by the years of industry know-how of its parent company, fused with an easy-to-use website and an even larger range of gambling features and slot machines.
Bonuses: Can You Make it Big Without Investing Big?
By definition, gambling means "taking a risky action in the hope of a desired result". The "risky" part is less important if you play slots, craps, roulette, baccarat, or blackjack at Wind Creek Casino since this casino offers numerous bonuses.
New players of Wind Creek are not only eligible to receive cash bonuses, but they'll also get an opportunity to enter the unique "Wind Creek Rewards" program. This rewards program further expands the list of lucrative opportunities this casino has to offer, so let's take a look at some of them:
Wind Creek First Deposit Bonus – upon making the first deposit, the player can claim a 100% deposit bonus of up to $400. The only requirement is that the player deposits at least $10. The deposited amount must be rolled over once.
Wind Creek Rewards Program – a multi-tier program rewarding the player for playing at Wind Creek Casino. These rewards include but are not limited to resort benefits, discounts, bonus points, complimentary 3 to 5-night stays, access to VIP services, and more.
Slot Variety at Wind Creek Casino
Wind Creek has casinos across the USA and the Caribbean, and each venue offers a different selection of games. Wind Creek's online casino offers a total of 324 slot games while the land-based WC casinos boast more than a thousand each (Wind Creek Bethlehem, for example, offers a selection of close to 3,000 games).
From simple fruit games and basic minigames to high-rollers and jackpot slots, it's safe to say that Wind Creek Casino Hotel has something for everyone.
Aside from a broad range of slots and table games, Wind Creek also boasts an up-to-date sportsbook covering all the latest happenings, live dealer rooms, and much more.
Even though it would take you days to try a single hand at each machine, Wind Creek is continuously bringing new games to the table to keep things fresh.
There are slightly fewer slots on the app version, but all the big ones are included. For example, Wind Creek recently added the all-popular Scarab, the video slot Narcos, and the fan-favorite fruit slot Blazing Luck.
When is the right time to Start Playing at Wind Creek Casino?
The sooner, the better. One of the main benefits of playing slots, baccarat, poker, blackjack, or any other game at Wind Creek is that you'll gradually build up your profile tier in the Wind Creek Rewards Program.
If you start today, you will also get to reap the Welcome Bonus and earn up to $400 on your first deposit, giving you a bit of extra cash to wager.
How to Play Online Slots at Wind Creek Casino
Betting and playing slots at Wind Creek's Online casino is a breeze. All you need to do is set up your account, which can be done on your computer/laptop, or if you intend to bet from your phone, download the casino app for free from Apple Store or Google Store.
Online slots are easier to access than slot machines in land-based casinos; you'll never have to worry about someone occupying your favorite machine or a drunk patron making a ruckus. From the comfort of your home, you can get online, hop onto your account, pick the slot you want to play, and have fun.
Signing up at Wind Creek Casino Website
Open Wind Creek's website in your browser
In the top-right corner of the main page, tap "Sign In."
If you own an existing player card, enter the account's number and PIN, or email and password
If you are making your first account and don't have a player card, tap "New to Wind Creek"
Create your email and password for the site (if you forgot your password, tap "Forgot password" and verify your email).
Enjoy your stay at Wind Creek!
Signing up at Wind Creek Casino App
Download the app from Google Play or Apple Store
Provide your credentials on the start page
If you are a new player, tap "Sign Up" and follow the on-screen instructions
Where you can Legally Play Slots with Wind Creek Casino
Wind Creek Casino is available in Atmore, Wetumpka, Montgomery, Aruba, Curacao, and Bethlehem. All patrons of this gambling venue are required to be of a certain age:
Atmore – 21 years old
Wetumpka – 21 years old
Aruba – 18 years old
Curacao – 21 years old
Bethlehem – 21 years old
Online – 21 years old
Players can access Wind Creek Casino Online or via its apps when located in Pennsylvania.
How to Win on Wind Creek Casino Online Slots?
This online casino offers hundreds of blackjack, craps, baccarat, live dealer poker, and slot virtual game rooms. When it comes to slots specifically, there are many options to choose from, as each game offers different bonuses, payout rates, and gameplay.
The first step is finding and sticking to the games that pay well and frequently – in other words, slots with high RTPs. For example, the Jimi Hendrix digital slot boasts 96.9% return-to-player, meaning that you're almost guaranteed to make at least as much money as you've initially invested in a long-term game (doesn't count if you tap that max bet button from the get-go).
Volatility is another important factor. This parameter aims to describe the frequency of winning combinations, although it heavily depends on how the RNG system is set up and can be more or less accurate for certain platforms.
Another crucial tip for new players is to try out as many slot games in the demo mode. In the Wind Creek Casino app, the majority of slots require you to log in to play, but there are dozens that you can try out for free, such as 88 Fortunes, Endless Treasure, Big Bucks Bandits, Ultimate Fire Link, or Hurricane Horse.
Wind Creek Casino Clots App
Whether you want to gamble on desktop, iPhone, or Android devices, playing slots at Wind Creek Casino is a walk in the park since the firm made a user-friendly app available for free download on virtually all devices.
Compared to its website, WCC's app offers a modest selection of slot games but is frequently updating its menu. If you're on Android, you can download the app from the Google Play Store; if you're using an iPhone, open Apple's Store to grab this app for free.
Slots Promo Code at Wind Creek Casino Online
Wind Creek offers a range of promotions and bonuses for both new and returning players. From lucrative sweepstakes and one-off welcome bonuses to giveaways and complimentary vacations, gambling at WCC comes with a range of advantages. Make sure to check out the terms and conditions of any promotion to see who is eligible to use it and how to activate it.
Quarterly Jackpot Winners Sweepstakes, a bonus of up to $30,000 is available for players who win a taxable jackpot on jackpot-eligible slots
Wind Creek Daily Jackpot; currently worth $2,903,078, randomly triggered by slot play on jackpot-eligible machines (available on online slots)
Welcome Bonus of up to $400 on the first deposit is available for new players who make a deposit of at least $40.
Wind Creek Rewards Program – a multi-tier set of progressive rewards. Players earn points that can be redeemed at any Wind Creek Casino, offering discounts, giveaways, access to exclusive events, and more.
Slot & Casino Game Software Providers at Wind Creek Casino
It's not uncommon for online casinos to source their slot games from more than 50 software providers, but fewer companies are licensed for US online casinos at this time.
Wind Creek has partnered with some of the biggest names in the industry to ensure its players have access to the most up-to-date, best-paying slot games. Some of the most notable software providers that power Wind Creek slots include:
Yggdrasil – premier software provider famous for its diverse portfolio. It supplies Wind Creek Online Casino with a range of popular games, such as Big Bucks Buffalo and Jackpot Raiders.
NetEnt – the firm that provides Wind Creek with some of its best-paying slots; NetEnt boasts a host of high-RTP with the most prominent being Wild Wild West, Guns N' Roses, and Jimi Hendrix.
Big Time Gaming – famous for producing entertaining games with big payouts and flashy graphics, BTG gives Wind Creek dozens of trendy slots like Big Bucks Bandits Megaways or Slot Vegas.
IGT – a high-ranking software provider and a trusted long-term partner of Wind Creek. Some of its most popular games are Icy Wilds and Mistress of Egypt.
Everi – an up-and-coming casino software developer that brought ultra-popular slots like Total Meltdown and Red Alert to Wind Creek Casino.
Konami – a giant in the more "traditional" gaming industry, Konami also creates innovative slot games. Wind Creek sources dozens of its beloved slots, such as 5 Elemental Legends and Arabian Lamp Pirates Loot.
WMS Gaming – a slot machine and video lottery specialist, WMS Gaming gave all three iterations of the all-popular Zeus slot to Wind Creek Online Casino.
Wind Creek Casino players can enjoy new games almost daily thanks to the multiplier gaming vendors featured here.
Top Tips to Play Wind Creek Casino Slots
Try games with different paylines. Some games have fixed, and other games have selectable paylines; some games allow you to bet on only 3-5 lines while others boast 50 or more.
Understand the volatility of the games you play. Low-volatility games will give you pocket change on every turn while others will drain your credits a lot while preparing for a big payout.
Prioritize playing high-RTP games, such as Divine Fortune or Blood Suckers. They frequently line up winning combinations while offering potentially tremendous rewards through bonus rounds and respins.
Know when to quit. Lady luck won't be by your side every day of the week, so if you're struggling, count your losses and live to gamble the next day.
Wind Creek Casino Slots RTP
RTP or "Return to Player" is the term used to describe the amount of cash you can hope to win back in a single run on the desired slot. For example, let's say you deposited $100 and started a slot with an RTP of 90%. Over the course of a single run, you should be able to get at least $90 back while $10 is what's called the "house edge" – the amount of money that goes to the casino.
Online slots typically have higher RTP values relative to their land-based counterparts, mainly because they utilize a different RNG system (random number generator).
Some companies collect and analyze data from computers built into slot machines (and their online variants), such as Gaming Laboratories International, but it's usually the firms that created the games that provide these details to both casinos and consumers. Many companies won't share the RTP values of their games, even if they are high. Which is what makes our guide to Wind Creek slots a must-read resource before playing on the site.
New Wind Creek Casino Slot Games
Wind Creek strives to keep its catalog novel and is regularly introducing new games to its pile of 200+ slots. This online casino has a dedicated section for its freshest games called "Recent Additions". Some of the most notable ones include:
Narcos Video Slot
Scarab
Jade Dragon
Diamond Hearts
ShouHuShen
Lightning Zap
Lucky Cherry
How Wind Creek Casino Keeps Play Fair
Wind Creek Casino was founded on the 22nd of May 2009 and is among the fastest-growing companies in the online gambling space. With more than a decade of operation and a team boasting years of industry experience, this firm managed to climb the ladder by keeping a clean house. To elaborate:
Wind Creek Online Casino has been licensed by the leading gambling authority in PA, the Pennsylvania Gaming Control Board.
The company adheres to all gambling laws and regulations in each state it operates, including Atmore, Wetumpka, Aruba, Curacao, and Bethlehem.
Wind Creek's leadership is very vocal about aiding the prevention of gambling addictions and prescribes age-related requirements for all players.
This casino collaborates with a variety of established names in the gaming industry and routinely approaches professionals for the purposes of independent testing of all of its games.
Are Wind Creek Casino Slots Rigged?
No, Wind Creek Casino slots are licensed, legal, and legitimate. The company's primary source of revenue is a portion of deposits made by its players (since most of its games boast high RTPs).
Even though it offers thousands of slot machines and live dealer rooms, all of them come from reputable, licensed software providers. In contrast to offshore sites that are focused on "luring" unwary gamblers (and often scamming them), Wind Creek Casino maintains a pristine reputation and continues to rise in popularity because of its pro-player fair-play policies.
FAQ's
What slots does Wind Creek Casino have?
Wind Creek Casino offers thousands of poker, baccarat, blackjack, scraps, dice, and video slots, most of which come from NetEnt, Yggdrasil, IGT, and Konami.
Can you play slots at Wind Creek Casino Hotel?
Yes, Wind Creek offers a highly diversified selection of slot machines, both in its land-based casino and its online counterpart. Regarding the latter, all you need to do is create an account, make your first deposit, and start playing slots.
Is the Wind Creek Casino Slots App Legit?
Yes, the Wind Creek Casino app has been praised by hundreds of verified customers. Even though it is sometimes glitchy, WCC's dedicated customer support staff is always ready and eager to assist the company's clients in resolving all issues in the app.
What casino bonus codes are there for Wind Creek Casino Slots?
There are currently no bonus codes for Wind Creek Casino, but the company always has at least several promotions waiting for new and active players. At the moment, you can participate in the jackpot and sweepstake giveaway promotions, as well as acquire the welcome bonus of up to $400 on your first deposit.