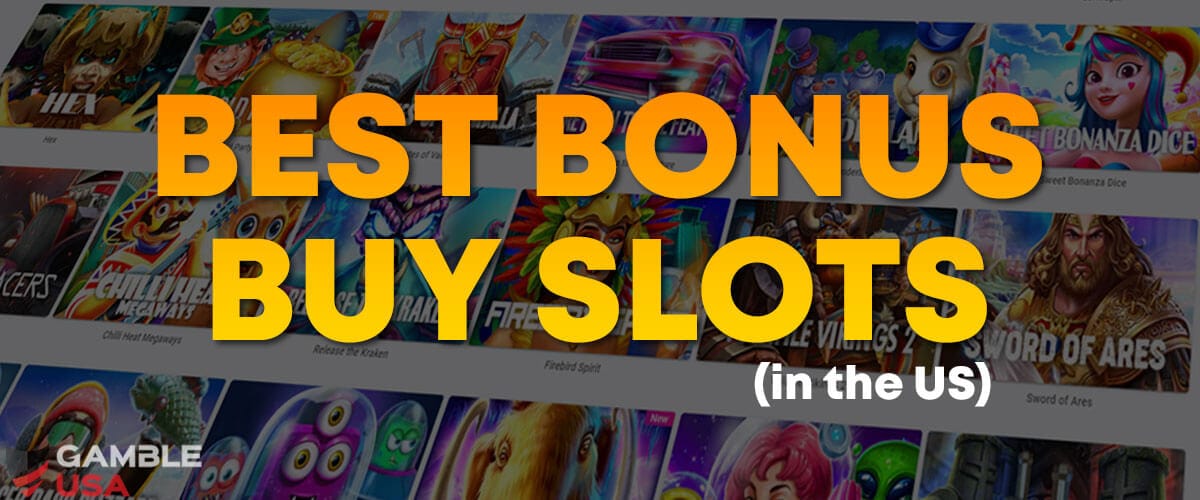 For some, the joy of playing online slots lies in simply wanting to unwind and play your favorite games after a day of work, or to cap off a great weekend. For these people, winnings are secondary. However, for those that live for the adrenaline rush — the joy lies in getting the bonus round and scoring a huge win. For these people, nothing can be more tedious than grinding through hundreds of spins to trigger a bonus round.
However, a feature unknown to even veteran players is there exists a subsection of machines where those who are willing to pay a premium can enter into the best slot games bonus rounds at the click of a finger. These slots are known as Bonus Buy slots.
Typically they're something a user would have to stumble upon by chance; however, after thorough research, our expert team has uncovered a wide array of these games, and following much deliberation, they have narrowed down their picks for the top 10 bonus buy slots currently on offer in the US.
Best US Online Casinos Offering Bonus Buy Slots
Playing the best bonus buy slots in the US can be tricky as regulations and availability vary from state to state. Worse yet, many unlicensed casinos prey on this confusion to try and get you to deposit on their site, which may then be a scam. For this reason, you should always use licensed casinos available in your specific state (NJ, PA, MI, DE, CT, and WV).
For ease of use when compiling the above list, our expert team also sorted out which licensed US online casinos offer these slots and which states they are available in. Above, you will find secure links and bonus codes for the best online casinos available to you to play your desired bonus buy slots.
Top 10 Bonus Buy Online Slots
The following are the top feature buy/bonus buy slots you can play at licensed and legal US online casinos.
🥇 Ramses Revenge (Relax Gaming)
🥈 White Rabbit Slot (BTG)
🥉 Gates of Olympus (Pragmatic Play)
🎖️ Knight Rider (NetEnt)
🏅 Starburst XXXtreme (NetEnt)
300 Shields Extreme (Nextgen Gaming)
Dead or Alive 2 (NetEnt)
Extra Chilli Megaways (BTG)
Medusa Megaways (Nextgen Gaming)
Nitropolis 3 (ELK Studios)
#1 Ramses Revenge (Relax Gaming)
Starting off this list, it's the Egyptian-themed Ramses Revenge. And while Egypt and slot machines are regularly paired together, there is nothing regular about Ramses Revenge by Relax Gaming. With an RTP of 96.15%, this 5×5 slot boasts the classic 4096 ways to win, where symbols don't need to line up in any particular fashion — and instead, you only need to have a matching symbol anywhere in the adjacent reel. The max winnings are capped off at x49,996, and with their bonus features, this is a definite possibility.
To trigger the free spins feature of Ramses Revenge, a player would need to land two or more of their feature scatter symbols. When that happens, a player gets six free spins in their bonus rounds. However, for the cost of x80 spins a player can enter them whenever they want.
When the bonus rounds are entered into, the scatter symbols which triggered the free spins turn into roaming wild symbols in the form of mummies. While the permanent wilds are profitable on their own, they are especially profitable when explorer wilds symbols hit reels. Because when they do, the mummies will move towards and knock them off the reel, increasing their own multiplier by one and awarding the player an additional free spin.
With no cap on the multipliers, you can get some truly insane wins, and as the explorers continue entering the reels, the aforementioned x49,996 max win becomes a real possibility.
Bonus Buy Cost (Stake Size Multiple) – 🪙80x
Min Bonus Buy Cost – 💵$8
Max Bonus Buy Cost – 💰$1600
#2 White Rabbit Slot (BTG)
The Alice in Wonderland-inspired White Rabbit Slot from Big Time Gaming has one of the highest slot RTPs (97.24%) that you're likely to find, and despite the medium volatility, the 248,832 ways to win guarantees that your next win is always just around the corner. In some ways, White Rabbit Slot plays very similar to other online slots, but in others — particularly in relation to their bonus round feature they set themselves apart.
Typically achieved in the unlikely fashion of a scatter symbol falling on reels 2, 3, and 4, the bonus will initially award 15 free spins. However, players can gain between three and twelve additional spins when the expanding reel reaches its maximum size of 12 rows. These expanding reels are triggered by a unique cupcake symbol which is only available during the free spins. When it lands, it'll increase the size of the reels it landed by an additional row.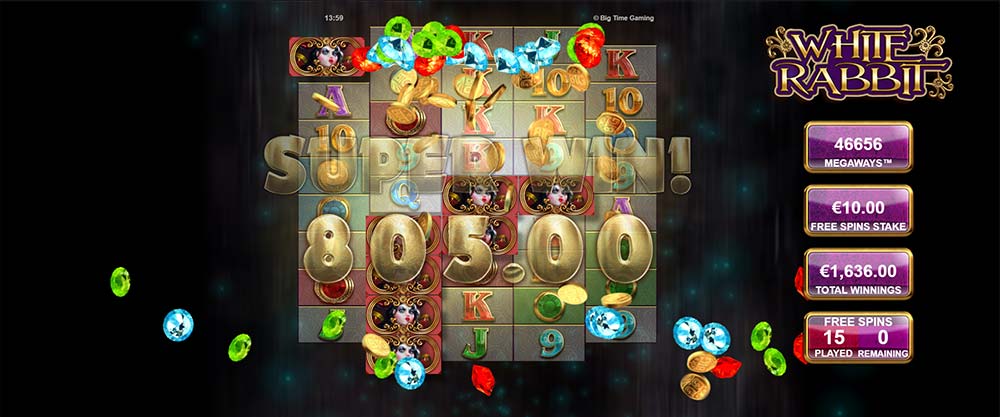 As can be seen by the above screenshot, this can lead to some very unusual shapes.
One of the most unique features of the White Rabbit Slot is how its bonus feature can be achieved. While usually costing x100, it'll decrease in price as you play when the special golden coin symbol drops. So if x100 is too much for you, you can simply wait until the bonus price reaches a more comfortable price. Or failing that, you can even wait until it reaches zero, and then you can activate the bonus spins whenever you want.
Bonus Buy Cost (Stake Size Multiple) – 🪙100x
Min Bonus Buy Cost – 💵$10
Max Bonus Buy Cost – 💰$2000
#3 Gates of Olympus (Pragmatic Play)
The Ancient Greek-themed Gates of Olympus by Pragmatic Play is about as high volatility as a machine gets, and has been an instant hit ever since it came out early last year. A personal favorite of mine, Gates of Olympus combines two of the most popular slot machine features in both cascading and scatter-based mechanics which when combined with an RTP of 96.5% can lead to long stretches of winnings.
As with all machines of this nature, the real money is made with the bonus features which can be achieved by four scatter symbols hitting the reels and achieving 15 free spins. From here, the winnings can spiral into truly as at any time Zeus may call in a winged orb multiplier of between x2 and x500 — and while this can happen in regular play, during the bonus rounds, these bonuses are stacked on top of each other for the entire duration of the bonus round.
But what makes Gates of Olympus stand head and shoulders above similar machines is that it offers the chance to buy free spins for x100 your bet size.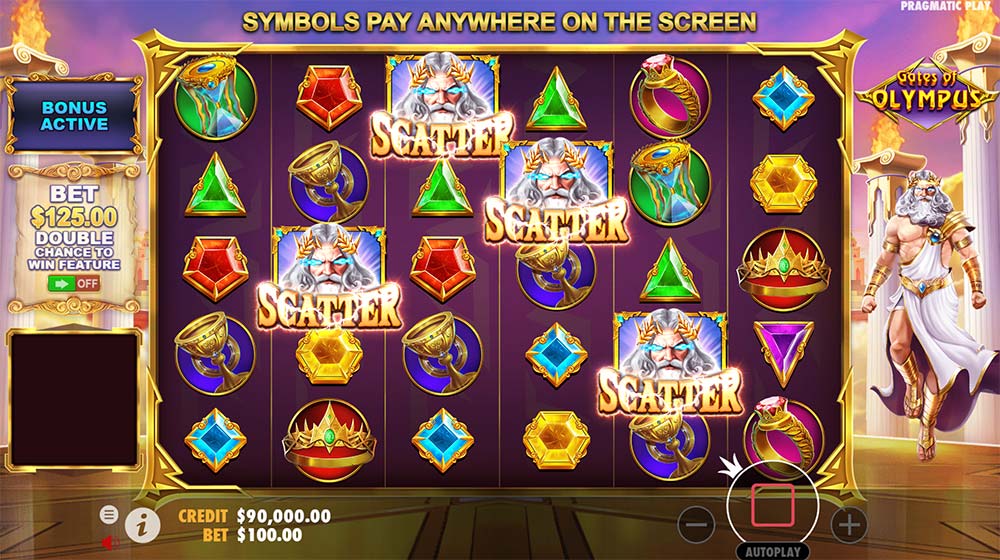 While this is quite expensive, it's very often worth it as additional free spins can be won with three scatter symbols hitting the reels, thereby extending the streak in which multipliers can be added onto each other. Unsurprisingly this makes the final spins of the bonus round an adrenaline-filled experience as it's not uncommon for the stacked multiplier to reach triple digits.
Bonus Buy Cost (Stake Size Multiple) – 🪙100x
Min Bonus Buy Cost – 💵$20
Max Bonus Buy Cost – 💰$10,000
#4 Knight Rider (NetEnt)
Knight Rider by NetEnt is a slot machine that takes inspiration from the 1980s hit TV show of the same name. It's a blast from the past. The second you open it, you'll be greeted by a wave of Nostalgia as that famous opening theme plays. The 5×4 highly volatile slot offers 26 paylines and an RTP of 96.07%. Its bonus feature is pretty challenging to get naturally, though it can be activated by getting scatter symbols in reels 2, 3, and 4.
Unlike a lot of other bonus rounds featured on this list, the bonus rounds of Knight Rider are often short and frantic. Players start with ten free spins, though they can get more by collecting the feature symbol three individual times. When they do, not only will they gain at least two additional spins, but they'll also get access to the roaming laser wild feature.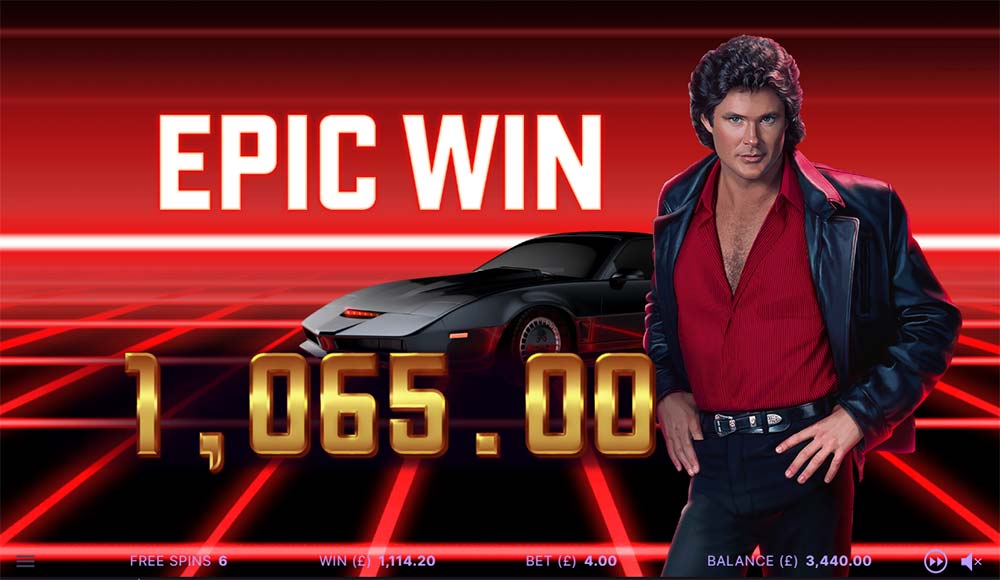 This feature beams a roaming wild of a random multiplier to the reels at the start of each spin. Better yet, these roaming wilds can stack, so at the start of each spin you can have up to three wilds beamed to the screen, plus any additional wilds that just so happen to land.
The one downside to this is that the bonus feature is one of the more expensive you'll be likely to come across, with a price tag of x140.
Bonus Buy Cost (Stake Size Multiple) – 🪙140x
Min Bonus Buy Cost – 💵$28
Max Bonus Buy Cost – 💰$5600
#5 Starburst XXXtreme (NetEnt)
Starburst XXXtreme by NetEnt is a game that on first look, may look a little standard. Or maybe even a little boring, especially given the XXXtreme suffix. A 96.26% RTP and high volatility may seem a little misleading for such a simple looking five reels, three rows machine with only nine paylines. Though what makes Starburst XXXtreme so extreme is its unique bonus feature.
There are no free spins or really any bonus rounds in the traditional sense. Instead, the only bonus feature available is their multiplier wilds. What makes them extreme though? Up to three 150x multipliers to give you max winning of 200,000x your initial bet.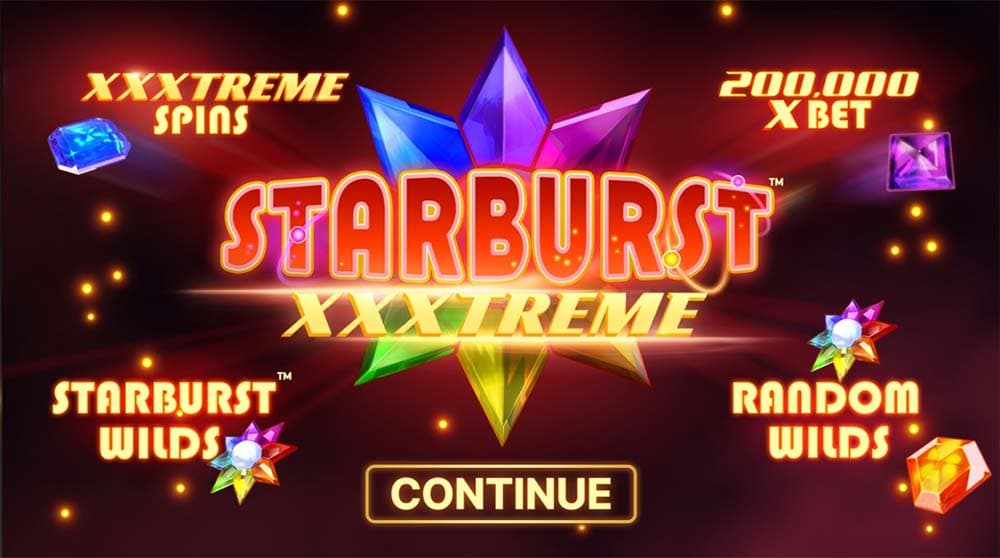 Better yet, these features are available to buy per spin. For one guaranteed wild it'll set you back 10x, and for two, 95x. While this may seem a tall price to pay for a single spin, the rewards can truly be massive. In fact, despite such an incredibly high max-winning cap, this is arguably one of the slots that is one of the most likely candidates to hit their cap. As for the price of 95x you can get two 150x wild multipliers plus a potential third with a bit of luck. So with a single line paying up to 50x, it's not hard to see the potential winnings.
Bonus Buy Cost (Stake Size Multiple) – 🪙10x
Min Bonus Buy Cost – 💵$1
Max Bonus Buy Cost – 💰$4750
#6 300 Shields Extreme (Nextgen Gaming)
The sequel to the original slot 300 Shields, 300 Shields Extreme by NextGen is everything that was great about its predecessor though taken to a new level. Similar in appearance to Starburst XXXtreme with five reels and three-row, though 300 Shields Extreme has a Spartan look to it as well as offering 25 paylines. While still considered "high volatility" it is noticeably less volatile than many other slots featured on this list, and with an RTP of 95.3% it may seem slightly less appealing than others on this list.
Of course, what makes a game like this so popular though is its bonus round. Collect three scatter shields or pay the toll of 60x to enter the "Battle Feature". From here, the game's aesthetic changes as you're taken from a village backdrop to a raging sea, as a wave of blood now washes the reels after each spin. From here, it's an onslaught as while you're initially awarded five free spins and a x2 multiplier, you must collect more shields (which also double as their wilds now) to increase the multiplier and gain an additional five free spins.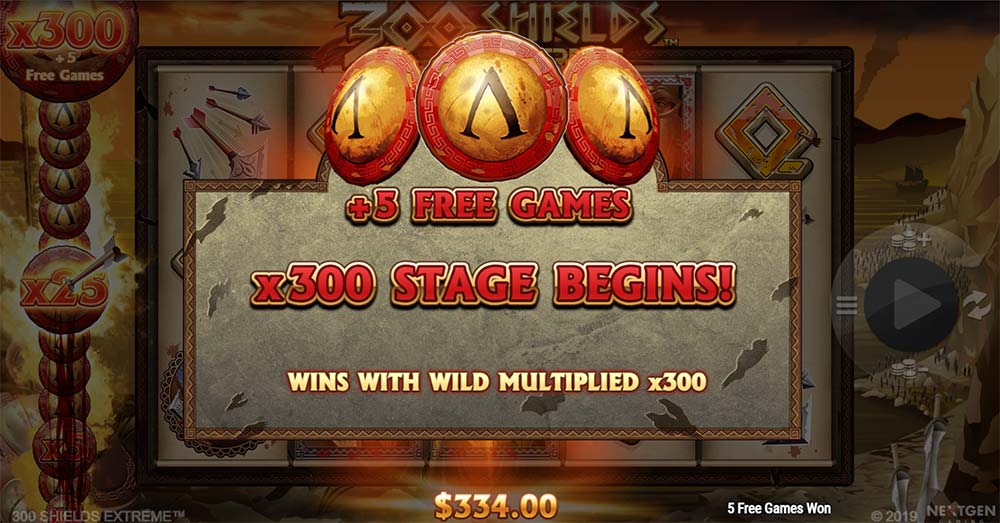 While the multipliers start off modest at x2 and x5, further on it reaches x25, before even reaching x300. Better yet, since free spins are reset whenever you reach the new multiplier, this means you can get five spins with an x300 multiplier. As such, it's perhaps understandable why the max win is capped at x17,773 your initial bet.
Bonus Buy Cost (Stake Size Multiple) – 🪙60x
Min Bonus Buy Cost – 💵$15
Max Bonus Buy Cost – 💰$750
#7 Dead or Alive 2 (NetEnt) Feature Buy
A personal favorite of mine, the Western-themed Dead or Alive 2 produced by NetEnt, took what was an already great machine in Dead or Alive to an absolute legendary status with its sequel. With its simple 3×5 layout, high volatility, and RTP of 96.8% Dead or Alive 2 is already one of the best online slots. Though what really takes it to a whole new level are its bonus features.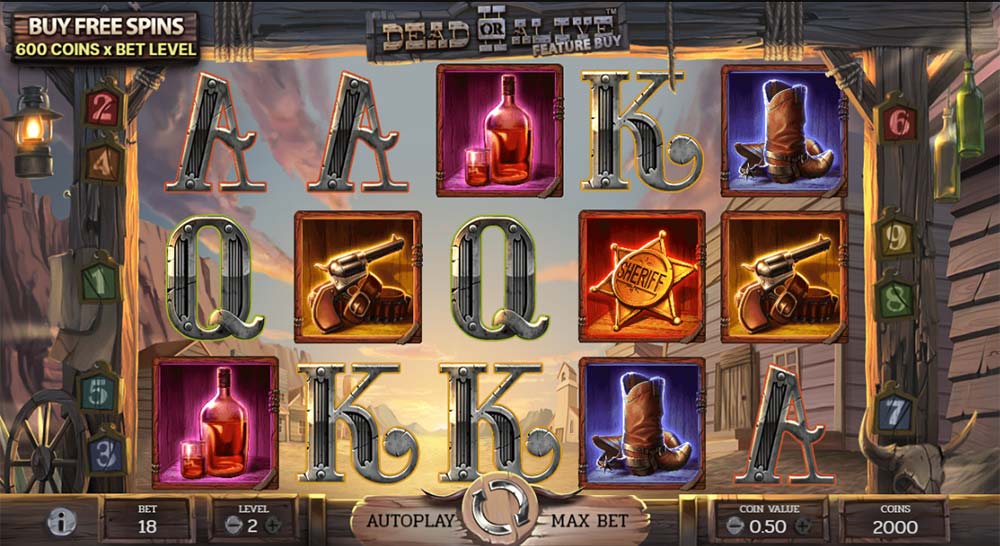 While a lot of bonus feature slots have one bonus, Dead or Alive 2 has three bonus features, each awarding an initial 12 free spins. They're triggered the same with three scatter symbols hitting the reels, though once they do, the player is allowed to choose whether they want to go for a big win with High Noon Saloon, often win with Train Heist, or go somewhere in the middle with Old Saloon.
Of course, while this alone might be enough to make it into most veterans' top 10 list, what really shoots it up higher is that for those who don't want to spend time grinding up to their bonus, there is a bonus buy feature for 66.66x your bet size available on the special Dead or Alive 2 Feature Buy slot version.
From here, additional spins can be won, though depending on which of the bonus features you choose will depend on how additional free spins can be won. "Train Heist" gives a single additional free spin based on the wild symbols landing on the reel. However, both "High Noon Saloon" and "Old Saloon" can only get their free spins if a wild symbol lands on each of the reels. The benefit to this is that since this is a harder objective to achieve, they get five additional free spins instead of one.
Bonus Buy Cost (Stake Size Multiple) – 🪙66.66x
Min Bonus Buy Cost – 💵$6
Max Bonus Buy Cost – 💰$600
#8 Extra Chilli Megaways (BTG)
Extra Chilli Megaways by Big Time Gaming is a colorful, cascading machine with a megaways layout.
Highly volatile with a fantastic 96.82% RTP, Extra Chilli Megaways is one of the crowned jewels of pioneers of the bonus buys slot games Big Time Gaming, second to perhaps only White Rabbit Slot. One way it differs, and in some ways even improves upon White Rabbit is with its bonus round mechanics.
To start off, to reach it the traditional way, you need to get three of their scatter symbols in any reel and in any row to be awarded eight free spins. From there, you're given the unique opportunity to gamble with them in hopes of reaching a maximum of 24 free spins or to take the eight spins you're given and enter the bonus rounds.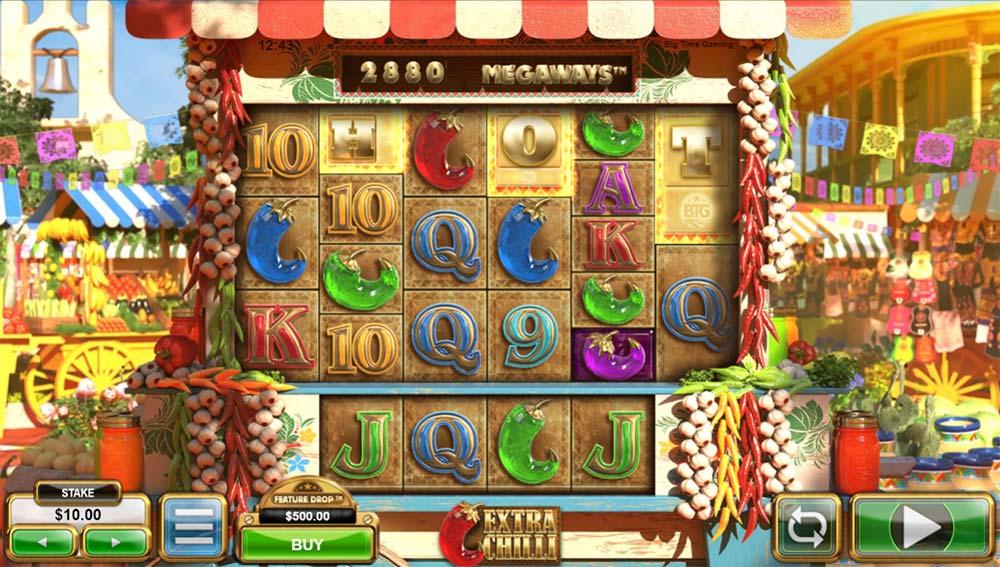 From there, the game is played relatively similarly to normal gameplay, except each time you match symbols, the multiplier increases by one. This makes the aforementioned "gamble" feature a worthwhile proposition as the longer you play, the higher the multiplier will get and the more you can win.
Additional free spins can be won by the free spins scatter symbols, which are unique to the bonus rounds. Collect three of them, and you'll be awarded four free spins. Collect four of these symbols, and your reward doubles.
What I love about all Big Time Gaming bonus buy slots is the mechanic in which the bonus can be bought at a descending price. This favors a slightly more patient user, as while you can enter the bonus game at any time by paying 50x your bet, the feature drop can appear at any time and reduce the price until it's one that you are more comfortable with. So as with White Rabbit Slot, you even have the option to wait until it's free, and then you can pick when you wish to start your free bonus spins at no cost.
Bonus Buy Cost (Stake Size Multiple) – 🪙50x
Min Bonus Buy Cost – 💵$20
Max Bonus Buy Cost – 💰$2000
#9 Medusa Megaways (Nextgen Gaming)
Another slot inspired by ancient Greek mythology, though this time, instead of the gods, it's the monsters with Medusa Megaways by NextGen. With a total of 117,649 ways to win, the megaways slot uses the cascading mechanic that is becoming increasingly popular. Medusa Megaways, like most of the slots on this list, has high volatility and an average RTP of 96.28%. However, this increases to 97.63% when you use the bonus buy feature.
Three scatter symbols can trigger it normally, but for the price of 100x your bet, you can enter the bonus round at your leisure. From here, a whole host of bonus features come to the forefront. Though the main ones to keep in mind are the unlimited win multiplier which increases by x1 every time the symbols are matched. Which, when paired with the second bonus feature, "Medusa Gaze," can become especially profitable toward the end of your free spins.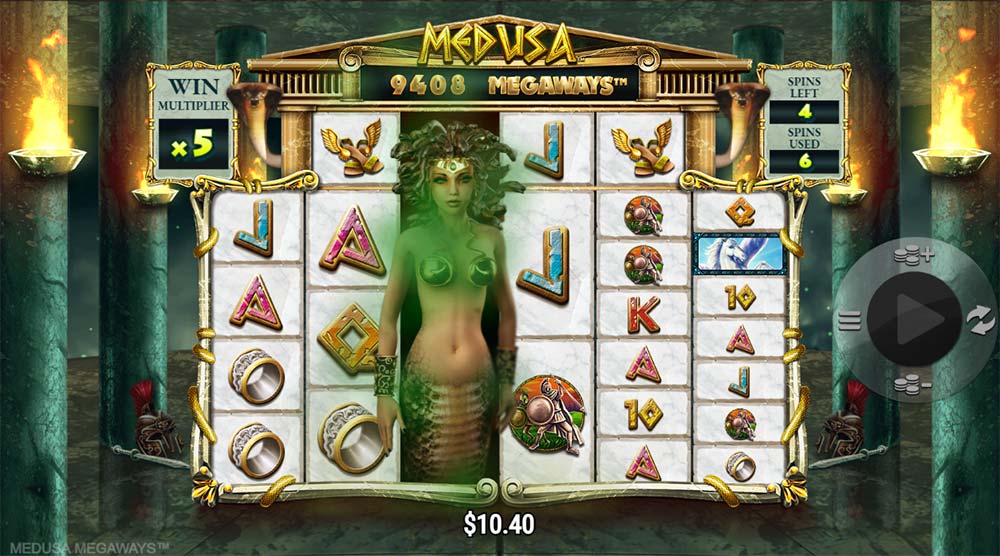 For this feature to activate, the Medusa wild symbol must land in the extra reels and not be part of a winning combination. If this happens, Medusa herself will fill up an entire reel with wilds. And when you get an entire reel of wilds mixed in with a late-game multiplier, then the x50,000 max win cap becomes a definite possibility. A further novel option to the Buy Pass feature is that you can fully replay the bonus round if you are unsatisfied with the final winnings. Again this is a very risky gamble feature but does offer you a second chance for a really poor bonus round.
Bonus Buy Cost (Stake Size Multiple) – 🪙100x
Min Bonus Buy Cost – 💵$25
Max Bonus Buy Cost – 💰$2500
#10 Nitropolis 3 (ELK Studios)
To wrap up this list is a producer who doesn't always find themselves in the spotlight but is nonetheless responsible for many great slots, including Nitropolis 3. No doubt, ELK Studios has created one of the most enjoyable slots with a host of bonuses; what lets Nitropolis 3 down, though, is a fairly low RTP of 95% and high volatility. Nevertheless, Nitropolis 3 does have a saving grace, and it is its bonus buy feature.
Not one or two, but five different bonus buy features are available when playing for 2x, 10x, 25x, 100x, and 500x your initial bet size through their in-game bonus meter, the X-iter.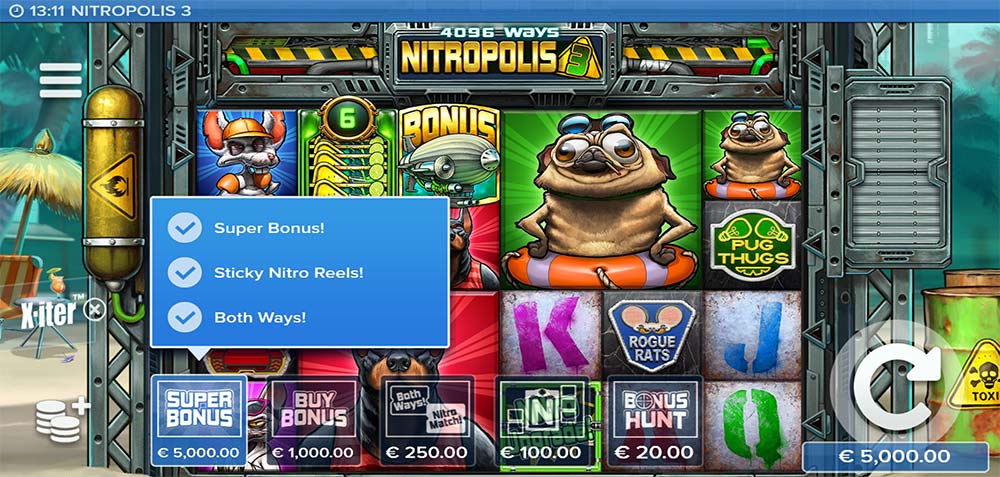 Generally speaking, I prefer going for the biggest risks to getting the biggest payouts — however, with Nitropolis 3, I tend to scale that back just a notch and instead go for their second-highest bonus with "Bonus Game" for 100x. With this, not only do you get their signature nitro sticky reels, but you also guarantee yourself free spins.
There are a lot of other things going on with Nitropolis 3, and while I don't think I could recommend this slot to someone who's after a simpler, more streamlined experience, I can definitely say that if you're looking for something a little different, Nitropolis 3 might be for you.
Bonus Buy Cost (Stake Size Multiple) – 🪙100x to 500x
Min Bonus Buy Cost – 💵$20
Max Bonus Buy Cost – 💰$2500
How do Bonus Buy Slots Work?
Bonus buy slots can seem a little intimidating at first glance. But they're really quite simple. Nearly all slots will have a bonus feature — these can be as simple as a free spin mechanic wherein you're awarded free spins for collecting certain symbols, or as complicated as the bonuses mentioned in the review for Nitropolis 3. These bonuses usually come with certain benefits, whether they be multipliers, roaming wild symbols, or expanding reels — and as such, they are your best chances to win big. However, because of the potential high winnings, these bonuses are usually very difficult to attain and often have a likelihood of 1% of occurring.
What the bonus buy feature allows you to do is bypass the usual grind of the normal game and instead pay a premium to enter into the bonus rounds right away. In some cases, this will even allow you to increase the RTP of the game. As an example, in Medusa Megaways, the usual RTP is 96.28%. However, for those who only use the bonus buy feature, the RTP increases to 97.63% — thereby increasing the chances of coming out ahead.
A simple way to look at it is that bonus buy slots allow you to pay extra money to increase the volatility while also increasing the RTP. Another good thing to remember is that just because you play on a bonus buy slot doesn't mean you have to buy bonuses, as in many cases the bonuses can be achieved without paying a premium, and if you find the right online slot, the base game is usually lots of fun.
Are Bonus Buy Slots Better Than Regular Slots?
As mentioned in the above section, a bonus buy slot allows you to increase the volatility and RTP simultaneously. Whether or not that's a good thing though will depend on your preference. When playing slots you should ask yourself what are you looking to risk? And what are you looking to gain?
If the answer to these questions is that you're looking to have a good time while not risking a whole lot, then you may not want to play bonus buy slots. However, if you're willing to risk a little bit more and are looking for an exciting experience where there's a distinct possibility of winning big, then you may want to choose a bonus buy slot when picking which machine to play on.
The only thing to keep in mind is that whether you play bonus buy slots or regular slots, the RTP will always be below 100%, and as such you should always play responsibly.
Bonus Buy Slots Cons
Banned in the UK and all over the EU, there are reasons why bonus buy slots are as controversial as they are. As mentioned, while bonus buy slots increase the RTP, they also increase the volatility and as such while potential winnings can be massive, the potential for massive losses can be just as high.
A great way to reduce the potential risk is to decrease your bet size. Suppose your usual bet size is $1, and you don't feel comfortable wagering 100x. In that case, you can easily reduce your bet to half or even a quarter — thereby reducing the overall amount you risk. Another great way to reduce your risk is to use bonus funds when using the bonus buy feature.
With seemingly every casino offering a deposit bonus, it's a great way to play bonus buy slots without risking any additional money.
FAQ's
Which is the best bonus buy slot?
There are a lot of excellent bonus buy slots, and the best will invariably come down to personal preference. I'm personally a big fan of 300 Shields Extreme, as the base game isn't particularly exciting, so skipping straight into the bonus round makes sense.

For a less volatile but equally rewarding slot, White Rabbit's gameplay and re-trigger potential is a slot we can't help using the bonus buy feature for; the increased RTP is an added bonus too!
Which bonus buy slot has the highest RTP difference?
If an online slot does have a bonus buy feature you may find that the RTP value when only using this option is different from the regular RTP value, this should be clearly explained in the paytable information if there are differences.

One slot that does is Medusa Megaways which increases from 96.28% to 97.63% when using the bonus buy feature exclusively. While over the long term, this extra 1%+ percentage will become significant, you must also factor in the Bonus Buy features are expensive to buy (around 100x stake) and the theoretical RTP is based on millions if not billions of spins, so to get close to this value you will need to buy a lot of bonus rounds on what can be a very high variance slot machine!
How do I activate the bonus buy feature on a bonus buy slot?
Activating the bonus buy feature is very simple. A small box to the side of the reels will say "Buy Bonus Feature," "Buy Feature Drop," or something similar. You click it, and then you'll get a confirmation window with the price you'll pay. If you agree, you click "Yes."

Some bonus buy features are based on the current stake value set on the slot machine; they may also allow you to raise and lower the bet size before confirmation. Be aware that the bonus buy cost is generally around 100x the current stake but on very volatile machines with extra features, the cost can be over 1000x the current stake, research the slots first before jumping into buying the bonus rounds!