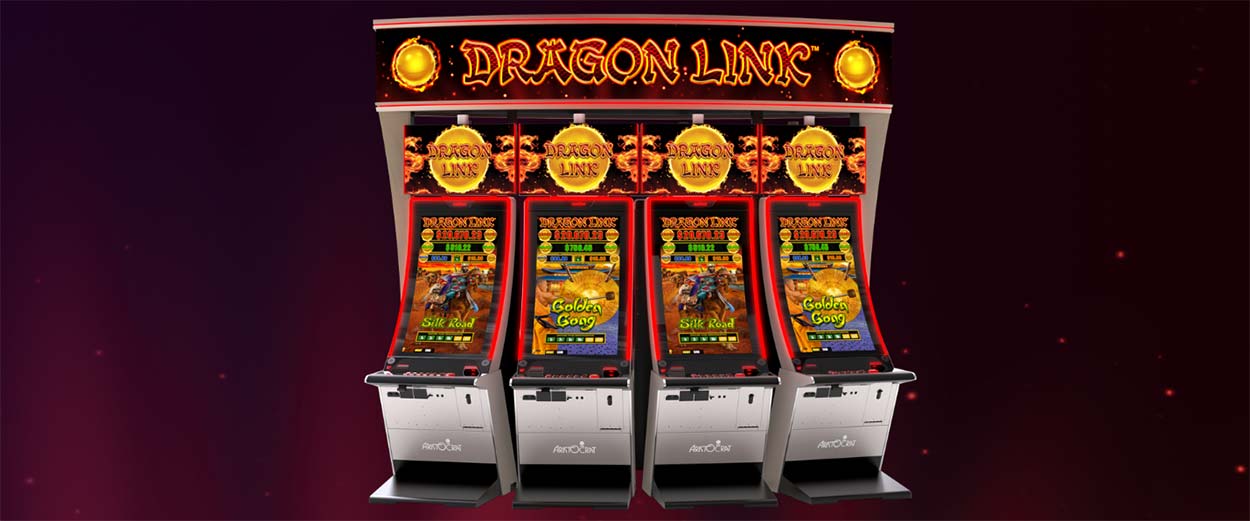 So just what are these mysterious mythical Dragon Link slots? Well, the good news is you've arrived at the correct "link" to find out!
In this article, you will find out how they work and the unique features that have made them so popular with slot players.
As a bonus, we've included some fantastic online slots suggestions which will satisfy your hunger to be able to play the Dragon Link style slots at online casinos.
How do Dragon Link Slots work?

Dragon Link slots are a series of 10 different Asian-themed slot machines developed by Aristocrat Gaming that contain numerous jackpots, including a Progressive Jackpot linked in the casino to a series of other Dragon Link slots generally referred to as a bank of machines (group/cluster).
The critical word here is "Link" meaning that this particular style of machine is linked to others in the same slot bank that pools together progressive jackpot totals.
While Dragons Link slots have a series of Progressive Jackpots linked to them, they differ significantly from a "wide-area progressive" machine as the Jackpots are only built up by the contributions of each "bank" of these slots.
This feature offers players a better chance of landing a more modest jackpot than the insanely big progressive slots that can run into the millions. Think of them as an excellent middle ground between a regular slot machine and a Progressive Jackpot when deciding what kind of machine you want to play.
This series of machines was developed by Aristocrat Gaming on the back of the extremely popular Lightning Link series of similar slots, adding additional functionality and bonus features and evolving into the Dragon Link range.
The slot style has proven a firm favorite with land-based casino players. The range has expanded even further with higher denominations and even bigger Jackpots on offer through the Dollar Storm Link machines.
If you spot "Link" in the game title and it's an Aristocrat slot, you can be sure it operates very similarly to these other machines.
What Is a Dragon Link Slot Machine?
There are 10 Dragon Link slot machines in the range from Aristocrat that all come with linked progressive jackpot prizes.
For example, 4 of these slot machines could be linked together with a shared series of fixed and progressive jackpot prizes.
The Dragon part of the title comes from the powerful Oriental/Asian theme that runs throughout the range of games, with a mix of classic low-paying symbols, high-paying Oriental symbols like the Golden Buddha, and the infamous Aristocrat bonus trigger sounds!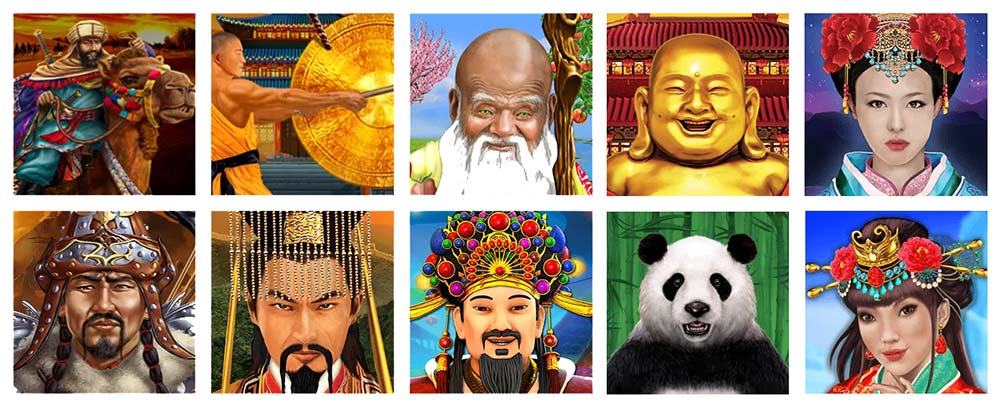 Complete Dragon Link Slot Range
Dragon Link Autumn Moon
Dragon Link Genghis Khan
Dragon Link Golden Century
Dragon Link Golden Gong
Dragon Link Happy & Prosperous
Dragon Link Panda Magic
Dragon Link Peace & Long Life
Dragon Link Peacock Princess
Dragon Link Silk Road
Dragon Link Spring Festival
How to Play Dragon Link Slots?
While all the slots have a very similar layout in terms of rows and reels (5×3), they may differ in terms of the maximum paylines, with slight differences in each free spins bonus round and considerable differences in the visuals and themes. Hence, they appeal to a broader range of players.
Overall though, all these games will all play similarly. As a player, it's simply a case of finding the dragon link slot game with the theme you prefer the most.
They all have the same distinct Aristocrat feel, and they all have the unique Hold And Spin Feature, which is the critical feature for winning any of the various jackpots!
Hold And Spin Feature
"Hold and Spin" is the standout bonus feature of all these machines and can be triggered in the base game or the free spins round with a slightly higher frequency.
Players need to land at least 6 of the Golden Balls/Orbs/Coins anywhere on the reels to trigger this feature. The "Balls" are the special round symbols with stake-based coin values displayed or can contain the smaller Mini or Minor Jackpot prizes.
How Do You Win the Dragon Link Jackpots?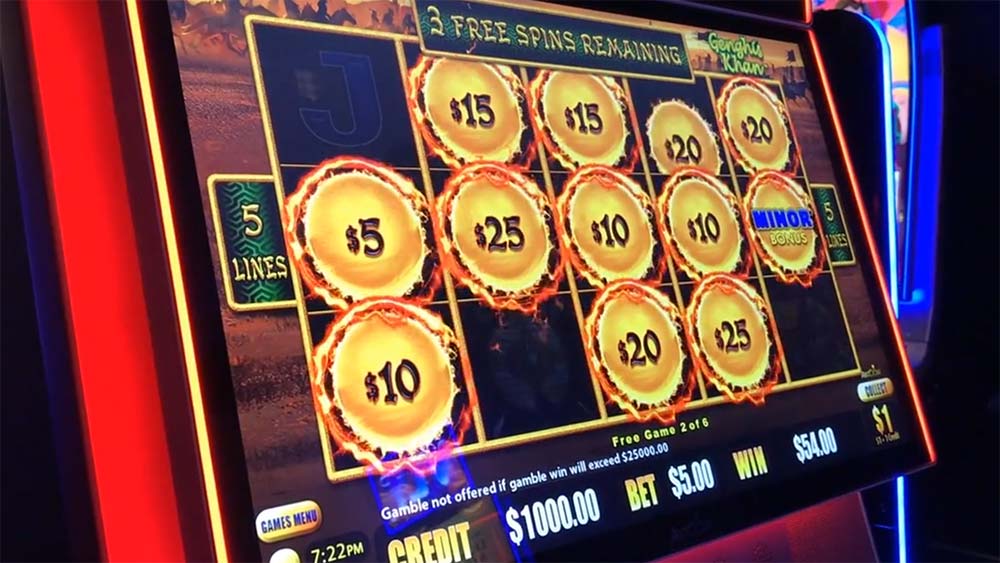 Once the Hold and Spin feature is triggered, you are awarded three re-spins of the reels, all the current Golden Balls are held in position on the reels, and you are hoping to land further Golden Ball symbols in the remaining spaces on the reels.
Landing new Golden Balls will reset the re-spin meter back to 3 each time this occurs. If you fail to land any new symbols during these re-spins, the bonus round ends, and the total coin value is totaled up as your winnings.
If you are fortunate and manage to land all 15 symbols to cover the reels completely, you stand a chance of winning the biggest jackpot!
Each Dragon Link slot has 4 Jackpots available to be won, a Minor, Mini, Major, and Grand Progressive Jackpot.
The Minor and Mini Jackpots are generally a fixed cash prize based on the current stake level (Coin Denomination and active Paylines). The Major and Grand Jackpots tend to be Progressive Jackpots seeded at a specific amount and then rise in value based on all of the contributions from the linked machines.
While landing 15 Balls is the most common way to win a Jackpot, it is also worth noting that some of these Dragon Link Jackpots can also be awarded at random on a spin where 0-5 Golden Ball symbols appear (non-winning spin).
To verify this, look through the machine's paytable to see if this "random jackpot feature" is mentioned. You might get very lucky and win a Jackpot on what looks like a non-winning spin!
Can You Play Dragon Link Slots Online?
The simple answer to this is no; you can't. Unfortunately, Aristocrat sadly doesn't have a significant presence yet in any real money online casinos.
If you search high and low, you might be able to find some of their classic slots, such as Wheres The Gold, Miss Kitty, and Golden Nile II, but these can be very rare to find at any modern online casino app.

However, the good news is that other developers such as SGi (Light & Wonder), Red Tiger Gaming, Pragmatic Play, and Microgaming have noticed the popularity of this style of machine and have created versions with very similar "Hold and Spin" style gameplay and accompanying jackpots.
Titles such as Ultra Blazing Fire Link (SGi) and Cash Volt (Red Tiger Gaming) offer similar gameplay with bonus rounds featuring re-spins, 4 jackpots, and classic slot machine themes.
The Mega or Grand Jackpots on these slots tend to be stake-based but could be even higher than the Progressives you see on the land-based Dragon Link slots.
As a bonus, the RTP is generally much higher online, giving a better return on your money, more so you aren't contributing to a progressive jackpot on each spin either!
Microgaming, however, has taken the literal "Dragon" by the horns making a range of slots featuring Link & Win, which is as close to a "Hold and Spin" style slot online.
We have handpicked our top three online slots featuring this system as the current best alternative to Dragon Link slots online!
#1 Thunderstruck Wild Lightning (Microgaming)

Thunderstruck Wild Lightning was a major online slot release from Microgaming (Stormcraft Studios). Building on the global success of their Thunderstruck and Thunderstruck II slots, this slot was eagerly anticipated by players.
The popular Norse god theme has been retained, the coveted Wild Storm Feature, and 5 unique Free Spins rounds that are unlockable as you play and trigger bonuses.
However, the key feature for players who enjoy Dragon Link slots is the Link& Win system triggered by landing 6 or more Thunderballs on this slot!
To spice things up further, you also have unlockable rows, which give increased chances to win prizes, 4 Jackpots in total, including a huge 15,000x Grand Jackpot (based on bet size).
If you are looking for a slot packed with bonus features, unlockable free spins, and Jackpots, Thunderstruck Wild Lightning ticks all these boxes!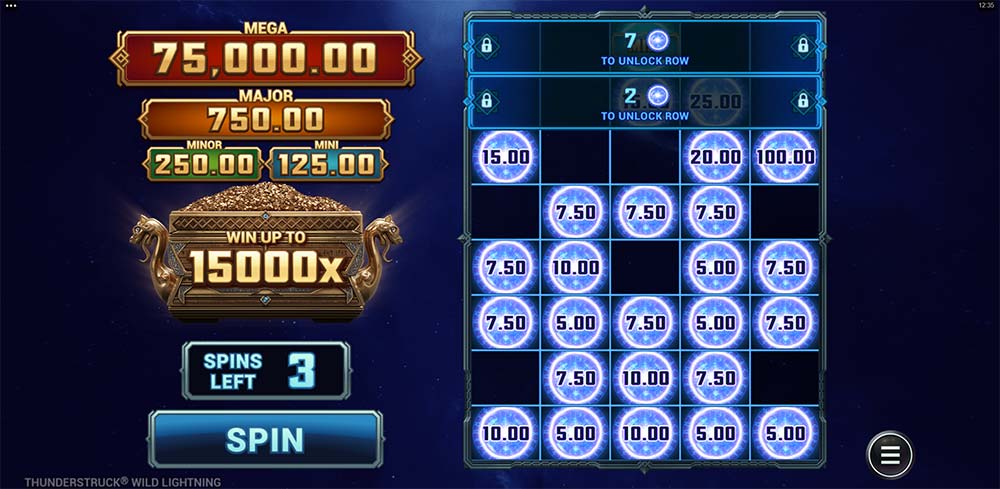 Technical Data
Developer – Stormcraft Studios (Microgaming)
Paylines – 40
RTP – 96.10%
Hit Frequency – 22.92%
Max Win – 15,000x Stake
Volatility – High
#2 Adventures of Doubloon Island (Microgaming)

The Adventures of Doubloon Island is the latest slot release from Microgaming Link & Win series, although you may also see the term HyperHold being used to explain this feature too!
If you are looking for a slot that replicates the Dragon Link machines, this is probably the closest match in terms of playstyle to the originals.
A strong pirate theme sees doubloons being used to act as the HyperHold symbols, and this slot also comes with a unique Win Booster feature.
Although this slot machine is much lower variance than Thunderstruck Wild Lightning, the Major Jackpot is 2000x stake, and with Win Booster activated 3333.33x stake.
Win Booster
The Win Booster costs 1.5x Stake to activate. It increases the value of all prizes and even allows the Mega Jackpot to be awarded from the Skull Symbol during the bonus feature.
In simple terms, activating Win Booster increases the slots' overall volatility and potential.
The Link & Win feature can trigger in the base game and the free spins bonus round, the same as a Dragon Link slot machine.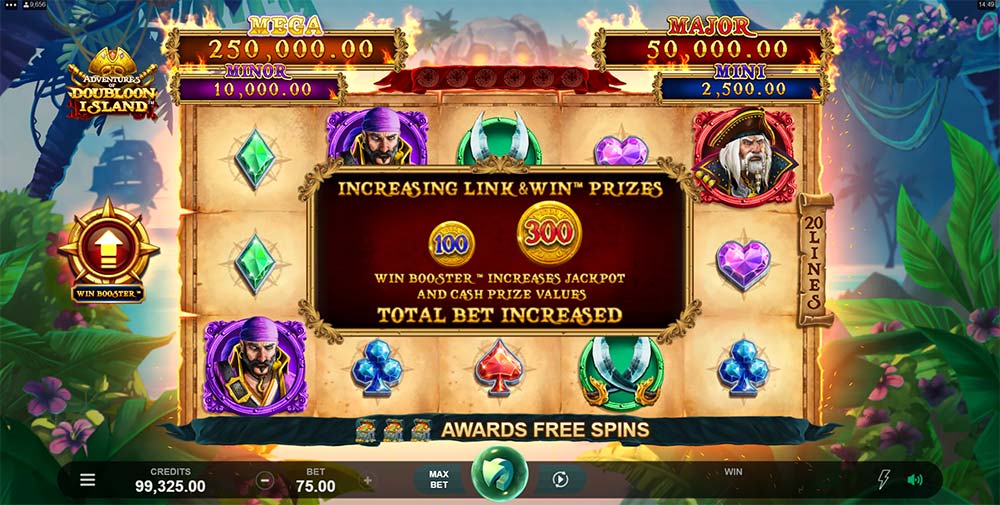 Technical Data
Developer – Triple Edge Studios Studios (Microgaming)
Paylines – 20
RTP – 96.01%
Hit Frequency – 31.50%
Max Win – 2000x Stake
Volatility – Medium
#3 Assassin Moon (Microgaming)

Assassin Moon was Triple Edge Studio's first foray into the Link & Win/ Hyper Hold series of slots. It serves as a perfect middle ground between the two previously mentioned slots as it has slightly more volatility than Doubloon Island and less overwhelming mechanics than Thunderstruck Wild Lightning.
Additional features worth noting on this slot are the Win Booster feature which increases the overall volatility and win potential on this machine and tops out at a very impressive 12,500x stake. Activating the Win Booster also increases the RTP above the default to 96.33%.
Key symbols to look out for include the Moon symbols, which trigger the HyperHold feature and a chance to win 1 of the 4 jackpots, and the special Jumbo Block symbols in the free spins.
Jumbo Blocks
Jumbo Blocks or Gigantic symbols are a special 3×3 block that activates in the bonus round of Assassin Moon. This huge 3×3 Jumbo Block acts as 9 symbols in total and can award a full bonus re-trigger which a scatter symbol on it, or even acts as a Jumbo Link & Win symbol, effectively up to 9 of these symbols!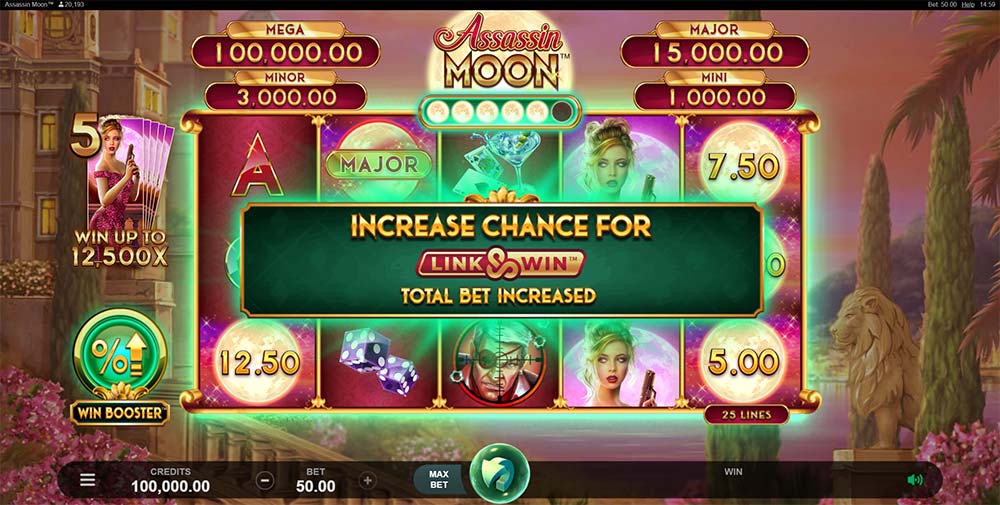 Technical Data
Developer – Triple Edge Studios Studios (Microgaming)
Paylines – 25
RTP – 96.08% Win Booster™ 96.33%
Hit Frequency – 30.00%
Max Win – 12,500x Stake
Volatility – High
Where to Play These Online Slots
Searching for these slots by the game title, you will find them all live and playable and easily located in all of our recommended licensed US casinos listed below.
If you usually like to search by slot developer, then it's worth noting that Microgaming produces these titles, but smaller studios actually develop them like Triple Edge Studios and Stormcraft Studios.
To add further confusion in the US and at BetMGM Casinos, they are distributed and listed in their slot lobby as DGC (Digital Gaming Corporation) slots.
Our simple advice – search by slot name! If you enjoy any of these machines, then dig a little deeper to find out who actually makes the slot, then you explore their specific range of games further!
FAQ
What is the RTP of the Dragon Link slots?
There is no freely available information concerning the actual RTP for the land-based Dragon Link slots (Aristocrat). However, we estimate that the RTP is likely around the 95% mark, with a noticeable portion of this being contributed to by the various linked progressive jackpots.

This value may also alter depending on the casino and if there is a configuration to allow different coin denominations sizes.
Is there a Dragon Link Slot Machine App?
There are several free-to-play variants of Dragon Link and Lightning Link slots available to play on mobile apps; however, these versions do not allow real money gambling.

The Lightning Link Casino Slots app is the most complete version, contains all of the Dragon Link slots, and is available for Apple and Android.
Can I play Dragon Link slots online for free?
The original Dragon Link slots from Aristocrat Gaming are not available to play online for free. Several social casino apps have the same or very similar games along with a wide variety of real money online slots with similar "Hold And Spin Feature" slots which we cover in this guide.
What is the best Dragon Link Slot Strategy?
There is no guaranteed or winning strategy for Dragon Link slots; even if you have already watched videos or articles with players claiming to offer tips and tricks, these are false claims.

Previous spin results, changing the bet size and coin size, have no impact on what the next spin of a slot machine will be; in the case of land-based slots, there may be overall differences in the RTP of slots from casino to casino, and in terms of the bet size, but these settings are already hard-coded into the machine.

The only strategy you should consider is taking a set amount of money to a casino you can afford to lose, and if you are lucky, make sure you walk away with your winnings!