Gamble USA strives to improve your online gambling experience. We aim to help you play safely, make informed decisions when gambling, and increase your betting knowledge through our guides.
We adhere to strict editorial integrity; our content may contain links to products from our licensed & legal US partners.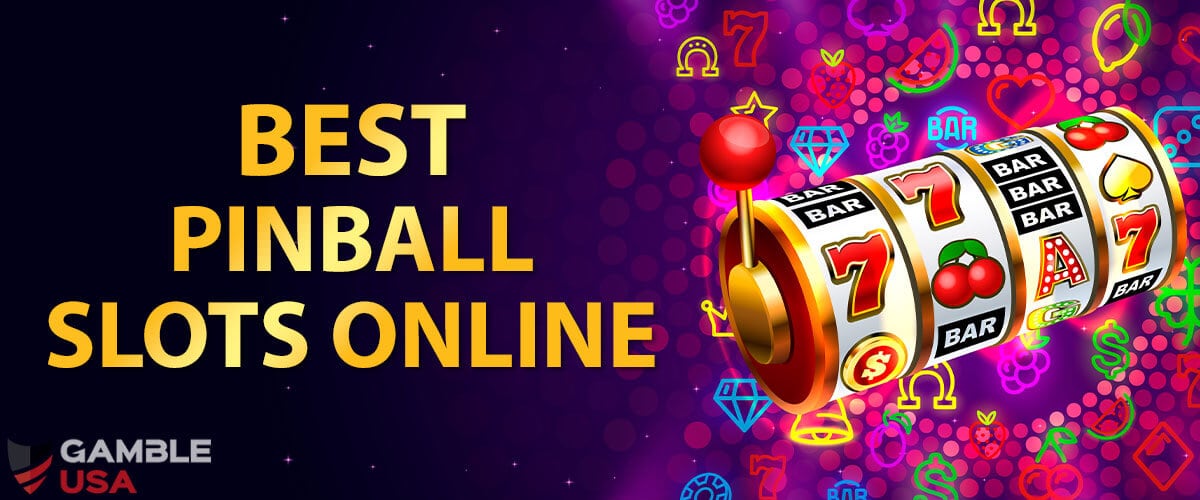 Pinball slots combine two amazing types of games to create an exciting and fun end product where you can potentially win large payouts. And now, you can play the best pinball slots online from anywhere in the US!
On the one hand, you have traditional slot machine mechanisms like reels, wild symbols, multiplier wilds, and different symbols that trigger payouts – features you can find at slot machines at any online casino.
Contrasting with this you have some type of pinball feature that pays homage to the classic pinball machines you can still find in some bars and arcades. This could be something simple like a pinball theme, to fully-fledged pinball gameplay with bonus features where you can control the ball launches and flippers!
The combination results in unique slot games with a fusion of skill-based gameplay and traditional casino luck-orientated mechanics. As a result, you would expect this to be a popular game type and that there are hundreds of pinball slot games available.
Sadly, I haven't found this to be the case and there are only a handful of pinball-themed slots produced and most of these are difficult to play online at casinos. Nonetheless, if you want a little retro gaming and to reminisce about hours spent playing pinball machines during your youth then read on!
Top Pinball Online Slot Machines
I get that you can get bored with the same old slot machine games and even the best online casino can occasionally get a little stale. This is why it's great to learn about different unique slot genres such as pinball slots to give you something different to try.
The best pinball slot machine games allow you to actually simulate playing a real pinball machine with flippers. This means there is a skill element present that isn't usually available in luck-orientated slots. To that end, I have picked out four of the best slot machines for this theme below from the relatively limited selection – enjoy!
3 Devils Pinball
🎰3 Devils Pinball
🧑‍💻Software Developer
Crazy Tooth Gaming
🤠Theme
Devils, Fire
💯RTP
96.70%
📈Volatility
Medium
💰Max Payout
2597.45x
🆓Free Spins
✅Yes
My top pick is 3 Devils Pinball, and it is by far the best pinball slot machine currently available. It has brilliant graphics and animations and the bonus game turns the reels into a full-on pinball machine.
Crazy Tooth Studio has produced a fun game with a decent RTP of 96.70% and a chance to win up to 2597.45x your bet. There is no interactive element to the pinball section of the game but the free spins round is so much fun to watch and you get to see the bonus ball launched and bounce off the different flippers to rack up some epic cash prizes.
I like the theme too and the cartoon devil symbols and characters add to the excitement and intensity of the pinball action. The 3 Devils Bonus is one of the best features and this triggers the power path mechanism where you can get up to 5x multipliers for big wins.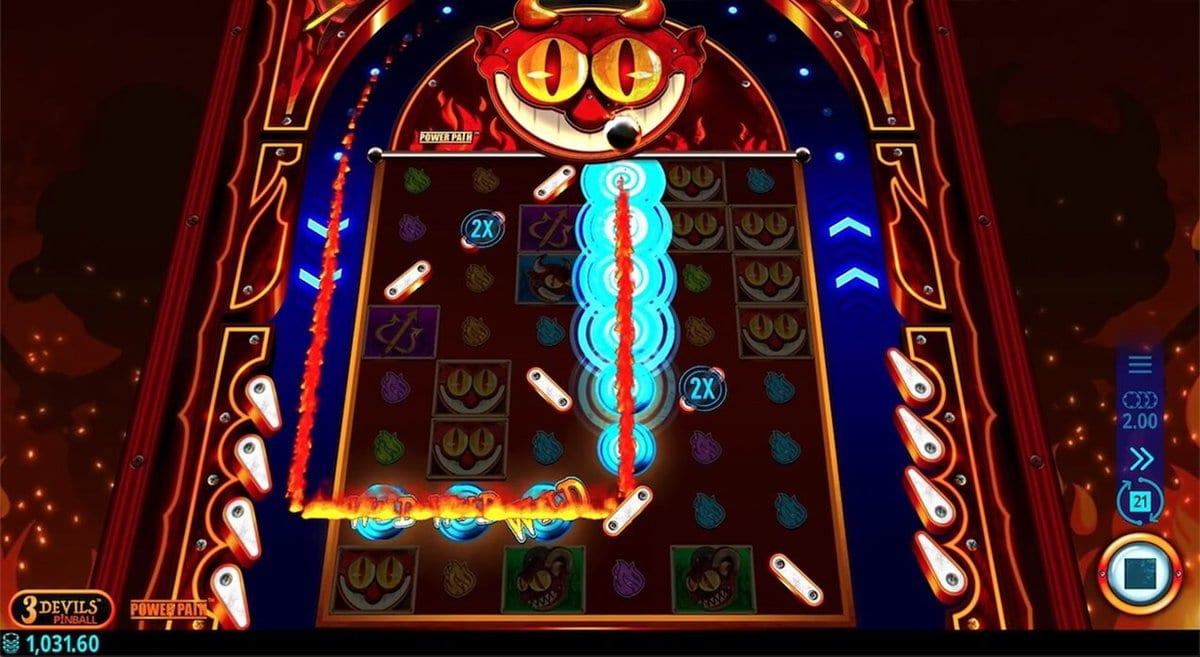 Spinball
🎰Spinball
🧑‍💻Software Developer
Tom Horn Gaming
🤠Theme
Space, Pinball
💯RTP
95.91%
📈Volatility
Low
💰Max Payout
N/A
🆓Free Spins
✅Yes
True pinball fans will appreciate the design and gameplay mechanics of Spinball from Tom Horn Gaming. This is a unique slot machine that effectively plays like real pinball machines.
Instead of slot reels, you have a full pinball machine layout complete with bumpers, ramps, and flippers. I really like how the different scoring features like the bumpers substitute for traditional slot symbols and replace the typical reel layout.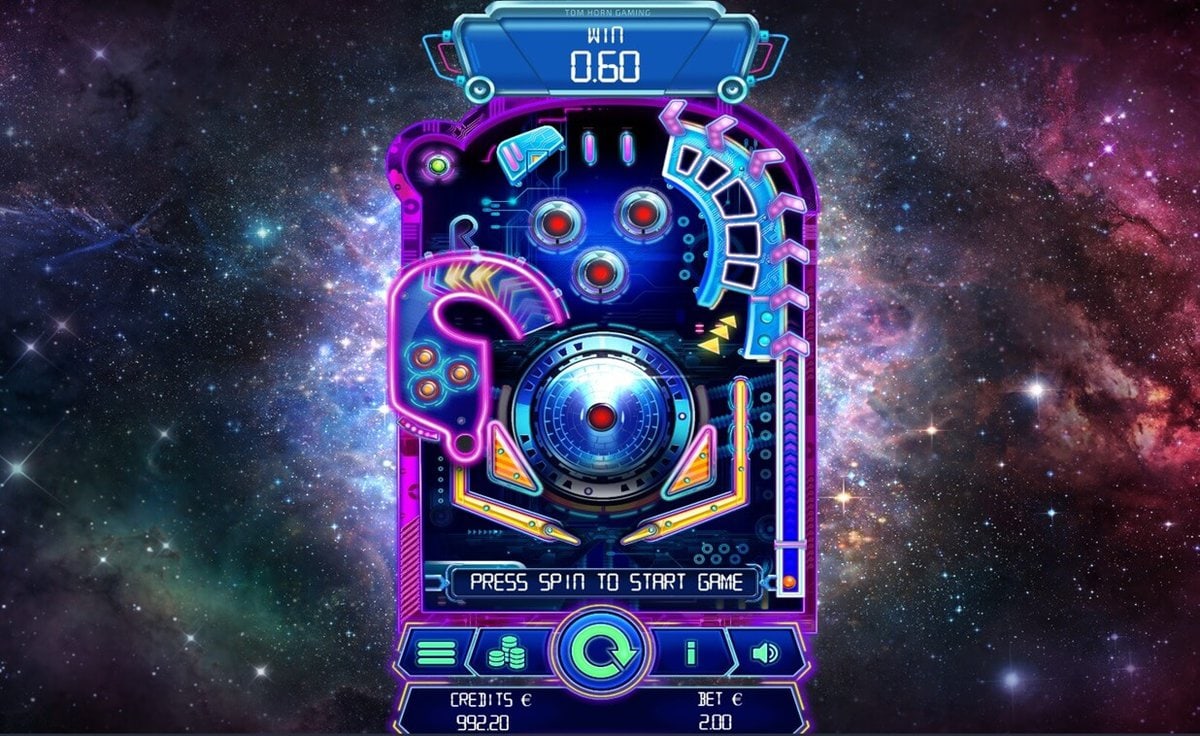 The only downside is that player interaction is minimal – I would like you to be able to control the bumpers but instead, you just hit the spin button and the game plays automatically. If the ball is shot up the right-hand ramp you can win up to 5 free spins and there is also a cool re-launch feature you can trigger to stack up your winning combinations.
It has a relatively low RTP of 95.91% which isn't great, but the volatility is low and you get a win pretty much on every spin. If you want to recreate classic pinball games in the casino then this is a good choice – just don't expect to win huge cash prizes!
Texas Tea Pinball
🎰Texas Tea Pinball
🧑‍💻Software Developer
IGT
🤠Theme
Oil, Exploration, Mining
💯RTP
97.35%
📈Volatility
Low
💰Max Payout
10,000
🆓Free Spins
✅Yes
Texas Tea Pinball does not have a pinball theme, but it is one of the few pinball slot machines that actually have interactive flippers that players can control! I love this aspect and it makes for a unique bonus game.
This great game from IGT has a high RTP of 97.35%, is highly volatile, and has a theme based on the Texas oil industry from older times during the Wild Western era. The game looks pretty basic by today's standards but it's the bonus round that pinball fanatics will love.
To trigger this bonus game you need two bonus symbols which gives you the choice to select the Pinball Bonus round. The view then flips to a Texan-themed pinball machine and you have full control of the ball and flippers.
There is some debate as to how responsive the flippers are and I have noticed some lag, but it still gives a fun gaming experience and there is definitely some skill involved. This is a classic physical IGT slot machine too and you can find it in many land-based casinos today although it is really difficult to find online.
Pinball Magic
🎰Pinball Magic
🧑‍💻Software Developer
Red7
🤠Theme
Pinball
💯RTP
96.00%
📈Volatility
Medium
💰Max Payout
80,000
🆓Free Spins
✅Yes
Pinball Magic is a retro game from Red7 that has an average RTP of 96% and uses a relatively standard real layout of 5×6. This game doesn't have any playable pinball features but instead, it has a vibrant pinball theme which is quite charming.
The reels look like a classic pinball machine and the graphics look like something out of a 90s arcade. You get some pinball-inspired symbols like bumpers, ramps, and balls, but there is also a magical aspect with magic wand symbols.
The best bonus feature is the free spins and multipliers which can lead to maximum credits at payout. To trigger this feature you need to hit three bonus symbols and the pinball bonus game starts.
Here a pinball launches up the rail on the screen and will trigger one of the features which are multipliers and free spins. Although you can't control the ball, it's still a fun bonus game, and with a maximum potential payout of 80,000x this classic game has the potential to payout big!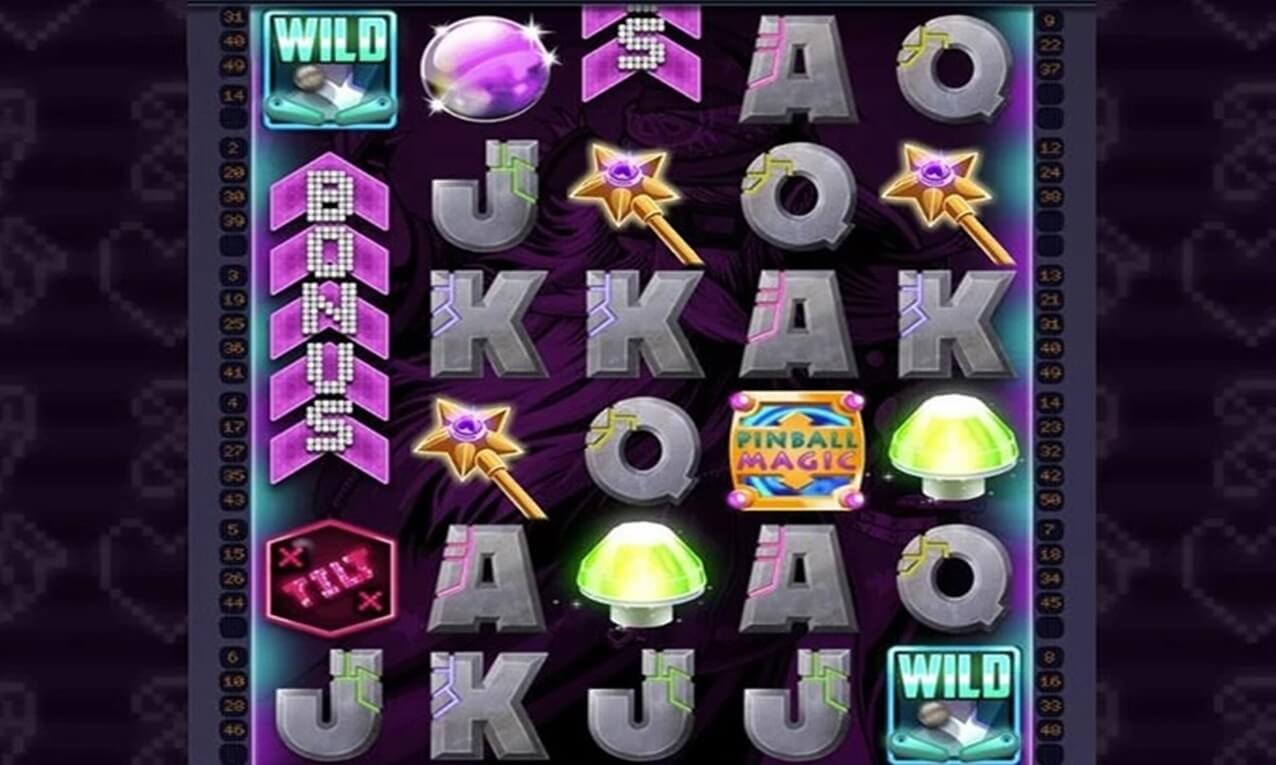 Other Pinball Online Slots
The above pinball slots are by far the best options and there really isn't that much to choose from elsewhere except:
Pinball Classic (B3W)
Pinball Wizard (iSoftBet)
Bompers (Elk)
These are other potential pinball slot machines but they are virtually impossible to find at US online casinos. There really isn't a huge market for online pinball slot machine games and other themes are usually far more popular like adventure, ancient Egypt, mythology, sport, and wild animals.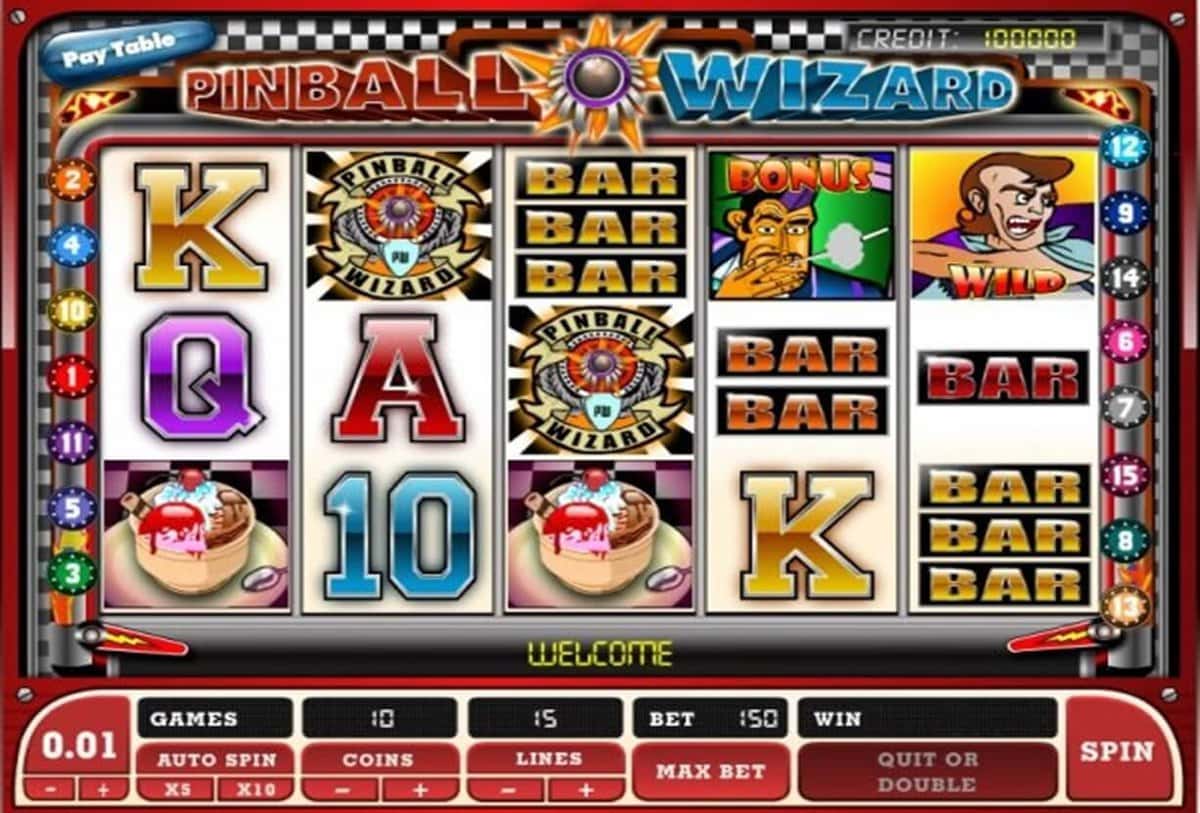 How & Where to Play Pinball Online Slots
Now that you have seen the best pinball slot machine games, you've got to know where and how to play them!
Availability at US Online Casinos
I have to break the bad news to you – there is virtually no availability of pinball slot machine games at US online casinos. I have done extensive searches and the top gambling platforms like Borgata, DraftKings, BetMGM, WynnBET, and FanDuel do not have any of these games available.
It seems that there isn't much call for pinball games and even titles from well-known software developers like Texas Tea Pinball aren't available. However, you can find similar online slots at all listed casino operators.
Important Game Features
Most pinball slot machine games have typical slot machine features and the gameplay doesn't vary much from classic video slots. As a result, you can expect standard reel layouts, wild symbols, scatter symbols, bet multipliers, and the ability to change your bet values.
The main unique game feature to be aware of is if the game has a controllable pinball aspect like Texas Tea Pinball. In games like this, you typically have to launch the ball and then control the left and right flippers. I advise reading the game instructions beforehand so you know which keys to use or where to press.
Demo Versions
Although there is little to no scope for real cash gaming concerning pinball slots, there are some demo and free-play versions available. Therefore, if you still want the pinball experience and enjoy this type of game, that is your best shot!
Demo versions are available on mobile devices and desktops and instead of USD, you simply play with free credits.
Try the Best Pinball Online Slots Now!
Unfortunately, it's really difficult to find any of these pinball slots even at the best online casinos in the US so all you die-hard pinball fans may be a little stuck! It looks as if pinball will remain in the past and that you must turn to other slot machine genres and themes for fun instead.
Don't worry, if you are looking for different slots to play, there are so many amazing titles available at online casinos like BetMGM and DraftKings so why not consider registering an account today and seeing what they have to offer?
While they don't feature pinball slots, you can play titles with a gameshow theme like the Wheel of Fortune series from IGT, or classic arcade game themes like Space Invaders from Inspired.