Gamble USA strives to improve your online gambling experience. We aim to help you play safely, make informed decisions when gambling, and increase your betting knowledge through our guides.
We adhere to strict editorial integrity; our content may contain links to products from our licensed & legal US partners.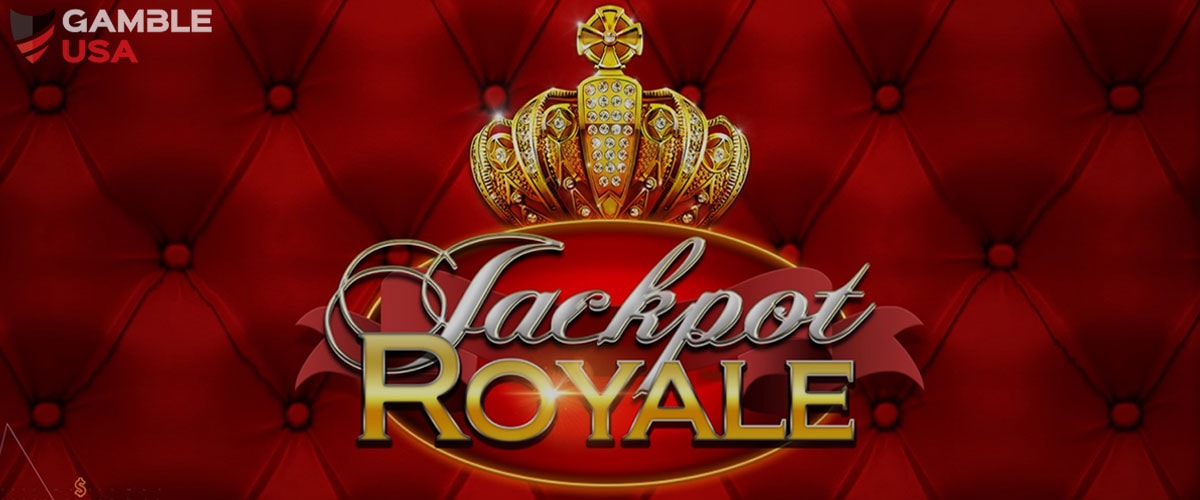 Slots with five-figure jackpots were considered a big deal once. Today you can win prizes at that level on many of the regular slots out there.
Things have certainly changed with jackpots becoming bigger, badder and widely available to online casino players in the US. Take the Jackpot Royale network of progressive jackpots for example. The average amount of a Jackpot Royale win on any game in this network is $175,000!
What about full-blown, grand jackpot wins? In this tier of the progressive program, the sky's the limit. We've seen the Royale pot grow to well over one million dollars.
Players in the US and Canada who are enthusiastic about progressive jackpots can embrace this fact with a smile. White Hat Studios, the company behind Jackpot Royale, has released more than 20 games thus far and is planning to add even more.
Our objective with this guide is to present you with key insights about one of the premium progressive jackpot networks, along with details for the best online slots where players can win life-sized prizes.
Jackpot Royale Progressive Jackpot Explained
Jackpot Royale may sound new to people in the US and Canada, but this is actually the North American brand name for the international progressive jackpot network by Blueprint Gaming.
White Hat Studios launched its first set of games from Blueprint's catalog in 2021. Along with it came a growing list of games that were included in a singular networked jackpot program.
Regardless of the casino brand or its sister sites, all games under the Jackpot Royale label offer the same concurrent jackpot values across three tiers.
But how does it all work? How is the Jackpot Royale network able to amass such vast prizes and seed big prizes immediately after someone wins a jackpot?
Progressive prizes rise in value thanks to automatic contributions which are made with each bet.
As thousands of people play Jackpot Royale slots each day, every spin distributes 1% of the value across three jackpot tiers.
Even the smaller jackpots can kick a sizable amount in your bankroll when you consider the minimum seed amounts and the average wins, according to the company:
| # | 💯Contribution % | 💰Average win | 💵Starts seeding at |
| --- | --- | --- | --- |
| Maxi | 0.133% | $5,000 | $2,000 |
| Major | 0.167% | $25,000 | $7,500 |
| Jackpot Royale | 0.70% | $175,000 | $70,000 |
Casino players can rest assured that the odds of winning one of the jackpots are not astronomical.
This is owed to the fact that Jackpot Royale offers its progressive jackpots exclusively to players in the US.
Because the US and international progressive networks are separate, American players truly get to enjoy one of the best jackpot programs in the world.
Trigger Mechanic
Every outcome on a Class III, RNG (Random Number Generator) slot game is random. And there is no way to influence the outcome.
However, there is one significant difference between regular online slots and progressive jackpot games:
A progressive prize can be won both on winning and non-winning spins! This element of the gameplay brings out the best of the "game of chance" principle which is central to casino slots.
The underlying trigger mechanic for any of the progressive jackpot tiers works as follows:
First off, you need to see the required number of Jackpot Royale-themed symbols in order to initiate the jackpot game. Some online slots award the jackpot game when five Jackpot Royale crowns land anywhere on the screen. Some games require that this symbol lands on a payline. Other games may require less than five of the said symbols. You can find out the number of scatters on the paytable of each game.
If you are lucky, your game will award the required number of jackpot symbols randomly and in the blink of an eye you can experience the progressive jackpot rollercoaster.
Jackpot Features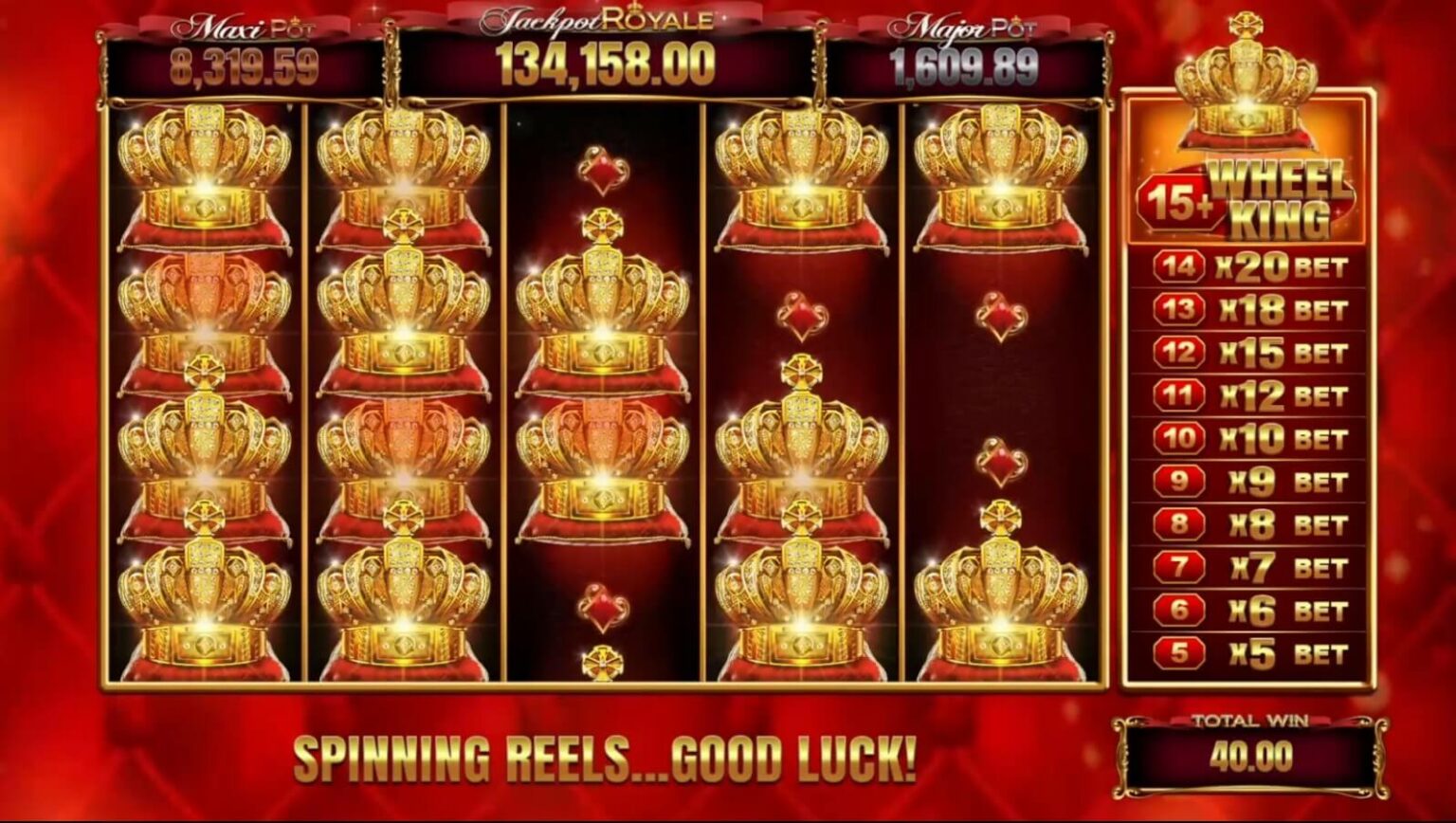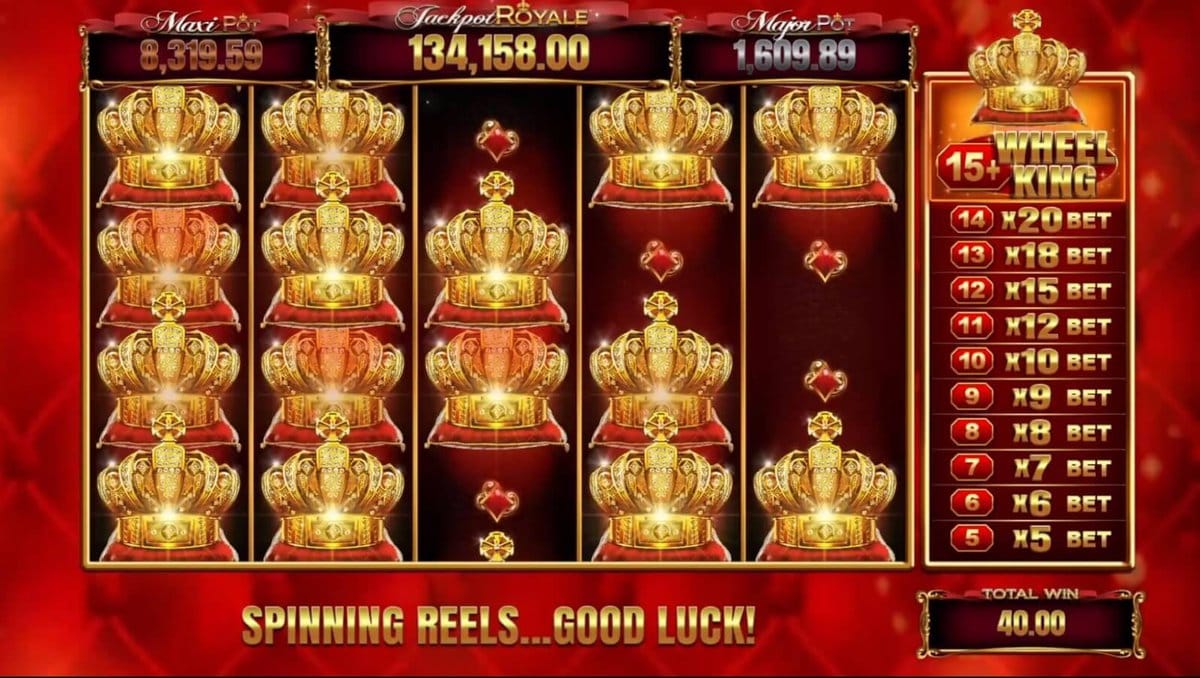 Every slot game on the list below has the same Jackpot Royale bonus feature, which consists of two parts.
The jackpot game awards you three initial spins on the same layout as found in the original game. The only symbol that can appear on the reel set is the Jackpot Royale crown symbol. When the said symbol lands on any position, the game automatically resets the number of respins back to three.
The paytable on the right side shows the total bet multiplier values corresponding to the number of landed jackpot symbols. You can win between 5x and 20x times your bet.
The bonus consists of boosters that appear after certain wins in the form of a Chalice, Ring, Orb or Royal Scepter. Selecting any of these can impact your outcome with the following action:
Spin: You get a free spin while your active respins remain the same;
Collect: Adds a bonus win in addition to the prize won on the ladder;
Wheel King: Gives you a guaranteed spin in the final game;
How to Win A Jackpot Royale Progressive Pot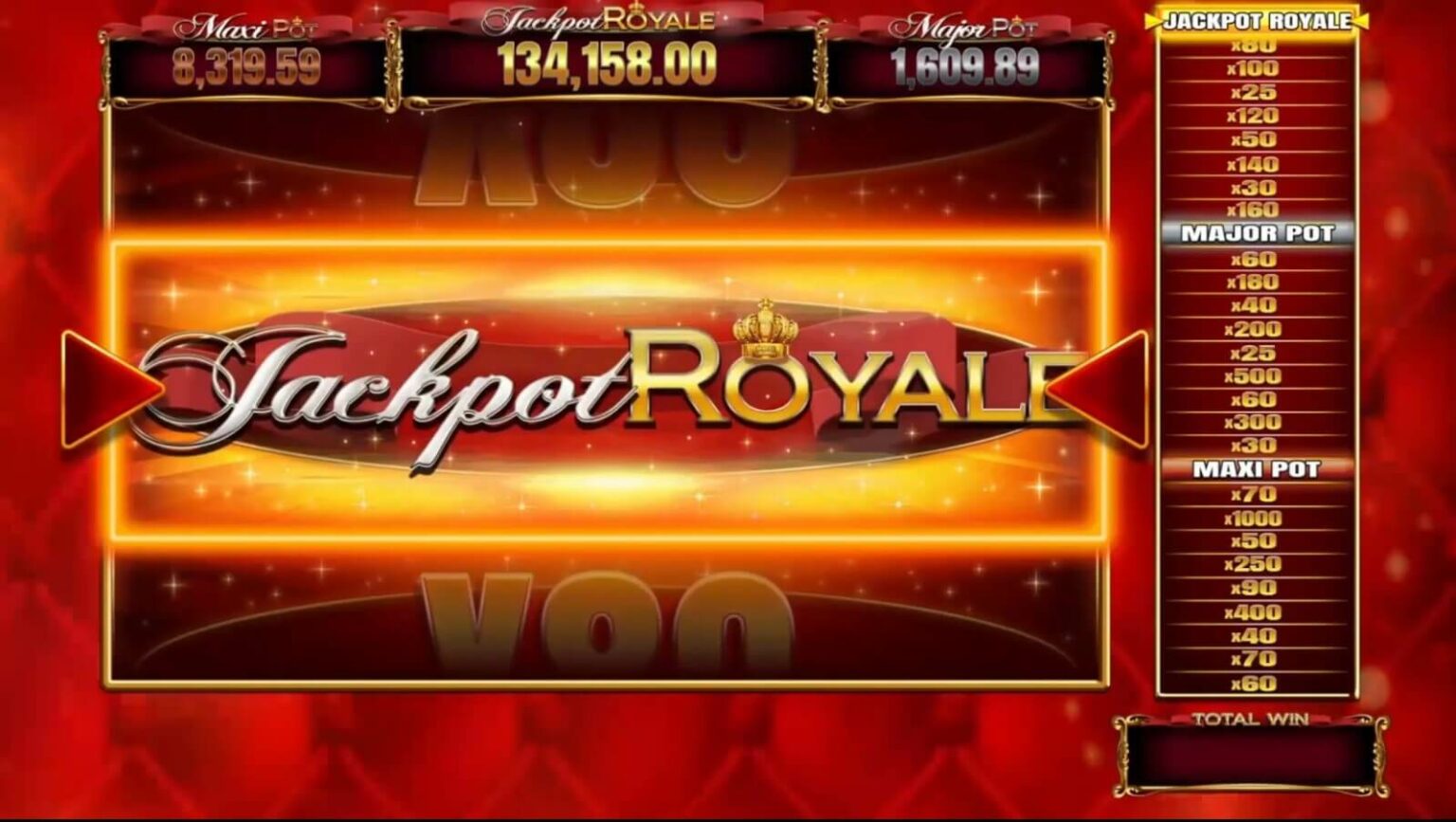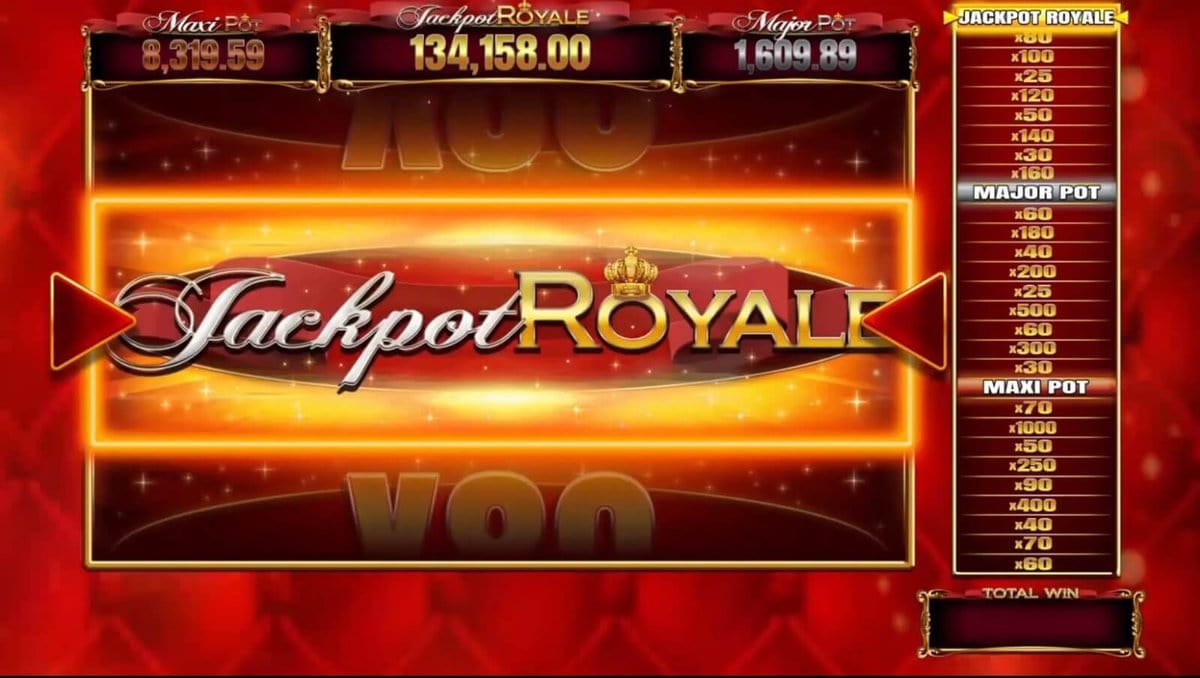 If your game awards you with 15 or more crown symbols you'll progress to the second leg of the jackpot adventure, called The Wheel King.
This is where players win a guaranteed win multiplier or the respective amount for the Maxi, Major or Jackpot Royale jackpot.
To confirm, once you've reached The Wheel King, Jackpot Royale guarantees that you'll walk out with at least a consolation prize.
Does my bet size matter?
The short answer is yes, but the details surrounding the bet size requirement are not that meticulous.
There is a minimum bet requirement of 50c per play for you to qualify for triggering the jackpot bonus.
Players have won Jackpot Royales by playing the minimum amount above. On the other hand, your odds are automatically improved if you bet bigger amounts.
We can speculate that this is a way of balancing out the fact that bigger bets make bigger contributions to the progressive jackpot tiers.
5 Best Jackpot Royale Progressive Jackpot Slot Games
Playing Jackpot Royale slots is a bit more expensive than playing their regular counterparts, but it's plain clear why so many people do it. Betting on these games starts with 50c in exchange for having a chance to win the progressive jackpot. The following are the best five progressive slots in the Jackpot Royale program.
🥇The Goonies – Jackpot Royale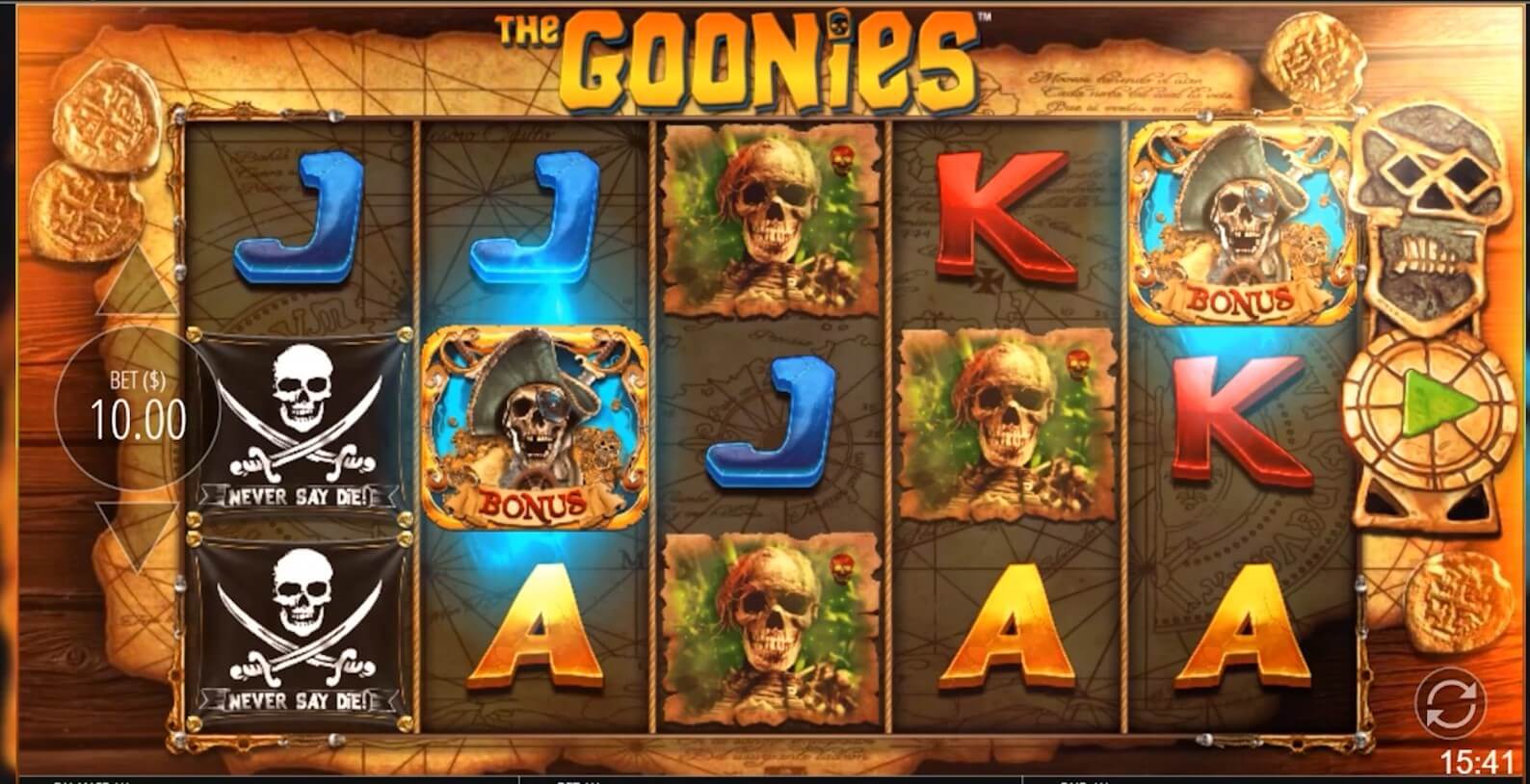 We are placing the legendary Jackpot Royale Goonies slot at the top of the list because all of the specs for this game are absolutely amazing.
The branded theme echoes the cult classic film whose characters and references can be seen throughout the gameplay. With plenty of animated features and bonuses, this game will certainly hold your attention.
Blueprint Gaming's take on The Goonies is filled with extra slot features and reel modifiers. Both can trigger in the base game, but also while you are playing any of the main bonus games. In other words, one extra feature can lead to another, to a powerful monetary effect.
The basic layout is five reels and three rows and you can spin with 60c or more across 20 paylines. One of the best features is the One-Eyed Willy's Bonus Boost, as it adds one or more scatter symbols to an existing set, so that you can enjoy a free spins bonus from that round.
Our slot experts chose The Goonies because of the random reel modifiers that can add plenty of Wilds on the screen, guaranteed wins, colossal symbols and hidden treasures. Thanks to a medium volatility engine, you can enjoy any of these at a rather regular frequency.
🥈Thriller Gorilla – Jackpot Royale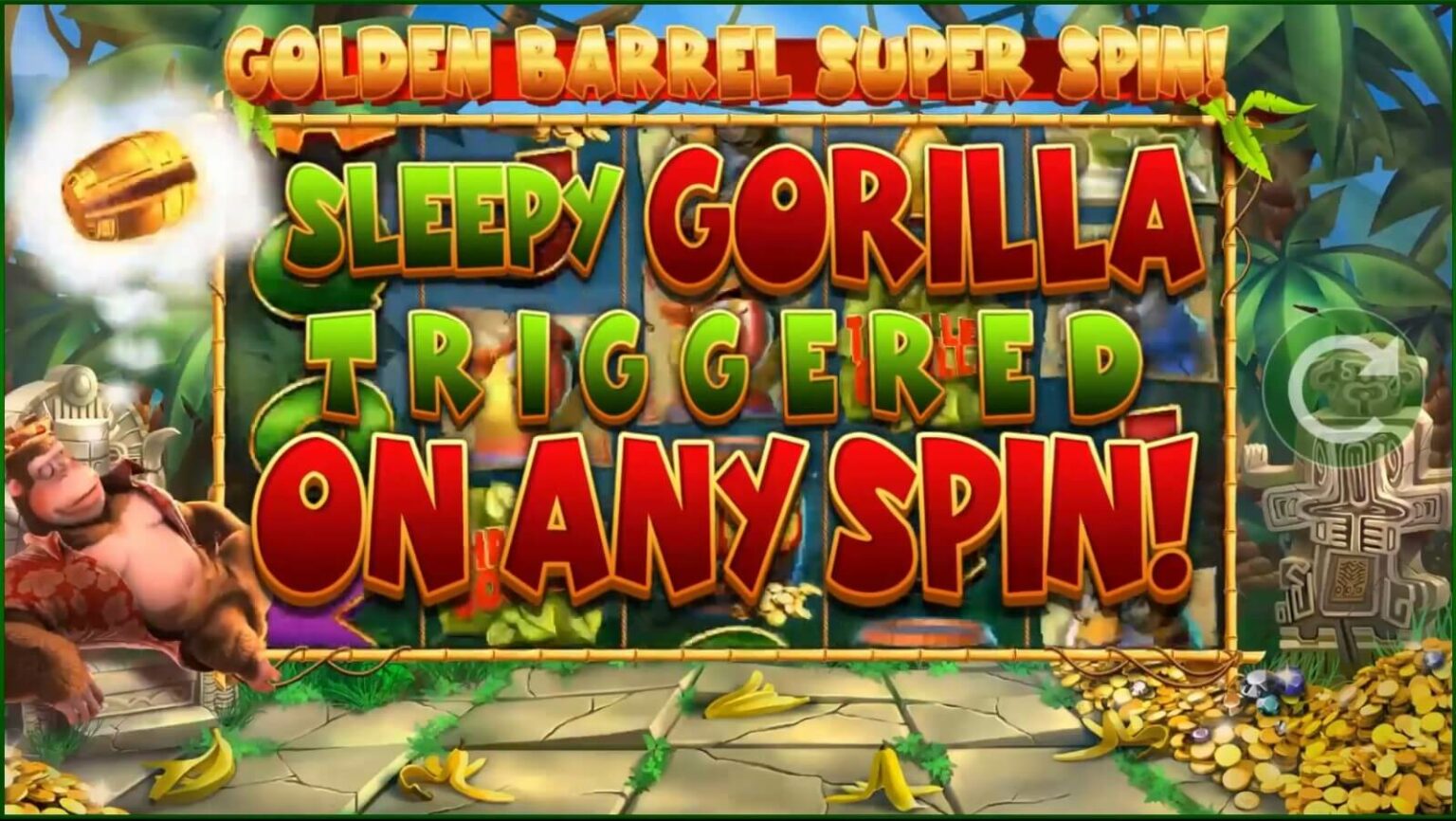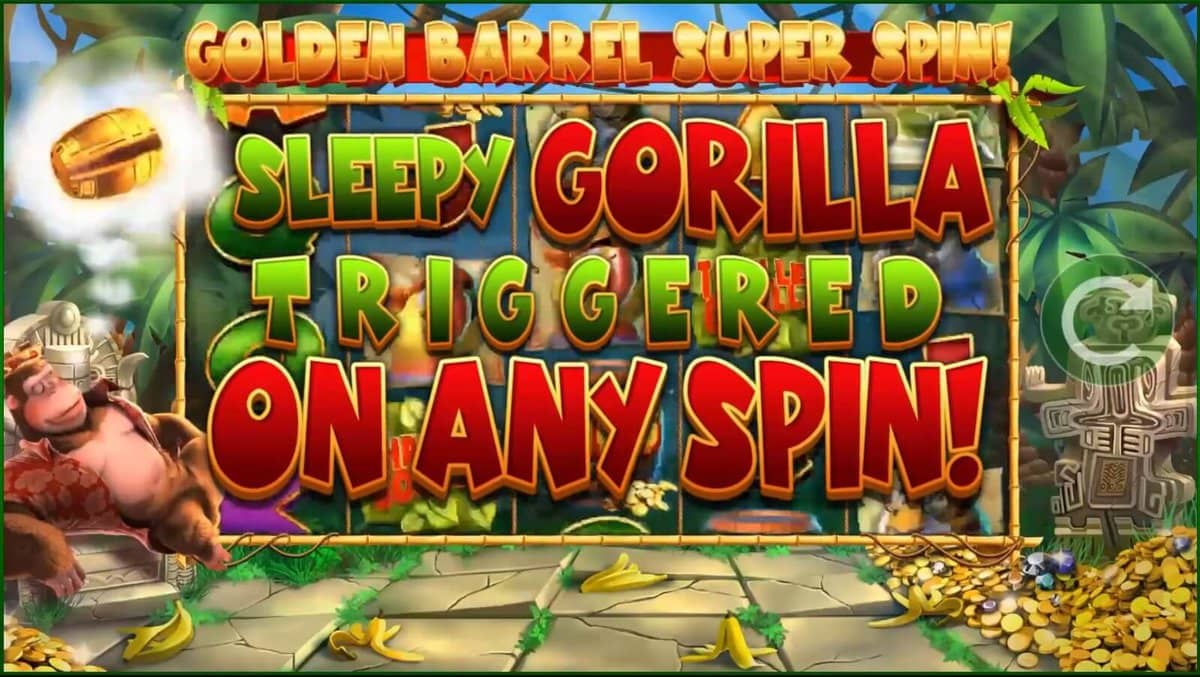 This gorilla is set to make some thrilling moves to help you win prizes. The gameplay itself is dynamic and ripe for getting decent prizes thanks to six extra features that can trigger on any spin.
The probability engine is of medium volatility, which is perfect for games with multiple bonuses.
In all fairness, Thriller Gorilla's base game doesn't have the potential to award huge prizes, but it can sustain your bankroll over a period of time so that you can see some of the bonuses knocking on your screen.
As it goes, the longer you play the better your chances for triggering the jackpot bonus game. Thriller Gorilla Jackpot Royale still makes it possible for you to land King Kong-sized prizes, if luck shines on your path during the exciting trail bonus.
The main attraction of Thriller Gorilla are the three progressive jackpot tiers. We've played the game religiously since it was released in the US and the main takeaway is that it can offer a steady occurrence of reel modifiers.
Overall, this is a fun video slot with lots of surprises and from time to time, you might see one or two jackpot symbols that may or may not be harbingers to the main act.
🥉Mighty Griffin Megaways Jackpot Royale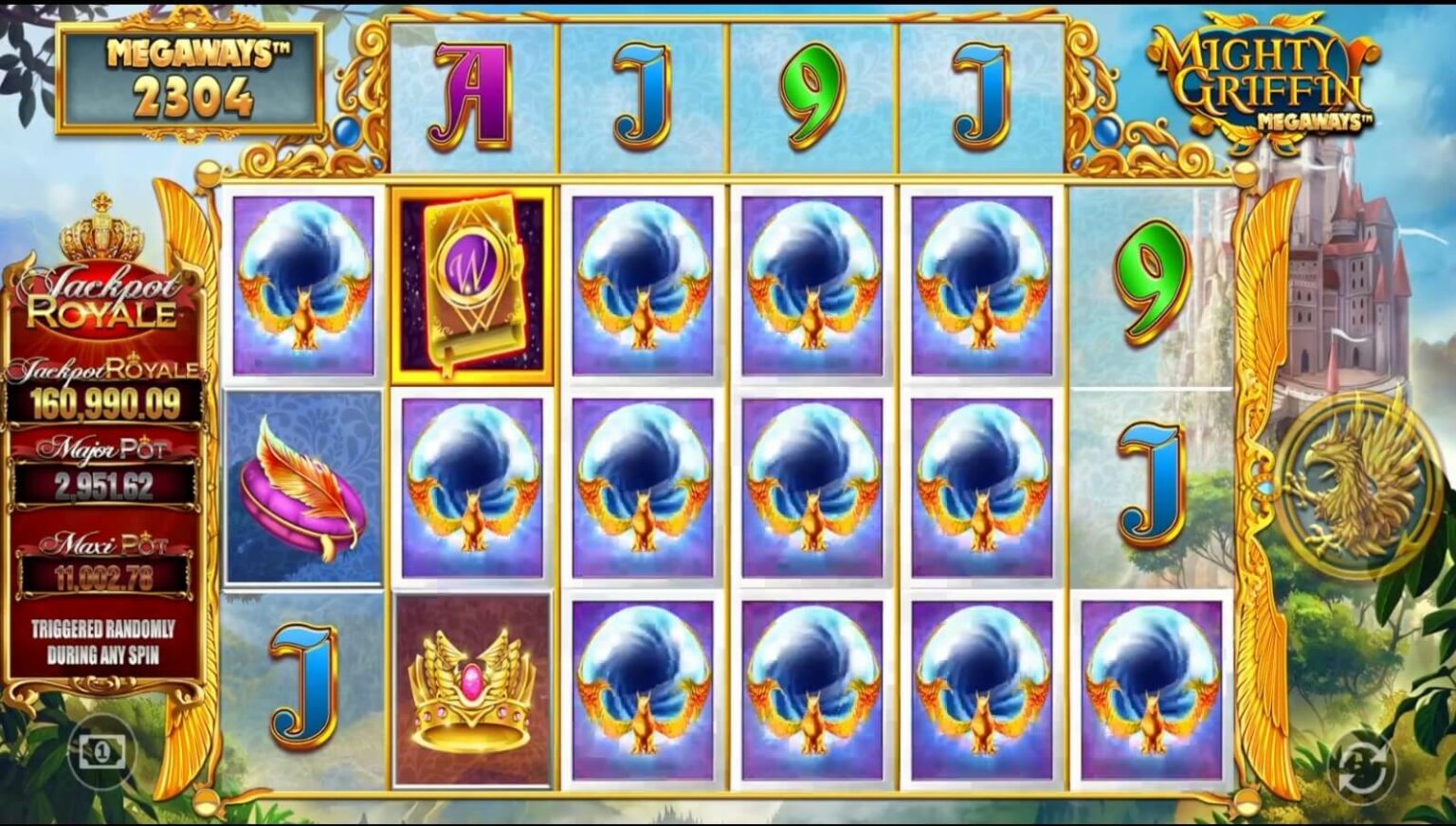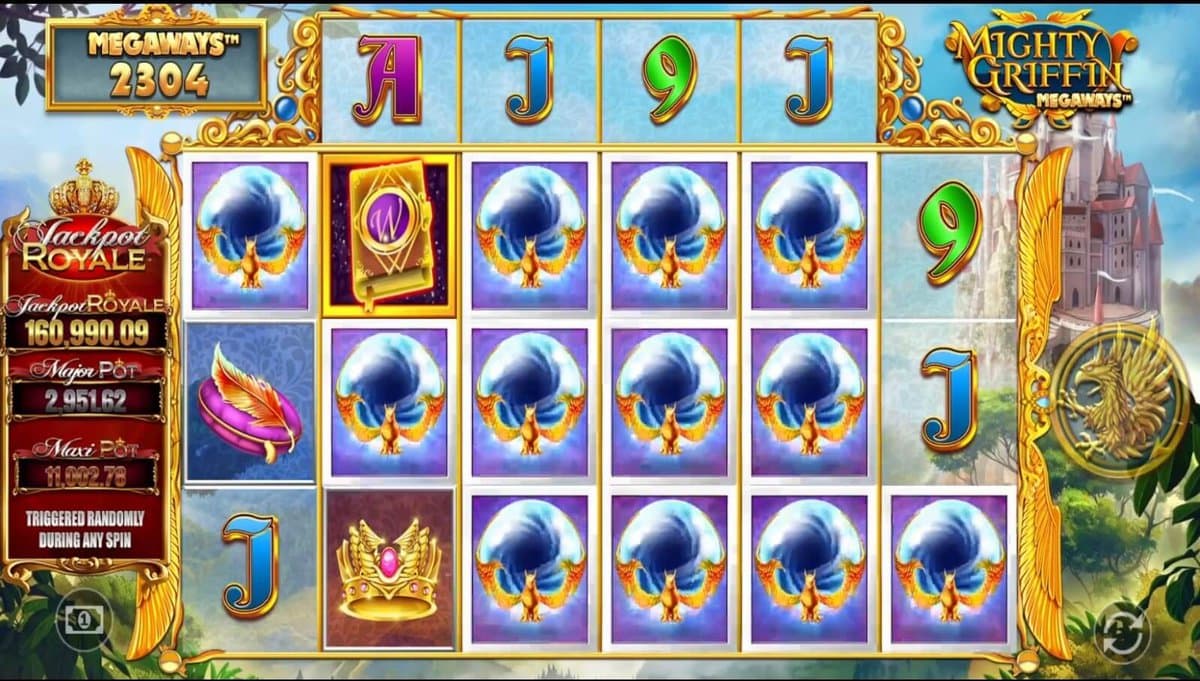 Mighty Griffin is a game with a mighty engine that boasts outcomes at the highest volatility level. With that, this slot isn't for the faint of heart.
Based on our experience, there are many convoluted twists and turns on your path to a big win, but when the cascading mechanic goes into gear, it can award as much as 50,000x your bet.
At the beginning of our guide we made a parable about regular games that can award five figure prizes. Mighty Griffin Megaways is one of the best examples.
Players can benefit from unlimited win multipliers during the free spins bonus, which can, by the way, retrigger for an unlimited number of times.
Mystery symbols are there to spice up some of the outcomes as are the regular wilds.
On top of all this, the Jackpot Royale release of Mighty Griffin Megaways can trigger any one of the three jackpots in the Jackpot Royale network.
🎖️Crazy Prospector Jackpot Royale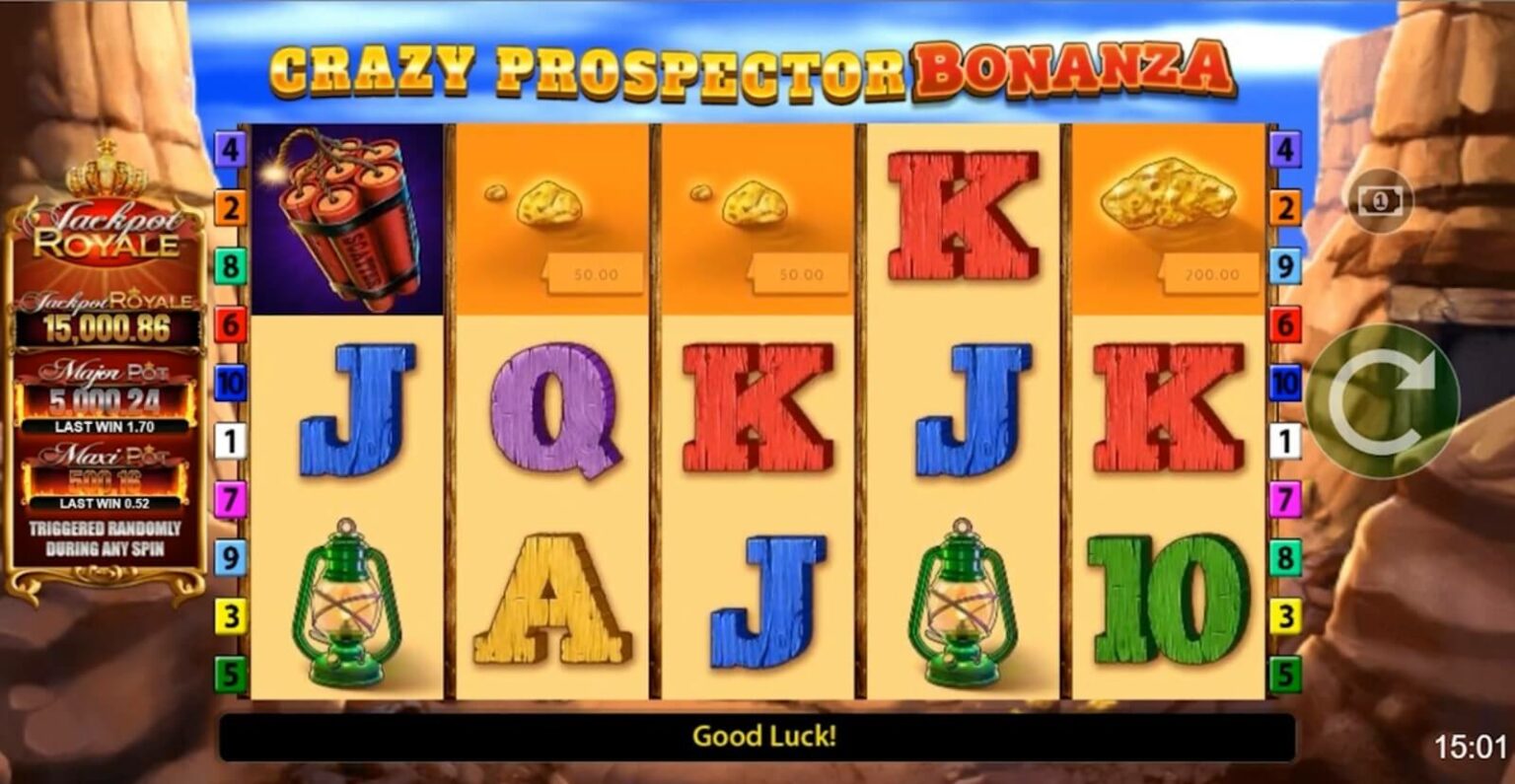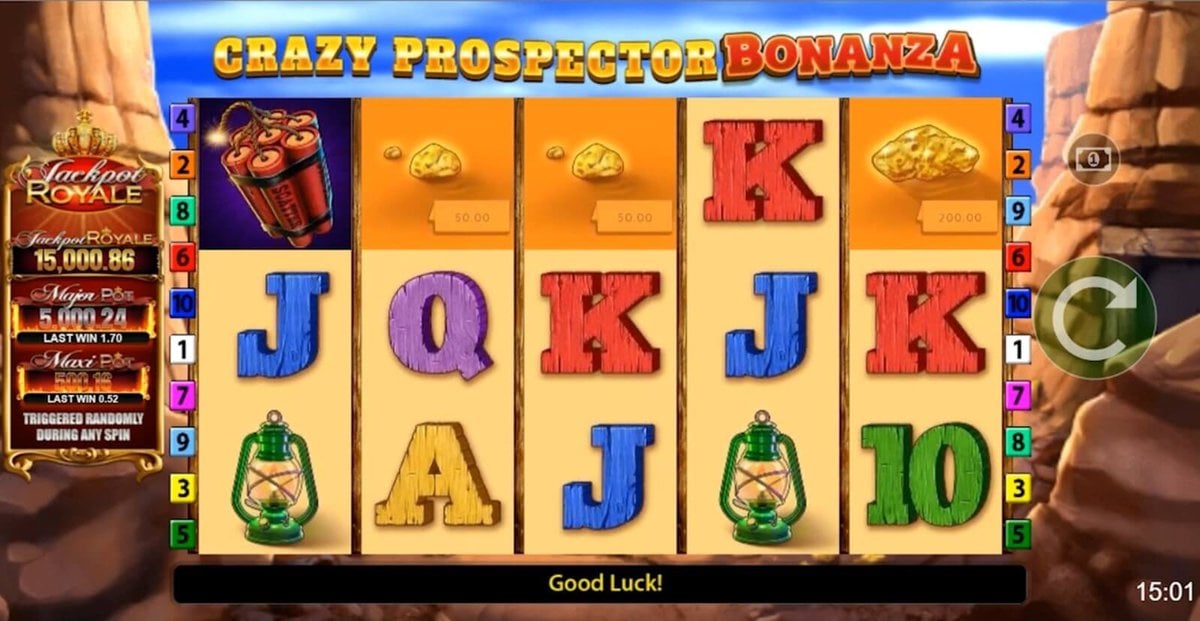 You can feel the gold rush running through the nerve of this online slot. Coincidence or not, White Hat Studios chose to include it in the Jackpot Royale program.
The gameplay is very similar to Crazy Fishin due to the cash collect element. Both during the free spins bonus and in the base game, players can collect the values associated with the gold nugget symbols, in the presence of a Wild symbol.
These gold nuggets can range in value from 2x to 2000x your bet. In addition to collecting gold, the game also saves the gold miner during the bonus spins.
For each fourth icon, we were rewarded with 10 free spins plus 2x and 4x win multiplier for each winning outcome. If you manage to get to the twelfth Wild, Crazy Prospector Bonanza throws 15 more spins to the tally, with 10x multiplier.
All of the above can help you land appetizing prizes on your hunt for a jackpot. Like other games in the Jackpot Royale series, Crazy Prospector offers its Maxi, Major and Royale pots in the amounts that are concurrent with the network at the moment.
🏅Big Bars Fortune Wheel Jackpot Royale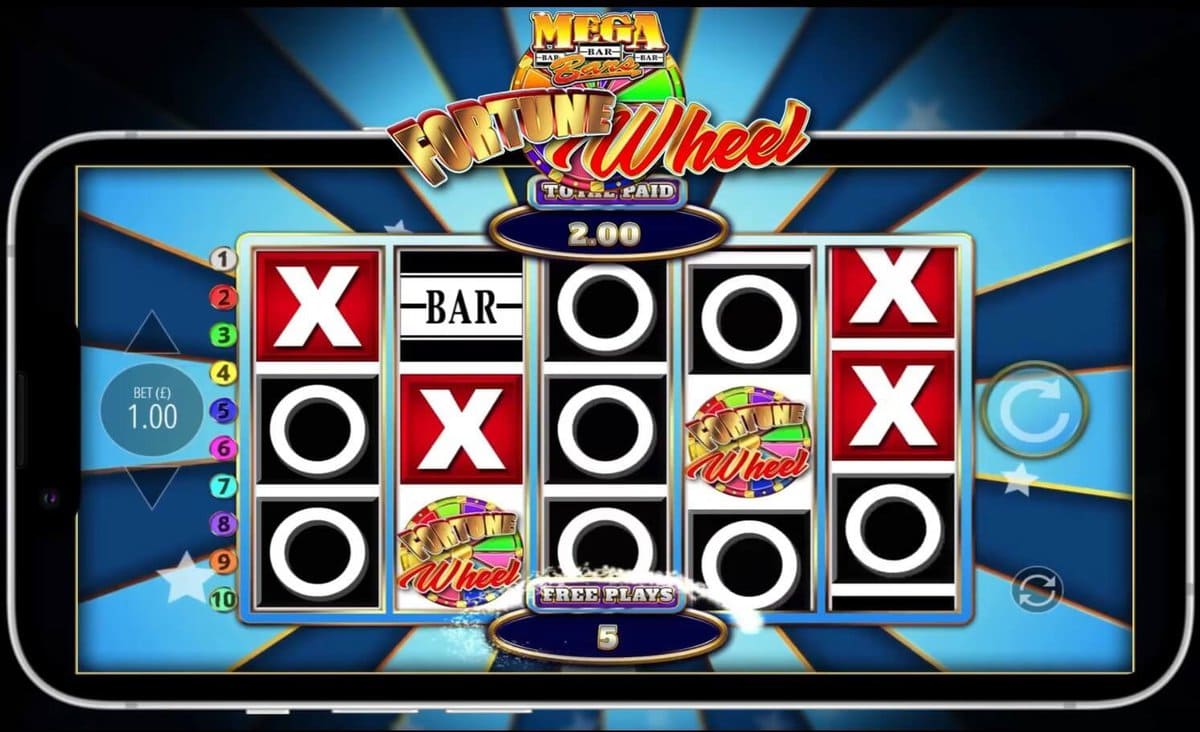 The game at hand sticks out from the rest in the best sense possible. Its attributes are quite unique because it offers only a handful of symbols. In fact, there are only two winning symbols: Xs and BARs.
The remainder is not filler. You can land free spins by collecting those symbols and you can trigger the eponymous Fortune Wheel with three of the corresponding symbols.
The only symbol that does not pay is the O, or nill if you will. We find this setup to be original and innovative, just don't think that there aren't big wins to be had.
Big Bars Fortune Wheel can award prizes of up to 50,000x your bet in the best-case scenario of continuously retriggering the free spins bonus.
Now add to the mix the Jackpot Royale detail and you have a full-blown highly volatile slot that can give you a surprise on any spin.
Jackpot Royale Games & Casinos
For your gaming pleasure and experience we have provided a comprehensive table showing all of the current slots in the Jackpot Royale catalog, in which states they are available and casinos where you can play.
Most certainly, this isn't a final list as we are going to add more game titles, states and venues as they come.
| 🎰Game | 💯RTP | 📈Volatility | 🇺🇸 State |
| --- | --- | --- | --- |
| Jackpot Royale Full House | 95% | 5/5 (High) | MI |
| Almighty Sevens Jackpot Royale | 94.51% | 4/5 (Med-High) | MI, PA, NJ |
| Genie Wishmaker Jackpot Royale | 95.57% | 5/5 (High) | MI |
| Irish Riches™ Megaways™ Jackpot Royale™ | 95.93% | 4/5 (Med-High) | MI |
| Mighty Griffin Megaways Jackpot Royale | 95.46% | 5/5 (High) | MI, PA, NJ |
| King of the Watering Hole Jackpot Royale | 95.00% | 5/5 (High) | MI |
| Sausage Party Jackpot Royale | 95.45% | 3/5 (Medium) | MI |
| Thriller Gorilla Jackpot Royale | 93.00% | 3/5 (Medium) | MI, PA, NJ |
| Worms Reloaded Jackpot Royale | 92.66% | 3/5 (Medium) | MI, PA, NJ |
| Deal or No Deal - What's in the Case? Jackpot Royale | 92.54% | 4/5 (Med-High) | MI, PA, NJ |
| Angel Princess Jackpot Royale | 95.31% | 3/5 (Medium) | MI, PA, NJ |
| Crazy Prospector Jackpot Royale | 93.32% | 3/5 (Medium | MI |
| Ted Jackpot Royale | 93.02% | 3/5 (Medium) | MI, PA, NJ |
| Big Bars Fortune Wheel Jackpot Royale | 93.00% | 5/5 (High) | MI, PA, NJ |
| Almighty Buffalo Megaways Jackpot Royale | 96.00% | 5/5 (High) | MI, PA, NJ |
| Wish Upon A Leprechaun Jackpot Royale | 92.56 | 3/5 (Medium) | MI |
| Top Cat Jackpot Royale | 92.49% | 4/5 (Med-High) | MI |
| The Goonies Jackpot Royale | 93.06% | 3/5 (Medium) | MI, PA, NJ, CT, WV |
| Funky Pharaoh Jackpot Royale | 93.04% | 3/5 (Medium) | MI, NJ |
| Crazy Prospector Bonanza Jackpot Royale | 93.35% | 3/5 (Medium) | MI |
Progressive Jackpots vs Standard Online Slots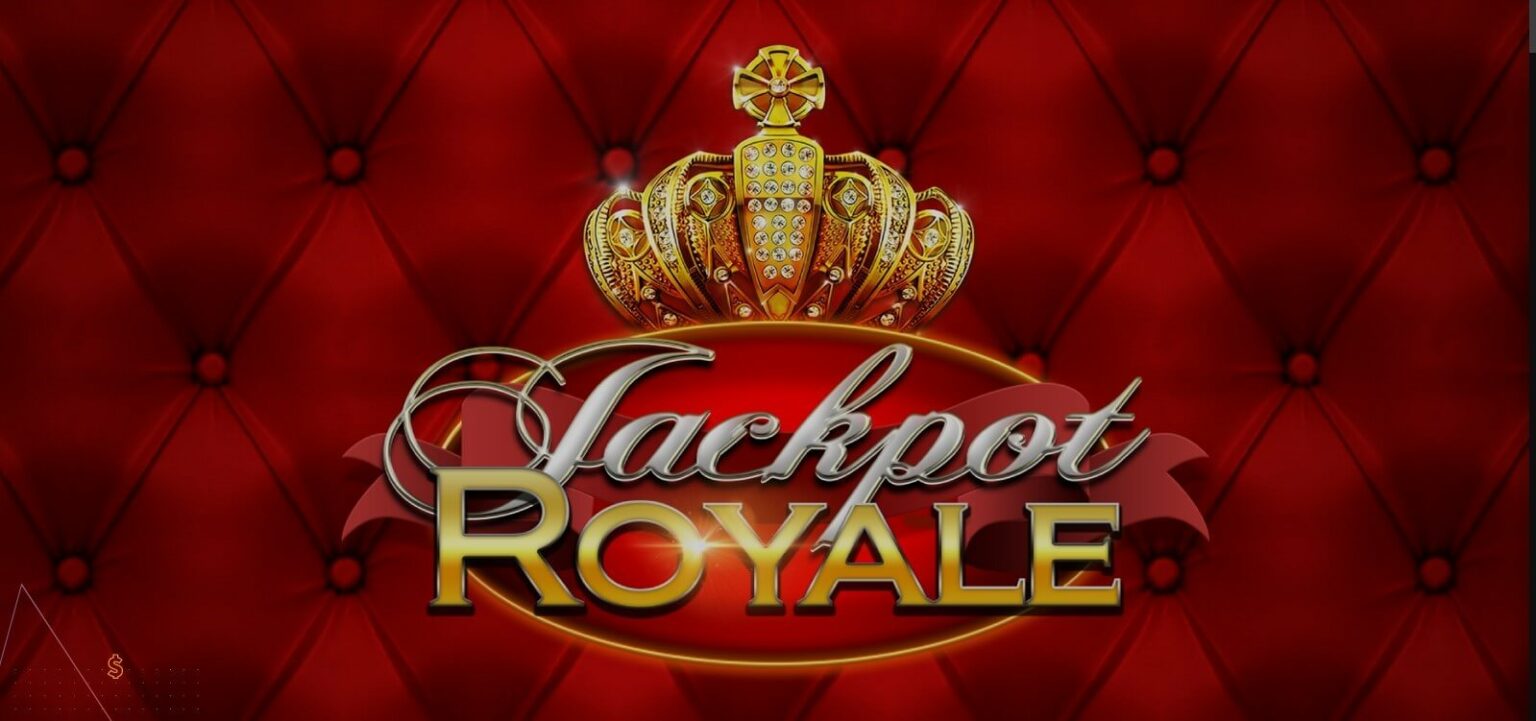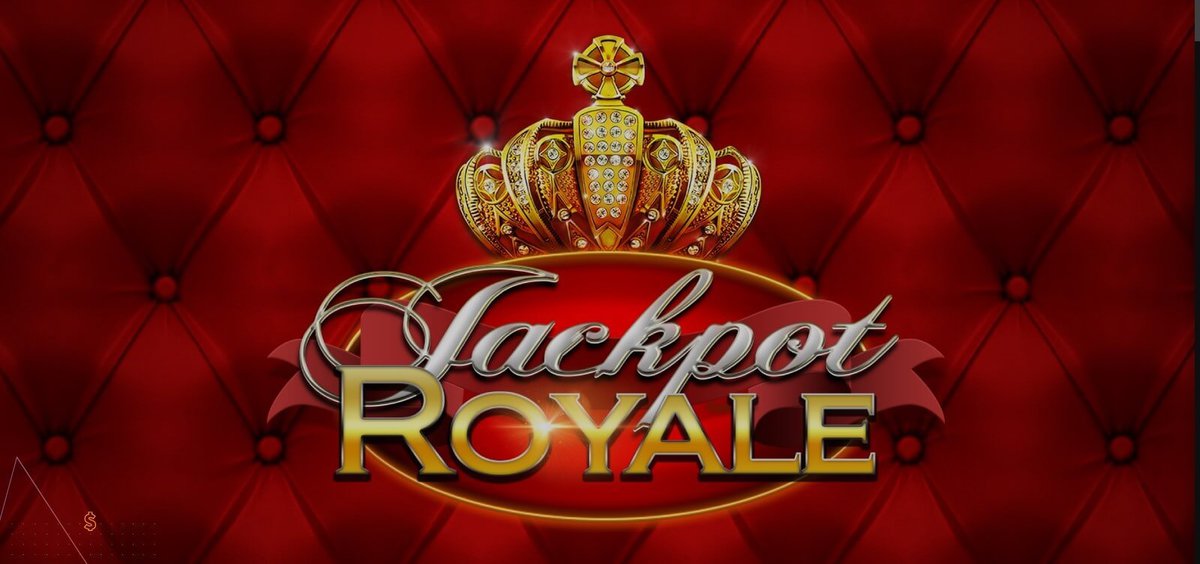 Although we call them that, progressive jackpots are standard slot games, but with the obvious addition in place. But, for obvious reasons, progressives are grouped together so that casino players can locate them better.
The two categories share more similarities than differences. Most of the progressive jackpot slots out there are equipped with bonus features, just like standard slots.
Another key detail is that these jackpot games also have a maximum win potential that you can reach from a single spin, which can be won in addition to the progressive prize or prizes.
One area where standard slots tend to perform better is RTP or Return to Player. The percentage that is associated with each game provides you with a ballpark figure about how much you can potentially win during your time on a specific game.
Progressive jackpot slots have lower RTPs because of the contribution rate towards the jackpot. In the case of Jackpot Royale slots, the contribution rate of 1% of the value of each spin is distributed across the three jackpot tiers.
While standard slots have an average RTP of 96%, the average value for progressive slots is between 92% and 94%.