If you have spent any period of time playing slots or watching other people play online slots, the chances are you have heard the term slot RTP (Return to Player) being mentioned more than once.
But what is RTP? How does it affect your gameplay? Is it an important factor when choosing which slot machine to play? You might even want to learn how to calculate your own RTP after a session at the casino too?
This complete guide will arm you with this knowledge, breaking down all of the terms into simple examples. You will leave with a firm understanding of the term, how RTP is calculated, and its impact on your play.
What Does RTP (Return to Player) Really Mean?
You can think of the RTP as the opposite of the casino's House Edge. RTP is a percentage value calculation based on the total money wagered that is paid back or "returned" to players over a period of play.
The critical point here is to understand that the calculation is based on the total money wagered. Confusion often arises with new players confusing these terms with "actual paid winnings" that they have withdrawn and the casino has paid them.
This is not the case. The RTP is a calculation based on the total money wagered, and the amount of money paid back to the player during this time.
Whether the player decides to withdraw this amount is not part of this calculation.
How is RTP calculated on slots?
If you check a slots paytable or game rules and notice it has an RTP value displayed, 96.8%, for example, where does this value come from, and what does it mean to you?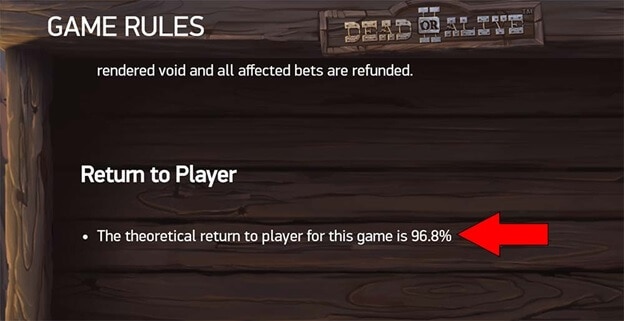 The first important distinction to make is that the values listed by the online slot developers are the expected or theoretical values and are based on very long-term play with substantial sample sizes.
There are very few slot developers who display actual real player RTP figures based on real money play in the paytables or game rules alongside these theoretical values. Play'n GO is a front runner in this area regarding player transparency and reporting actual monthly RTP figures in addition.
Long Term Play
By long-term play, we mean millions or even billions of spins where every single winning combination and bonus round feature, max win, etc., of a particular slot game, will have been recorded. At the same time, the slot is tested extensively to make sure it passes all RNG (Random Number Generator) tests and internal and external QA checks.
After millions of spins have been tested, the slot can then be verified to return a specific percentage of the money wagered on it back to players (within a small tolerance), giving us the RTP figure.
This isn't some magical figure the developers will be surprised or shocked to see either. The mathematicians, during development, will have ensured that the slot has a house edge of their choosing or is very close to, which is then tested and verified before releasing to casinos.
But even when a slot says it has 96% RTP, this doesn't mean you will achieve this value, certainly not over the course of a few hundred spins or a short play session.
If you did persevere on a slot and spin it millions of times, the chances are you would probably get extremely close to the value, so over time, your actual RTP will get very close to this stated value. But is that really worthwhile?
Winning RTP
For us as slot players to actually win, we need our personal RTP to exceed this value and be more than 100%. This is where factors such as the variance and volatility on slots mean that you may receive big wins during play, which may increase your actual RTP to well over 100%, which is essentially you winning on the slot overall and, frankly, what we all really want!
In essence, being aware of a slot's RTP percentage gives you a knowledge of just how big the house edge or how loose that machine is and whether it offers you enough value for money to play it.
Online slots generally tend to be in the range of 95% to 96.50% RTP, with a few outliers being more generous at 97% RTP or even higher. Discover our best picks of these machines in the top 10 highest RTP slots guide.
Progressive Jackpot slots also tend to have a portion of this RTP value (5%-10%) that contributes towards the jackpots making the RTP even lower in the regular game.
TIP – When choosing online slots, we tend to limit our play to video slots with an RTP of 95% or above, with a select few exceptions to slots that we really enjoy playing that are just under this value.
If the stated RTP value is lower than this value, it might be time to look at some similar themed slots in terms of gameplay and bonus features that come with a higher RTP!
It's a personal choice of which slots you play, but making an informed choice is the best way to approach your gambling!
How Do You Calculate RTP?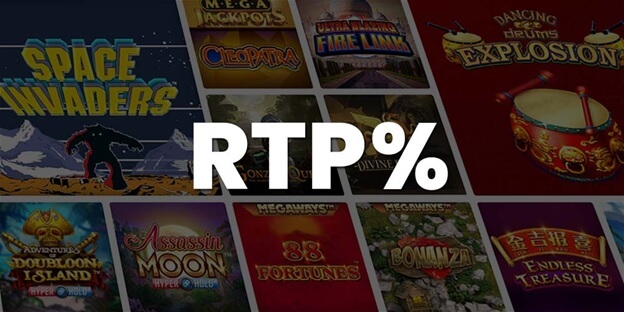 Suppose you want to work out your own RTP percentage from playing a particular slot or an entire session at an online casino. In that case, this is achievable with some slots preparation and planning.
The fundamental values to make this calculation easy to do are to take note of your starting balance or initial deposit and keep track of the total money wagered and the final ending balance.
RTP Calculation Examples
Using a straightforward set of examples;
Example 1, Short play session
We make an initial deposit of $100 at the casino, and we play $1 bets on our favorite slot and spin the machine 100 times. This means in total, we have wagered $100.
At the end of our short slot session, our ending balance is now showing as $95.
This means that our RTP is 95% in this case, as we got $95 back from wagering a total of $100.
$95/$100*100 = 95.00%
Example 2, Longer play session
If we repeat the example and have the same starting balance of $100 and have the same spins value of $1 but this time, we play 1000 spins. This means we have wagered a total of $1000.
If the end balance is again showing $95, this means that after wagering $1,000, we have lost in total just $5.
What might surprise you here is that the RTP is actually 99.5%, more than the previous example.
This is because the calculation is based on the total money wagered, so we have wagered a total of $1,000, and during that process, we got back a total of $995. We know this is correct because we started with $100, and after 1000 spins, our end balance is $95.
If you want to check the maths ($995)/$1,000 *100 = 99.50%
Example 3, Winning slot session
In our final example, we assume the same deposit of $100, with 1000 spins at $1 on our favorite slot. However, this time, our end balance is showing as $250, so we have won overall. So what is our RTP this time?
We have wagered a total of $1,000, and during that process, we got back a total of $1,150. We know this is correct because we started with a $100 deposit, and after 1000 spins, our end balance is $250, which is an increase of $150!
This means that our RTP for this winning session is ($1150)/$1000*100 = 115.00%
Key Points to Understand on RTP
Take time to read through these example calculations. The key point to note is that the most important thing to consider when calculating your own RTP is that all of these calculations are based on the total amount of money wagered.
It is this value that has the most significant impact on the final RTP percentage. While RTP, in general, doesn't give you the true reflection of how much actual money you have won or lost, for that, you are much better off looking at your actual money balance!
It gives you insight into how close you were to the slots' stated RTP value or whether you exceeded that value.
It may also give you some indication of whether the slot was playing anywhere close to "expected" you may have had a super lucky session (above 100% RTP) or a really unlucky one (a low value like 50% RTP).
What Are the Benefits of Knowing the RTP?
Working out your own RTP after a slot session might be a cool and handy skill to know, but knowing how it gets calculated and being able to apply that knowledge is a far more beneficial tool as a player.
The key ability as slot players is seeing this value and being able to make an informed decision about whether you choose to gamble on a particular machine or not.
Going forwards, when you spot a 90% RTP slot, pause, remember this article and what you have learned, and go and seek out a much higher RTP slot alternative!
Further Considerations With RTP
Be aware that while online slots can look almost identical and be named as such, casino operators may have the option to configure them over a broad range of settings. This isn't something that changes based on you winning or losing on them. It is a fixed value chosen well in advance. Still, it's another reason to continually research the slots RTP you are playing at a particular casino and make sure they are using the default or highest RTP setting.
A portion of a slots RTP is contributed from the base game and the bonus rounds. If you want to delve further, you can seek out these exact values from game developers' websites. These values serve as a good indication of a machine's volatility and potential, especially if a large portion of the slots RTP is provided from the bonus features and free spins.
Governing bodies and licensing regulators keep a keen eye on how slots perform for players to verify that they are functioning as expected. By this, we mean they check that the figures are close to the theoretical RTP figures across the entire player base. A fantastic example of these RTP calculations can be found on the UKGC website, where they break down how RTP is measured on a large scale and consider the volatility of a slot and volume of play (number of spins) when assessing how a slot is actually performing. Similar rules apply at MGA licensed casinos, where

91% RTP slots

are illegal, with the minimum set at 92%.
Be mindful of sites that list slots as "Hot" or "Cold" and base these suggestions based on RTP, without full disclosure of information of how many spins (money wagered) have been played on these slots these values are essentially meaningless. Online slots are by design random, the past performance of any slot has no relevance to how it will play for you!
USA Online Casinos RTP
Calculating the RTP of a slot machine is one thing, but drilling down to the total RTP value of an online casino is another story. Some online casino apps release this figure as a sum total of all their games, although US online casinos have not yet incorporated this practice.
To provide you with the highest RTP online casinos in the USA, we would need to do the math on all slot games listed on their sites. However, this figure wouldn't really help you, unless you are planning to play all games equally. Still, based on their slot providers, the listed legal casinos provide several games with average RTP above 96%.
Conclusion
The Return to Player value on a slot serves as a great indicator of whether it offers you value for money over long-term play. The higher the RTP value the smaller the house edge, so in theory the longer time you can spend playing this slot, along with less of a dent to your bankroll whilst playing it.
RTP, however, is just one of several key indicators when choosing the best slots to play, other considerations should be the variance, volatility, and bonus features on offer, along with the gameplay and features that are appealing to you!
Use the theoretical RTP value of a slot as a way of making an informed selection of which slot games you play, and take note if your online casino of choice suddenly decides to announce these values have increased or decreased!
Being able to work out your own RTP is a handy skill, but don't draw too many conclusions from it. Comparing your RTP value to the theoretical RTP figures on a slot game with a tiny sample size, even if your sessions are a few thousand spins isn't that relevant.