Gamble USA strives to improve your online gambling experience. We aim to help you play safely, make informed decisions when gambling, and increase your betting knowledge through our guides.
We adhere to strict editorial integrity; our content may contain links to products from our licensed & legal US partners.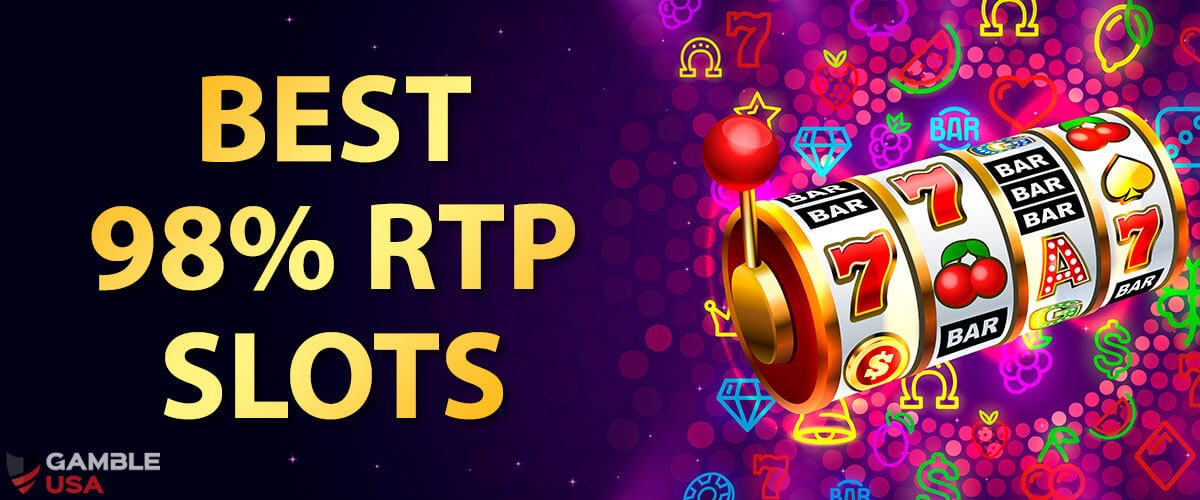 Slots are the jewel in the crown of online casinos. With modern slot games offering action-packed spins, often with bonus rounds, wilds and a whole host of other features, there's never been a better time to turn your hand to the reels.
Slots with an RTP of 98% sit at the top end of high-paying slots, returning more of your money on every spin. This means you're playing against a slimmer house edge, which as any savvy gambler will tell you, means a better deal for you.It's not common to find 98% RTP slots, with most slot games in online casinos sitting comfortably below this threshold. But for those in the know, there are some awesome games out there, combining some of the best odds in slots with incredible gaming action.
| 🎰Slot Game | 🧑‍💻Slot Provider | 💯Slot RTP | 🏠House Edge |
| --- | --- | --- | --- |
| Jackpot 6000 | NetEnt | 98.80% | 1.2% |
| The Catfather | Pragmatic Play | 98.10% | 1.9% |
| Blood Suckers | NetEnt | 98.00% | 2.0% |
| Rainbow Riches Pick N Mix | Barcrest | 98.00% | 2.0% |
| White Rabbit Megaways | Big Time Gaming | 97.77% | 2.23% |
Slot Game RTP in a Nutshell
RTP is the 'return to player' percentage – the amount of slot game takings paid out by any slot machine over time. This can be a bit of a sticky concept to get your head around at first. In the case of 98% RTP slots, this doesn't mean you should expect $98 back for every $100 spent. In fact, you could win $10,000 from $1, or you could spend more than you return.
RTP is calculated over the longer term, with numbers crunched over a large number of spins. It's a calculation that tells you on average how much a slot game holds onto. This represents the casino's house edge – i.e., the casino's profit from running the game.
The impact of house edge makes it even more important to choose games with a high RTP (and therefore a low house edge). The lower the edge, the less profitable the game is for the casino. And the less profit there is for the casino, the greater your chances of ending up in the black.
98% RTP Slots – A Word of Warning
Take care when you're looking at slots that claim a high RTP. There is often more to this than meets the eye. The figure quoted is usually the RTP at the upper bound. It's often standard to find RTPs coming in a good deal lower unless you play on max coins, or unless you gain access to the bonus feature.
It always pays to do your research. Try not to be seduced by claims of high RTPs until you get the full low down, and always look out for sneaky tactics like lower RTPs in the main game, or on anything less than maximum line bets.
Are 98% RTP Slots Good Value?
Yup. They don't come much higher. There's no such thing as a 100% RTP in slot machines – and most games come in way lower. By comparison, your typical slot machine in Vegas sits at 92% RTP, so 98% represents a solid deal.
RTP will never guarantee a win. In the same way, it's still possible to win big money from a lower RTP slot. However, playing the odds in your favor is the name of the game here, so it pays to choose slots that are better value.
Top 5 98% RTP Slots at Online Casinos
We've scoured the top 98% RTP slots games out there to bring you the best of the best available at US casinos online. Here's our pick for some games you should take for a spin.
Jackpot 6000 – NetEnt – 98.80% RTP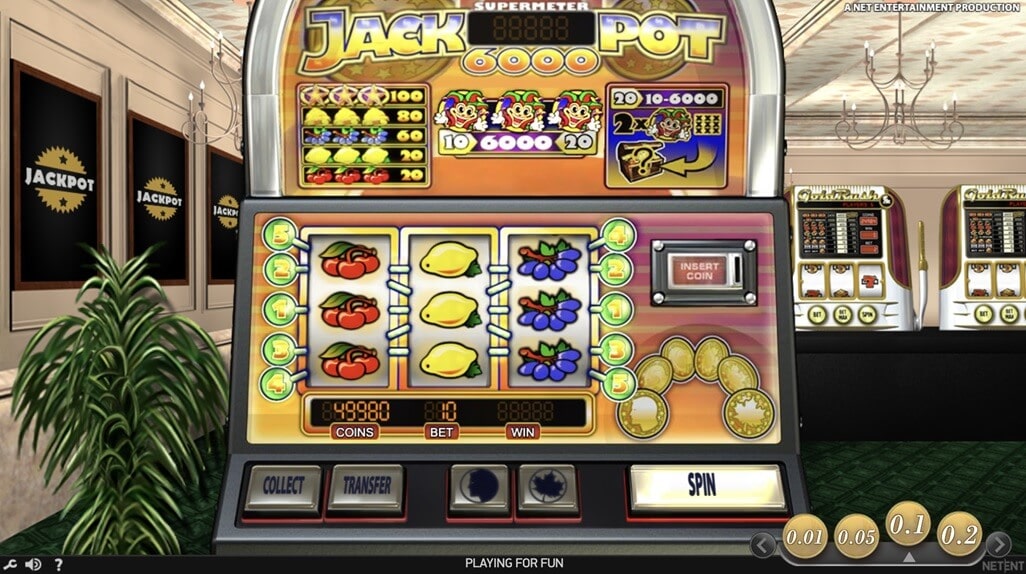 For pure RTP hunters, Jackpot 6000 from NetEnt is among the highest you'll find anywhere, sitting at a cool 98.80%. But there are caveats.
First, you need to play on max coins to get anywhere near this RTP. Then you need to trigger the Supermeter mode to get access to the good stuff. This happens any time you land a win on the main reels. Two Joker wilds here, and you're on for a mystery prize, which can be 50x or even 100x your bet.
The game itself is a straightforward fruit machine, with 3 reels and only 5 paylines. Expect typical fruity symbols, with the likes of bells, grapes and lemons on the board. This is not one of those all-guns-blazing games that will keep you entertained for hours.
But what it does offer is a no-nonsense way to play against as low as a 1.2% house edge – take it from us, that's pretty darn slim.
The Catfather – Pragmatic Play – 98.10% RTP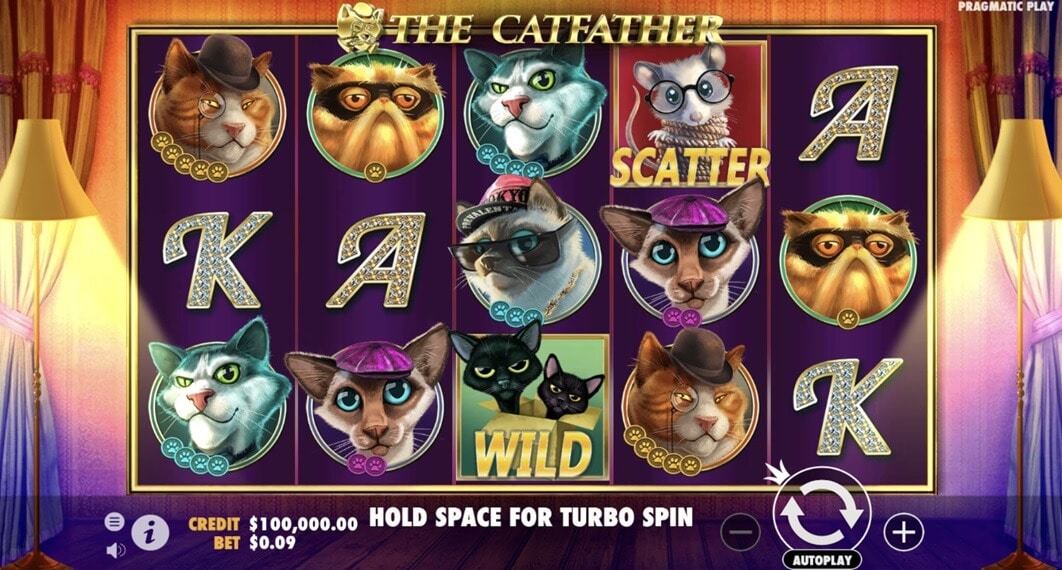 Another ridiculously high RTP slot is The Catfather. From the brains of the guys at Pragmatic Play, The Catfather is a cat-themed Godfather slot – the perfect combo for all you cat-loving mobsters. Clocking an RTP of 98.10%, this slot delivers a house edge of just 1.9%.
There are 5 reels and 9 possible paylines in play, delivering a maximum win of up to 2251x your stake. Look out for the Free Spins feature, which combines with a chunky multiplier of 4x to deliver some big wins from the free spins bonus features this round.
The entertainment factor is definitely there in The Catfather. You're bound to raise a smile at some of the funky goings on here – the cat characters alone should do the job, if not the joy of landing those stacked wilds.
A highly spinnable slot, this is one you should definitely be checking out for an entertaining session with a high RTP.
Blood Suckers – NetEnt – 98.00% RTP
Don't worry. With an RTP of 98.00%, this is one slot that certainly won't suck the life out of you. Blood Suckers from NetEnt offers a good combination of playability and high RTP. You tend to find that it's often one way or the other.
With impressive graphics and gameplay features for a slot, plus an RTP that sits comfortably in the top tier of all online slots, Blood Suckers is like the best of both worlds.
The game takes place across 5 reels, 25 paylines and 2 bonus game features – a Vampire Slaying feature where you get to live out your vampire hunting fantasies, and a straight-up Free Spins feature.
There's also a scatter pay just for landing the Free Spins symbols, which can and does go a long way towards bumping your winnings.
Rainbow Riches Pick N' Mix – Barcrest – 98.00% RTP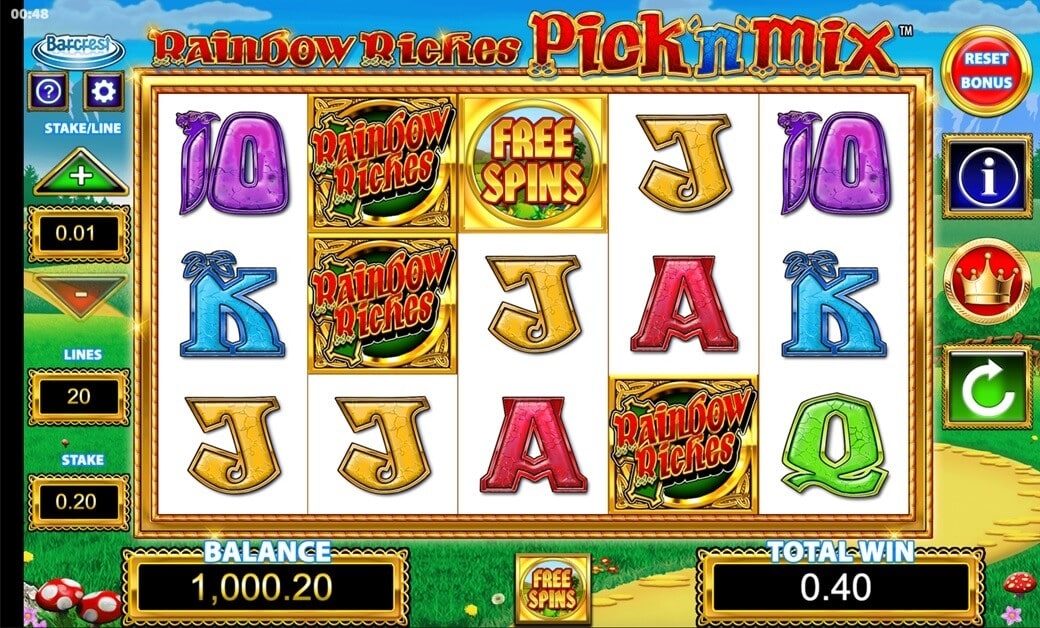 One of the most famous slots franchises going, Rainbow Riches has become a firm favorite with slots fans. Channel all the luck o' the Irish with this Leprechaun-themed slot with a twist. Rainbow Riches Pick N Mix stacks up with 20 paylines and no fewer than 5 separate bonus games and features to get your teeth into.
Look out for the Roads to Riches symbols, the Cash Crop symbols and the scatters – a Magic Toadstool and the Free Spins scatter. These are your keys to the bonus rounds where the best wins will be found.
This is a classic online casino slot that's playable, while still delivering big prize potential – as rare as a four-leafed clover. Find a pot of gold at the end of your Rainbow, and you could be walking away with megabucks, from this Hall of Fame slot by one of the industry's most renowned slots developers.
White Rabbit Megaways – Big Time Gaming – 97.77% RTP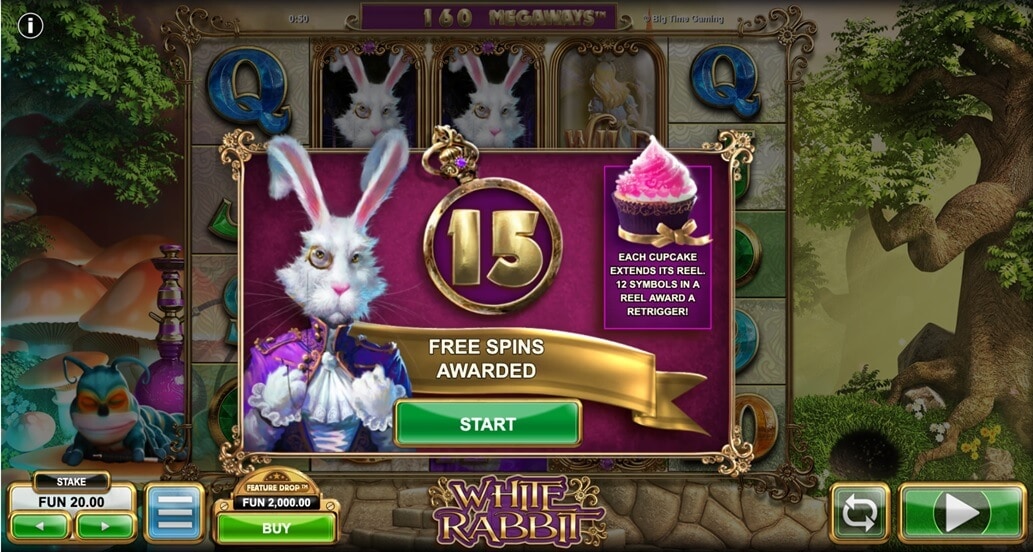 Weighing in at just below the 98% RTP slots threshold is White Rabbit Megaways from Big Time Gaming. This isn't strictly within the boundaries of 98%, but it's in the margin of a rounding error. This is still a high-paying game where you can see some big wins, with an ultra-slim house edge.
The Alice in Wonderland theme here is a big draw – something a little different from the usual. But there's also the Megaways engine sitting behind the reels, giving you as many as 248,832 win ways when the reels are fully extended. Yikes.
Free Spins, scatters and wilds add to the excitement. With the reels expanding and shifting throughout the game, this is a slot that never gets stale.
And with an RTP as strong as this, albeit a nudge under the 98% mark, the prize-winning possibilities make this a slot you'll spin time and time again.
98% RTP Online Slots Games: Key Takeaways
When the dust settles, a slots game is only as good as its RTP. You can have all the fancy features you like, but it doesn't matter – if you're spinning to win dollars, you need a high RTP game to give you the best chance of success.
With 98% RTP slots amongst the highest you'll find playing slots almost anywhere online or off, it pays to check out these games over the rest. While they are small in number due to the insanely high payout percentage, those that do exist can be one of the best ways to cash in on your slots time.